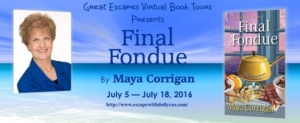 I am so very pleased to be a part of the Great Escapes Virtual Book Tour and share FINAL FONDUE by Maya Corrigan! While this is the third book in her Five-Ingredient Mystery series, it is the first one I've had the chance to read. I found it easy to immerse myself in this newest release without knowing backstory which makes this a nice stand-alone read.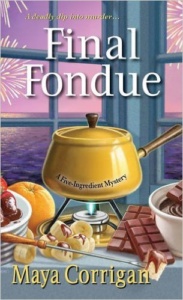 Synopsis
Val Deniston lives with her grandfather, Don Myer, aka The Codger Cook. While he would like to be a great cook he mostly takes Val's recipes and whittles them down to five ingredients, sometimes with great results and sometimes…not so much. Val has convinced her granddad to rent out the spare bedrooms to some of the tourists coming to town for Bayport's Tricentennial Festival. Jennifer Brown, a bride-to-be, rents four of the guestrooms for herself and three members of the bridal party. They plan on enjoying the festivities and look at wedding venues at the same time.
The festivities take an ugly turn when Val finds one of the bridesmaids strangled to death in her granddad's back yard. Even more disconcerting is that the deceased resembles Val and she's not sure if she was the intended victim. Her nemesis, Chef Henri La Farge, is in town and appears to be stalking her. But the bride also has her share of enemies and could have been the intended target. With the police not finding the answers and Granddad taking on-line private investigating classes and wanting to practice, Val determines to find the culprit before another body shows up.
My Review
I just adored The Codger Cook! He went through a rough patch after losing his wife but with Val living with him he's found a new lease on life by writing a newspaper column, branding The Codger Cook, and expanding his snooping skills with an on-line class. His sometimes grumpy character brings humor and humanity to the story. Val also has some "baggage" from her past that the author weaves effortlessly into a subplot intertwining with the central mystery. It kept me turning pages and guessing until the final reveal (reminding me a bit of an Agatha Christie grand-finale) which came as a complete surprise. The quaint town setting with it's Haunted Maze left you feeling like you'd actually visited the area, not just read about it while the supporting characters meshed together creating a memorable story. After reading FINAL FONDUE I realize I have some catch-up reading to do and look forward to the next book in this series!
Of course a series titled Five-Ingredient Mystery series wouldn't be complete without recipes! There are several included at the back of the book and all sound equally delicious. Maya Corrigan has graciously allowed me to share her Nutty Buttery Mini Muffins recipe with you which uses only FIVE ingredients! I was a bit worried when I realized that the recipe does not use any leavening, thinking they'd turn out like hockey pucks….but the author definitely knows what she's doing! These Nutty Buttery Mini Muffins bake up amazingly moist yet light and taste reminiscent of pecan pie with the generous amount of pecans and brown sugar added. These muffins are worthy of any breakfast or brunch table (dessert too!) and as an added bonus, mix up and bake super fast!

A special thank you to Maya Corrigan for providing an autographed copy of FINAL FONDUE and given away by the Great Escapes Virtual Book Tour. Contest is open to U.S. Residents only. Please enter via the Rafflecopter located below the recipe.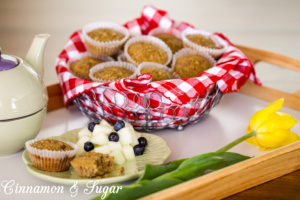 Nutty Buttery Mini Muffins
Yield 18 – 24 muffins
Even if you don't like breakfast muffins, you might like these. They're sweet enough to serve for dessert. They don't have a lot of calories if you limit yourself to one. Good luck with that!
Ingredients
3/4 cup light brown sugar, packed down
1/2 cup flour
1 cup chopped pecans
2/3 cup melted salted butter
2 beaten eggs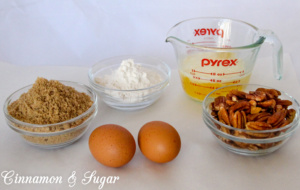 Instructions
Preheat oven to 350 degrees (F).
Grease and flour 18 – 24 mini muffin cups or line them with paper muffin liners. (The cups for small muffins vary in size and that's why the number of muffins varies.)
Beat the melted butter and eggs together.
In a separate bowl, mix the sugar, flour, and pecans.
Make a well in the center of the dry ingredients, pour the wet egg and butter mixture into the well. Stir just enough to combine everything.
Spoon the mixture into the muffin cups. The cups should be 2/3 full. If you have some unused cups in your muffin pan, put a teaspoon of water in the empty cups.
Bake for 20 – 25 minutes**. They're done when a toothpick inserted into them comes out clean.
Cool them on a wire rack for at least 10 minutes.
** My muffins only took 15 minutes to bake. My muffin tin is very wide and shallow so it bakes faster than some.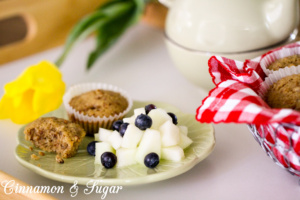 Pin to Pinterest:
If you receive my blog post via email you will need to visit my website to view the video.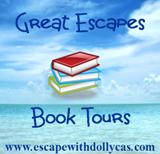 I was provided a copy in exchange for my honest review. All thoughts and opinions are my own.