A DEADLY BREW is the latest Tourist Trap Mystery novella by Lynn Cahoon and is already a USA Today Best Seller! This fun, quick read definitely got me in the mood for Halloween with a ghost story as the central theme. I enjoyed how it started with the author's dedication to her mother and their shared love of Dark Shadows. It brought back memories of my childhood when I would sneak over to my best friend's house to watch that scary fun program! It wasn't allowed in my home but I was intrigued by the peek into the supernatural and looked forward to the program each week.
Protagonist Jill Gardner, along with her boyfriend (the handsome detective Greg King) and 3 other couples are participating in a haunted house lock-in. The owner of the house disappeared fifteen years previously and had never been found. One of the friends participating is Esmerelda, who purportedly has psychic abilities and hopes to contact the owner from the "other side" to find out what happened. Most of the group is skeptical but when Jill starts experiencing strange things in the house, she finds her beliefs are challenged. Ms. Cahoon weaves in a tight tale of the cold case concerning the missing woman who was a supposed witch, a ghost searching for a lost child, and things that go bump in the night! Even though it is a short novella, I felt the story contained all the necessary elements to make it a delightful read: good characters, a mystery or two to be solved, clues sprinkled around, and an exciting conclusion. You'll definitely want to curl up with a cup of hot cocoa with marshmallows and a plate of Sadie's Cheesecake Brownies while reading this "spirited" book!
While A DEADLY BREW does not contain recipes, Sadie's Cheesecake Brownies are served during the lock-in and Ms. Cahoon was kind enough to develop a recipe for me to share. The base is rich, moist chocolately brownies that mix up quickly. Tangy cream cheese, egg, and sugar mixes together to top the brownie base and is then swirled a bit to marble. The resulting dessert is devilishly yummy and sure to please all your ghouls and goblins!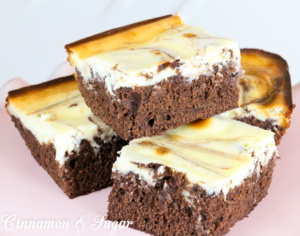 Amazon Synopsis
As Halloween approaches South Cove, California, four couples get into the spirit of the holiday by conjuring up spirits. . .

The house has sat empty for fifteen years, taking up prime real estate along the picturesque coastline. Built by one of the founders of South Cove, its last known owner, Maryanne Demerit, vanished without a trace. Now her home will be demolished for a condo development, but until then, it's the perfect spot for a Halloween haunted house.

Jill Gardner, owner of Coffee, Books, and More, her boyfriend, and three other couples are spending the weekend in the Demerit home. But what begins as an all-in-good-fun fright fest turns into a mystery begging to be solved as Jill is contacted by the ghost of Maryanne . . .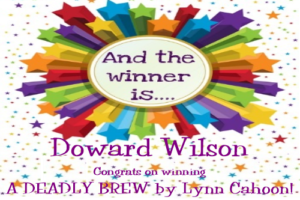 A special thanks to Lynn Cahoon for providing a winner with an e-book copy of A DEADLY BREW. Contest ends Sunday, September 23, 2018 at 11:59 pm PST. Please use the Rafflecopter box located below to enter. The winner will be announced on this page and on Cinnamon & Sugar's Facebook page, as well as notified by email (so check your spam folder!)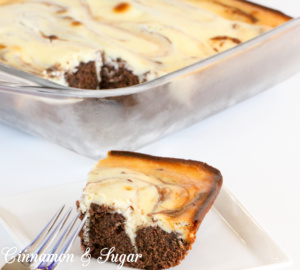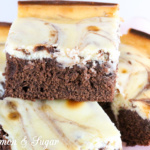 Sadie's Cheesecake Brownies
Author's Note: You can use a box for the brownie section if you're short on time, but I love making brownies from scratch. This is a recipe I developed in high school and it has never failed me...
Ingredients
Brownies:
1/2

cup

butter

3/4

cup

sugar

1

teaspoon

vanilla

2

eggs

3/4

cup

flour

1/4

teaspoon

salt

1/4

cup

cocoa
Cheesecake Topping:
8

ounces

cream cheese

1

egg

1/3

cup

sugar
Instructions
Brownies:
Preheat oven to 350 degrees (F).

Cream the sugar into the butter then add the vanilla and eggs.

Once combined, stir the dry ingredients into the mix. Spread batter into a greased 9- x 9-inch pan and make your topping.
Cheesecake Topping:
Mix all the topping ingredients together until creamy.
Putting it together:
Spread over the top of the brownie batter. You can also marble this by running a knife through the top, mixing the brownie and cheesecake mixture together. Do not overmix.

Bake at 350 degrees for 35 - 40 minutes. Check at 30 minutes to see if brownies are done by putting a toothpick in the middle to see if brownies have set.

Allow brownies to completely cool before cutting into squares and serving.
Pin to Pinterest: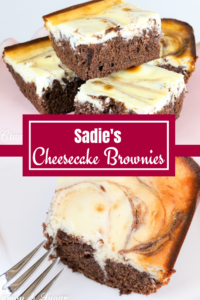 If you receive my blog post via email you will need to visit my website to view the video.
I was provided an advance copy with the hopes I would review. All thoughts and opinions are my own.