THE DOUGH MUST GO ON is the ninth book in the Oxford Tearoom Mystery series by H.Y. Hanna and is filled with a jolly good time! Gemma Rose, owner of Little Stables Tearoom in Oxford has been hired to cater morning and afternoon tea for a famous reality talent show: From Pleb to Celeb. The creator and owner of the show is one of the richest and probably most eccentric men in Britain. This gives the author plenty of opportunities to create scenes filled with hilarity, especially when the four octogenarians, known as the Old Biddies, land a spot on the show with their "Granny Band" act. Ms. Hanna provides great descriptions of the various and often crazy talent acts which provides plenty of chuckles. Of course Gemma's adorable little tabby, Muesli, gets in on the act as well and steals every scene, while Gemma's mother puts her own mark on the show.
After discovering a murder victim during the competition (killed with an unbelievably unique weapon), Gemma is drawn to helping find the murderer. With so many contestants and show employees in the vicinity of the crime, there are plenty of suspects. As Gemma delves deeper into the victim's life, she finds lots of people had reasons to truly dislike the murdered woman. Gemma's boyfriend Devlin, is the inspector in charge of the investigation. While he's a capable investigator, Gemma has a way of getting people to confide in her, providing clues along the way. The suspenseful conclusion wrapped up the threads of the story and I was greatly surprised at the "how" the murder was executed. It was quite ingenious!
With Gemma's tearoom catering tea time for the talent show, scones are a must for English tea. Little Stables Tearoom is famous for their Traditional English Scones (the recipe is included in A SCONE TO DIE FOR), which are round and compact, light and fluffy on the inside, and crusty on the outside. They are not very sweet and are usually plain with no toppings. American scones, in contrast, are larger and denser, with more butter and sugar, and are normally made with a variety of ingredients added to the dough. Ms. Hanna thought it would be fun to provide an American scone recipe for contrast and I was honored that she asked me to develop the recipe. We settled on a scone that features an eternally popular combo: tangy orange and dark chocolate. Tart orange zest and bittersweet dark chocolate flavors the buttery scone dough while a drizzle of thick dark chocolate scented with orange extract gives taste buds a sudden burst of flavor with each bite!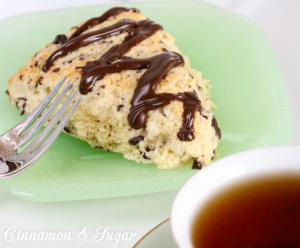 Click here to see the recipe for: Traditional English Scones
Amazon Synopsis
Showbiz comes to Oxford in the form of Britain's hottest new talent show, and tearoom owner Gemma Rose gets a peek behind-the-scenes when she's asked to cater for the event. But with the Old Biddies, entering the contest as England's first "granny band", and her little tabby, Muesli, stealing the limelight, Gemma soon ends up with more than she bargained for… and that's before she comes across a frozen dead body!
Now, she's on the trail of a murderer, with four nosy old ladies giving her a helping hand, while also dealing with her embarrassing mother, her workaholic boyfriend–and even a mouse invader at her tearoom!
With things heating up in the contest and so many suspects in the running, can Gemma catch the killer before the curtain falls?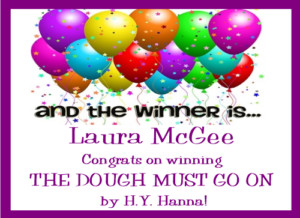 A special thanks to H.Y. Hanna for providing a winner with their choice of either print or an e-book copy of THE DOUGH MUST GO ON. Contest ends Friday, October 5, 2018 at 11:59 pm PST. Please use the Rafflecopter box located below to enter. The winner will be announced on this page and on Cinnamon & Sugar's Facebook page, as well as notified by email (so check your spam folder!)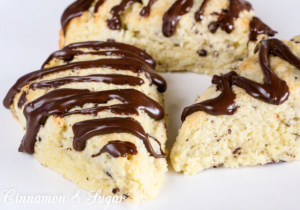 Dark Chocolate and Orange Scones
Ingredients
Scones
2

cups

(272 grams) all-purpose flour

2

teaspoons

baking powder

1/4

teaspoon

baking soda

1/2

teaspoon

sea salt

1/3

cup

(72 grams) granulated sugar

zest from 1 large orange

1/2

cup

(112 grams) unsalted butter, cut into small pieces and frozen

1/2

cup

(108 grams) sour cream

2

tablespoons

orange juice

1

egg

1-1/2

ounces

(42 grams) dark chocolate, chopped
Chocolate Orange Drizzle
2

ounces

(56 grams) dark chocolate, chopped

1/2

teaspoon

vegetable shortening

1/4

teaspoon

orange extract
Instructions
Scones
Preheat oven to 425 degrees (F) or 218 degrees (C). Line a baking sheet with parchment paper.

Whisk together until smooth the sour cream, egg, and orange juice. Set aside.

In the bowl of a food processor, pulse together until combined (about 10 pulses) flour, baking powder, baking soda, salt, sugar, and orange zest.

Sprinkle the frozen butter pieces over the top of the flour mixture, then pulse until the mixture resembles coarse meal.

Add the sour cream mixture to the flour mixture and pulse just until the dough comes together. Be careful to not over process the dough.

Turn out onto a lightly floured surface. Sprinkle the chopped chocolate over the dough then gently knead into the mix. Again, be careful to not overwork the dough or it will toughen.


Place the dough onto the parchment-lined baking sheet and pat into an 8-inch circle. Cut into 8 wedges and move them slightly apart.

Bake 12 - 15 minutes. The scones should be golden and the center should look set. Cool scones on a wire cooling rack while preparing the glaze.
Chocolate Orange Glaze
Place the chocolate and vegetable shortening into a microwave-safe bowl. Heat on 70% power for 45 seconds. Stir. Heat in additional 20 second increments as needed, stirring after each heat cycle until chocolate is melted and smooth.

Mix in the orange extract and stir until smooth.

Drizzle the chocolate over the scones. Allow to set for 15 minutes then serve.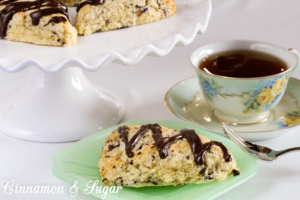 Pin to Pinterest: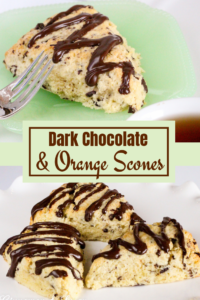 If you receive my blog post via email you will need to visit my website to view the video.
I was provided an advance copy with the hopes I would review. All thoughts and opinions are my own.