CRUMBLED TO PIECES is the sixth book in the Cookies & Chance Mystery series by Catherine Bruns. Sally Muccio Donovan owns a delicious cookie shop, Sally's Samples, while her best friend, Josie bakes all the delectable treats. I love the setting of the shop and can easily visualize and taste the cookies thanks to the strong descriptive language the author uses. I also adore the relationship Sally and Josie have. As close as sisters, they have a humorous repartee that provides plenty of opportunity for strong dialog. The theme running through all the books is the messages found in random fortune cookies that Sally hands out to every customer. Sometimes fortune cookies break in Sally's hand and she finds her own puzzling fortune… sometimes hinting at disastrous events. In CRUMBLED TO PIECES it's Sally's new tenant that karma visits. Even though the elderly Sicilian woman is as nasty as you can possibly imagine, Sally's adorable grandmother begs Sally to find justice for the woman after she is killed.
With the help of her best friend, grandmother and her grandmother's friend (also known as "the thorn in Sally's side") the search for the killer takes them on a trip to Las Vegas. Their mission is to track down the estranged daughter of the deceased and find out why she was the only one of her siblings to inherit. Even though it's a short trip, the author manages to capture the sounds and sights of Sin City while infusing more humor into the story and weaving a tight plot. As the reader turns the pages, the clues start providing more and more suspects which kept me guessing up until the suspenseful reveal. With a strong mystery as the focal point, it's the characters that add delightful charm to the story and keeps me coming back for each new book in this series!
Sally's Samples serves so many yummy cookies in addition to the fortune cookies. I am honored that Ms. Bruns has included my own recipe for Double Chocolate Chili Cookies in her book. Rich and chocolatey, these cookies have a bit of hot spice that adds to the depth of the chocolate. I've tinkered with this recipe for years and they've gained a permanent position on my Christmas cookie platters. I've tried substituting other chocolate cookies for a change of pace but my recipients all want these. I've found that the majority of people enjoy the cookies more when I use the smaller amount of cayenne for just a hint of spice, although others (like my son-in-law) prefer their cookie spicier. If spicy isn't your cup of tea, then by all means omit it… these fudgy, chewy cookies will still be delicious!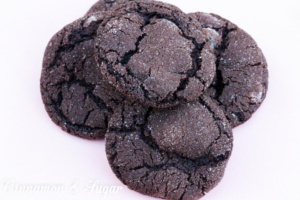 Amazon Synopsis
In need of some quick dough, full-time baker and sometime sleuth Sally Muccio decides to rent the vacant apartment over the bakery to a friend of her grandmother's. Allegra Fiato is nothing like Sal's darling Grandma Rosa, though. She's mean, dishonest, and harboring a deadly secret.
When the elderly woman is mowed down in a hit and run, it quickly becomes obvious this was no accident. Grandma Rosa asks for Sal's help to find the killer which involves a last minute trip to Vegas crashed by Sal's crazy parents, stolen fortune cookies, and a mysterious missing
locket. To add more spice to the mix, a loved one makes a startling admission to Sal that shocks her to the very core. Suddenly, Sal's world is in danger of crumbling around her. Can she put the pieces back together in time before the killer makes her the next victim?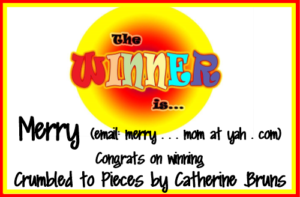 A special thanks to Catherine Bruns for providing a winner with their choice of print or e-book of CRUMBLED TO PIECES. Contest ends Sunday, October 7, 2018 at 11:59 pm PST and is limited to U.S. residents only. Please use the Rafflecopter box located below to enter. The winner will be announced on this page and on Cinnamon & Sugar's Facebook page, as well as notified by email (so check your spam folder!)
Start the series for only 99 cents!
For a short time the first book in the Cookies & Chance Mystery series, TASTES LIKE MURDER, is on sale for only $0.99! Don't miss out on this special pricing!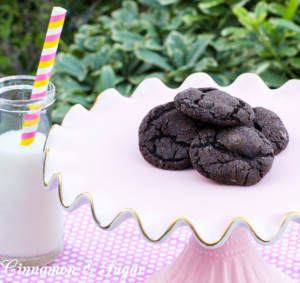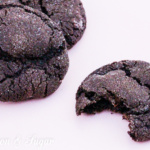 Double Chocolate Chili Cookies
Ingredients
1-1/3

cups

(190g) all-purpose flour

2

tablespoons

cornstarch

1

cup

(102g) Dutch-process cocoa powder

1-1/2

teaspoons

flaky sea salt or kosher salt

3/4

teaspoon

baking soda

3/4

teaspoon

baking powder

1/2 - 1

teaspoon

cayenne powder (depending on how spicy you want the cookies)

3/4

cup

(172g) unsalted butter, room temperature

1

cup

(210g) packed brown sugar

3/4

cup

(152g) granulated sugar

2

teaspoons

pure vanilla extract

2

eggs, room temperature

1-1/2

cups

(245g) chocolate chips (your choice of semi-sweet, dark, milk, or white)
Instructions
Don't preheat the oven yet since the dough needs to chill first.

Whisk flour, cornstarch, cocoa, salt, baking soda, baking powder, and cayenne powder together in a small bowl. Set aside.

In a standing mixer fitted with the paddle attachment cream butter until pale and fluffy.


Beat in sugars until smooth and fluffy, scraping down the sides of the bowl as needed.


Add in vanilla, then beat in one egg at a time until incorporated.


Add in half the flour mixture on low and mix to incorporate before adding the other half.


Once flour is incorporated stir in the chocolate chips.


Refrigerate dough for several hours or overnight.


Preheat oven to 350 degrees (F).

Using 1-1/2 teaspoon scoop, roll dough into a ball. Roll each ball in granulated sugar before placing on a parchment-lined baking sheet.


Bake for 10 – 12 minutes. The tops of the cookies will have a crackled appearance, but the inside should still look soft.


Let cool for 5 minutes on the baking sheet then remove to a wire rack to finish cooling.


Store in an airtight container for up to 5 days.

Pin to Pinterest: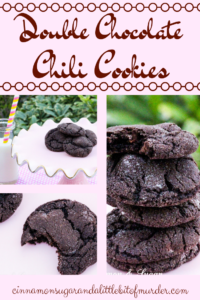 If you receive my blog post via email you will need to visit my website to view the video.
I was provided an advance copy with the hopes I would review. All thoughts and opinions are my own.