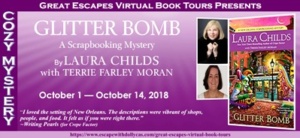 I'm excited to be participating in the Great Escapes Blog Tour introducing GLITTER BOMB, the fifteenth book in the Scrapbooking Mystery series by Laura Childs and Terrie Farley Moran! This new release provides a rollicking romp through New Orleans' French Quarter during Mardi Gras! I love how the authors capture the sights, sounds, smells and tastes of this decadent celebration, making me feel like I was right there in the midst of it all. According to the authors, New Orleans is a town "filled with music, brimming with history, and perfect for foodies." And they are so right!
The action starts right from the beginning when protagonist, Carmela Bertrand, witnesses her ex-husband's Mardi Gras float explode during a parade, raining gold glitter onto the crowded street. While her ex, Shamus, is not injured, one of his float-mates is killed from the explosion. When it's discovered that the death wasn't an accident, Shamus begs Carmela to find the murderer and clear his name since he had a huge reason to want the man dead. Unfortunately Carmela's fiancé, Detective Edgar Babcock, is none too happy about her helping out her ex and putting herself in danger to do so. But, Carmela does what she knows is the right thing to do even if she doesn't care for Shamus. Plus she can't say "no" to her curiosity and the thrill of investigating on her own.
Her sidekick and best friend, Ava Gruiex, provides plenty of opportunity for fun dialog and dragging the pair into escapades. The authors have created characters that exude both charm and memorable personalities which adds to the appeal of the story. The plot moves at a consistently fast pace and entertains the reader page and after page, until the last word is read.
I also like that there are scrapbooking, craft, and stamping tips at the back of the book along with recipes. Ms. Childs has graciously allowed me to share her recipe for Lazy Girl Peach Pie. I'm always drawn to any dessert that has fruit (fruit is healthy!) and easy is always good! Lazy Girl Peach Pie is part cobbler, part pie and oh so delicious. A few pantry and refrigerator staple ingredients are quickly layered into a baking dish. And then magic happens in the oven as the ingredients meld together creating a moist filling that's a bit crunchy on top while the cinnamon complements the luscious peaches. A scoop of vanilla ice cream atop a warm piece of pie is all you need to garnish this comforting dessert.
Amazon Synopsis
An exploding Mardi Gras float has got to be the strangest murder weapon scrappy sleuth Carmela Bertrand has ever encountered in this latest Scrapbooking Mystery from the New York Times bestselling author.
It's Mardi Gras in New Orleans and scrapbook shop owner Carmela Bertrand is excited to be attending the Pluvius Parade along with her best friend Ava. Carmela's ex-husband Shamus rides by the duo on his float at the head of the parade, when suddenly the revelry turns to disaster. Shamus' float crashes and explodes, and although Shamus escapes unhurt, a member of his krewe is killed.
Carmela and Ava plunge into an investigation of the krewe-member's death, but as they dig deeper it starts to look less like an accident and more like a murder….and Shamus seems less like a victim, and more like a suspect.

A special thanks to Laura Childs and Terrie Farley Moran for providing two print copies of GLITTER BOMB! Contest ends October 14, 2018 at 11:59 pm PST and is limited to U.S. residents only. Please use the Rafflecopter box located below the recipe to enter. The contest is administered by Great Escapes Virtual Book Tours and the winner will be announced on this page as well as notified by email (so check your spam folder!)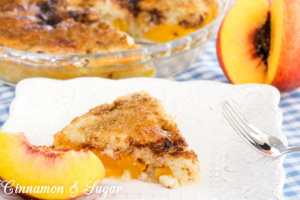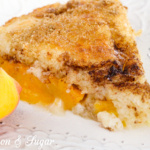 Lazy Girl Peach Pie
Ingredients
1/2

cup

(1 stick) butter

1

cup

SELF-RISING flour*

1

cup

sugar

1

cup

milk

1

(15-ounce) can peaches

1/2

teaspoon

cinnamon

1/2

teaspoon

nutmeg

1

tablespoon

brown sugar
Instructions
Preheat oven to 350 degrees (F).

Melt butter in 8-inch glass or pyrex pan.

Combine flour, sugar, and milk and pour this mixture over the butter.

Reserving juice, spread peaches over the batter.

Now pour reserved peach juice over mixture.

Combine cinnamon, nutmeg, and brown sugar and sprinkle half of mixture evenly over the top.**

Bake for 30 to 40 minutes or until brown. Half way through baking, sprinkle the remaining cinnamon mixture over the top.
Tips
Wonderful with ice cream!

*Or substitute 1 cup all-purpose flour mixed with 1-1/2 teaspoons baking powder and 1/2 teaspoon salt.

**I found that if you sprinkle the mixture all at once before baking, it sinks into the middle. It works better dividing and sprinkling half after the top has had a chance to set while baking.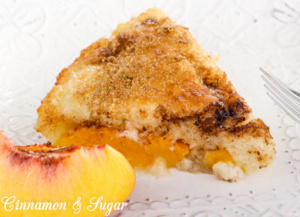 Pin to Pinterest: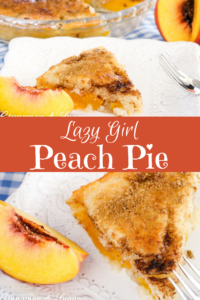 If you receive my blog post via email you will need to visit my website to view the video.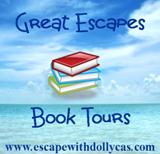 TOUR PARTICIPANTS
October 1 – The Avid Reader – REVIEW
October 1 – Island Confidential – AUTHOR INTERVIEW
October 2 – Cozy Up With Kathy – REVIEW
October 2 – Valerie's Musings – SPOTLIGHT
October 3 – The Pulp and Mystery Shelf – GUEST POST
October 3 – 3 Partners in Shopping, Nana, Mommy, & Sissy, Too! – SPOTLIGHT
October 4 – Community Bookstop – REVIEW
October 4 – MJB Reviewers – AUTHOR INTERVIEW
October 4 – My Reading Journeys – REVIEW
October 5 – View from the Birdhouse – REVIEW
October 5 – Mystery Thrillers and Romantic Suspense Reviews – SPOTLIGHT
October 6 – Cinnamon, Sugar and a Little Bit of Murder – REVIEW
October 6 – I'm All About Books – SPOTLIGHT
October 7 – Rosepoint Publishing – REVIEW
October 7 – StoreyBook Reviews – GUEST POST
October 8 – Mallory Heart's Cozies – REVIEW
October 8 – A Holland Reads – REVIEW
October 9 – Socrates' Book Reviews – REVIEW
October 9 – A Blue Million Books – CHARACTER GUEST POST
October 10 – Laura's Interests – REVIEW
October 10 – Brooke Blogs – SPOTLIGHT
October 11 – Mysteries with Character – GUEST POST
October 11 – Ruff Drafts – SPOTLIGHT
October 12 – A Chick Who Reads – REVIEW
October 12 – The Montana Bookaholic – SPOTLIGHT
October 13 – Lisa Ks Book Reviews – REVIEW, AUTHOR INTERVIEW
October 13 – Escape With Dollycas Into A Good Book – SPOTLIGHT
October 14 – Readeropolis – CHARACTER GUEST POST
October 14 – Books a Plenty Book Reviews – SPOTLIGHT
I was provided an advance copy with the hopes I would review. All thoughts and opinions are my own.