IN COLD CHOCOLATE, is the third installment in the Southern Chocolate Shop Mystery series by Dorothy St. James. This newest release is a delightful story centered on protagonist, Charity Penn, who goes by the name of Penn. I love how the author has developed Penn's character from the very first book and continues her progression through this third book. While this can be read as a stand-alone I personally think it is better to start at the beginning. The metamorphosis the protagonist experiences after inheriting her grandmother's chocolate shop (whom she never even knew existed while growing up) can be better appreciated by reading the first two books. There is a subplot thread through each book with Penn trying to find out who her mother is and trying to connect with family she never knew existed. Ms. St. James throws in several curves that had me thinking about the story long after I read the last page. After all, life is truly about family and friends and the author has centered the books on this important theme.
When I started the book, I didn't have much time before I had to leave for an appointment. I thought I would sit down, read a few pages to get a sense of the story and then be on my way. But instead, the first chapter started off quickly with conflict and pulled me so deeply into the story that I didn't want to put it down at all. (I may have been a tad late for that appointment.) Ms. St. James creates memorable characters and scenes. I especially loved her portrayal of the sea turtles nesting and the hatchlings. She brings their risk of survival to light and what rescue groups are doing to help the sea turtles. The author effortlessly weaves these themes into a tightly knit plot with plenty of clues and suspects to keep the reader guessing while providing a cohesive and exciting conclusion.
Not only was this a page-turner of a story, but also a sweet read that had me craving chocolate and the desire to visit Penn's chocolate shop! Ms. St. James includes a few recipes at the back of the book and has graciously allowed me to share her recipe for Penn's Moon Benne Wafer Cookies. These crispy sesame seed-based cookies are simple to make but are taken to the next level of yumminess by dipping one side in white chocolate and the opposite side in dark chocolate. The result is a stunning presentation and a burst of scrumptiousness in your mouth with the creamy, rich chocolate coating the crispy wafer-thin cookie!
Amazon Synopsis
In Dorothy St. James's third delectable Southern Chocolate Shop mystery, a new batch of chocolate and troubles of the heart cause a string of disasters for the Chocolate Box's new owner, Charity Penn.
The vintage seaside town of Camellia Beach, South Carolina seems like the perfect place for romance with its quiet beach and its decadent chocolate shop that serves the world's richest dark chocolates. The Chocolate Box's owner, Charity Penn, falls even further under the island's moonlit spell as she joins Althea Bays and the rest of the turtle watch team to witness a new generation of baby sea turtles hatch and make their way into the wide ocean.
Before the babies arrive, gunshots ring out in the night. Cassidy Jones, the local Casanova, is found dead in the sand with his lover Jody Dalton—the same woman who has vowed to destroy the Chocolate Box—holding the gun. It's an obvious crime of passion, or so everyone believes. But when Jody's young son pleads with Penn to bring his mother back to him, she can't say no. She dives headfirst into a chocolate swirl of truth and lies, and must pick through an assortment of likely (and sometimes unsavory) suspects before it's too late for Penn and for those she loves in Dorothy St. James's third rich installment of the Southern Chocolate Shop mysteries, In Cold Chocolate.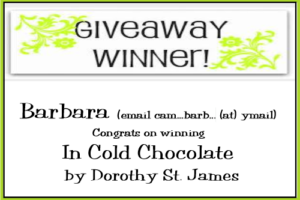 A special thanks to Dorothy St. James for providing a winner with a hardcover copy of IN COLD CHOCOLATE. Contest ends Tuesday, September 18, 2018 at 11:59 pm PST and is limited to U.S. residents only. Please use the Rafflecopter box located below to enter. The winner will be announced on this page and on Cinnamon & Sugar's Facebook page, as well as notified by email (so check your spam folder!)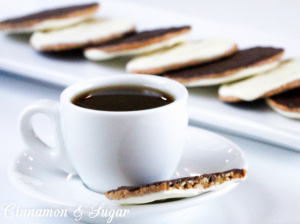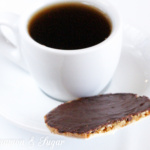 Penn's Moon Benne Wafer Cookies
The recipe makes a crispy thin wafer with a powerful sesame flavor that is sandwiched between white chocolate on the top and dark chocolate on the bottom. Is it a candy or a cookie? Perhaps it's both!
This recipe for these simple black and white chocolates is perfect for cookie swaps or a way to add a touch of elegance to your parties. your friends will be begging you for your recipe while asking for more!
Ingredients
1/2

cup

sesame seeds (important for the wafer's distinctive taste)

1/2

cup

all-purpose flour (gluten-free flours also work with this recipe)

1/2

teaspoon

baking powder

Pinch of salt

6

tablespoons

unsalted butter, softened

3/4

cup

brown sugar

1

egg

1/4

teaspoon

pure vanilla extract

1

bag

white chocolate chips

1

bag

fair trade dark chocolate chips
Instructions
Preheat oven to 325 degrees Fahrenheit. Make sure the oven rack is in the center position for even cooking.

Toast the sesame seeds by heating them in a dry pan over medium-low heat. You want the seeds to turn a light golden color, so they'll release their flavors. Keep a close eye on them, you don't want them to burn.

In a bowl, combine the dry ingredients: flour, baking powder, and salt.

With an electric mixer, beat the butter and brown sugar together until smooth and creamy. Add the egg and vanilla extract. Mix at a lower speed until combined. Add the flour mixture and continue to mix at the lower speed until the batter is smooth. Add the toasted sesame seeds and fold in with a spoon.

Line baking sheets with parchment paper or a baking liner. Using a teaspoon, drop the dough onto the baking sheet. You can use the back of the spoon to help form a round shape in order to make sure your cookies come out moon shaped. Leave about 2 inches between the dough. The cookies will spread. Yes, you want them to spread!

Bake 8 to 10 minutes or until the edges of the cookies turn a dark brown. (This is important, otherwise your wafers won't have that delightful snap.) Let cool on the baking sheet for 2 minutes. Transfer the cookies to a wire rack to cool completely.

Melt the white chocolate chips using either a double boiler or following the microwave directions on the bag. Using a tablespoon, coat the top of the cookies with the melted white chocolate. Place cookies in refrigerator for 30 minutes to 1 hour to cool.

Melt the dark chocolate chips using either a double boiler or following the microwave directions on the bag. Using a tablespoon, coat the bottom of the cookies with the melted dark chocolate. Place cookies in refrigerator for 30 minutes to 1 hour to cool.

Store in the refrigerator.
Notes
Makes approximately 2 dozen.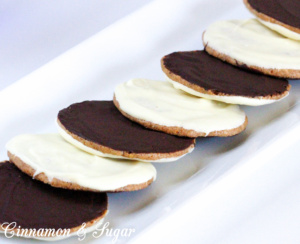 Pin to Pinterest: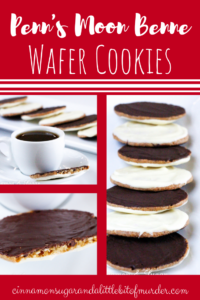 If you receive my blog post via email you will need to visit my website to view the video.
I was provided an advance copy with the hopes I would review. All thoughts and opinions are my own.