COOKIN' THE BOOKS, the first book in the brand new Tish Tarragon Mysteries by Amy Patricia Meade is a delightful start to a fun series! I love the premise of protagonist Tish Tarragon's new business as owner of literary-themed Cookin' the Books Café along with catering, in Hobson Glen, Virginia. Her food revolves around pun-y titles pertaining to literary works such as Who's Afraid of Virginia Baked Ham, to give an example. I was entertained by the cleverness of the titles and yummy sounding dishes. In addition, her café has shelves that showcase a variety of cookbooks and literary works from international destinations, along with a lending library. Sounds like a great place to hang out!
Her very first catering job is for the local library fundraising dinner, hired at the last minute by Binnie Broderick, the Executive Director of the library. Binnie is a very unpleasant woman and almost everyone in town hated her. When she dies after taking two bites of Tish's catered dinner, all eyes are on Tish and her friends helping her serve the dinner. Tish must clear their names and save her fledgling business even though she hasn't even opened the café. With just about everyone in town having disputes with the victim, Tish has plenty of suspects to sift through. I enjoyed that most of her suspects understood and cooperated with her questions without getting uncomfortably upset. Tish's two friends, Mary Jo and Julian (who is also the Channel 10 weatherman), are great sidekicks, providing opportunities for fun interaction and dialog along with helping in her investigation. As Tish narrows down the suspects, the reader is pulled in for the exciting reveal while the author effectively ties the subplots together. This is a fun mystery with great characters and I'm looking forward to future books in this new series!
While the book doesn't contain recipes, Ms. Mead has created a recipe for Cornmeal Rosemary Madeleines that her protagonist loves to serve to her friends and clients. When I think of madeleines, I always think of sweet, cake-like treats. I love the idea of using the elegant madeleine pan for a savory side dish to serve alongside soup, chili, or salad. Warmed up with a little butter to melt into the cheesy cornbread goodness with the hint of rosemary, I'll be making these frequently instead of the generic pan of cornbread that I usually do.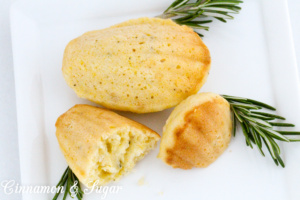 Amazon Synopsis
Literary caterer Letitia 'Tish' Tarragon fights to save her reputation and catch a killer when a murder occurs during a fundraising dinner for the local library. Letitia 'Tish' Tarragon has just moved to Hobson Glen and opened a new restaurant and catering business, Cookin' the Books Cafe. So when her new landlord, Schulyer Thompson, recommends her to Binnie Broderick, the executive director of the local library, Tish is delighted. Binnie needs a last-minute caterer to create a literary inspired three-course dinner for the library's annual fundraiser, one of the highlights of Hobson Glen's social season. But there's a problem: Binnie Broderick is a notoriously difficult woman to please. And when she chokes to death from arsenic poisoning after dousing her main course in hot sauce, Tish suddenly finds herself fighting to save her business – and her reputation. It seems that very few of Hobson Glen's residents escaped Binnie's disapproval. But who would want her dead, and why?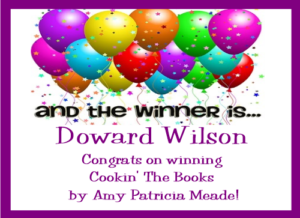 A special thanks to Amy Patricia Meade for providing a winner with a hardcover copy of COOKIN' THE BOOKS. Contest ends Sunday, April 14, 2019 at 11:59 pm PST and is limited to U.S. and Canadian residents. Please use the Rafflecopter box located below to enter. The winner will be announced on this page and on Cinnamon & Sugar's Facebook page, as well as notified by email (so check your spam folder!)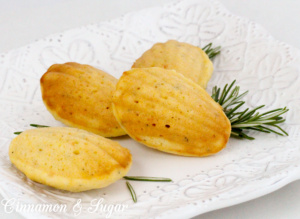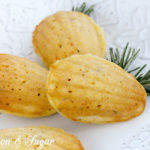 Rosemary Cornmeal Madeleines
Ingredients
1/3

cup

(75 mL) butter, softened

1/2

cup

(125 mL) granulated sugar

1

egg

1

cup

(250 mL) buttermilk

1-1/4

cups

(300 mL) all-purpose flour

1

cup

(250 mL) yellow cornmeal

1/2

teaspoon

(2 mL) baking powder

1/3

teaspoon

(0.5 mL) baking soda

1/2

teaspoon

(2 mL) salt

1/4

teaspoon

(1 mL) freshly ground black pepper

1/4

cup

(50 mL) grated Asiago cheese

1

clove

garlic

minced

1

tablespoon

(15 mL) finely chopped fresh rosemary
Instructions
Preheat oven to 350ºF (180ºC).

Spray Madeleine molds with nonstick cooking spray.

Beat butter, sugar and egg on medium speed of electric mixer until light and creamy. Add buttermilk; mix well. (Mixture will look curdled).

Combine flour, cornmeal, baking powder, baking soda, salt and pepper. Add to creamed mixture on low speed, mixing until smooth. Stir in grated cheese, garlic and rosemary. Spoon batter into prepared molds, filling about three-quarter full.

Bake in centre of preheated oven for 7 to 9 minutes or until firm on top. Remove from molds and cool completely on wire rack.
Tip:
These tend to dry out quickly so it's best to eat them within 24 hours of baking - which typically isn't a problem in our cheese loving house!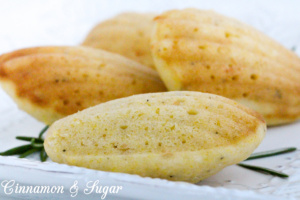 Pin to Pinterest: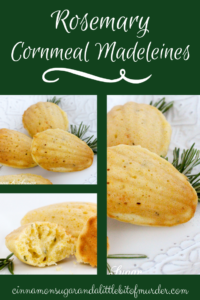 If you receive my blog post via email you will need to visit my website to view the video.
Coming September 1, 2019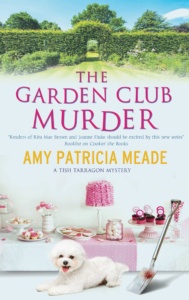 Literary caterer Letitia 'Tish' Tarragon is preparing her English Secret Garden-themed luncheon for Coleton Creek's annual garden club awards, but when she is taken on a tour of some of the top contenders with the garden club's president, Jim Ainsley, Tish is surprised at how seriously the residents take the awards – and how desperate they are to win. Wealthy, retired businessman Sloane Shackleford has won the coveted best garden category five years in a row, but he and his Bichon Frise, Biscuit, are universally despised. When Sloane's bludgeoned body is discovered in his pristine garden, Tish soon learns that he was disliked for reasons that go beyond his green fingers. Have the hotly contested awards brought out a competitive and murderous streak in one of the residents?
I was provided an advance copy with the hopes I would review. All thoughts and opinions are my own.