MURDER FROM SCRATCH is the fourth book in the Sally Solari Mystery series by Leslie Karst. I've read the previous three books and have greatly enjoyed the way she's focused on one of the five senses in each book. However, this book is my favorite so far and I feel that the author has found her stride. Restauranteur Sally Solari may be the protagonist, but the author manages to integrate Sally's blind cousin, Evelyn, effectively into the story. I was fascinated by the details brought into play, showing the reader how a blind person lives and accomplishes day-to-day things that the rest of us take for granted. I was pleased that Evelyn is not a figure to pity, but instead is a fully developed character who is inspirational. Well, I did pity Evelyn because her mother was murdered, but the young woman manages to move forward and try to do everything she can to find the truth. I admire the way Ms. Karst focuses on the strength of family, especially when Sally takes in her orphaned cousin, despite not knowing her, because "nothing trumped famiglia." She provides heartwarming scenes that tug at the heart and pulls the reader into the story.
Sally is becoming quite skilled at juggling her restaurant, Gauguin, along with employees, friends, and family, while hunting down suspects who may have wanted her aunt dead. Her hunt gives the reader a peek at the cutthroat practices of the restaurant business… and it's brutal. Even though the police rule the death as a suicide, Sally perseveres and starts asking questions based on her cousin's observations using senses that have been greatly developed due to her lack of sight. There were plenty of people who might have had issues with Sally's aunt and I had a difficult time guessing the correct suspect as the story unfolded. With the reveal, Ms. Karst wrapped the story up in an exciting manner that had me turning pages until I read the very last word.
As a restauranteur, Sally cooks some amazing dishes and the reader will be drooling throughout the entire book. I love that the author provides several savory recipes at the back of the book and they all sound company-worthy. I was drawn to the recipe for Spotted Prawns with Harissa Sauce. Aside from some prep work that can be done ahead of time, this dish quickly cooks and looks impressive when served. The explosions of flavors in the dish complement each other, providing a delectable meal that will earn the home chef rave reviews!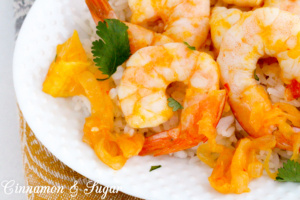 Amazon Synopsis
Restaurateur Sally Solari's cousin Evelyn may be blind, but she can see all too clearly that her chef mother's death wasn't an accidental overdose―she was murdered.
Santa Cruz restaurateur Sally Solari's life is already boiling over as she deals with irate cooks and other staffing issues at the busy Gauguin restaurant. The rainy December weather isn't cooling things down, either. So she's steamed when her dad persuades her to take in Evelyn, her estranged blind cousin whose mother has just died of a drug overdose.
But Evelyn proves to be lots of fun and she's a terrific cook. Back at the house she'd shared with her mom, Evelyn's heightened sense of touch tells her that various objects―a bottle of cranberry juice, her grandfather's jazz records―are out of place. She and her mom always kept things in the same place so Evelyn could find them. So she suspects that her mother's death was neither accident nor suicide, no matter what the police believe.
The cousins' sleuthing takes Sally and Evelyn into the world of macho commercial kitchens, and the cutthroat competitiveness that can flame up between chefs. In Leslie Karst's scrumptious fourth Sally Solari mystery, Sally will have to chop a long list of suspects down to size or end up getting burned.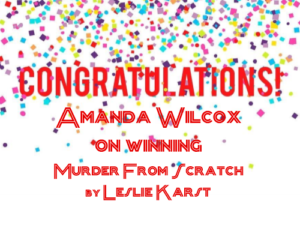 A special thanks to Crooked Lane Books for providing a winner with a hardcover copy of MURDER BY SCRATCH. Contest ends Monday, April 22, 2019 at 11:59 pm PST and is limited to U.S. residents. Please use the Rafflecopter box located below to enter. The winner will be announced on this page and on Cinnamon & Sugar's Facebook page, as well as notified by email (so check your spam folder!)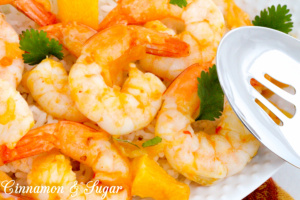 Spot Prawns with Citrus and Harissa
Gauguin prepares this recipe with spot prawns (a kind of large shrimp) because of their sweet, almost lobster-like flavor and because the seasonal harvest is limited and sustainable, thus allowing for the health of the species. But if you can't find spot prawns, feel free to substitute a different variety of shrimp (just be sure to check with your seafood supplier to learn which varieties are deemed the "Best Choice" the Monterey Bay Aquarium Seafood Watch program). We peel the shrimp before cooking but leave the tails intact for eye appeal and added flavor.

Harissa is a spicy North African condiment made from roasted hot chili peppers, garlic, olive oil, cumin, coriander, caraway, and other spices. Tubes or jars of this paste can be found in most supermarkets in the United States, but if you can't locate it, feel free to substitute another hot chili sauce such as sriracha (to which you could add cumin, coriander, and caraway to make for an even better substitute). If you are sensitive to spicy food, use only half the amount of harissa specified, then taste and add more if needed.

This dish is best served with steamed basmati or jasmine rice, and would pair nicely with a crisp green salad.

Ingredients
2

tablespoons

olive oil

2

medium

onions, halved, then thinly sliced (about 1 pound)

3

cloves

garlic, minced (1 tablespoon)

1/4

cup

lemon juice

1/3

cup

orange juice

3

tablespoons

butter

1

tablespoon

harissa

1

pound

raw spot prawns or other shrimp, peeled (with tails intact)

2

seedless oranges, peeled and white pith removed, then cut into chunks

Salt and pepper to taste

2

tablespoons

cilantro, coarsely chopped
Instructions
Heat the olive oil in a large skillet over medium heat until shimmering, then add onions and sauté until they soften. Add the garlic and continue to cook until the onions start to brown.

Pour in the lemon and orange juices and continue to cook until the liquid is reduced by half. Then add the butter and harissa and toss to incorporate.

Once the butter has melted, add the prawns/shrimp and sauté until they turn from white to pink. Add the orange chunks and toss just long enough for them to heat through.

Season with salt and pepper, and serve garnished with the chopped cilantro.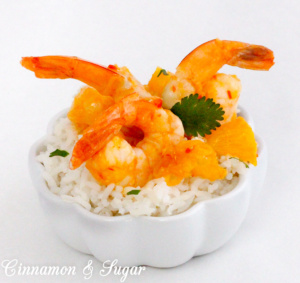 Pin to Pinterest: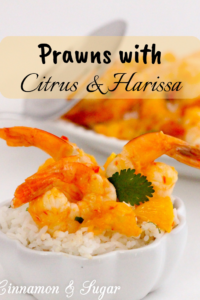 If you receive my blog post via email you will need to visit my website to view the video.
I was provided an advance copy with the hopes I would review. All thoughts and opinions are my own.