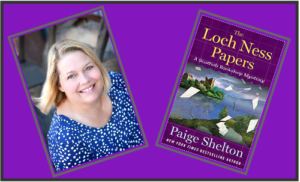 It's a pleasure to welcome Paige Shelton back to my blog as she celebrates her new release, THE LOCH NESS PAPERS! Thanks for joining us today, Paige, and sharing your memories of your grandmother and baking, along with your amazing Banana Bread recipe!
***
Did you have a grandmother who baked? Maybe you were one of the lucky ones and the child (your mother or father) of that grandmother paid attention and learned how to bake the most amazing things in the world. Or, maybe, none of your grandmother's kids paid a bit of attention to her baking because they didn't understand how amazing it was, didn't ever think to write down recipes, didn't care. Maybe, you, as the grandchild, have spent many moments throwing your hands up in disbelief. How did no one write anything down?
You can probably guess which group I belong to. Yep, my grandmother made the most amazing baked goods; she should have had her own bakery instead of three children who took her for granted. Okay, so maybe they didn't take her for granted, but they did take her baking skills for granted.
I might get over this someday.
At least I got to enjoy her ways in the kitchen when I was a child. She's been gone a long, long time now, and I still think of her and miss her often. Some of my best memories of her are the time we spent together in her kitchen. Food is such a thing, isn't it?
She was one of those people who, though she might not have shown it, would be insulted if her baked goods, sitting there on the kitchen counters and table wrapped or hidden under a domed cake platter, weren't eaten. No one ever ignored them, really, but I remember a tsk or two when they weren't noticed right off.
There's a woman like that in my upcoming book, "The Loch Ness Papers." I love that writing gives me a chance to remember people I want to remember just by throwing in a trait or a turn of a phrase they use, or used to use. In the book there's a loaf of banana bread that better not get ignored.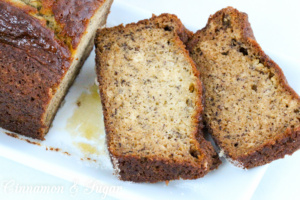 Unfortunately, I don't have my grandmother's banana bread recipe (see earlier note about throwing hands up in the air), but I do have a really good one.
I'm not sure exactly where I got it, but I think it came from a cookbook. The last part about adding the sugar on the bottom came from a friend though. Thanks to Shannon for that added touch.
Enjoy!
Thank you for letting me stop by today. Kim is so amazing; it's always a thrill to be a part of her blog.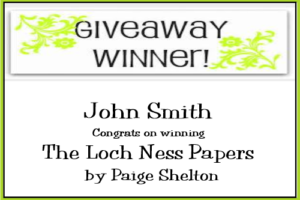 A special thanks to Paige Shelton for providing a winner with a hardcover copy of THE LOCH NESS PAPERS. Contest ends Monday, April 8, 2019 at 11:59 pm PST and is limited to U.S. residents. Please use the Rafflecopter box located below to enter. The winner will be announced on this page and on Cinnamon & Sugar's Facebook page, as well as notified by email (so check your spam folder!)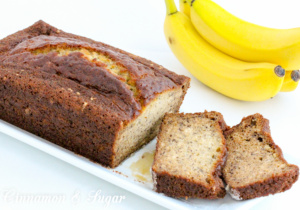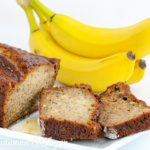 Banana Bread
Ingredients
1

cup

sugar

Extra sugar to put on the bottom of the loaf after baking

1/3

cup

softened butter (I always use salted because I usually have it)

2

eggs

3 to 4

medium ripe bananas

1/3

cup

water

1-2/3

cups

all-purpose flour

1

teaspoon

baking soda

1/2

teaspoon

salt

1/4

teaspoon

baking powder

- Sometimes I add about ½ cup nuts or chocolate chips or peanut butter chips, but most of the time I don't.
Instructions
Preheat oven to 350 degrees.

Grease (or cooking spray) loaf pan.

Mix sugar and butter until only slightly crumbly.

Stir in eggs until blended.

Add bananas and water, beat 30 seconds.

Stir in remaining ingredients except nut or chips. Once everything is evenly moistened, add nuts or chips if using.

Bake until wooden pick inserted in center comes out clean. (8-inch loaf pan: 65 - 75 minutes. 9-inch loaf pan: 55 to 60 minutes)

Sprinkle some sugar on a flat surface.

Loosen side of loaf from pan and remove. Rub the bottom of the loaf gently over the sugar to coat the bottom, and then cool completely before slicing (this cooling step takes FORVER, particularly when your mouth is watering).
Pin to Pinterest: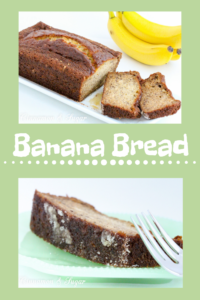 If you receive my blog post via email you will need to visit my website to view the video.
Amazon Synopsis
Bookseller Delaney Nichols befriends a Loch Ness monster enthusiast; when he stands accused of murder she'll do whatever it takes to learn who the killer is―and whether Nessie herself is really lurking in the Scottish waters.
Delaney Nichols is delighted with her life in Edinburgh, working at The Cracked Spine―a shop that specializes in hard-to-find books and artifacts. With a job she loves, and her fast approaching marriage to devastatingly handsome Scottish pub-owner Tom Shannon, Delaney's life could be straight out of a fairy tale―at least it would be, if the pastor meant to perform the wedding ceremony hadn't recently passed away. Outside the church where Delaney is searching for another reverend, she stumbles across Norval Fraser: an elderly man obsessed with the Loch Ness monster. Always attracted to the interesting and unusual, Delaney befriends Norval. But when his nephew is found dead, the police decide Norval's obsession has moved from monsters to murder.
With a wedding to plan, her family arriving soon from Kansas, and the arrival of an over-the-top Texan with a wildly valuable book, Delaney's plate is full to bursting, but she can't abandon her new friend. Determined to help Norval, she sets out to learn the truth. The Loch Ness buries its secrets deeply, but Delaney is determined to dig them up―whether Nessie likes it or not.
My Review
THE LOCH NESS PAPERS, the fourth book in the Scottish Book Shop Mystery series by Paige Shelton, transports the reader to a land full of mystical intrigue! I've always been fascinated by myths and legends of other countries and loved the way the Loch Ness Monster (Nessie) is central to this tale. Ms. Shelton weaves in information on some "historical" sightings making me think just perhaps this mythical beast might actually exist… the hallmark of a great storyteller! She also captures the charming atmosphere of Scotland and the Scottish people. I love how she imbues her characters with brogues, providing authenticity to the setting. Between the Cracked Spine Book Shop, Edinburgh, and Loch Ness, the reader will feel like they are on a delightful vacation. I was especially drawn to her description of the protagonist's visit to Urquhart Castle situated next to Loch Ness, since I had the pleasure of visiting the location many years ago. It brings back fond memories of watching a bagpiper climb the castle ruins and play his haunting music!
Protagonist Delaney Nichols is an American transplant to Edinburgh, Scotland and is preparing for her wedding to pub owner, Tom. She connects with Norval Fraiser, an elderly Nessie enthusiast, who has devoted his life to researching the Loch Ness monster. Delaney gets pulled into researching the death of his great-nephew after Norval is accused of murder. Ms. Shelton's portrayal of the obsessive/compulsive elderly man is treated with sensitivity and she pulls the reader in as she peels back of the layers of the man's life to figure out his obsession. The subplots intertwined with the main murder mystery contribute to a page turner that, at times, had me on the edge of my seat. With plenty of suspects mixed in with twists and turns, I was breathless as I read the exciting conclusion. Ms. Shelton has once again proven she can bring exciting suspense to a charming setting with delightful results!
I was provided an advance copy with the hopes I would review. All thoughts and opinions are my own.