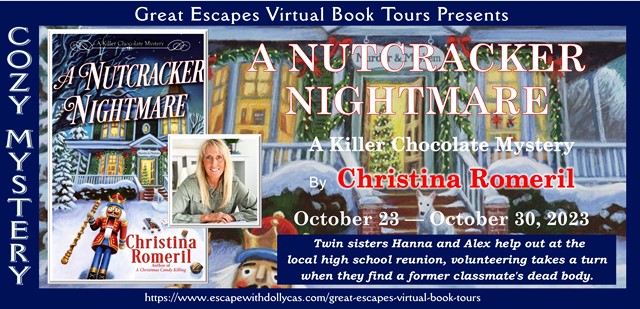 I'm delighted to be participating in the Great Escapes Virtual Book Tour, presenting A NUTCRACKER NIGHTMARE, the second book in the Killer Chocolate Mystery series by Christina Romeril! A class reunion set around Christmas sets the scene for this holiday cozy mystery. Twins Alex and Hanna, owners of the Murder and Mayhem Killer Chocolates and Bookshop, are bringing their "special" chocolates for dessert as they mingle with their old classmates. Named after certain poisons, these chocolates are killer without having a deadly effect… Strychnine Strawberry chocolates anyone? The author showcases her clever combinations and puns between the shop and the banter the twins enjoy. I enjoy the comradery the twins have with each other. They're supportive and look out for each other, and get along despite working together all day long. The supporting characters in the story are equally well-developed, each with their own individual personalities and quirks. The setting of the bookshop and the small Montana village are charming and inviting. Ms. Romeril's strong descriptive skills bring the holiday cheer to life and makes the reader feel like they're right there enjoying the festivities.
Except, someone isn't enjoying the reunion and decides the school's bad boy, Kyle, needs to be permanently erased. Poor Alex finds the body of Kyle and law enforcement sets their sight on her sister as the culprit. Inspired by the books stocked at Murder and Mayhem, as well as her innate curiosity, Alex can't help but start asking questions and digging into Kyle's past. As she uncovers clues, it seems like no one was happy with the man and he'd burned more than his share of bridges. The pace was even, and the story is well-plotted to keep the reader engaged. There were a few red herrings that threw me off the scent, and at the final reveal it all came together, wrapped up like a Christmas present with a big red bow. If you enjoy holiday cheer with a side of murder, then you'll want to read A NUTCRACKER NIGHTMARE!
So many delicious descriptions of chocolates and truffles will make you hungry as you read! There are a couple candy recipes at the back of the book for the home cook to try out… with no poisons mentioned in the ingredients. Ms. Romeril has graciously shared her recipe for Red Velvet Cupcakes with us and my taste testers gave it high marks! She combines the perfect amount of chocolate to the baby cakes and when topped with mounds of sweet buttercream frosting, the results are yummy. These cupcakes are a delicious way to celebrate the holidays!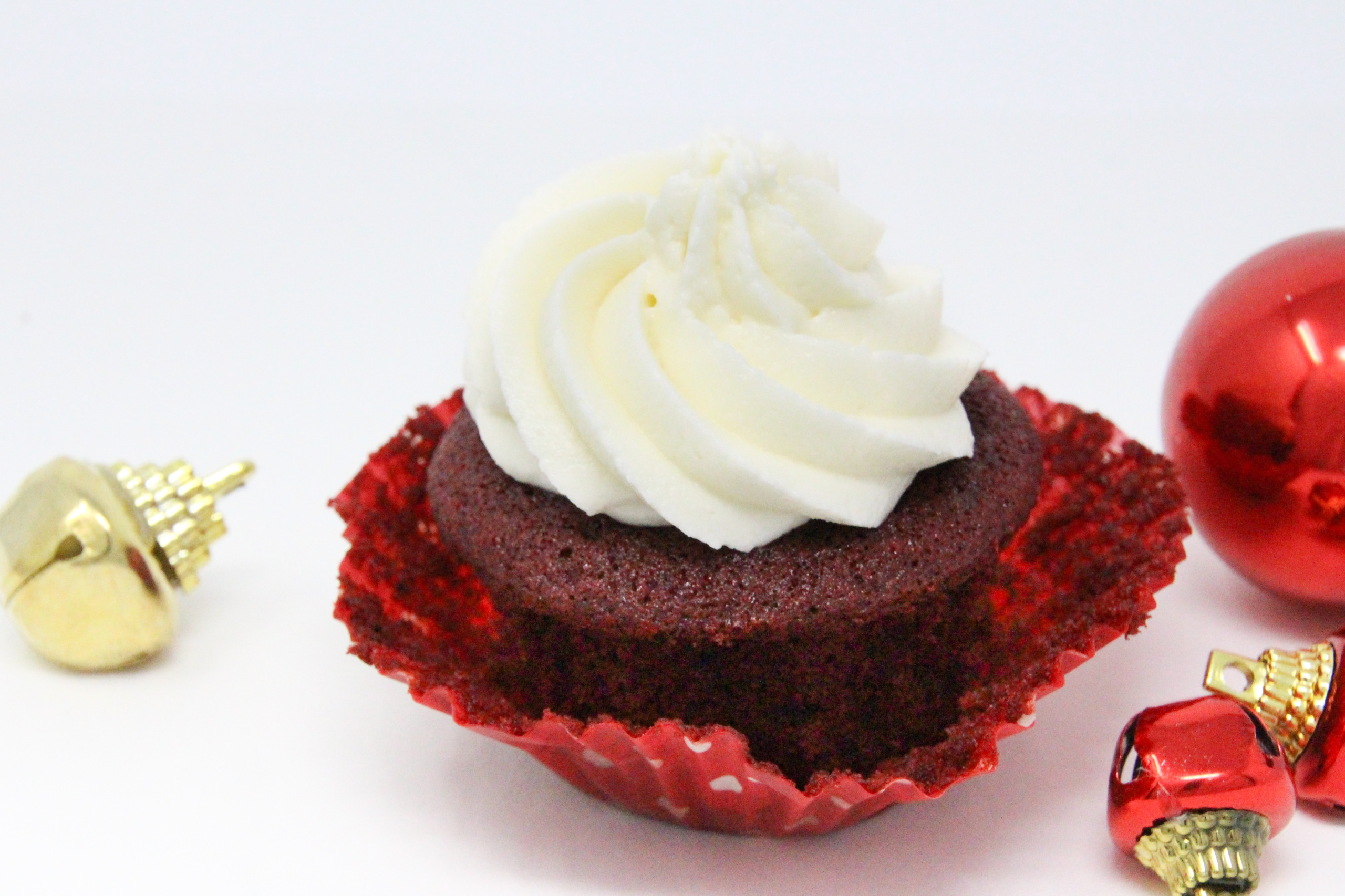 Amazon Synopsis
Hanna and Alex, owners of the Murder and Mayhem book and chocolate shop, are busy preparing for the Harriston High School's reunion weekend. Neighbors will connect with old friends and perhaps try to avoid old foes. One person no one can avoid is Kyle, the former star quarterback, who is busy using his entire playbook to try and score with Hanna, even threatening her if she doesn't play nice. At the reunion, Alex glimpses more drama than nostalgia as insults are flung around like a football at a Friday night game. The party is put on hold when Alex finds the dead body of none other than Kyle himself, bludgeoned to death by a nutcracker that the sisters admired earlier in the night.
Hanna quickly becomes the prime suspect—someone saw her slap Kyle in the face at the reunion dance. She'll need her sister, their sleuthing canine, Watson, and their old friends and colleagues to help break this case wide open. While looking through old yearbooks and taking a stroll down memory lane, Alex uncovers a few secrets about Kyle, now, it seems like everyone had a motive to kill him.
But when the suspects start becoming the victims, Alex and Hanna know that they can't melt under the pressure—they must find the killer before they become just another yearbook memory.

A special thanks to Christina Romeril for providing one winner with a hardback copy of A NUTCRACKER NIGHTMARE! Contest is limited to U.S. residents only and ends October 31, 2023 at 11:59 pm EST. Please use the Rafflecopter box located below to enter. Contest is administered by Great Escapes Virtual Book Tour and the winner will be announced on this page and notified by email (so check your spam folder!)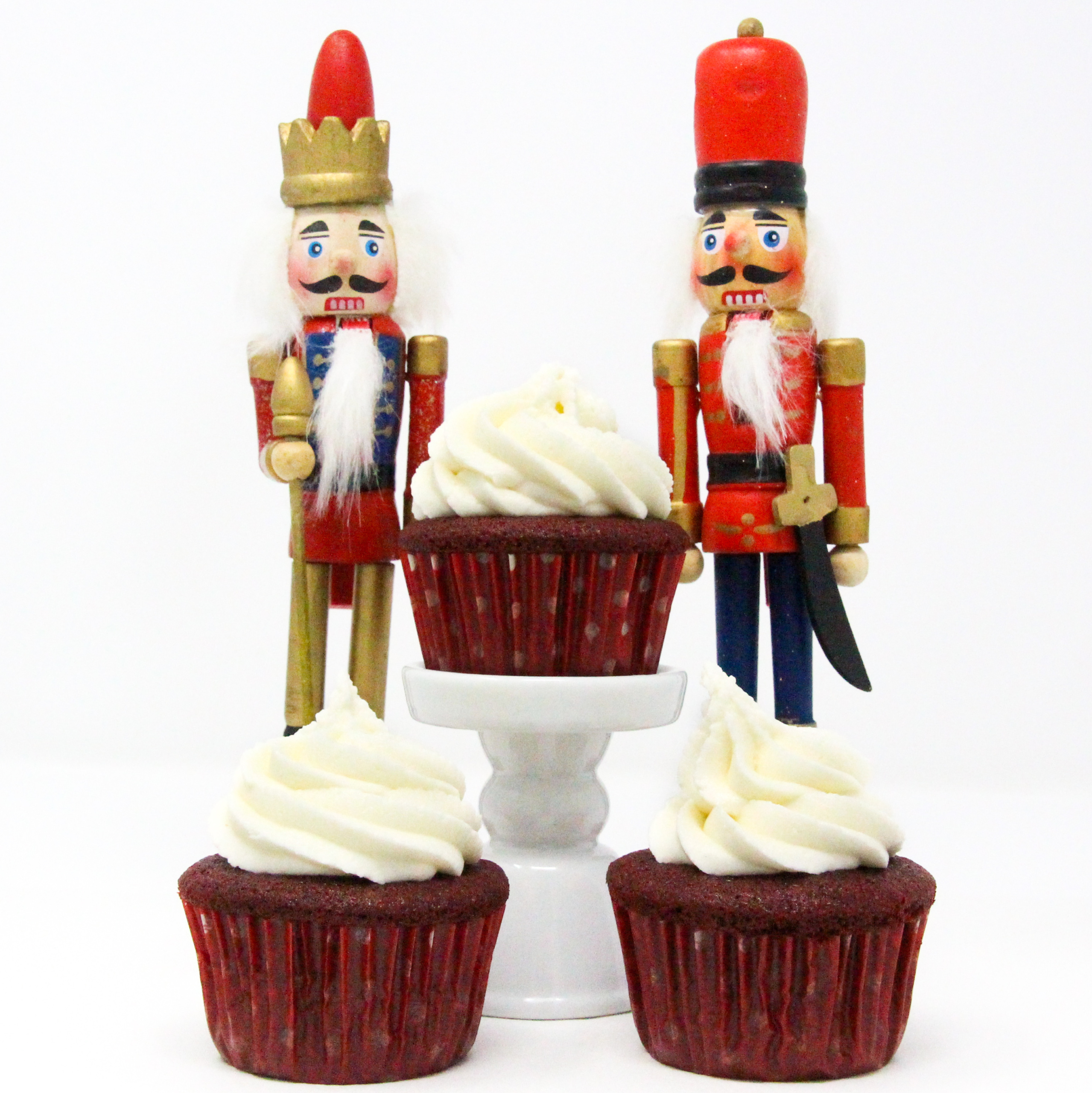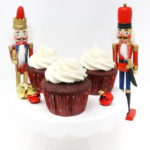 Red Velvet Cupcakes
Ingredients
Cupcakes
2-1/2

cups

cake flour

1

teaspoon

baking soda

2

tablespoons

cocoa powder

1

teaspoon

salt

1/2

cup

unsalted butter

1-1/2

cups

white sugar

2

large eggs, room temperature

1/2

cup

vegetable oil

2

tablespoons

liquid red food coloring (I used one specifically for red velvet cake)*

1

teaspoon

vanilla extract

1

cup

buttermilk

1

teaspoon

white vinegar
Frosting
3/4

cup

unsalted butter, room temperature

6

cups

confectioners' sugar (powdered icing sugar)

2-3

tablespoons

milk
Instructions
Cupcakes
Preheat oven to 350 degrees (F). Line your cupcake pans with paper liners.

In a mixing bowl combine the dry ingredients and whisk together. Set aside.

Cream the butter and sugar in a separate mixing bowl. Use hand mixer or stand mixer with paddle attachment and cream together until light and fluffy. Add the eggs and beat just to combine. Add vanilla, oil, and red food coloring.

Stir the vinegar into the buttermilk. Start with the flour and alternate adding flour and buttermilk. Also end with the flour. Don't overmix, beat just until combined.

Fill the prepared paper liners about 2/3 full with batter.

Bake about 18 minutes, time is dependent on oven, mine always takes longer. Toothpick inserted in center should come out clean if done. Cool in pan 5 minutes and then transfer to rack.

Frost when cooled completely.
Frosting
Mix butter with hand mixer and add powdered sugar one cup at a time. Add milk a bit at a time until a nice easy to pipe consistency.

Will generously frost 24 cupcakes.
Cinnamon & Sugar's Note:
I used gel food coloring and found that 2 to 3 teaspoons of coloring is sufficient.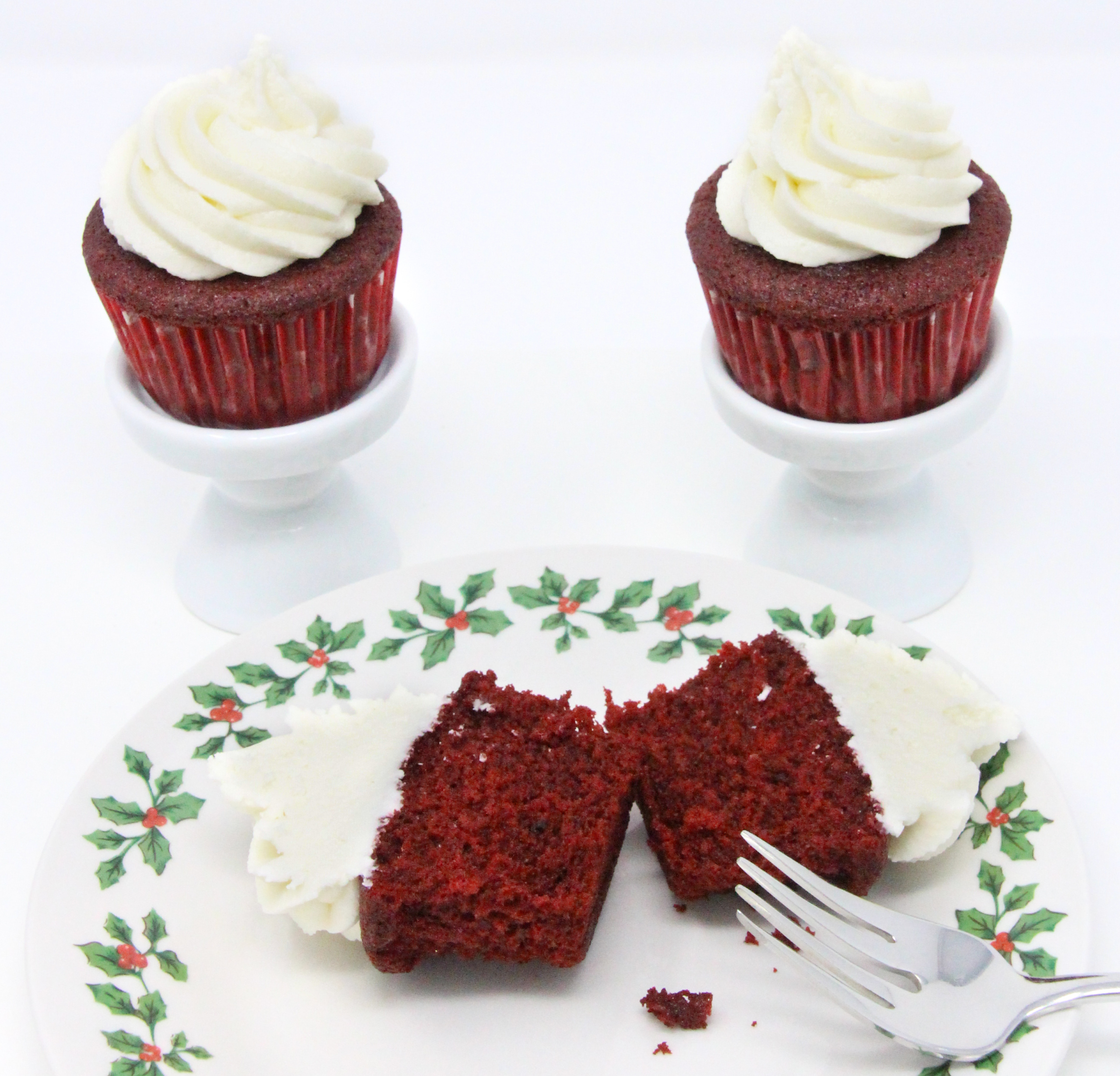 Pin to Pinterest: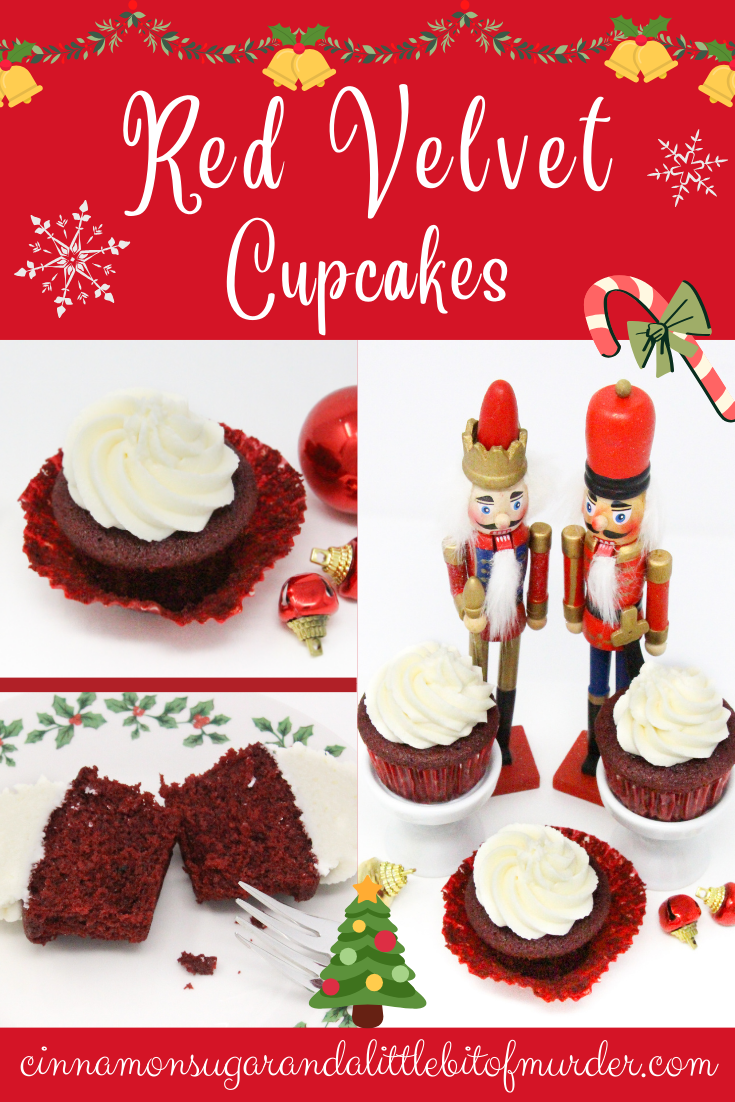 TOUR PARTICIPANTS
October 23 – Cinnamon, Sugar, and a Little Bit of Murder – REVIEW, RECIPE
October 23 – Read Your Writes Book Reviews – CHARACTER INTERVIEW
October 23 – Christa Reads and Writes – SPOTLIGHT
October 24 – Christy's Cozy Corners – AUTHOR INTERVIEW
October 24 – Lady Hawkeye – SPOTLIGHT
October 24 – Maureen's Musings – SPOTLIGHT
October 25 – Mystery, Thrillers, and Suspense – AUTHOR GUEST POST
October 25 – Literary Gold – AUTHOR INTERVIEW
October 25 – Brooke Blogs – SPOTLIGHT
October 26 – Reading Is My SuperPower – REVIEW
October 26 – Hearts & Scribbles  – SPOTLIGHT
October 26 – MJB Reviewers – SPOTLIGHT
October 27 – Escape With Dollycas Into A Good Book – REVIEW
October 27 – Elizabeth McKenna – Author – SPOTLIGHT
October 27 – Sapphyria's Book Reviews – SPOTLIGHT
October 28 – Celticlady's Reviews – SPOTLIGHT
October 28 – fundinmental – SPOTLIGHT
October 29 – StoreyBook Reviews – REVIEW
October 29 – #BRVL Book Review Virginia Lee – SPOTLIGHT
October 29 – FUONLYKNEW – SPOTLIGHT
October 30 – Cozy Up With Kathy – REVIEW, CHARACTER GUEST POST
October 30 – Melina's Book Blog – REVIEW
October 30 – Novels Alive – REVIEW
I was provided with an advance copy. All thoughts and opinions are my own.