A WAFFLE LOT OF MURDER is the fourth book in the All-Day Breakfast Café Mysteries by Lena Gregory. I read the first in the series some time ago but somehow the next two books got buried in my to-read pile… simply because "too many books, too little time". However, when I had the opportunity to read an advance copy of this Halloween-themed cozy, I jumped at the chance. This book is easily read as a standalone and not once did I get lost. There's enough backstory so I felt I knew the characters without the pacing being slowed down. Ms. Gregory captures the spookiness of the season with creepy descriptions that left me shivering as the protagonist, Gia Morelli, and her bff, Savannah, prepare for the Haunted Town Festival. (Don't worry, the author adheres to the usual cozy mystery standards so there isn't any horror.) I truly enjoyed the friendship between Gia and Savannah. They support each other but aren't afraid to be honest with each other either.
With Gia dating Savannah's law enforcement cousin, they try to not get involved in finding out who murdered the woman organizing the festival. But things turn personal when an innocent man is attacked after Gia casually questions him about suspicious characters. As owner of the All-Day Breakfast Café, Gia can't help but have people gossip and/or confide in her about what they knew about the deceased. She finds there were numerous people who aren't sorry that the victim is no longer around. This brings a large pool of suspects that kept me guessing as Gia follows the clues. My only irritation was how Gia put herself and Savannah in unnecessary danger instead of relying on law enforcement which was readily available. With a suspense-worthy conclusion, this newest release is highly satisfying and lives up to its spooky Halloween theme!
Running her All-day Breakfast Café, Gia serves up mouthwatering dishes. And in keeping with the theme of the title, she serves Pumpkin Spice Waffles to her patrons, and includes the recipe, along with several others, at the back of the book. Since I just received a new waffle iron for my birthday this summer (yes, it was on my "wish list") I couldn't wait to try these autumn-themed waffles! These richly spiced waffles had a generous portion of pumpkin added to make them moist. With tons of flavor, not only are these great for breakfast but would make a delicious base for a scoop or two of ice cream and a drizzle of caramel sauce for dessert! I would be remiss if I didn't say a huge thank you to my granddaughter for making this recipe for the blog too!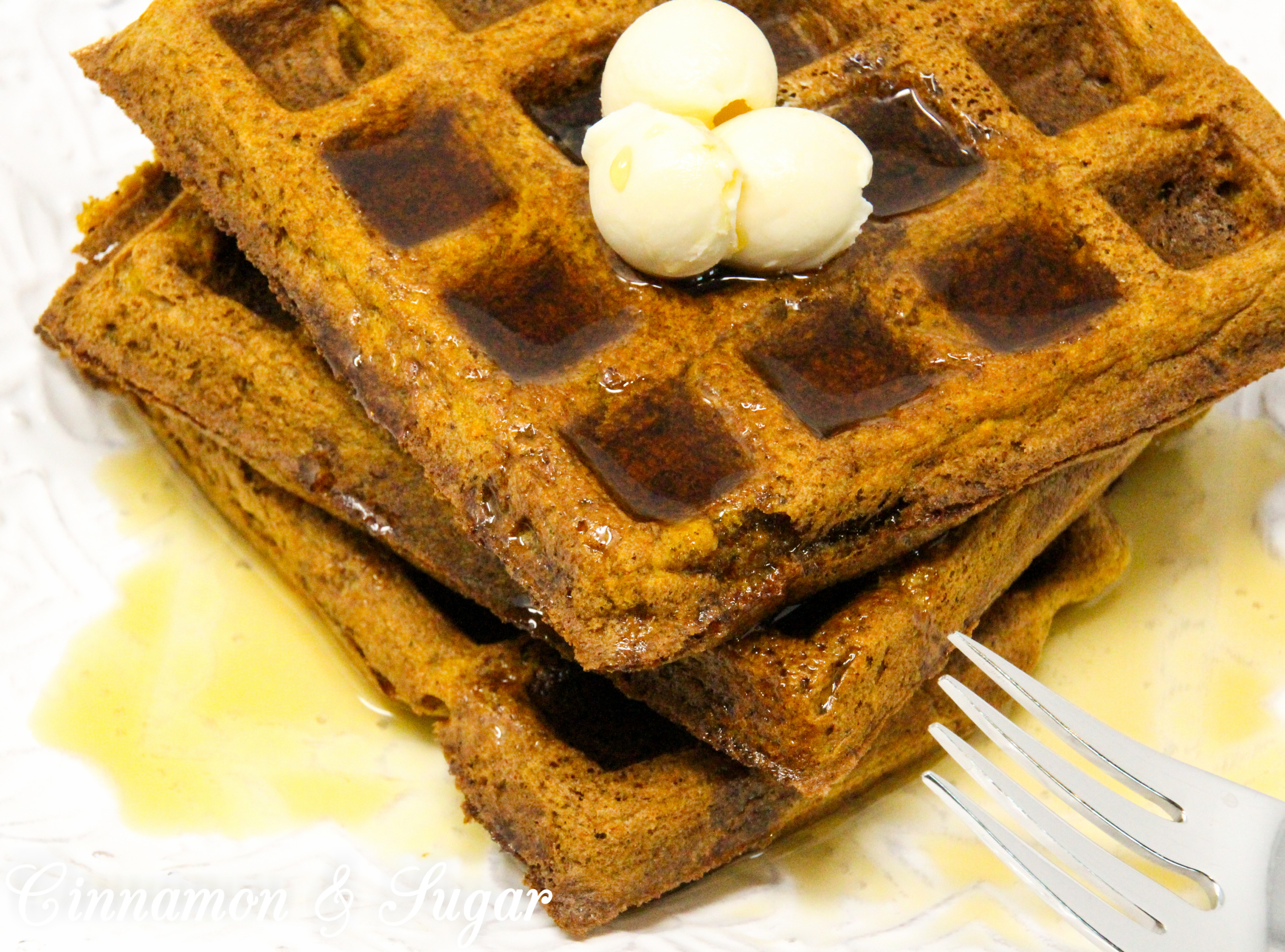 Amazon Synopsis
For diner owner Gia Morelli, her seasonal fall menu calls for two main ingredients—maple syrup and murder . . .
While the first hints of autumn grace Boggy Creek, Florida, Gia misses the colorful harvest traditions she left behind in New York. On a scramble to make new fall memories—and promote her irresistible pumpkin spice waffles—things take a dark turn when she gets roped into the Haunted Town Festival, a spooky celebration held on deserted farmlands. The desolate area conjures plenty of eerie vibes at night, but Gia and her best friend, Savannah, are nearly frightened to death upon the discovery of the event organizer's body buried in the nearby woods. More alarming, the local rumor mill says the woman's shady dealings may have egged someone into sending her to an early grave. Now, there's no shortage of creepy clues to feast on as Gia and her pals try to stop a killer with a very scary appetite . . .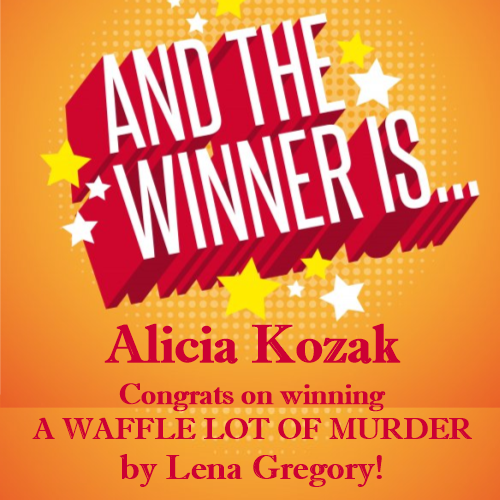 A special thanks to Lena Gregory for providing one lucky winner with a print copy of A WAFFLE LOT OF MURDER. Contest is limited to U.S. residents and ends Sunday, November 1, 2020 at 11:59 pm PST. Please use the Rafflecopter box located below to enter. The winner will be announced on this page and on Cinnamon & Sugar's Facebook page, as well as notified by email (so check your spam folder!)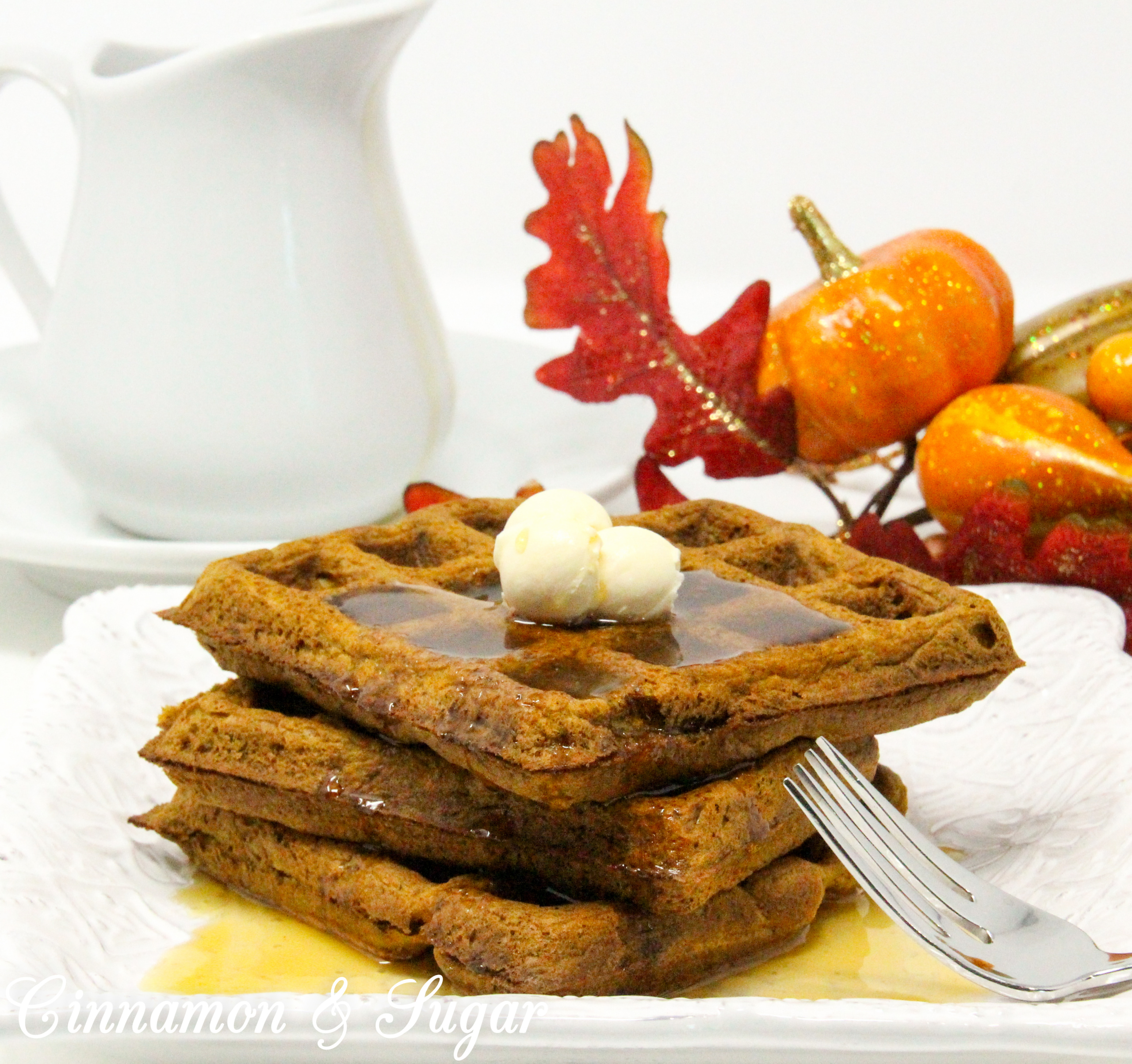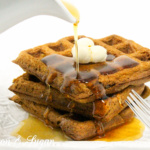 Pumpkin Spice Waffles
Ingredients
1-1/2

cups

all-purpose flour

1/4

cup

brown sugar

1

tablespoon

baking powder

1-1/2

teaspoon

baking soda

1/2

teaspoon

salt

1

tablespoon

pumpkin pie spice *purchased or homemade

1

cup

pumpkin puree

2

eggs

1

cup

almond milk

3

tablespoons

melted butter
*Homemade Pumpkin Pie Spice
3

tablespoons

ground cinnamon

2

teaspoons

ground ginger

2

teaspoon

ground nutmeg

1

teaspoon

ground cloves
Instructions
Preheat waffle iron, and coat top and bottom with non-stick spray.

In a large bowl, mix flour, brown sugar, baking powder, baking soda, pumpkin pie spice, and salt.

In another bowl, whisk pumpkin, eggs, butter, and almond milk until well combined.

Pour wet mixture over the dry ingredients. Mix together until just combined.

Pour batter into waffle iron, and cook according to waffle iron directions.

Serve with butter and maple syrup. For an extra treat, sprinkle a bit of cinnamon over the top.
*Homemade Pumpkin Pie Spice
Blend all the ingredients together. Store leftovers in an airtight container for the next batch of Pumpkin Spice Waffles.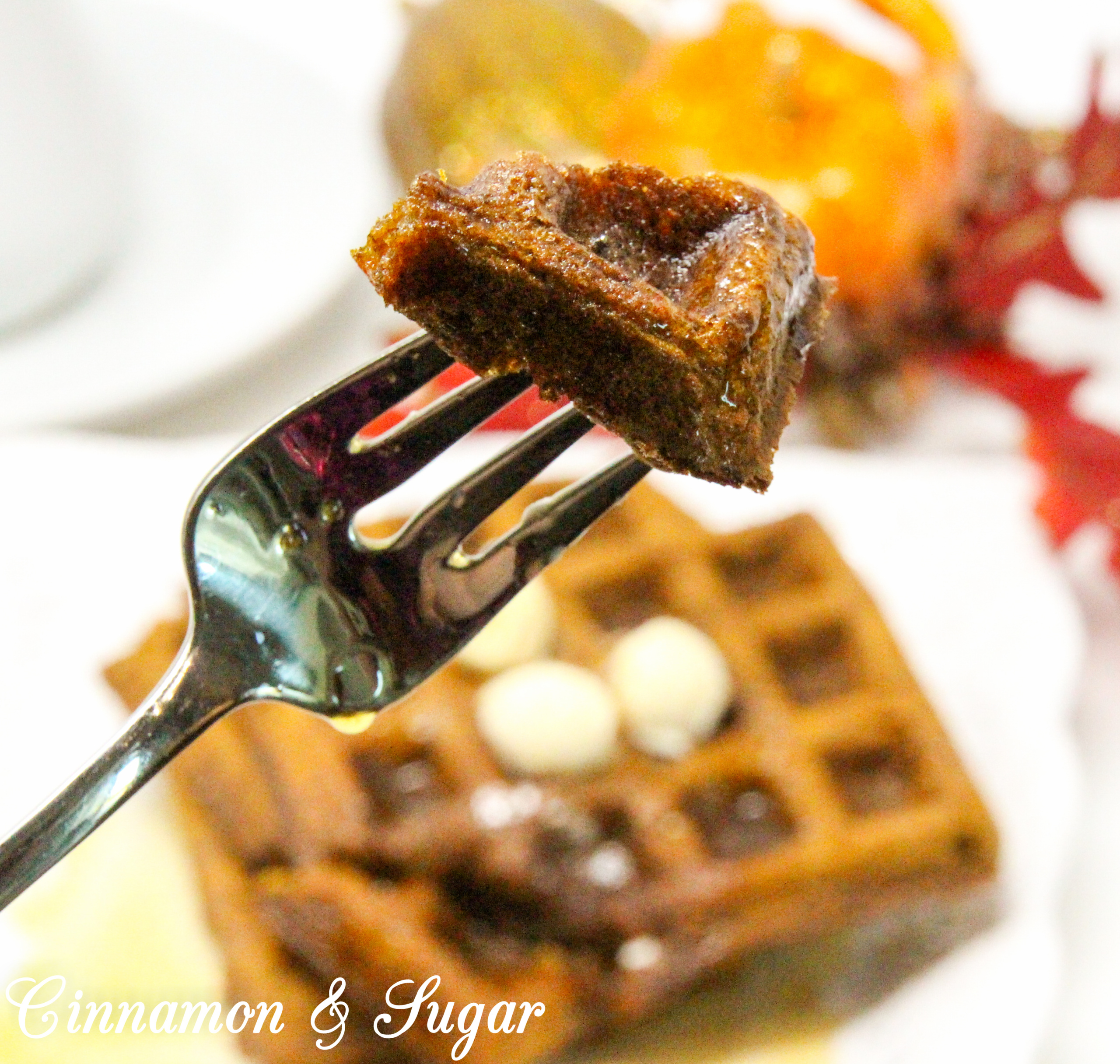 Pin to Pinterest: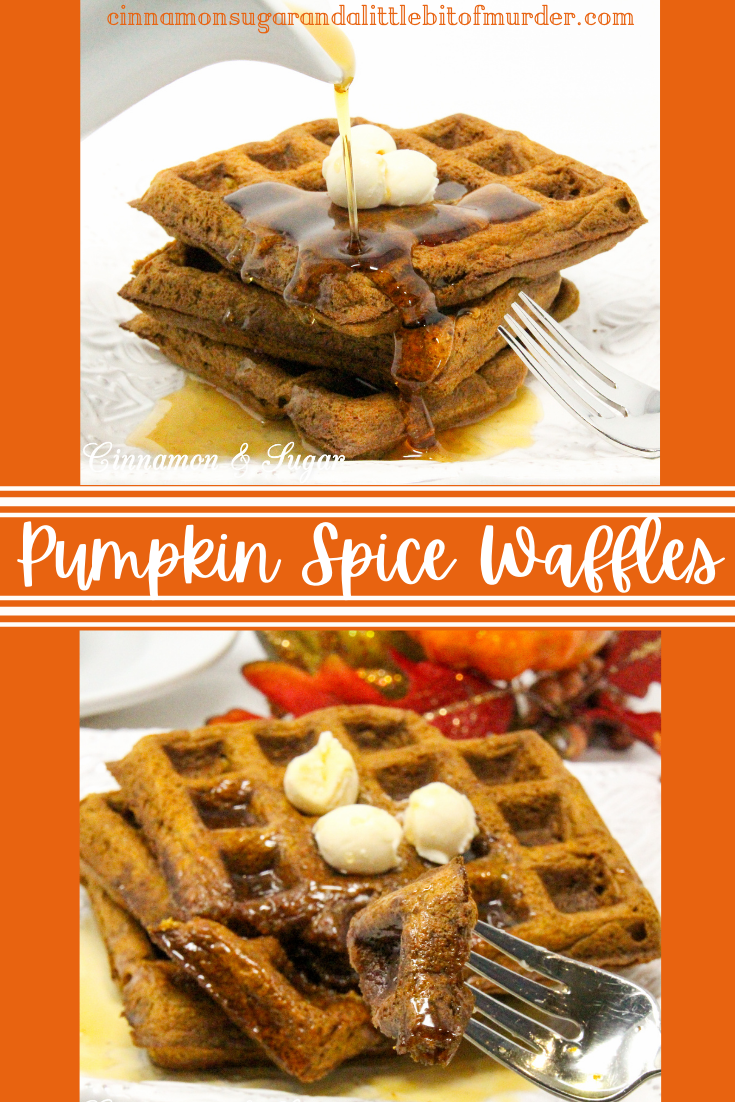 I was provided with an advance copy. All thoughts and opinions are my own.