THE SOLACE OF BAY LEAVES, the fifth book in the Spice Shop Mysteries by Leslie Budewitz, is another delicious addition to a tantalizing series! In this newest release, Ms. Budewitz once again displays her strengths in developing relatable and memorable characters that show growth over the course of the series. She also includes a colorful cast of characters that add to the whimsy of the locale. While this can be read as a standalone, I think the story is stronger by getting to know the protagonist, Pepper Reece, from the beginning and following her journey. I love how the author effectively uses Pepper, as owner of the Spice Shop in Pike Place Market, to showcase the bounty and tastes of the setting. In fact, she immerses the reader using all five senses so that I felt like I was right there and made me want to hop on a plane and visit in person. The Spice Shop would definitely be one of the first places I'd want to visit if it were possible! I also enjoyed all the tidbits of information offered up about spices and uses, along with all the mouthwatering descriptions of food.
The mystery surrounding the brutal shooting of one of Pepper's childhood friends takes center stage. It also pulls in an unsolved 3-year-old murder case of the husband of another childhood friend. As Pepper searches for answers, it appears that the two crimes are connected. The author has created a complex, well-plotted mystery that revolves around the re-gentrification of a rundown area in Seattle. With plenty of suspects to keep the reader guessing, the ending caught me by surprise with a historical twist that provided another layer of intrigue. Tying in the themes of friendship and loss, hope and acceptance, the reader is taken along for an enticing read as they follow Pepper's search for answers!
There are several delicious sounding recipes at the back of the book as well. I couldn't help but want to try out the recipe for Almond Biscotti! These hearty, crunchy cookies stay fresh for up to two weeks and if you ship to loved ones, they remain intact and delicious. Crunchy, with a delicate almond flavor thanks to a generous amount of toasted almonds, these traditional Almond Biscotti don't contain any butter or oil. Perfect for dunking in your favorite hot beverage!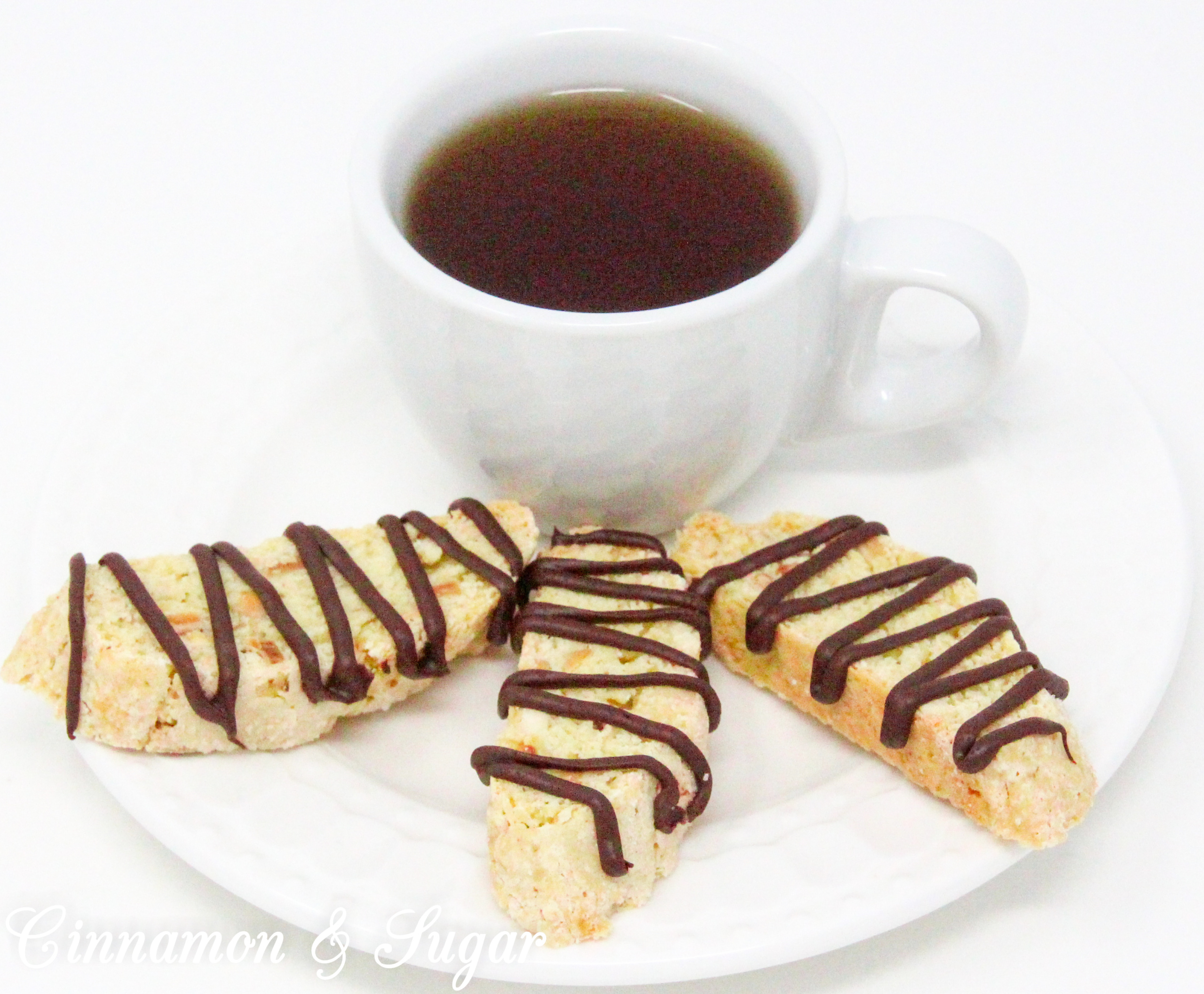 Amazon Synopsis
Pepper Reece never expected to find solace in bay leaves.
But when her life fell apart at forty and she bought the venerable-but-rundown Spice Shop in Seattle's Pike Place Market, her days took a tasty turn. Now she's savoring the prospect of a flavorful fall and a busy holiday cooking season, until danger bubbles to the surface . . .
Between managing her shop, worrying about her staff, and navigating a delicious new relationship, Pepper's firing on all burners. But when her childhood friend Maddie is shot and gravely wounded, the incident is quickly tied to an unsolved murder that left another close friend a widow.
Convinced that the secret to both crimes lies in the history of a once-beloved building, Pepper uses her local-girl contacts and her talent for asking questions to unearth startling links between the past and present—links that suggest her childhood friend may not have been the Golden Girl she appeared to be. Pepper is forced to face her own regrets and unsavory emotions, if she wants to save Maddie's life—and her own.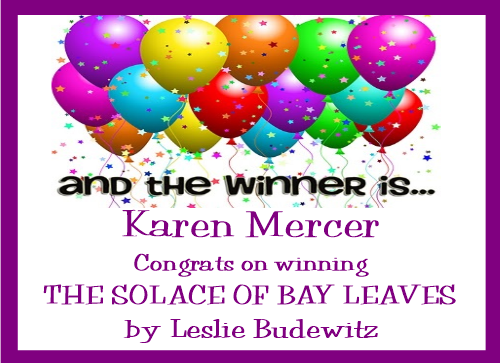 A special thanks to Leslie Budewitz for providing one lucky winner with a print copy of THE SOLACE OF BAY LEAVES. Contest is limited to U.S. residents and ends Wednesday, October 28, 2020 at 11:59 pm PST. Please use the Rafflecopter box located below to enter. The winner will be announced on this page and on Cinnamon & Sugar's Facebook page, as well as notified by email (so check your spam folder!)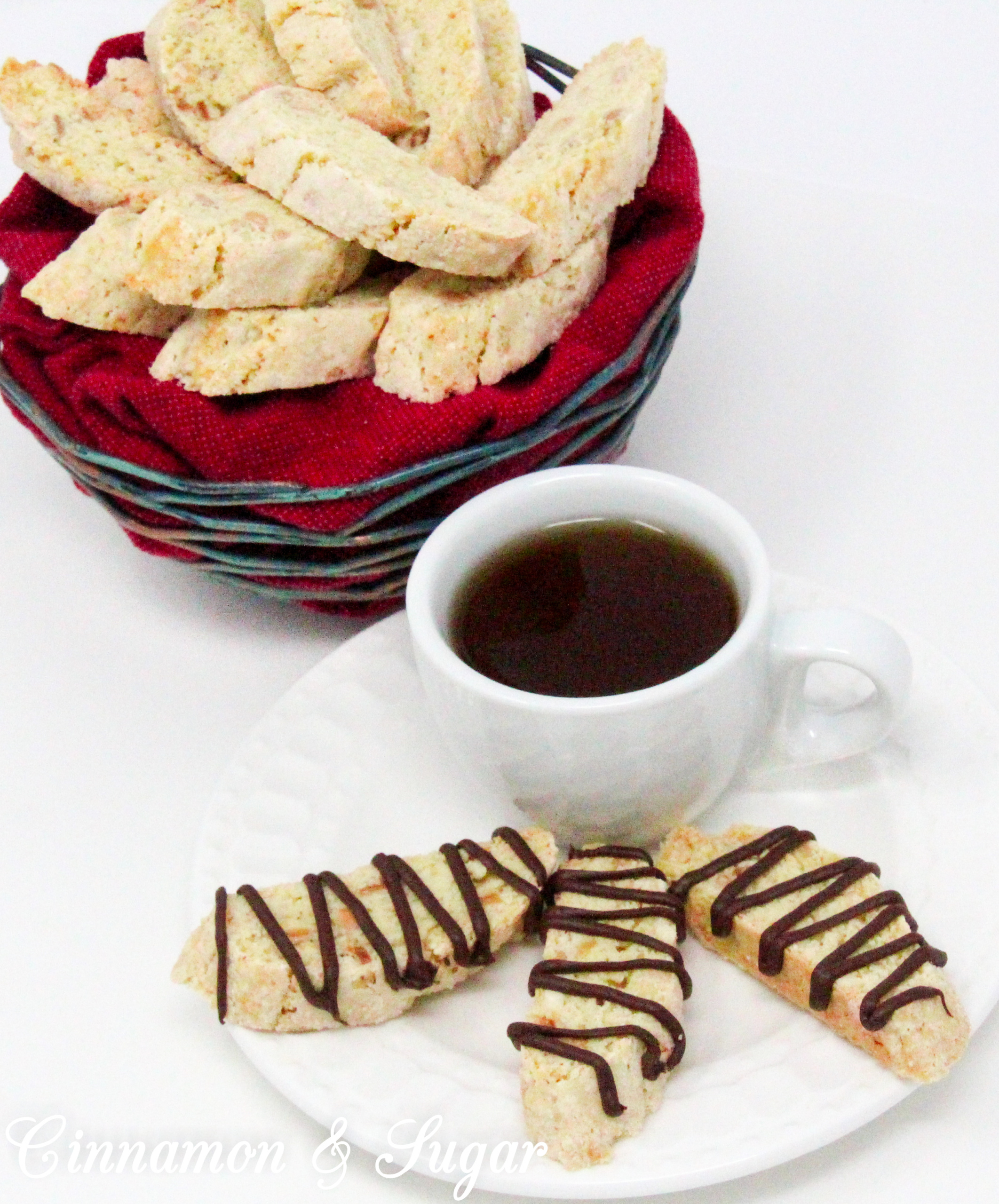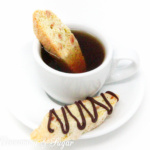 Almond Biscotti
Biscotti have a reputation for being a major kitchen project, but Laurel's version of the classic Italian dipping cookie is as easy as it is tasty, crunchy on the outside and chewy inside. For an extra treat, dip a few in melted chocolate, or paint chocolate on one side.
Ingredients
2

cups

unbleached, all-purpose flour, plus more for the work surface

1

cup

plus 1 tablespoon sugar

1/2

teaspoon

baking powder

1/4

teaspoon

sea salt

1

cup

slivered almonds, lightly toasted (see below)

3

large eggs (one separated)

1

teaspoon

almond extract

1

teaspoon

vanilla extract
Instructions
Heat the oven to 350 degrees (F).

*Toast the nuts on a rimmed baking sheet for 7 to 10 minutes, or until they just begin to change color. Remember that nuts continue to cook as they cool. Cool completely before using.

Line a large rimmed baking sheet with parchment paper or a silicon sheet.

In the bowl of your mixer, combine the flour, 1 cup sugar, baking powder, and salt. Add the almonds and beat on low to blend well. Add 2 whole eggs, the yolk of the third egg, and the extracts. Beat on medium until a sticky dough forms. (If your flour is quite dry, you may need to add a teaspoon of milk.)

Lightly flour a cutting board. Turn the dough onto the board and shape into a disk. Cut the disk into four equal quarters. Lightly moisten your hands, then roll each quarter into a log, about 1-1/2 inches wide and 9 inches long. Place logs on the baking sheet, at least 2 inches apart. Press the tops gently to make sure they are even.

Lightly beat the remaining egg white; brush it on tops of the logs, then sprinkle them evenly with the remaining tablespoon of sugar.

Bake 20 to 25 minutes, or until the logs are lightly browned and just set; there will be cracks on the surface. Transfer the baking sheet to a wire cooling rack; let the logs rest for 5 minutes, then carefully peel them off the parchment - they will be hot - and place them directly on the rack to cool for 10 minutes. Discard the parchment.

Reduce oven temperature to 300 degrees. Use a chef's knife to trim the end of each log. Then cut each log on the diagonal into equal slices. (Press down into the log, rather than sawing, to prevent breaking.) Place the slices on the baking sheet, with a cut side facing up. Bake 10 minutes, then turn each slice over. Bake an additional 10 minutes or until the slices are lightly golden. Cool on a wire rack before dipping in chocolate, if you'd like.
Note:
Makes about 40 cookies. The biscotti will keep in an airtight container at room temperature for up to 2 weeks.
Cinnamon & Sugar's Note:
*I found pre-toasted slivered almonds at Trader Joe's if you want to skip toasting the almonds yourself.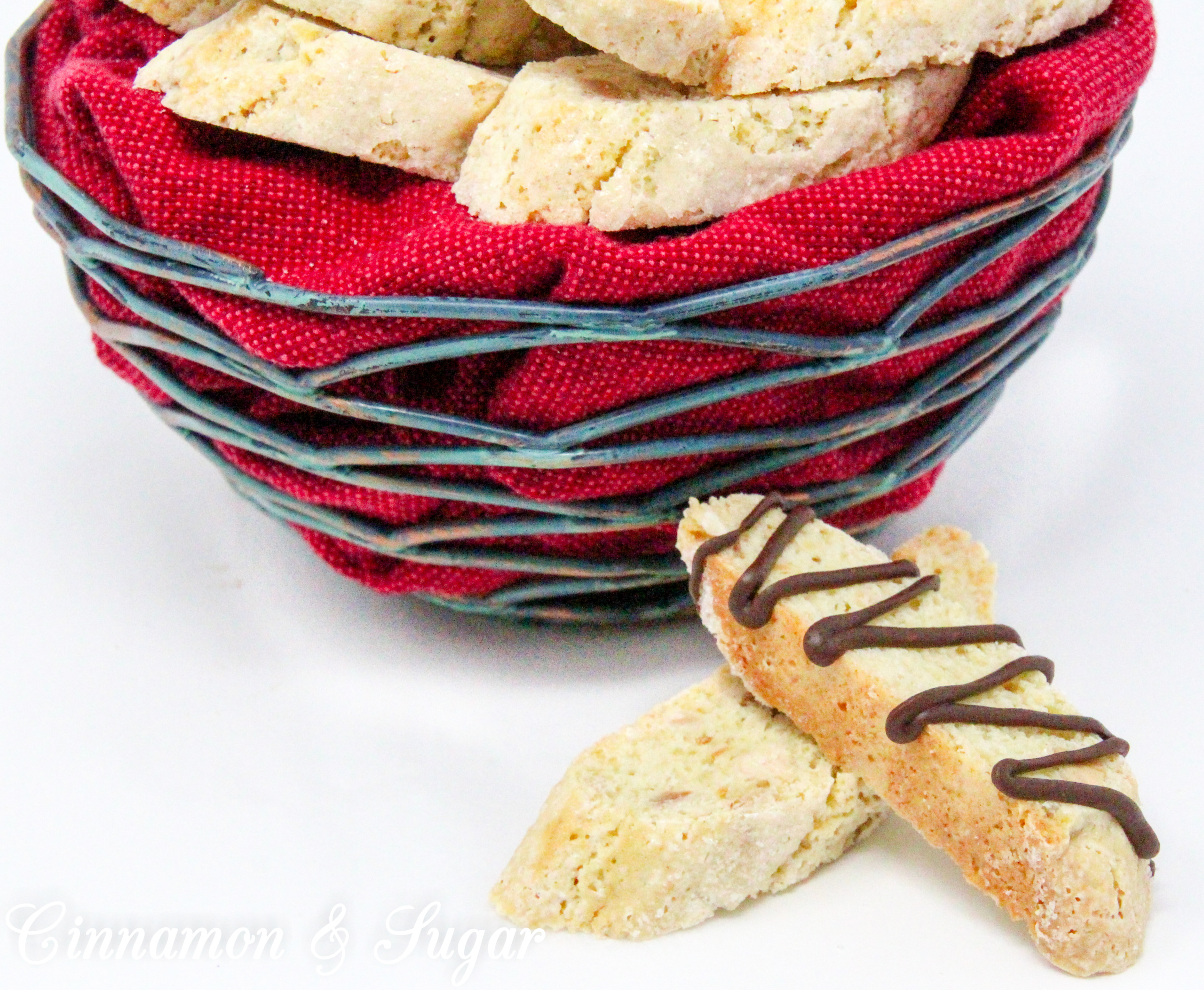 Pin to Pinterest: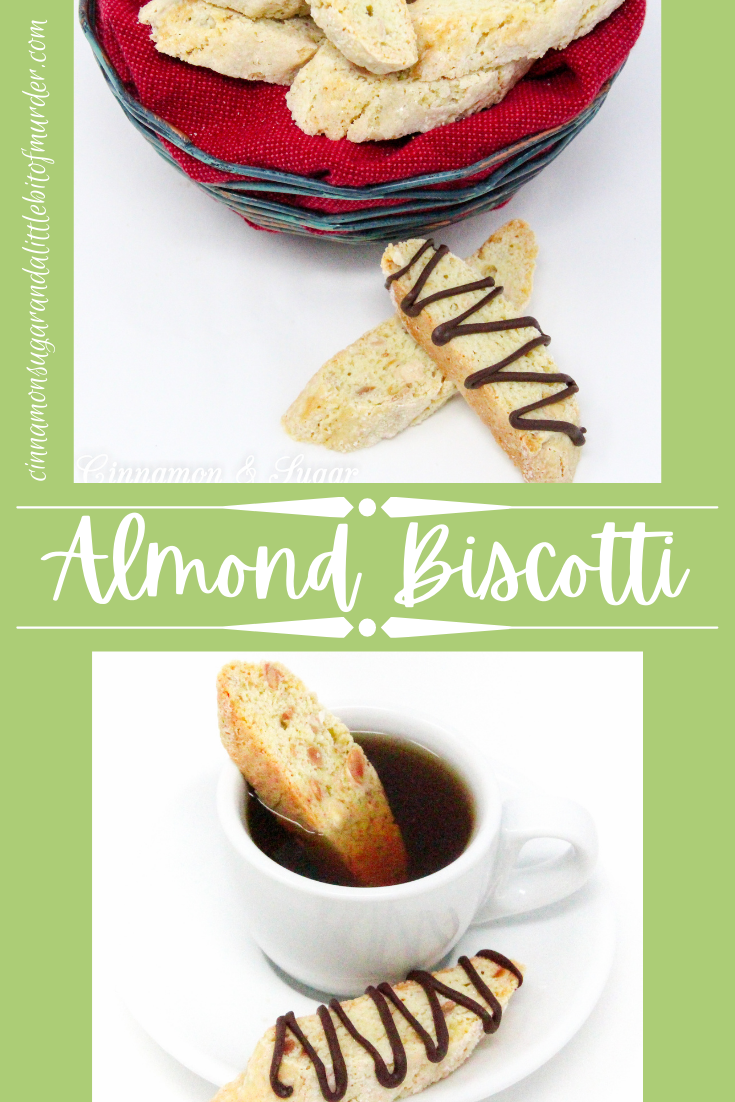 I was provided with an advance copy. All thoughts and opinions are my own.