A FLAIR FOR GOBLINS by Deborah Garner is the sixth book in the Sadie Kramer Flair Mysteries. With lighthearted spooky vibes and tales of ghosts haunting a local San Francisco mansion, this newest addition fits the bill for a fun Halloween cozy mystery read! I love that the protagonist, Sadie Kramer, is a woman of a "certain age". Mature, a no-nonsense attitude, and a flair for fashion, Sadie and her adorable Yorkie sidekick, Coco, take center stage no matter the situation. The author weaves in a disgraced paranormal investigator, disgruntled family members of the victim, and a stressful Halloween ball to organize, all set against the backdrop of San Francisco. I greatly enjoyed that Sadie's detective beau from New Orleans shows up unexpectedly to assist in her quest for solving another murder. He adds a sweet dimension to the storyline. Despite being a quick read, Ms. Garner does an admirable job of developing the characters and creating plenty of suspects to keep the reader guessing as Sadie snoops. The reveal itself came quite quickly and felt rushed but, all in all, the threads of the story wrapped up together in a spooktacular conclusion.
Sadie loves to eat and she greatly enjoys sampling some of the treats the caterer prepares for the Halloween Ball. I'm honored to have my recipe for Butterfinger Krispie Bars included at the back of the book after Sadie "approved" of them. A delicious riff on Rice Krispie Treats, Butterfinger Krispie Bars combines the flavors of the iconic candy bar: chocolate, butterscotch, and peanut butter. Plus it's a scrumptious way to use up some of the Butterfinger candy from trick-or-treating. This recipe makes a large batch so you can tempt and treat all your ghosts, ghouls, and goblins!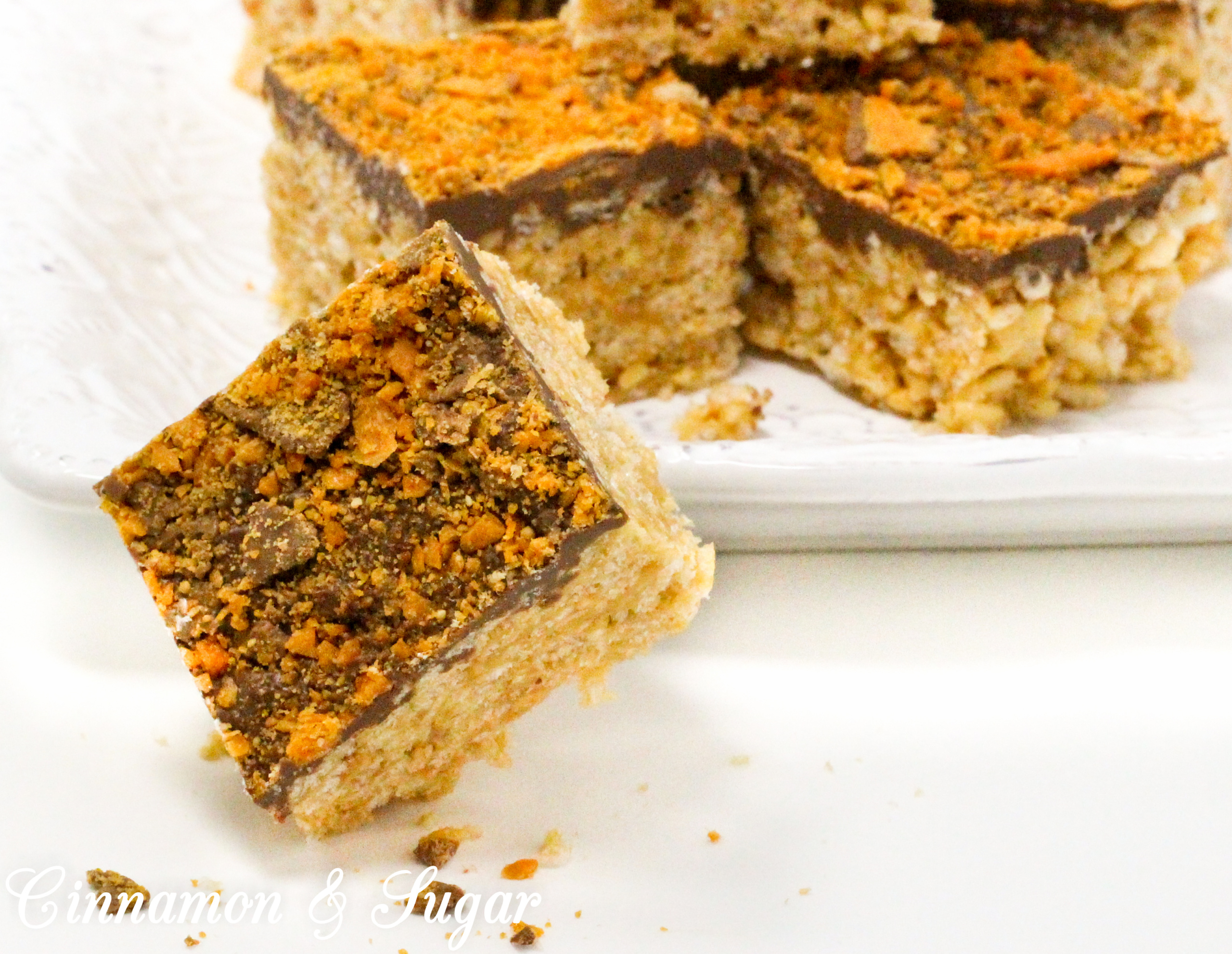 Amazon Synopsis
When Sadie Kramer agrees to help decorate for San Francisco's high-society Halloween shindig, she expects to find whimsical ghosts, skeletons, and jack-o-lanterns when she shows up at the Wainwright Mansion, not a body. Especially not the body of the woman in charge of the charity event.
With two detectives, a paranormal investigator turned television star, and a cauldron full of Wainwright Foundation staff and family members cackling around her, Sadie and her sidekick Yorkie are determined to find out who the killer is. Will an old superstition help lead to the truth? Or will this simply become one more tale in the mansion's haunted history?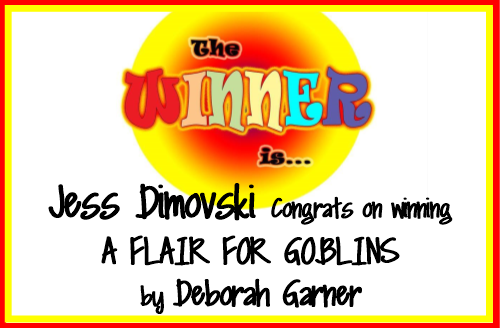 A special thanks to Deborah Garner for providing one lucky winner with their choice of print or an ebook copy of A FLAIR FOR GOBLINS. Print is limited to U.S. residents. Contest ends Wednesday, October 21, 2020 at 11:59 pm PST. Please use the Rafflecopter box located below to enter. The winner will be announced on this page and on Cinnamon & Sugar's Facebook page, as well as notified by email (so check your spam folder!)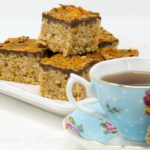 Butterfinger Krispie Bars
A delicious way to use up Halloween candy
Ingredients
1

cup

sugar

1

cup

light corn syrup

1-1/2

cups

peanut butter (creamy or crunchy)

6

cups

(12 ounce box) Rice Krispies

1

12 ounce bag semi-sweet chocolate chips

1

12 ounce bag butterscotch chips

3

Butterfinger candy bars, crushed
Instructions
Line a jelly roll pan (12" x 18") with foil and spritz with non-stick cooking spray. Arrange the Rice Krispies over the bottom of the pan.

In a medium saucepan, stir together over low heat, sugar, corn syrup, and peanut butter.

Once the mixture has melted and is smooth, pour over the Rice Krispies. Stir until all the cereal is coated and pat flat onto the pan.

Place the chocolate chips and butterscotch chips together in a microwave-safe bowl. Heat in 30 second increments, stirring after each cycle, until melted. Spread over the Rice Krispies mixture.

Before the chocolate/butterscotch spread sets, sprinkle with the Butterfinger crumbles.

Cut into bars while still warm, leaving them in the pan. Refrigerate for at least 30 minutes until firm and chocolate/butterscotch spread has set before serving.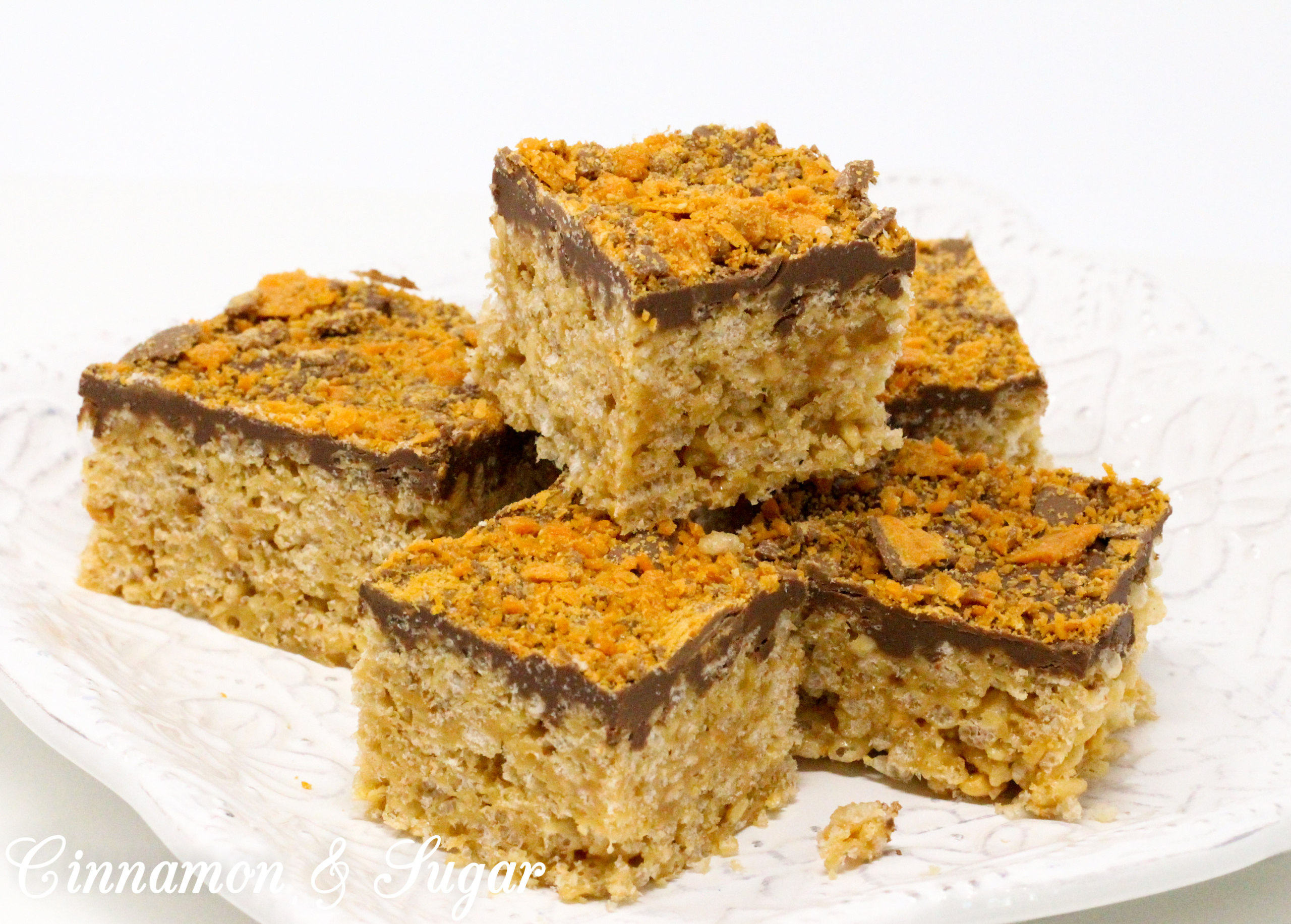 Pin to Pinterest: