Synopsis
Cupcake caterer Emory Martinez is hosting a Halloween bash alongside her octogenarian employer, Tillie. With guests dressed in elaborate costumes, the band is rocking, the cocktails are flowing, and tempers are flaring when the hired Bavarian Barmaid tries to hook a rich, hapless husband. Except one of her targets happens to be Emory's brother-in-law, which bodes ill for his pregnant wife. When Emory tracks down the distraught barmaid, instead of finding the young woman in tears, she finds her dead. Can she explain to the new detective on the scene why the Bavarian Barmaid was murdered in Emory's bathtub with Emory's Poison Apple Cake Pops stuffed into her mouth?
With an angry pregnant sister to contend with, she promises to clear her brother-in-law's name. As Emory starts asking questions and tracking down the identity of the costumed guests, she finds reasons to suspect her brother-in-law has been hiding a guilty secret. Her search leads her to a web of blackmail and betrayal amongst the posh setting of the local country club crowd. Can Emory sift through the lies she's being told and find the killer? She'll need to step up her investigation before another victim is sent to the great pumpkin patch in the sky.
Includes spooky Halloween recipes!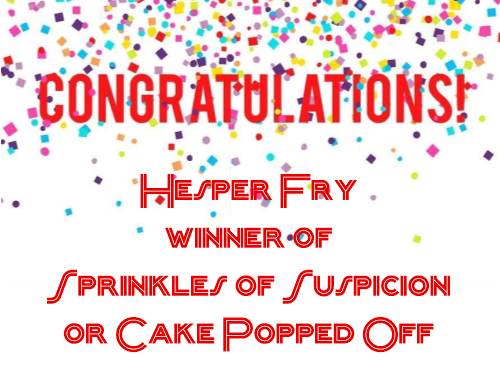 I'm celebrating with another giveaway, winner's choice of SPRINKLES OF SUSPICION, the first book in the Cupcake Catering Mystery series or CAKE POPPED OFF (use the Rafflecopter below to enter). Contest ends Sunday, November 08, 2020 and print is limited to U.S. residents. All others will be awarded an ebook.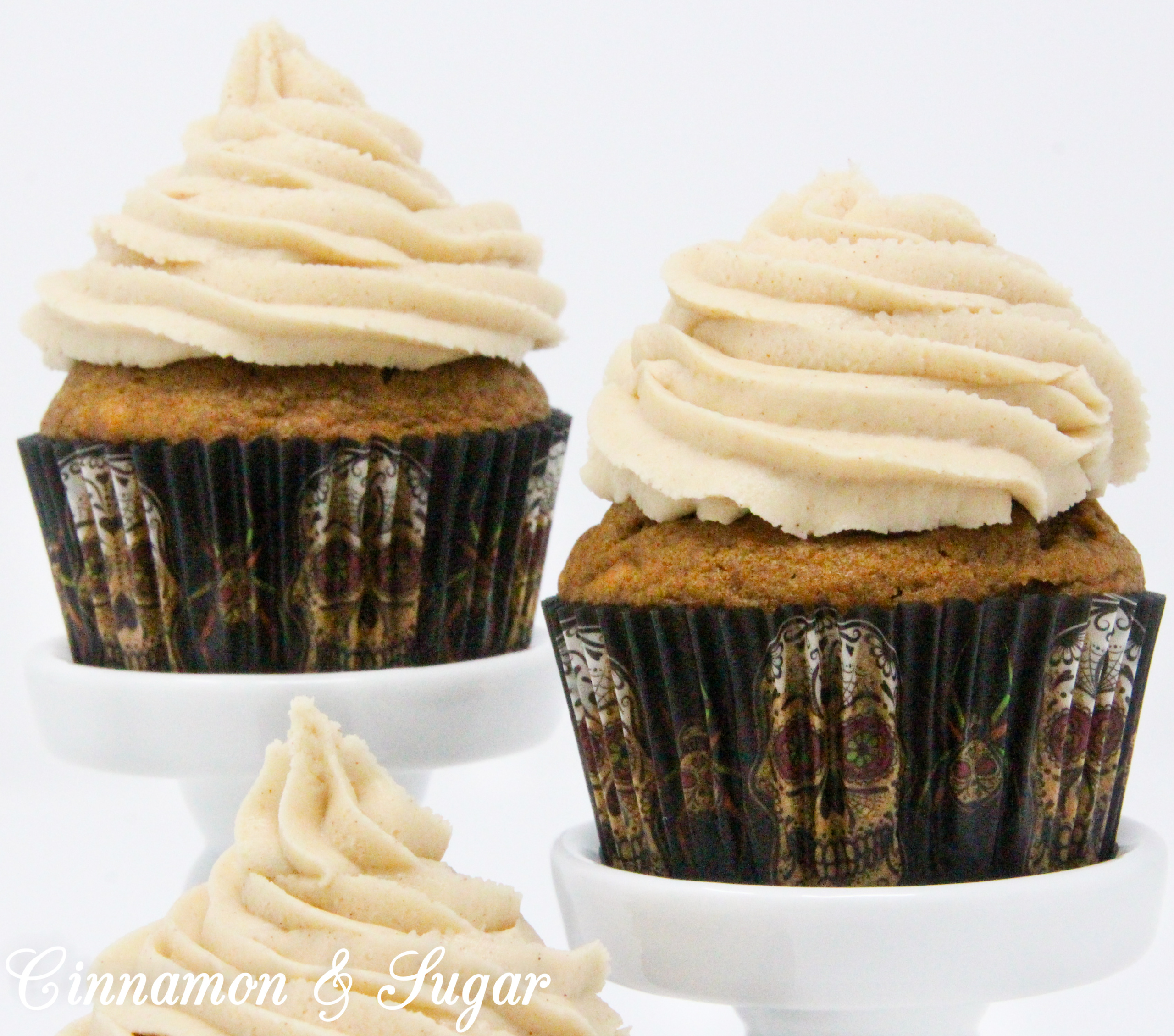 The opening scene of CAKE POPPED OFF features my real-life attempt at creating Fireball Pumpkin Spice Coffee Cupcakes. It wasn't long afterward that my husband placed not one, but two fire extinguishers in my kitchen. Fortunately, I've never had to use them nor was there any damage to my oven or myself from the flambé. Since I ran out of time to correct the recipe before the book published, I did not include it. Since then, I've tinkered around and was able to perfect the cupcakes. I'm happy to share the delicious result here. And be sure to check out an excerpt from the first chapter at the bottom of the page!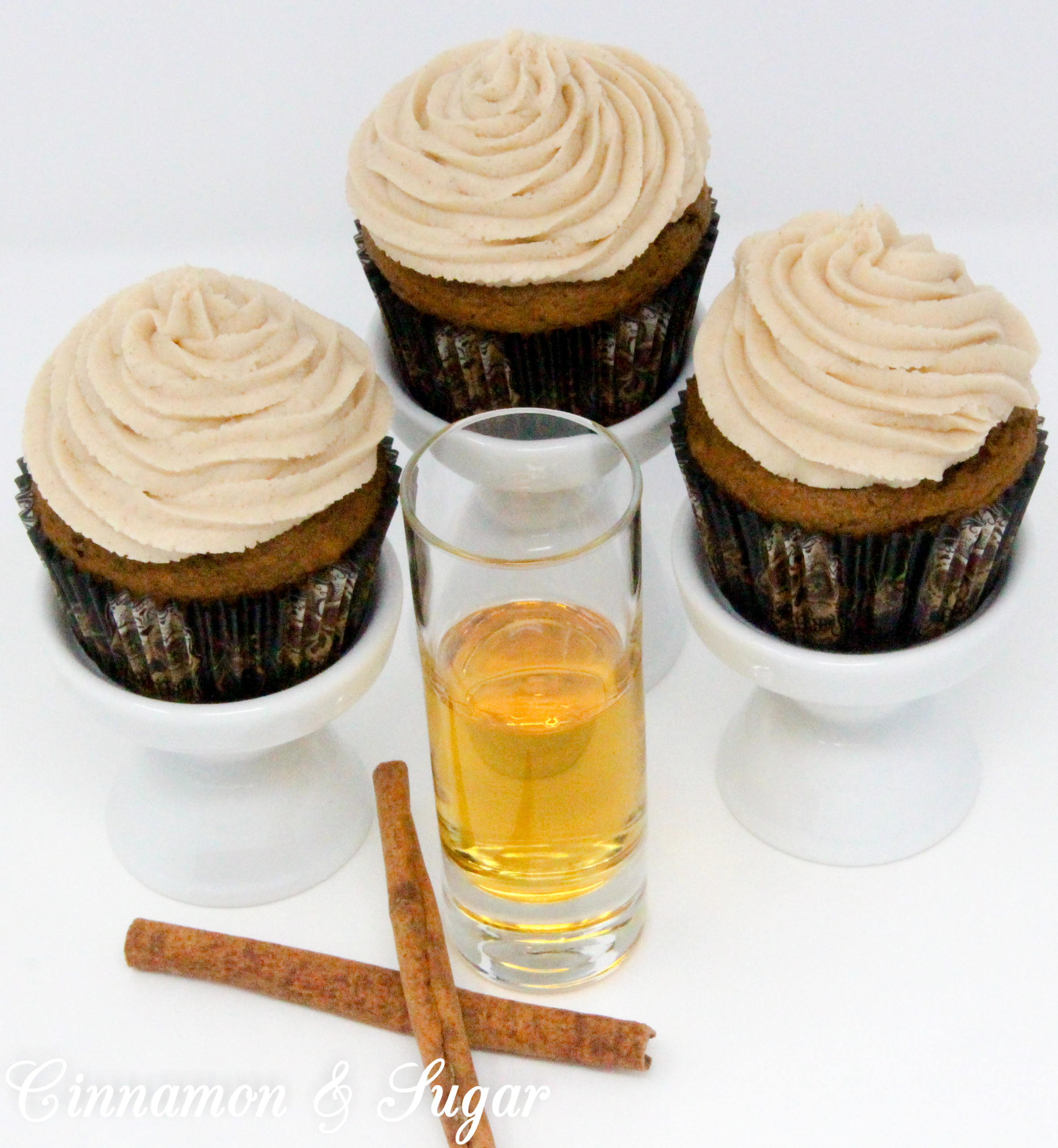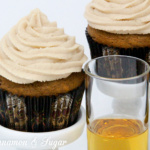 Fireball Pumpkin Spiced Coffee Cupcakes
With the flavors of fall and the bite of warming cinnamon whiskey, these cocktail cupcakes are perfect for imbibing in front of a cozy fire or sharing with friends as you celebrate autumn.
Makes 12 cupcakes
Ingredients
Cupcakes
1-3/4

cups

(7.8 ounces by weight) all-purpose flour

1

teaspoon

baking powder

1

teaspoon

baking soda

1/2

teaspoon

salt

1

teaspoon

ground cinnamon

1

teaspoon

pumpkin pie spice

2/3

cup

(4.7 ounces) packed light brown sugar

2

eggs

1

teaspoon

finely ground instant coffee (such as Starbucks Via)

1

cup

(8 ounces) pumpkin puree (not pumpkin pie filling)

1/2

cup

vegetable oil

1/3

cup

Fireball Cinnamon Whiskey
Frosting
4

tablespoons

Fireball Cinnamon Whiskey

1/2

teaspoon

finely ground instant coffee (such as Starbucks Via)

1/2

cup

(4 ounces) unsalted butter, room temperature

1/4

teaspoon

salt (omit of you use salted butter)

1/2

teaspoon

ground cinnamon

4

cups

(17.75 ounces) confectioners' sugar

1 - 3

teaspoons

Fireball Cinnamon Whiskey (if needed to adjust frosting consistency)
Instructions
Cupcakes
Preheat oven to 350 degrees (F). Line a cupcake tin with paper liners.

In a large bowl, whisk together the flour, baking powder, baking soda, salt, cinnamon, and pumpkin pie spice together. Set aside.

In a separate bowl, whisk the brown sugar, eggs, and instant coffee together. Beat in the pumpkin, vegetable oil, and Fireball Cinnamon Whiskey until combined.

Pour the wet ingredients into the dry ingredients and stir just until combined.

Divide the batter between the prepared cupcake liners and bake for 17 - 20 minutes. A skewer inserted into the center of the cupcakes should come out mostly clean. A few moist crumbs clinging to the skewer is okay.

Cool the cupcakes in the tin for 5 minutes then remove to a wire rack to cool completely before frosting.
Frosting
While the cupcakes bake, mix 4 tablespoons Fireball Cinnamon Whiskey and instant coffee together in a small microwave-safe bowl. Heat for 20 seconds then stir to dissolve the coffee. Refrigerate to cool completely before making the frosting.

In the bowl of a standing mixer, cream the butter, salt, and cinnamon together.

Beat in half the confectioners' sugar. Once incorporated add 2 tablespoons of the chilled Fireball Cinnamon Whiskey mixture. Repeat with the remaining confectioners' sugar and 1 tablespoon whiskey mixture, beating well to incorporate.

If frosting is too thick, add remaining Fireball and coffee mixture. If the frosting is still too thick, add additional Fireball Whiskey, 1 teaspoon at a time, until desired consistency is reached. Beat the frosting until creamy, about 4 minutes.

Pipe thick swirls of frosting over completely cooled cupcakes.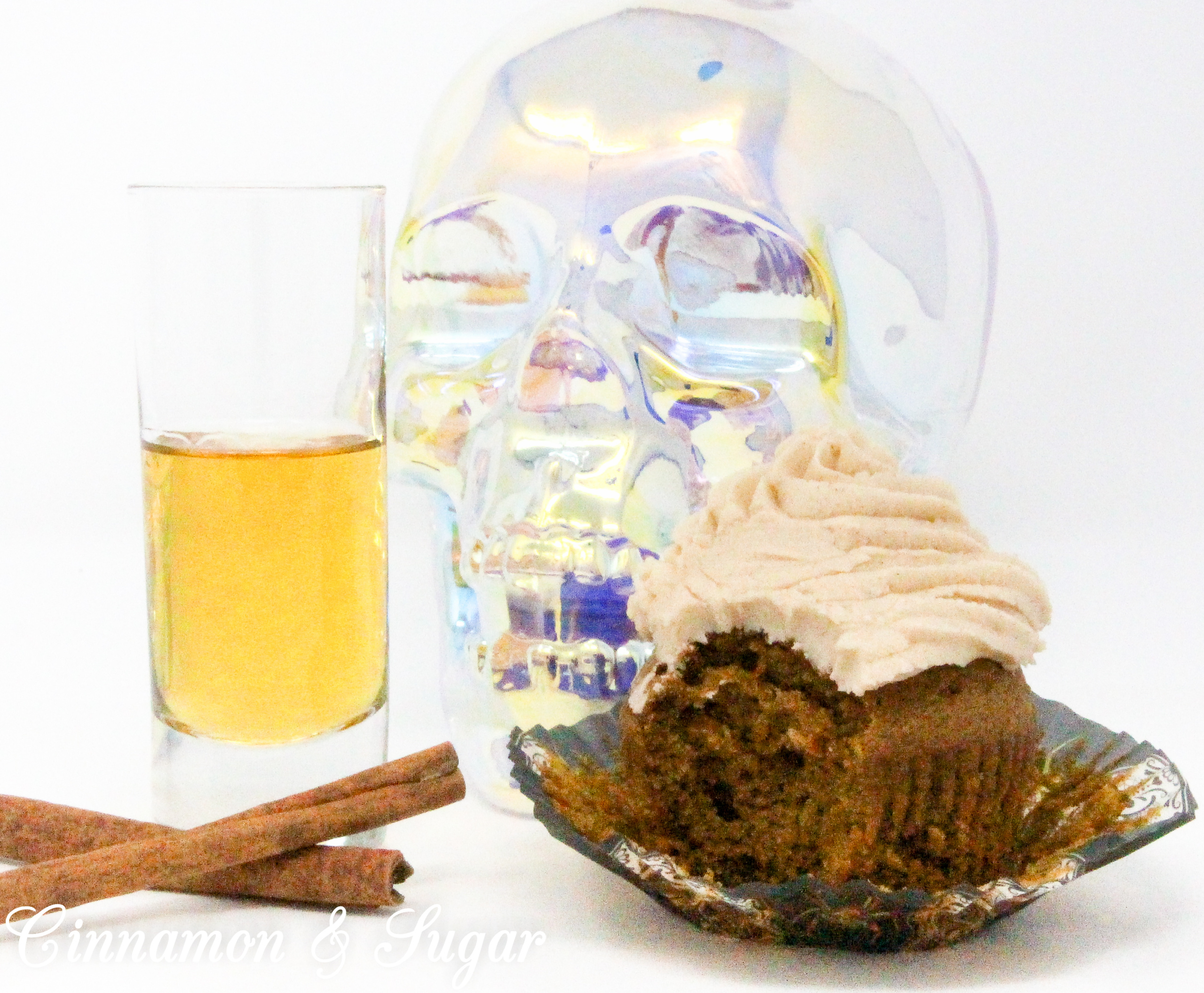 Pin to Pinterest: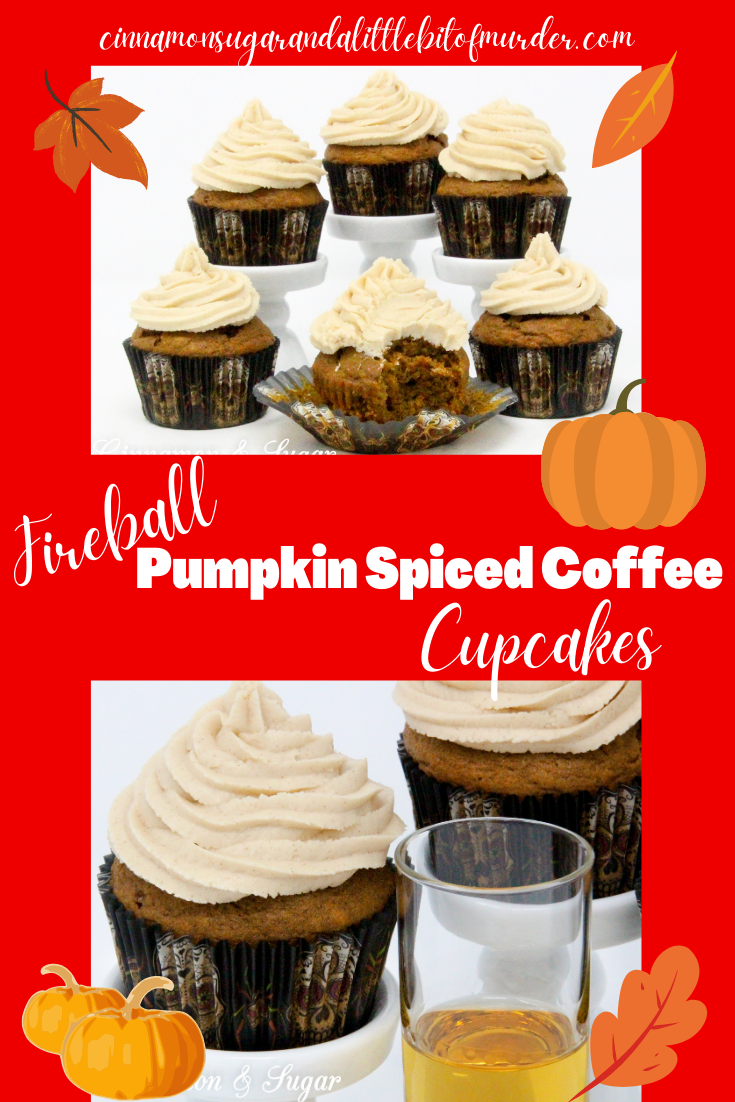 Cake Popped Off! Chapter One Excerpt
A low roar filled my ears right before a whoosh of hot blue flames raced toward my face. Blistering heat singed my bangs, but I stood still, rooted in place. I couldn't move. My mind screamed for me to get a fire extinguisher, except I had no idea which cabinet held it. Large hands shoved me aside then slammed the oven door shut. I watched, mesmerized, as the flames flickered out.
"What are you trying to do, burn my grandmother's house down?" The deep voice sounded angry.
I turned to see dark-green eyes that smoldered in a classically handsome face. A scowl created furrow lines in his forehead that his carefully coiffed blond hair didn't quite cover up. He must have been the heir apparent to the Skyler family business and fortune. I had been warned about him… by his own grandmother. Just my luck he had caught me in the middle of a bad cupcake experiment.
"Uh, no. That was definitely an accident." I held out my hand. "I'm Emory Martinez. Thanks for putting out the flambé."
He looked at my offered hand, studied my ample figure, then turned away. Apparently, he didn't want to get his impeccably manicured fingers sticky with the smear of buttercream on my palm. After I washed and dried my hands, I smoothed my frizzy red hair away from my face. I had made an impression, but unfortunately, it wasn't a good one.
"What's all this?" He gestured at the row of liquor bottles lined up on the butcher block island. "My grandmother isn't supposed to consume more than four ounces of red wine with dinner each day. Has my father allowed an alcoholic to care for my grandmother?"
My face burned, and I wished someone had warned me that Theodore Preston Skyler was going to make a surprise visit. I would've scurried back to my pool house after preparing his grandmother's breakfast and hidden until the coast was clear. The man seemed as pretentious as his name.
"No, definitely not. I almost never drink." That might have been true up until almost three months ago. However, since I'd moved there to care for Tillie, the feisty octogenarian had made it her mission to educate me on the finer points of creating then sipping cocktails every evening by the pool. Tillie's favorite, the gimlet, had become one of mine. Of course, her son and grandson's recommendation that she limit herself to four ounces of wine with dinner had been met with outright disdain from the woman herself. When I voiced my concern, Tillie assured me that her doctor saw no reason to limit her consumption to the small quantity because she was in perfect health.
"Well, what is all this alcohol doing in the kitchen? Are you stealing from my grandmother?"
"No! These are my own supplies. Tillie—"
"That would be Mrs. Skyler to you, Ms. Martinez," said the pompous man, who was only a few years older than my twenty-eight. "I'll have a talk with my father. It's obvious you're not the right sort of caretaker for this position."
My stomach clenched, and my mouth went bone-dry. Ever since I'd discovered that my no-good cheating husband was having an affair with my supposed best friend, my life had spiraled out of control. This job had been a second chance for me to get back on my feet, and I truly loved the elderly woman I lived with. Besides, if I got fired, my mother would kill me.
"You'll do no such thing, Teddy." His grandmother marched past her grandson and stood at my side to face him. "This is between your father and me. We both happen to think Emory is perfect for the job."
He blanched. "Grandmother, please call me Theodore. It's absurd that I have to keep reminding you."
"You'll be called Teddy until you remember to call me Grams or at least Tillie. Honestly, 'Grandmother' reminds me of my former mother-in-law, and those memories are best forgotten."
I cringed. Words like "forgotten," "memories," and "remember" were best not brought up. Her son thought she suffered from dementia and wanted me to spy on her so they could move her into a care facility. It appeared her pretentious grandson shared or hoped for the same outcome. I wondered if both men were after her money and property. Despite what they thought, Tillie's mind was as sharp as a tack, and she lived life to the fullest. It would crush her to lose her independence.
I tuned out their bickering as they went back to the living room to wait for David Skyler, Tillie's son, to arrive. He'd scheduled a family meeting and requested that I prepare muffins and tea for his sons and mother. Since it was autumn, I had baked pumpkin-spice muffins and put them in the warming drawer. Tillie had recommended a chai blend from her favorite tea shop, and I would steep the tea when Mr. Skyler arrived.
Mr. Skyler paid my generous salary and allowed me to live in Tillie's luxurious pool house. In exchange, I cooked for his mother and did some accounting and administrative chores for him. The arrangement suited me and left me plenty of time to experiment, bake, and deliver the cupcakes for my fledgling cupcake catering company.
My specialty was creating cupcakes that tasted like cocktails. Fireball Pumpkin Spice Coffee Cupcakes had been the morning's experiment. Apparently, I had used too much Fireball in the recipe, which had caused it to flambé. I giggled when I realized the whiskey had lived up to its name. Unfortunately, the centers of the little cakes had cratered like giant sinkholes when I removed them from the oven.
I needed to get the recipe right, since I planned to showcase them at Tillie's Halloween party the following evening, two weeks before the actual holiday. I hoped the cupcakes would generate some new orders from the seventy-five guests. My sister would cater the party food while I provided the desserts. Besides the Fireball Cupcakes, I planned to make Poison Apple Cupcakes and Poison Apple Cake Pops. Smashed Pumpkin Cupcakes were already in the refrigerator, ready to be consumed. Tillie had arranged for a live band and a bartender, which was more evidence of her living life to the fullest.