I was fortunate enough to be the recipient of two print cozy mysteries, thanks to the generosity of the publishers. Since neither book contains recipes, I'm sharing my own recipe below for Butterscotch Cookies to fit in the themes of both books. First for Christmas (because Christmas always means lots of cookie baking in my house!) for MRS. CLAUSE AND THE SANTALAND SLAYINGS by Liz Ireland and next the Cookie House Mystery, SUGAR AND VICE by Eve Calder, which has SO many yummy-sounding cookies. Scroll down for my reviews, the recipe, and the Rafflecopter to enter for a chance to win a copy of your choice of book!
MRS. CLAUSE AND THE SANTALAND SLAYINGS, by Liz Ireland, could very well be my favorite new series of the year! With the fantasy setting of the North Pole, Santa is under suspicion for murdering an elf, and the new bride, Mrs. Claus, is trying to adjust after a whirlwind romance and moving from Oregon to Santaland. Ms. Ireland captured my complete attention and I couldn't put the book down. Without slowing the fast-paced plot, the author weaves in detailed descriptions of the setting. I felt like I could see, hear, taste, smell, and feel all that the protagonist, new bride April Claus, did which brought the setting to life. Some of the examples include red and green clothing worn everywhere; thirty clogging elves jingling bells loud enough to drown out every other sound; eggnog served at every turn; the sharp, sweet smell of peppermint so strong it permeates pores; and sub-freezing cold that April cannot get used to. The Claus's castle even uses a room with a window cracked open as a substitute for a freezer. There's Christmas cheer galore, reindeer games, and caroling, along with plenty of humor and some witty puns.
When a mean-spirited elf is found murdered, Santa becomes the prime suspect after everyone in town witnessed them arguing. April, being a newcomer to Santaland, can't fathom the Claus family insisting that they have to exhibit nothing but Christmas cheer and ignore the investigation. She decides to start asking questions about who might have killed the elf and melted the snowman who may have been a witness. Enlisting the help of Jingles, Santa's head elf, she investigates while trying to keep up with her public duties as Mrs. Claus. It was a treat watching the story unfold and following the clues April uncovered. With a heart-stopping reveal, the threads of the plot and subplots were pulled together into a highly satisfying conclusion. While this is a Christmas cozy mystery, there are hints of where the next book might take place without readers having to wait an entire year for the next release… At least I hope I'm right because I'm anxious for the next installment in this wholly delightful and imaginative start to a new series!
Amazon Synopsis
Love is full of surprises—though few compare to realizing that you're marrying the real-life Santa. April Claus dearly loves her new husband, Nick, but adjusting to life in the North Pole is not all sugarplums and candy canes. Especially when a cantankerous elf named Giblet Hollyberry is killed—felled by a black widow spider in his stocking—shortly after publicly arguing with Nick.
Christmastown is hardly a hotbed of crime, aside from mishaps caused by too much eggnog, but April disagrees with Constable Crinkle's verdict of accidental death. As April sets out to find the culprit, it'll mean putting the future of Christmas on the line—and hoping her own name isn't on a lethal naughty list . . .
SUGAR AND VICE is the second book in the Cookie House Mystery series by Eve Calder but the first I've had the chance to read… and it won't be my last! The action starts right off the bat and pulled me into the story and didn't let up until the final page. Ms. Calder has created memorable characters with the protagonist Kate, owner of the Cookie House in Coral Cay, Florida, and her best friend, Maxi, a fiery Cuban florist. I loved the interaction between the two women and especially loved the adorable dog, Oliver, who "adopted" Kate but basically thinks he belongs to the entire town. The author does an excellent job weaving in an ancient pirate mystery with a current day murder. There were plenty of clues and several twists to keep the reader guessing. With a satisfying conclusion that wrapped up the threads of the story, I'm looking forward to the next book in this delightful series. The only downside of the book is Kate bakes up so many incredibly yummy sounding cookies for the Cookie House that I craved a plateful of cookies. Unfortunately, there aren't any recipes included.
Amazon Synopsis
OUT OF THE OVEN: Lately, Kate has a lot on her dessert plate. She's launching a cookie-of-the-day challenge in the heart of Coral Cay, providing sweet treats for the reception of the town's handsome new veterinarian―not to mention dealing with tourists in town for a pirate festival and the surprise arrival of her former fiancé, Evan, who seems determined to win her back.
AND INTO THE FIRE: And if that's not enough, a skeleton has been found―in the backyard behind her best friend Maxi's floral shop. Kate knows Maxi could never hurt a fly. Maybe the remains belong to Sir George Bly, a long-dead pirate whose name has become urban legend―until now? It's time for Kate to use every trick in the recipe book to prove Maxi's innocence, and find the truth about the skeleton, before the last of the cookies crumble…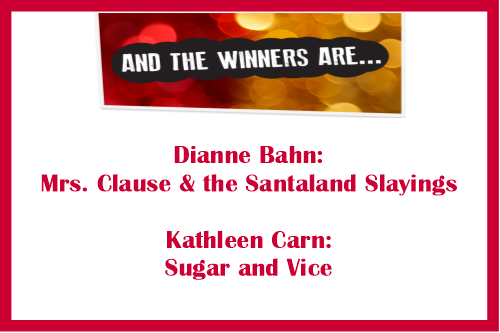 Thanks to Kensington Publishing and St. Martin's Paperbacks for providing a print copy of MRS. CLAUSE AND THE SANTALAND SLAYINGS and SUGAR AND VICE. I'll choose one winner per each book. Contest is limited to U.S. residents and ends Sunday, November 15, 2020 at 11:59 pm PST. Please use the Rafflecopter box located below to enter. The winner will be announced on this page and on Cinnamon & Sugar's Facebook page, as well as notified by email (so check your spam folder!)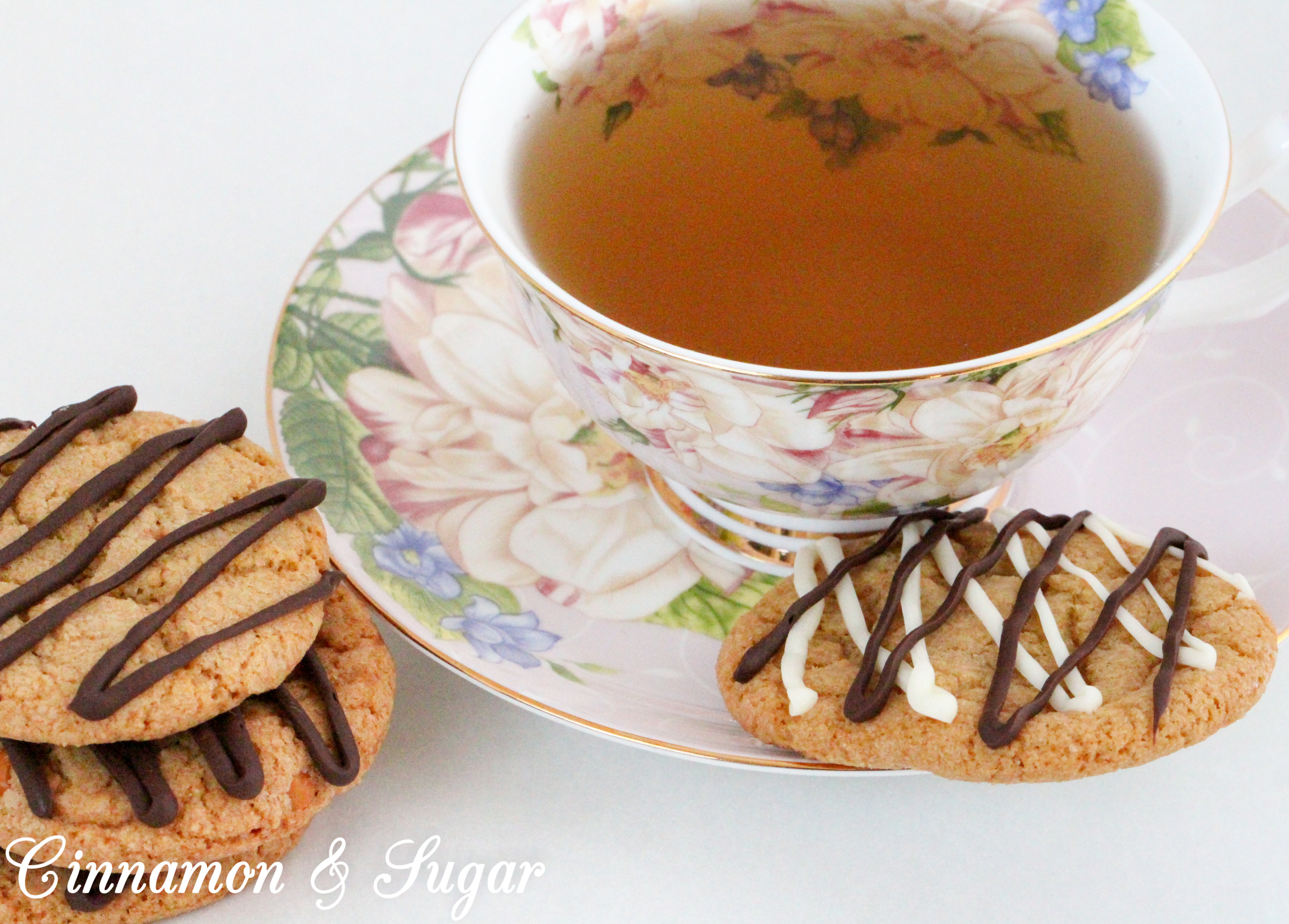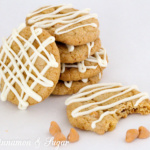 Butterscotch Cookies
Ingredients
3/4

cup

unsalted butter, room temperature (divided)

1

cup

dark brown sugar

1

cup

granulated sugar

2

eggs, room temperature

2

teaspoons

vanilla extract

2-3/4

cups

all-purpose flour

1

teaspoon

baking soda

1/4

teaspoon

baking powder

1

teaspoon

sea salt

2

cups

12 ounces butterscotch chips (divided)
Optional Topping
1/2

cup

choice of butterscotch, semi-sweet chocolate, or white chocolate chips
Instructions
Preheat oven to 375 degrees (F). Line 2 baking sheets with parchment paper.

Combine 1/2 cup (3 ounces) butterscotch chips and 3 tablespoons butter in a microwave-safe bowl. Heat in 15 second increments, stirring each time, until melted. Set aside.

Using an electric mixer or stand mixer, cream together the remaining butter, brown sugar, and granulated sugar about 2 minutes.

Add in eggs, 1 at a time, beating after each addition.

Mix in the vanilla and the melted butterscotch mixture (be sure it's only warm and not hot).

In a medium-size bowl, whisk together the flour, baking soda, baking powder, and salt. Stir into the butter and sugar mixture until incorporated.

Stir in the remaining butterscotch chips.

If time permits, refrigerate the dough for at least 30 minutes. (If you refrigerate dough, don't preheat oven until 20 minutes before baking cookies.)

Scoop by rounded tablespoon onto the prepared baking sheets, keeping at least 3 inches between the cookies.

Bake for 10 – 13 minutes, just until the edges of the cookies begin to brown.

Allow to cool on cookie sheet for 5 minutes then transfer to a wire rack to cool completely.

Store leftover cookies in an airtight container at room temperature for up to 4 days.
Optional Topping
In a microwave-safe bowl, melt you choice of chips in the microwave in 15 second increments, stirring after each heat cycle until melted. Transfer to a piping bag and snip off the end. Pipe melted chips over the tops of cooled cookies. Allow 30 minutes for topping to harden before serving.
Tip
To freeze cookie dough, form dough into tablespoon-sized balls then roll in sugar. Place on a parchment-lined baking sheet and freeze until firm. Transfer frozen cookie balls to a freezer-safe ziplock bag for storage. When ready to bake, remove the amount you'd like to bake and allow to come to room temperature while the oven preheats. Bake as directed above.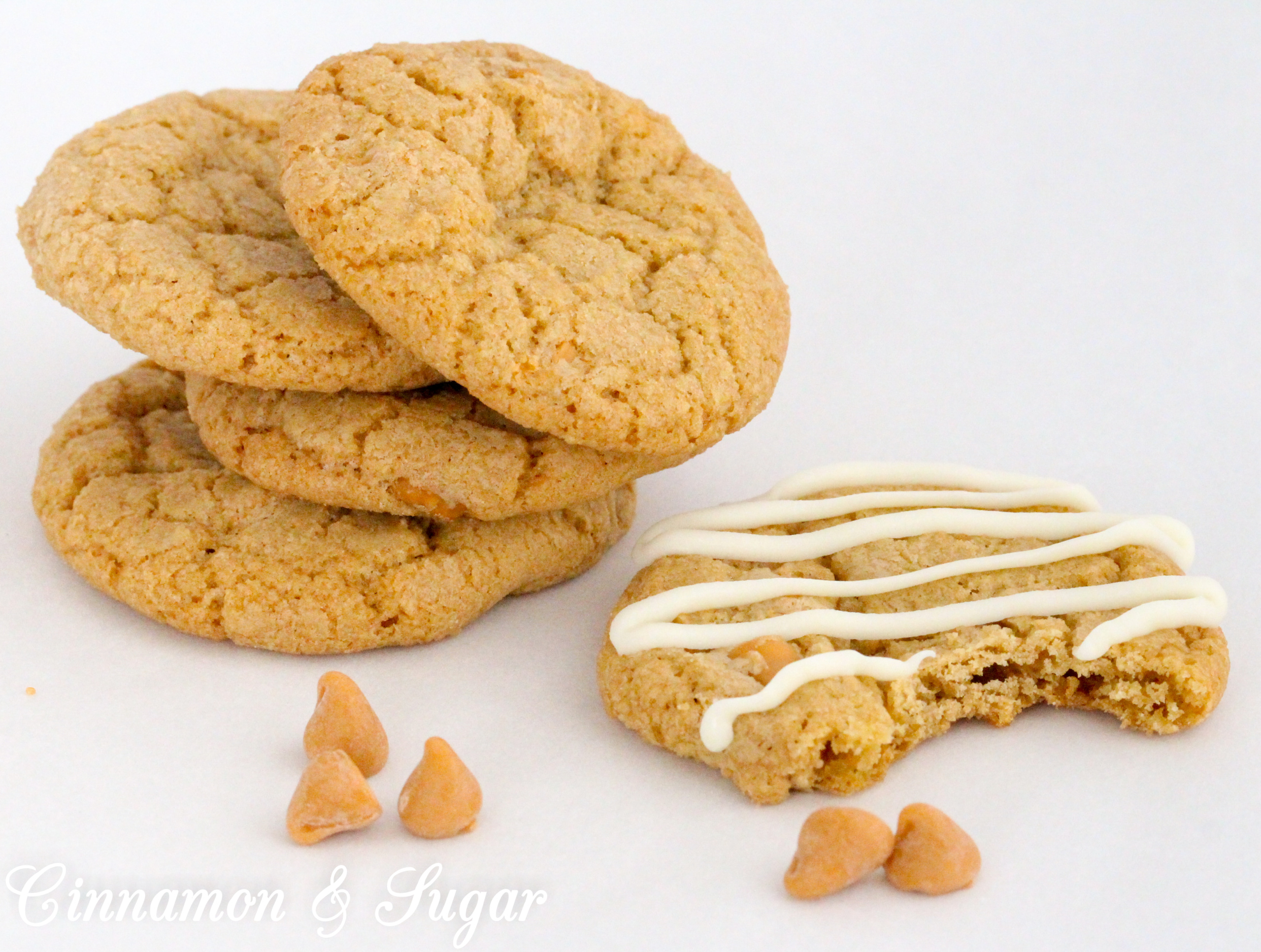 Pin to Pinterest: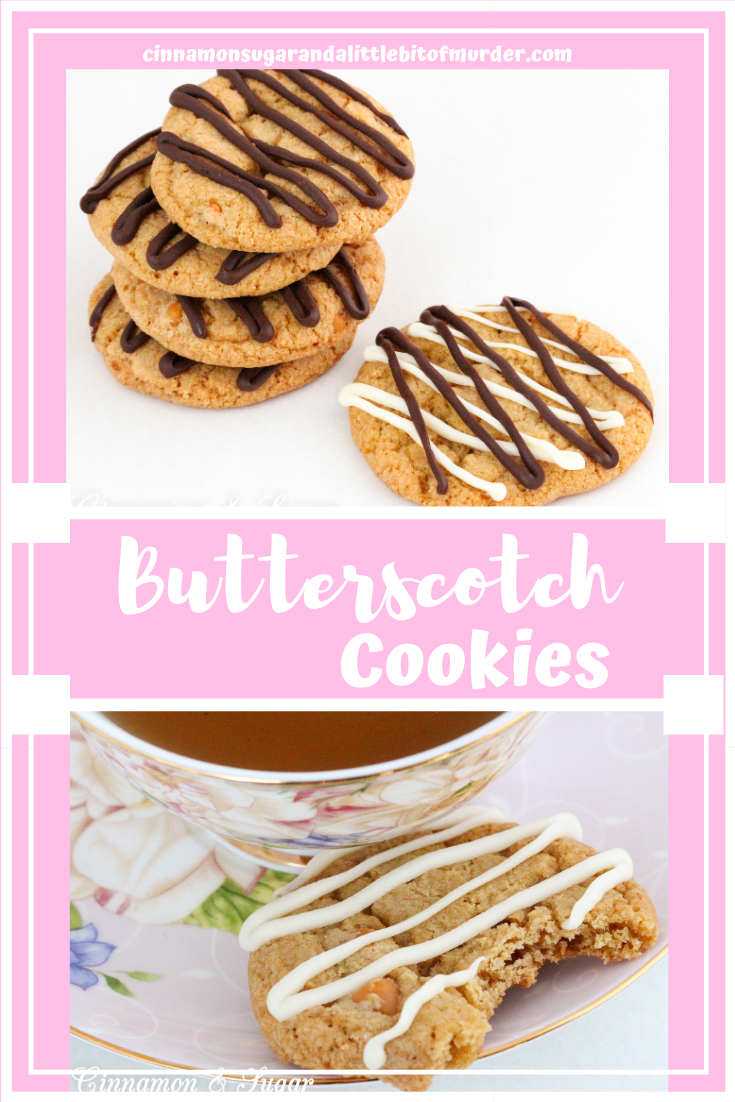 I was provided with advance copies of both books. All thoughts and opinions are my own.