OF MASQUES AND MURDER, the fourth book in the Rita Calabrese Mysteries by Maureen Klover, is the best in the series so far! From the opening pages to the last sentence, the author captured my imagination and kept me entertained. The protagonist, Rita Calabrese, is a sixty-something Italian matriarch and instead of relaxing and resting on her laurels, she's still going strong. From running (or ruining as her daughter might say) her family's lives, to cooking massive amounts of Italian food, to investigative reporting for the local newspaper, Rita lives life to the fullest. Ms. Klover sets up internal conflict nicely by Rita's daughter goading her into giving up "meddling" for Lent. What's a devout woman to do when there's blackmail, murder, and failed romances that need her attention? This lends itself to plenty of humorous situations and witty dialog that kept me chuckling.
In addition to superbly developed characters, who have grown with each new book, the author captures the unique setting of Rita's world. From the smells and tastes of her delectable Italian specialties to the grandeur of the Carnevale masked ball with the sumptuous costumes to the fog-laden cemetery, I felt like I was there, experiencing it alongside Rita. The murder itself was well-plotted with a quick pace that kept me turning pages to find out what happens next. Lots of suspects kept me guessing and once the Agatha Christie-style reveal came, I'll admit the killer wasn't even on my radar. This well-crafted mystery left me wishing there was another one in this delightful series to pick up and start reading right away!
With Rita spending loads of time in the kitchen, you'll be drooling over all the food descriptions. Ms. Klover has included several recipes at the back of the book, from decadent traditional desserts, to Easter dishes, to Lenten fare. While I was sorely tempted by her decadent dessert recipe, with weather turning cooler I was drawn to the recipe for Curried Sweet Potato Soup. Maybe it was the warming spice or the comforting flavors or the need to have something nourishing in the midst of this pandemic that called to me. No matter what drew me, in the end, I loved this soup and enjoyed every last drop of the tantalizing blend. The beautiful, rich-colored hue added to the enjoyment and mimicked the colors of the season. I'll be reaching for this recipe again and again when I want a nourishing and comforting bowl of soup!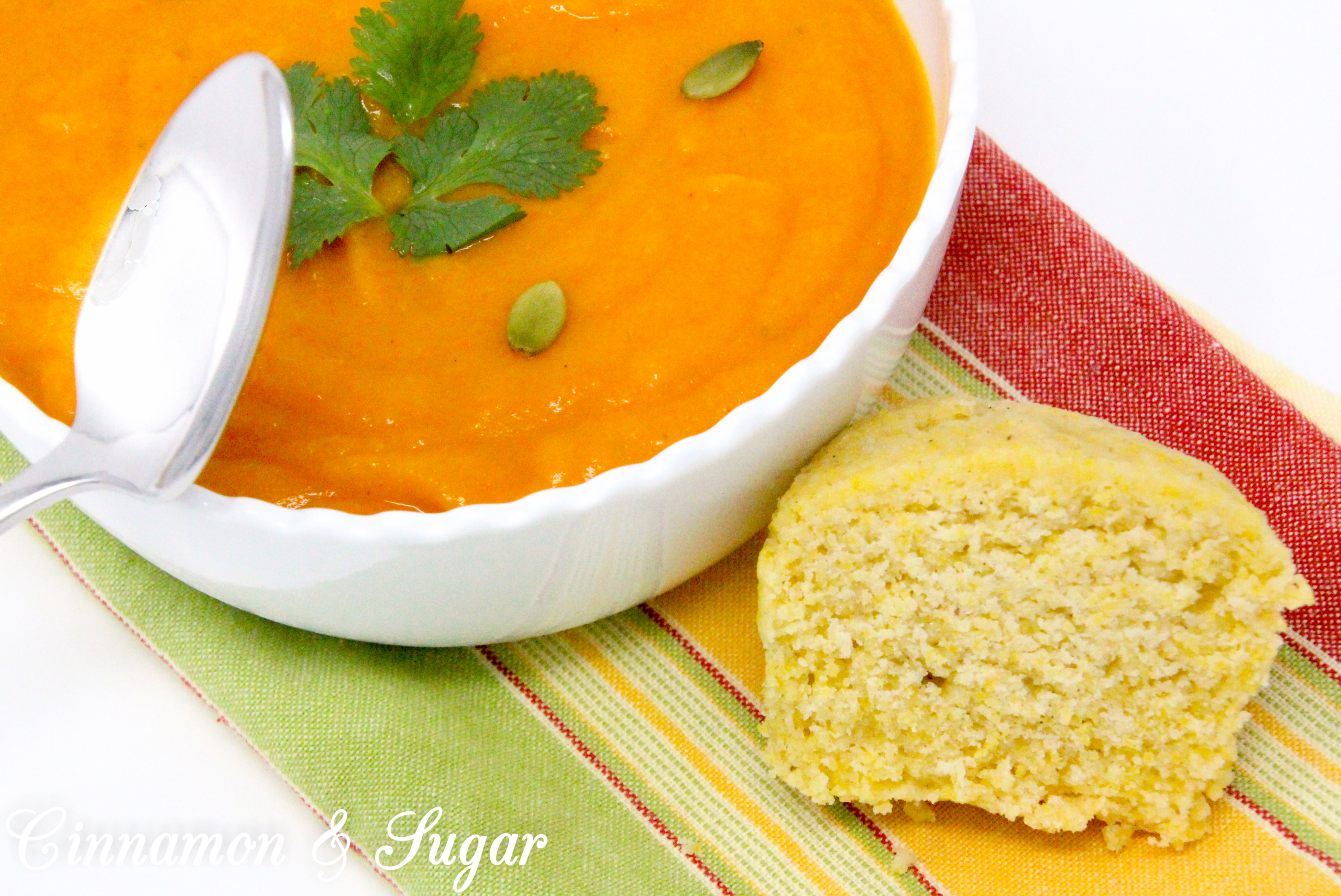 Amazon Synopsis
In the Italian-American community of Acorn Hollow, it's Carnevale. The townspeople are reveling in masked balls and lively processions—and overindulging in meaty lasagnas and rich desserts like sanguinaccio and bomboloni.
For once, though, the town's most ardent Italophile, matriarch-turned-reporter Rita Calabrese, is not in the holiday spirit. With no crime to solve, nothing to write about, and the clock ticking down towards her hasty and ill-advised Lenten resolution to stop interfering in (or, as she would say, "improving") the lives of others, she's staring down forty days of sheer boredom.
But that's before her twin sister is blackmailed for a scandalous indiscretion and the world's most uncouth, boorish houseguest shows up and refuses to leave until Rita gives him a crash course in feminism and romance, all to woo back his estranged wife.
Rita tries to adhere to her Lenten resolution, but fate has other plans. When a friend's wine is poisoned at a masquerade ball and a local vintner's glamorous fiancée is murdered, Rita bows to the inevitable and dives into an investigation rife with suspects and riven by romantic entanglements and family drama.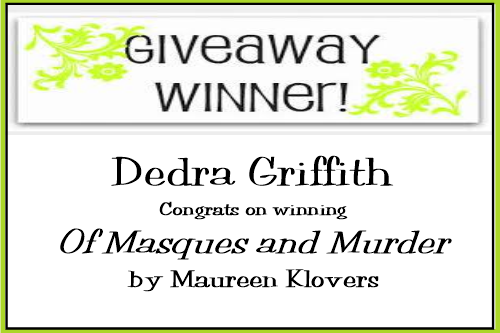 A special thanks to Maureen Klovers for providing one lucky winner with their choice of print or ebook copy of OF MASQUES AND MURDER. Print is limited to U.S. residents and ends Sunday, November 22, 2020 at 11:59 pm PST. Please use the Rafflecopter box located below to enter. The winner will be announced on this page and on Cinnamon & Sugar's Facebook page, as well as notified by email (so check your spam folder!)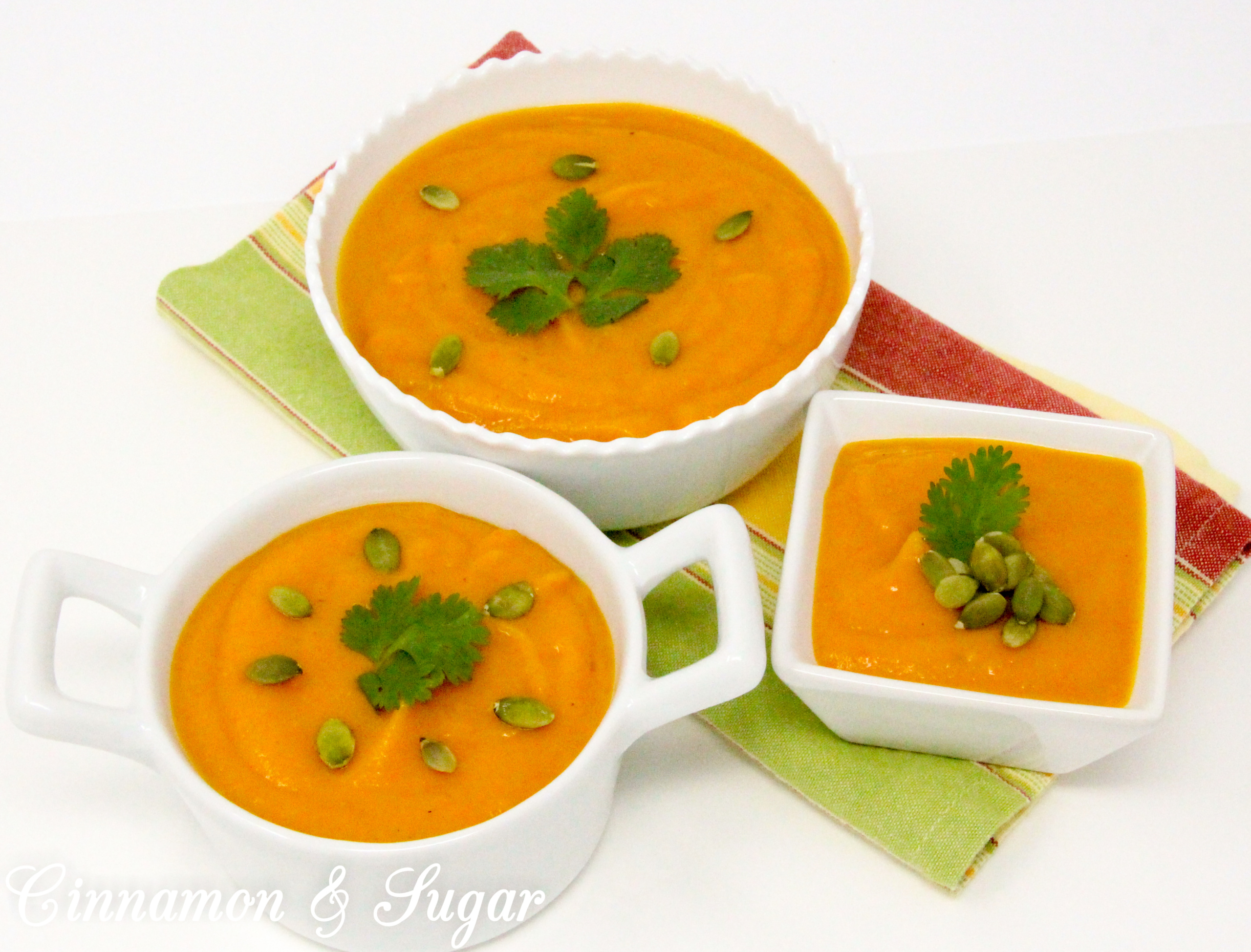 Curried Sweet Potato Soup
This soup is perfect for Meatless Mondays or simple Lenten soup suppers - but to make it truly vegetarian, you will need to substitute vegetarian stock for the chicken stock (although I think it tastes better with chicken stock).
Ingredients
1/4

cup

extra virgin olive oil

2

yellow onions, chopped

1

teaspoon

salt

1

teaspoon

freshly ground black pepper

5

cloves

garlic, minced

2

teaspoons

curry powder

1

teaspoon

ground coriander

6

cups

chicken stock

3

large

sweet potatoes, peeled and diced

2

large

carrots, peeled and chopped

1

tablespoon

fresh lime juice

1

bunch

cilantro

1/2

cup

toasted pumpkin seeds
Instructions
Heat the olive oil in a big soup pot. Add onions, salt, and pepper, stirring until onions are translucent.

Stir in the curry powder, coriander, and garlic, and stir for 1 minute.

Add stock, sweet potatoes, and carrots. Cover and bring to a boil until the sweet potatoes are tender when pierced with a fork (about 25 minutes).

Purée the soup with a stick blender and stir in the fresh lime juice. Garnish with chopped cilantro and pumpkin seeds.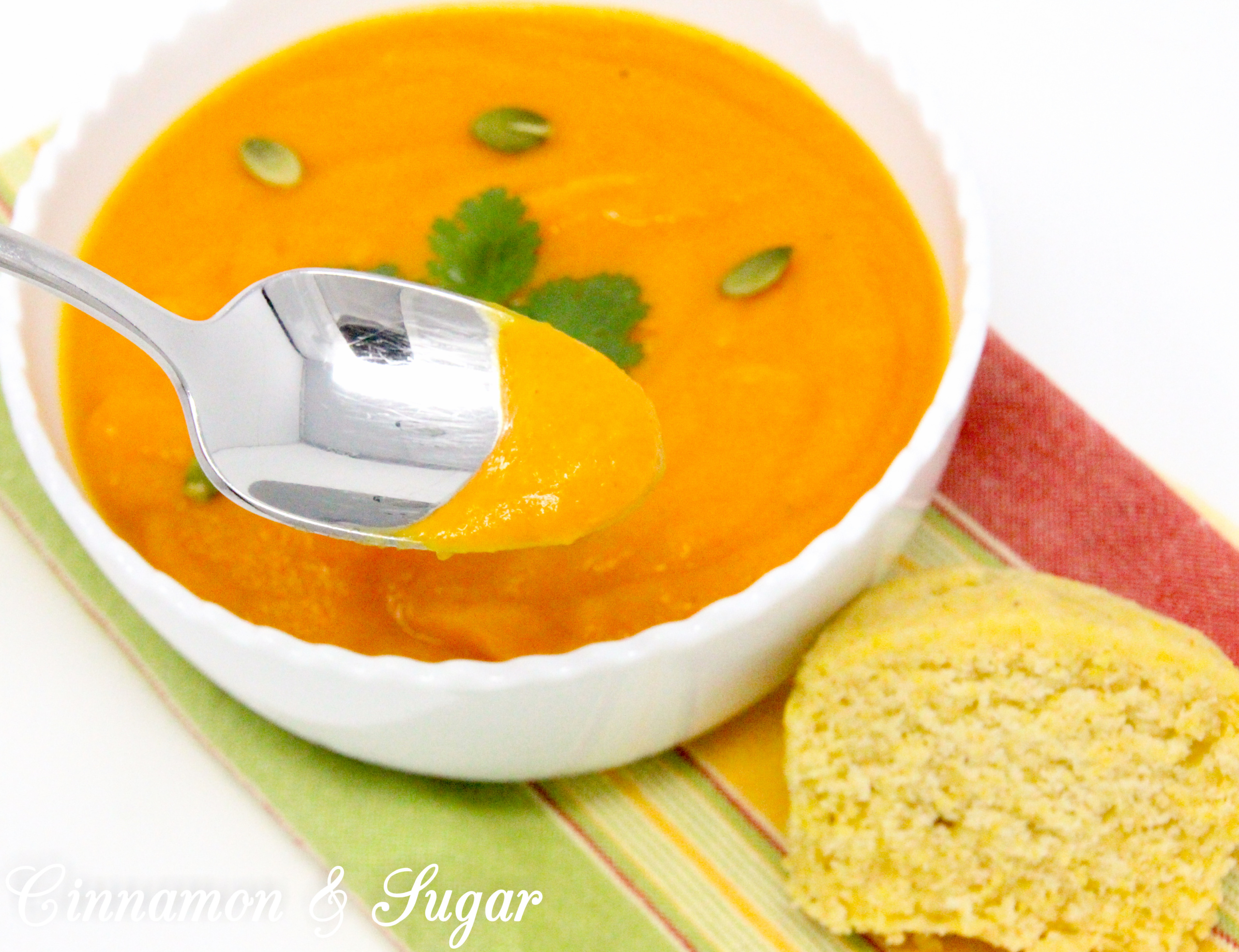 Pin to Pinterest:
I was provided with an advance copy. All thoughts and opinions are my own.