PUMPKIN SPICE PERIL, the twelfth book in the Cupcake Bakery Mystery series by Jenn McKinlay, is a much-needed, lighthearted read for this coronavirus pandemic time we find ourselves in. Ms. McKinlay's humor brings some laughter and definitely lots smiles to the reader as the story unfolds. Protagonist Mel Cooper, along with her partner in the Fairy Tale Cupcake Bakery and soon to be sister-in-law, Angie, are just the sort of good people I like to spend time with. They are friendly and big-hearted, and able to banter and spout off movie quotes at the drop of a hat. Their antics and relationship with each other, their family members, and their employees bring joy to each page. As a long-time fan of this series, I've greatly enjoyed watching the core characters grow and change over the years and in this newest book there are changes aplenty!
When one of their artist friends is found murdered, Mel becomes involved in finding out what happened. She feels guilt over not being a better friend to the woman, who had obviously been going through a stressful time. Ms. McKinlay's descriptive voice shines through which allows the reader to experiences the art gallery and the gorgeous art produced there, the anguish Mel feels, and the suspects she talks to. I felt like I was right there, tagging along. Even though Mel's Uncle Stan is the detective in charge, it doesn't stop the chief of police from zeroing in on Mel and trying to prove she must be involved since she's always stumbling onto dead bodies. Still, Mel presses forward to do everything she can for the victim. There were plenty of suspects to go around and some twists to keep the plot interesting.
Of course with the central setting being Fairy Tale Cupcake Bakery, there are cupcakes galore mentioned throughout the story. Be prepared to drool! Fortunate for the reader, Ms. McKinlay provides several mouthwatering recipes at the back of the book. Despite it being spring, I was drawn to the Pumpkin Spice Cupcakes with a cinnamon cream cheese frosting. I love all things pumpkin and these did not disappoint! Nicely spiced, the cupcakes are moist and could be eaten as a breakfast muffin because pumpkin is a vegetable, so these could be considered healthy. Right? But what really amps up the flavor is the cinnamon cream cheese frosting… I might have eaten it by the spoonful! Eaten together, these Pumpkin Spice Cupcakes will convert you from waiting until fall to try, and instead, will make you want to eat these year round.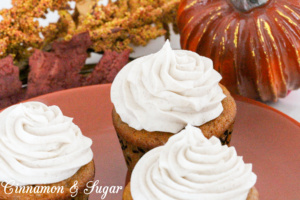 Amazon Synopsis
Life is all sugar and spice for the Fairy Tale Cupcake bakers–Melanie Cooper is engaged to the delectable Joe DeLaura, Angie Harper and her husband Tate are savoring married life, and the bakery is bustling with happy customers. Until one of their most valued cupcake connoisseurs ends up dead.
Local glass artist and cupcake lover Rene Fischer-Klein has always suffered from a wide variety of health issues. In an effort to cheer her up, her doting husband, Peter, brings her a four-pack of her favorite cupcakes every week. But when the police discover that Rene has been poisoned, there's no sugarcoating the fact that the last things she ate were the bakery's signature pumpkin spice cupcakes! With their lives and bakery at stake, it's up to Mel and Angie to find out who poisoned their artist friend and why, before their future is frosted for good.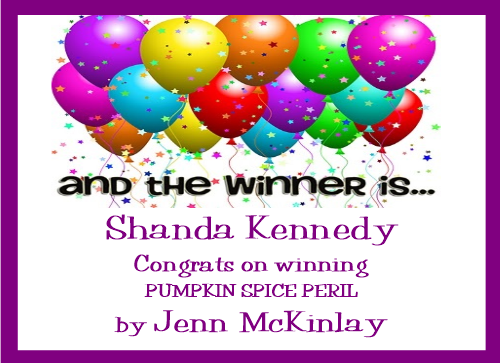 A special thanks to Jenn McKinlay for providing a print copy of PUMPKIN SPICE PERIL! Contest ends Wednesday, May 6, 2020 at 11:59 pm PST and is limited to U.S. residents only. Please use the Rafflecopter box located below to enter. The winner will be announced on this page and on Cinnamon & Sugar's Facebook page, as well as notified by email (so check your spam folder!)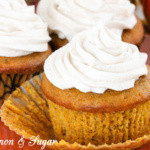 Pumpkin Spice Cupcakes
A pumpkin spice cupcake with a cinnamon cream cheese frosting.
Ingredients
Pumpkin Spice Cupcakes
2

cups

all-purpose flour

1

teaspoon

baking soda

1

teaspoon

baking powder

1

teaspoon

coarse salt

1

teaspoon

ground cinnamon

1

teaspoon

ground ginger

1/4

teaspoon

nutmeg

1

cup

packed light-brown sugar

1

cup

granulated sugar

1

cup

(2 sticks) unsalted butter, melted

4

large eggs, beaten

1

(15 ounce)

can pumpkin puree
Cinnamon Cream Cheese Frosting
8

ounces

cream cheese, softened

1/2

cup

(1 stick) unsalted butter, softened

1/2

teaspoon

vanilla extract

1/2

teaspoon

cinnamon

3-1/2

cups

powdered sugar
Instructions
Preheat oven to 350 degrees (F).

Line cupcake pan with paper liners.
Cupcakes:
In a medium bowl, whisk together flour, baking soda, baking powder, salt, cinnamon, ginger, and nutmeg.

In a large bowl, mix together brown sugar, granulated sugar, melted butter, and eggs.

Add dry ingredients to the sugar mixture and mix until smooth.

Lastly, mix in the pumpkin until thoroughly blended.

Scoop the batter evenly into the cupcake liners.

Bake 20 to 25 minutes until a toothpick inserted in the center comes out clean.

Let cool before frosting.
Frosting:
Beat cream cheese, butter, vanilla, and cinnamon in large bowl until well blended.

Gradually add powdered sugar and beat until frosting is smooth.

Put frosting in a pastry bag and pipe onto cupcakes in thick swirls, using an open tip.
Cinnamon & Sugar's Note:
If you like your frosting piled high, make 1-1/2 batches of the Cinnamon Cream Cheese Frosting.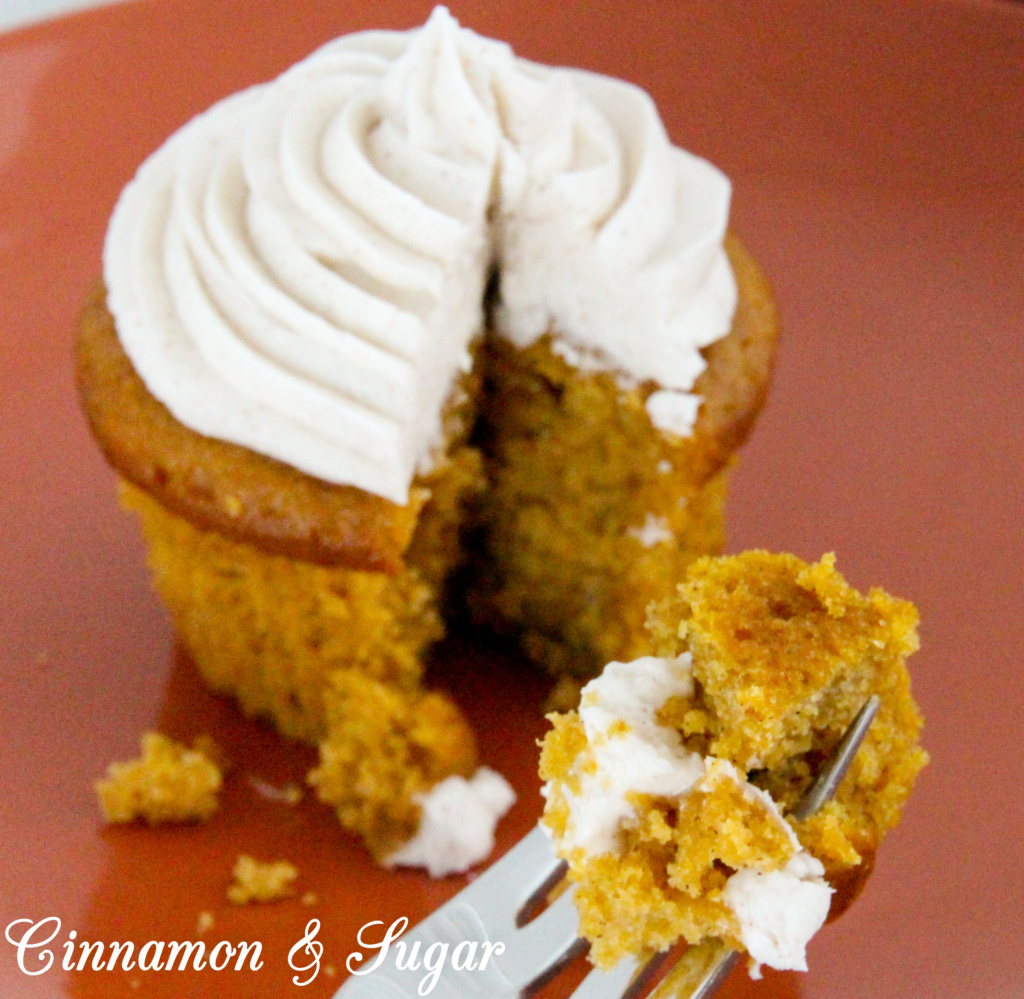 Pin to Pinterest: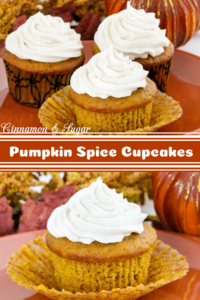 If you receive my blog post via email you will need to visit my website to view the video.
I was provided an advance copy. All thoughts and opinions are my own.