THE DIVA SPICES IT UP is the thirteenth book in the Domestic Diva Mystery series by Krista Davis and despite what you might think about the number thirteen, this newest release is a charming delight! If you haven't read any of the previous books in the series, Ms. Davis provides a list of characters at the beginning to help the reader keep track. Even though this series has been a long-time favorite of mine, I still like to refer to the list. In this newest book, protagonist Sophie Winston, owner of an event planning company, tries her hand at ghostwriting a celebrity cookbook. I liked how Sophie and her client immediately click and how down to earth they both are, which make them relatable to readers. On the other hand there is Natasha, Sophie's somewhat frenemy and ex-girlfriend of Sophie's ex-husband (but rest assured, there's not a single love triangle in sight). She's the sort of person that personifies a prima donna but instead of being annoying, the author finds ways to make her a sympathetic character. Ms. Davis uses an advice column question written to either Sophie or Natasha, at the beginning of each chapter, which allows the personality of each to shine through. I found it an effective way for the reader to get a better understanding of the characters.
THE DIVA SPICES IT UP weaves an intriguing story about code-breaking, spies, a dastardly murder, and a disappearance. I especially love that the author wrote a scene based on a dead drop experience she witnessed. While there are plenty of clues, this is a story I was happy to sit back and savor each word instead of trying to figure it out. Ms. Davis is quite adept at writing seemingly unrelated subplots and then pulling them together into one cohesive and compelling story at the end! It left this reader highly satisfied and anxious for the next book in the series.
I greatly enjoyed how the food aspect was woven into the storyline via the ghostwriting cookbook project and Sophie's love to provide comforting and nourishing meals for her friends. I'm always impressed by not only the delectable dishes she prepares, but how she elegantly dresses her table and stylishly serves them. Sophie certainly lives up to her Domestic Diva name! (I'll admit, I take the easy way out and don't do anything special.) Ms. Davis provides several recipes at the back of the book and I just had to try Grandma Peggy's Pumpkin Bundt Cake. I'd like to thank my granddaughter, Emory, for making the cake with me. We had a wonderful morning baking together and she almost couldn't wait for the cake to come out of the pan to sample it! It smelled oh so yummy! With three cups of pumpkin used in the recipe, this cake is super moist and actually tastes like pumpkin instead of simply sugar and spices mixed with a bit of pumpkin for color. The Bundt pan gives it an elegant look without added labor and with a quick dusting of powdered sugar, it's ready to serve just as soon as it cools enough to handle. I'll be making this again, not only for dessert or an afternoon tea treat, but it's perfect for a breakfast/brunch gathering too!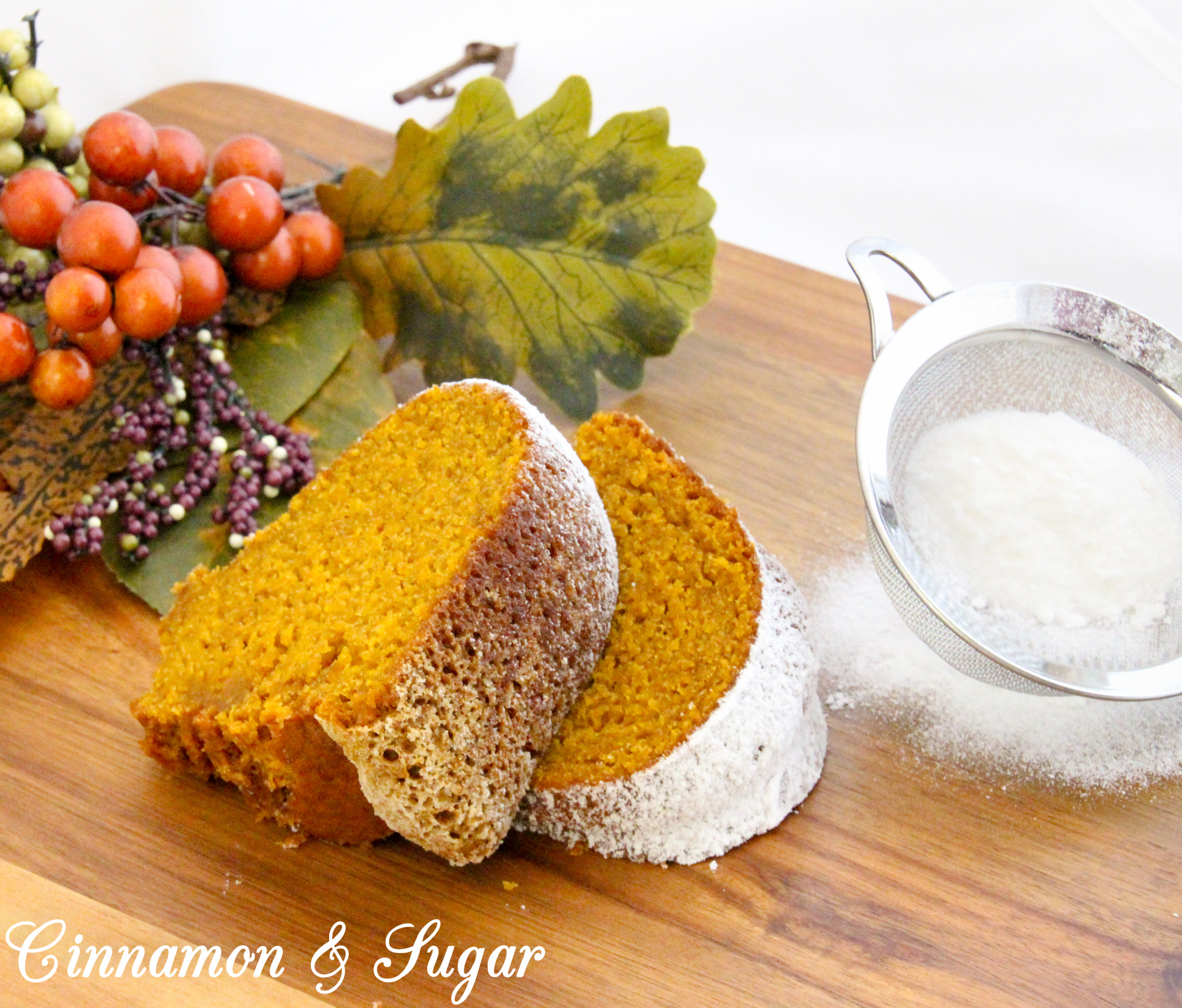 Amazon Synopsis
Sophie never considered ghostwriting as a side gig, until former actress and aspiring lifestyle guru, Tilly Stratford, trophy wife of Wesley Winthrope, needs someone to write her celebrity cookbook. Sophie agrees, hoping she'll earn enough bread on this assignment to finish her bathroom renovations. But as it turns out, Sophie isn't the first foodie to get a taste for recipe ghostwriting, and if the marginalia are any indication, this project could be a killer . . .
Wesley claims professional ghostwriter, Abby Bergeron, suddenly abandoned Tilly's cookbook with no warning. But Sophie quickly discovers that Abby may be more ghost than writer now . . . and her disappearance was no accident. So Sophie cracks open a fresh investigation, but sifting the seasoned murderer from this sampling of salty suspects won't be easy. Will Sophie savor another case closed or will the culprit simply melt away?
A special thanks to Krista Davis for providing a signed hardcover giveaway copy of THE DIVA SPICES IT UP! Contest ends Wednesday, April 29, 2020 at 11:59 pm PST and is limited to U.S. residents only. Please use the Rafflecopter box located below to enter. The winner will be announced on this page and on Cinnamon & Sugar's Facebook page, as well as notified by email (so check your spam folder!)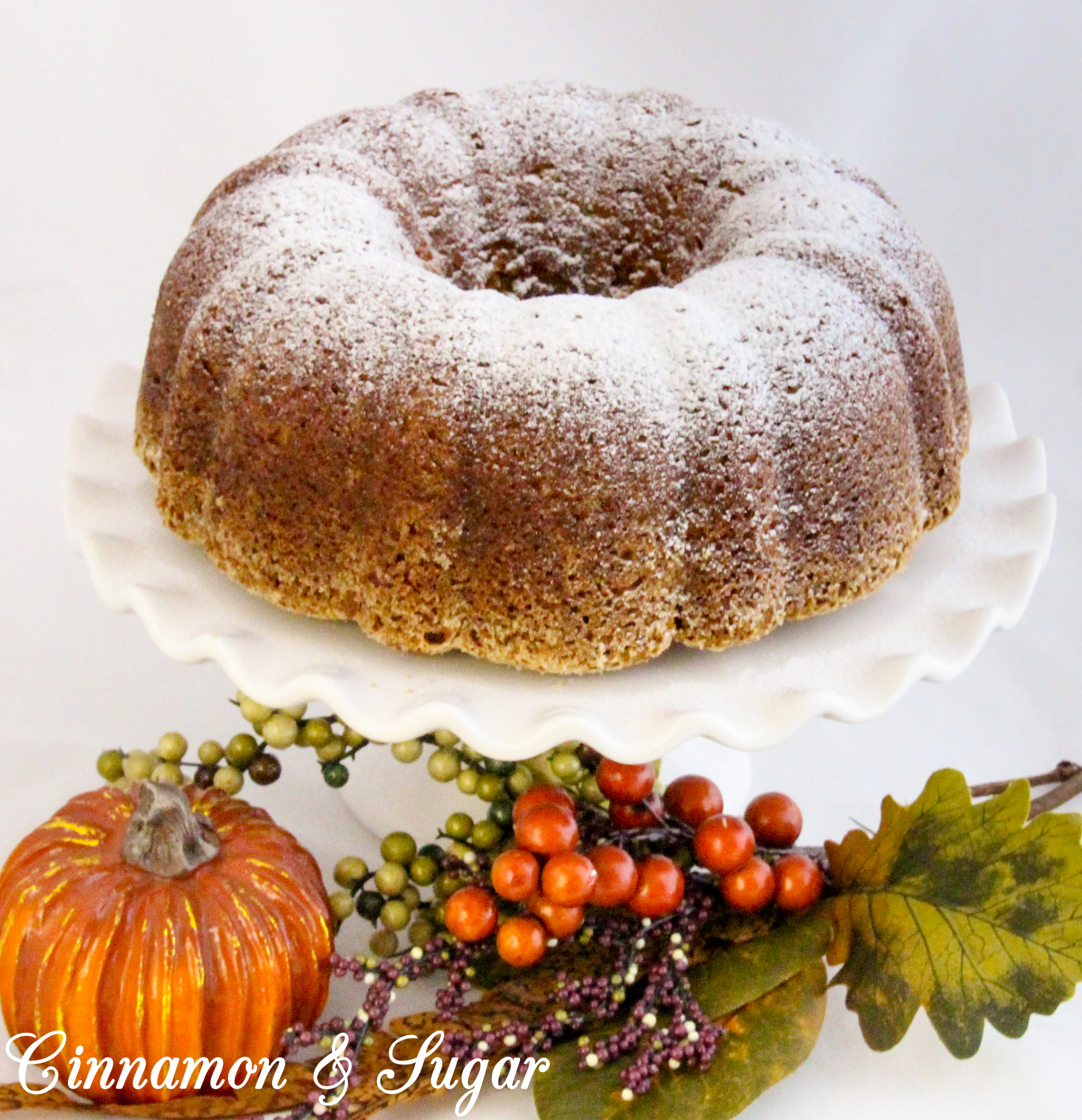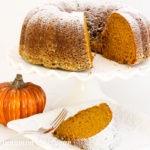 Grandma Peggy's Pumpkin Bundt Cake
Ingredients
1/2

cup

(1 stick) butter, melted, plus extra for pan

3

cups

flour

1

tablespoon

baking powder

3/4

teaspoon

baking soda

3/4

teaspoon

salt

1-1/2

teaspoons

cinnamon

1/2

teaspoon

nutmeg

1/4

cup

vegetable oil

2

large eggs, room temperature

1-1/2

cups

sugar, plus extra for pan

1-1/2

cups

dark brown sugar

3

cups

pumpkin puree

1

tablespoon

vanilla

Powdered sugar (optional)
Instructions
Preheat the oven to 350 degrees (F). Grease the Bundt pan well with butter and sprinkle sugar in it as you would flour to prevent sticking.

Melt the 1/2 cup of butter and set aside to cool.

In a bowl, mix together the flour, baking powder, baking soda, salt, cinnamon, and nutmeg. Set aside.

In a large mixing bowl, combine 1/2 cup melted butter and the oil, and mix. Beat in the eggs. Add the sugar and dark brown sugar and beat on slow, then gradually increase the speed. Add the pumpkin and vanilla and beat.

Slowly add in the flour mixture, about 1/3 cup at a time.

Pour mixture into the greased Bundt pan.

Bake 55 minutes or until a cake tester comes out clean. Allow to rest on a rack about 15 minutes, then loosen the edges and middle and flip onto a serving plate.

Optional: sprinkle with powdered sugar before serving. Serve warm or cold.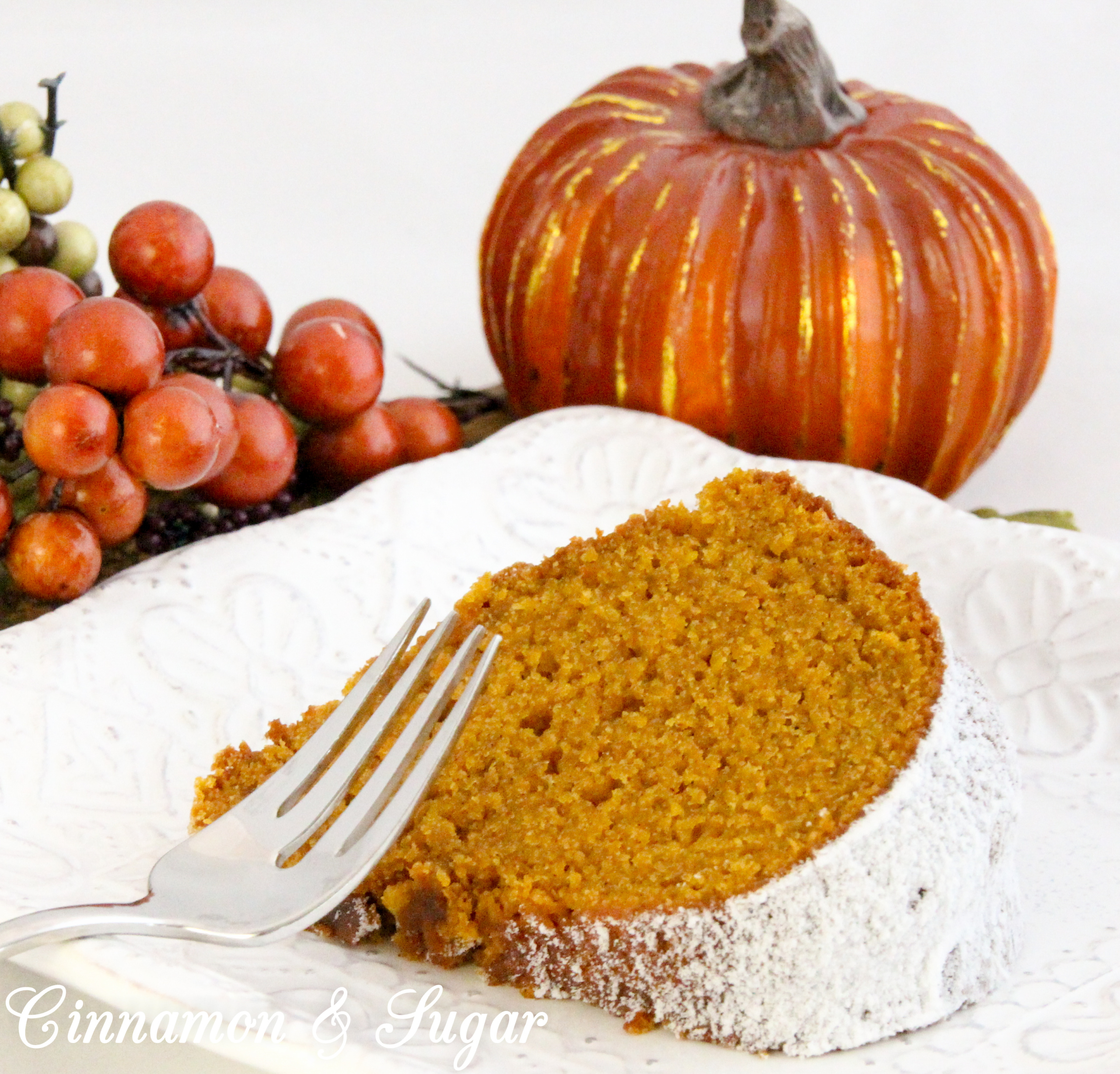 Pin to Pinterest: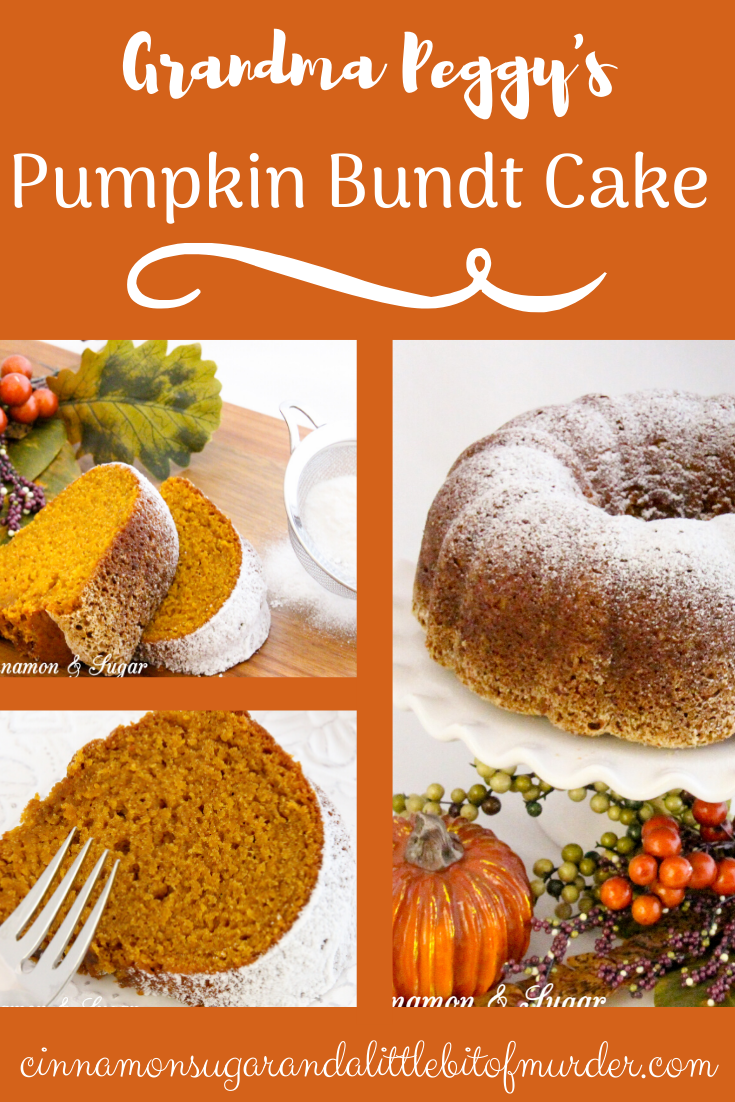 If you receive my blog post via email you will need to visit my website to view the video.
I was provided an advance copy. All thoughts and opinions are my own.