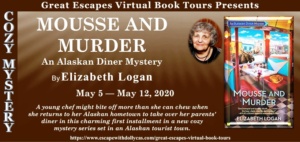 I'm delighted to be participating in the Great Escapes Virtual Book Tour to showcase MOUSSE AND MURDER! This first book in the brand new Alaskan Diner Mystery series by Elizabeth Logan, introduces the reader to Charlotte "Charlie" Cooke and her posse of friends and employees at her family's Bear Claw diner in Elkview, Alaska. The setting is unique given the small wilderness town and I enjoyed the bits and pieces of Alaskan history and geographical tidbits the author weaves into the story. Her descriptive voice makes the setting come alive and I could imagine the rugged natural beauty the area offers along with the activities that draw tourists to the town. Ms. Logan has created delightful characters and it was easy to admire Charlie. I especially loved her cat, Benny (nicknamed after Eggs Benedict!). Benny is a charming sidekick and the "Bennycam" and cat app games are brilliant additions providing a bit of humor. Charlie's friendliness contributes to easy going relationships with her friends and employees… that is except for her head chef, Oliver. Theirs is a contentious relationship and when Oliver walks off the job and is found murdered after an argument with her, Charlie can't help but feel guilty and want to find out what happened to him.
A long-time friend of Charlie's mom and frequent visitor to Bear Claw Diner, the local sheriff exhibits great understanding of Charlie's need to help find answers. I really like when an amateur sleuth isn't treated with contempt by law enforcement and instead it's acknowledged that they might have helpful information. As the group of friends surrounding Charlie grows, so does the sheriff's need to "deputize" those helpers, which added some cute scenes. The well-plotted mystery provided enough clues yet with some twists thrown in which kept me guessing most of the read. I look forward to the next book and the opportunity to revisit the quaint town of Elkview, Alaska and its delightful residents.
Running a diner, there's always lots of delicious foods being made and served to hungry patrons. One of their most popular treats is the Bear Claws, which the cafe is named after. In the book, Charlie has a fierce argument with her chef over wanting to add some chocolate to the iconic Bear Claws… which I personally think would be a decadent addition and I'll try it next time. But even without the chocolate, these Almond Bear Claws are scrumptious with flaky pastry encasing sweet almond filling. While the dough might be time consuming, there is a lot of downtime during the rising sessions. I wouldn't make these for everyday consumption but for special breakfasts or brunches, I'd make these again to spoil my guests!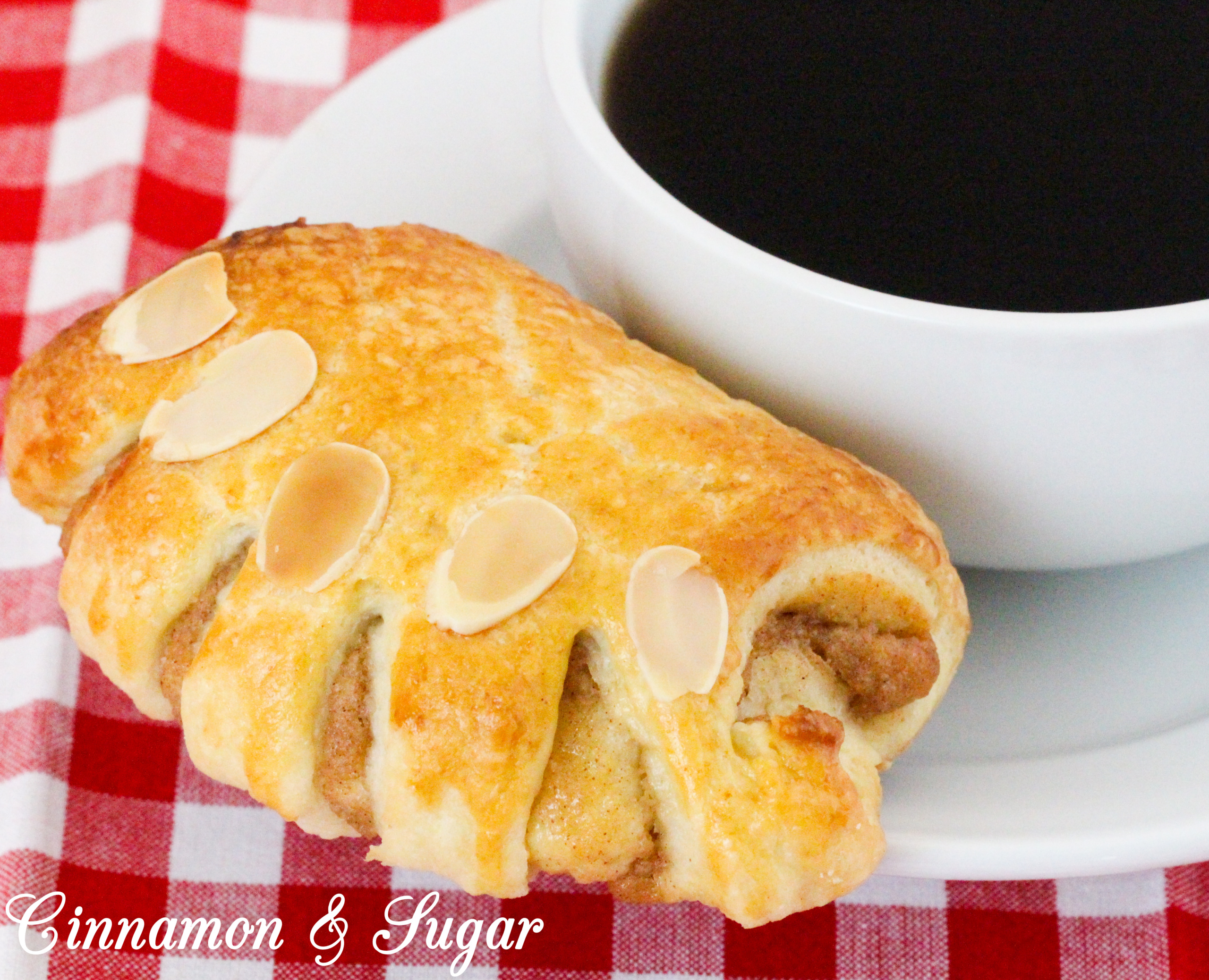 Amazon Synopsis
A young chef might bite off more than she can chew when she returns to her Alaskan hometown to take over her parents' diner in this charming first installment in a new cozy mystery series set in an Alaskan tourist town.
When Chef Charlie Cooke is offered the chance to leave San Francisco and return home to Elkview, Alaska, to take over her mother's diner, she doesn't even consider saying no. After all–her love life has recently become a Love Life Crumble, and a chance to reconnect with her roots may be just what she needs.
Determined to bring fresh life and flavors to the Bear Claw Diner, Charlie starts planning changes to the menu, which has grown stale over the years. But her plans are fried when her head cook Oliver turns up dead after a bitter and public fight over Charlie's ideas–leaving Charlie as the only suspect in the case.
With her career, freedom, and life all on thin ice, Charlie must find out who the real killer is, before it's too late.
A special thanks to Elizabeth Logan for providing a fun gift basket full of goodies for one winner! Contest is administered by Great Escapes Virtual Book Tours and ends May 12, 2020 at 11:59 pm PST. Limited to U.S. residents only. Please use the Rafflecopter box located below to enter. The winner will be announced on this page and at Escape With Dollycas Into A Good Book, as well as notified by email (so check your spam folder!)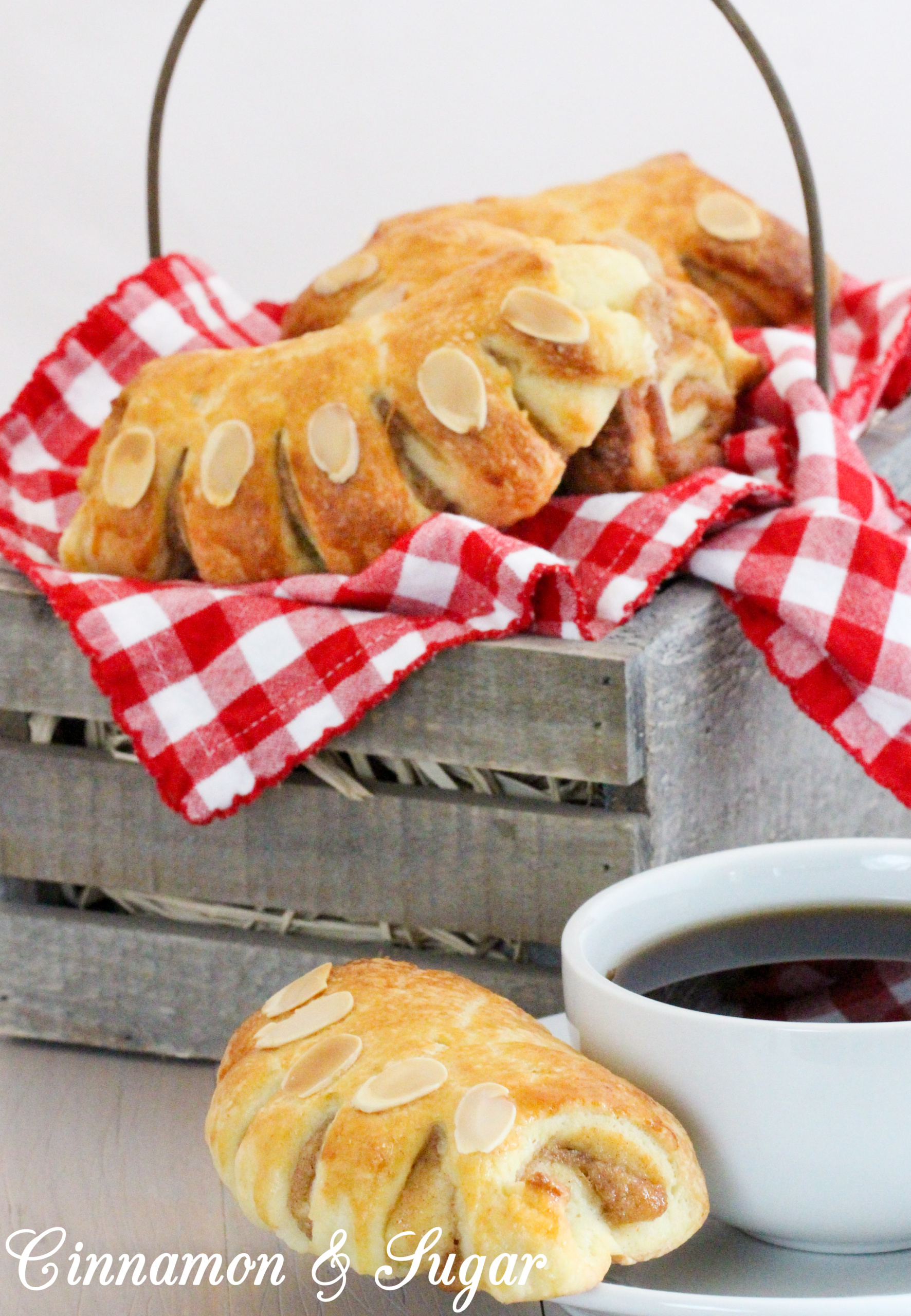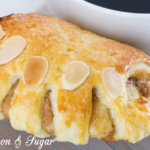 Almond Bear Claws
Ingredients
Pastry Ingredients:
1-1/2

cups

cold butter, cut into 1/2-inch pieces

5

cups

all-purpose flour, divided

1

package (1/4 ounce) active dry yeast

1-1/4

cups

half-and-half

1/4

cup

sugar

1/4

teaspoon

salt

1

egg
Filling Ingredients:
2/3

cup

almond paste (7-ounce package)

1/4

cup

powdered sugar

1

teaspoon

ground cinnamon

1/4

teaspoon

salt

1

teaspoon

vanilla extract

2

egg whites
Instructions
Pastry:
Mix butter with 3 cups of flour until well coated. Refrigerate until needed.

Combine yeast and remaining 2 cups flour.

In a saucepan, heat half-and-half, sugar, and salt to 110 - 115 degrees (F). Add to yeast mixture. Beat until smooth. Beat in egg.

Stir in butter mixture just until moistened.

Roll out dough on a well-floured surface into a rectangle. Fold into thirds from the short edge and roll back into a large rectangle. Repeat 2 more times.

Roll dough into rectangle about 8 inches wide and 1/4 inch thick. Cut dough in half lengthwise to make two 4-inch wide strips. Refrigerate at least 3 hours or overnight.
Filling:
Break the almond paste into pieces and place almond paste, sugar, cinnamon, salt and vanilla in a large bowl and beat until mixture is crumbly.

Add egg whites and beat until mixture is smooth.
Combining:
Working with 1 piece of dough at a time, roll dough to about 8 inches wide. Use a spatula to spread the filling on each half of the dough. Roll dough over filling and cut each roll into equal size sections, usually 8 pieces total.

Place pastries seam-side down on a baking sheet. Make 4 cuts on one side of each pastry, extending at least 1inch into the pastry to create "fingers." Curve the pastry into a slight arch to separate the fingers. Cover tray loosely with plastic wrap and let rise for 1-1/2 to 2 hours, or until doubled in size.

Preheat oven to 400 ℉. Beat whole egg in a small bowl and brush each pastry with egg. Place one almond half or sliced almond onto each finger to form a claw.

Bake for 15-20 minutes, or until golden brown. Allow bear claws to cool on a wire rack before serving.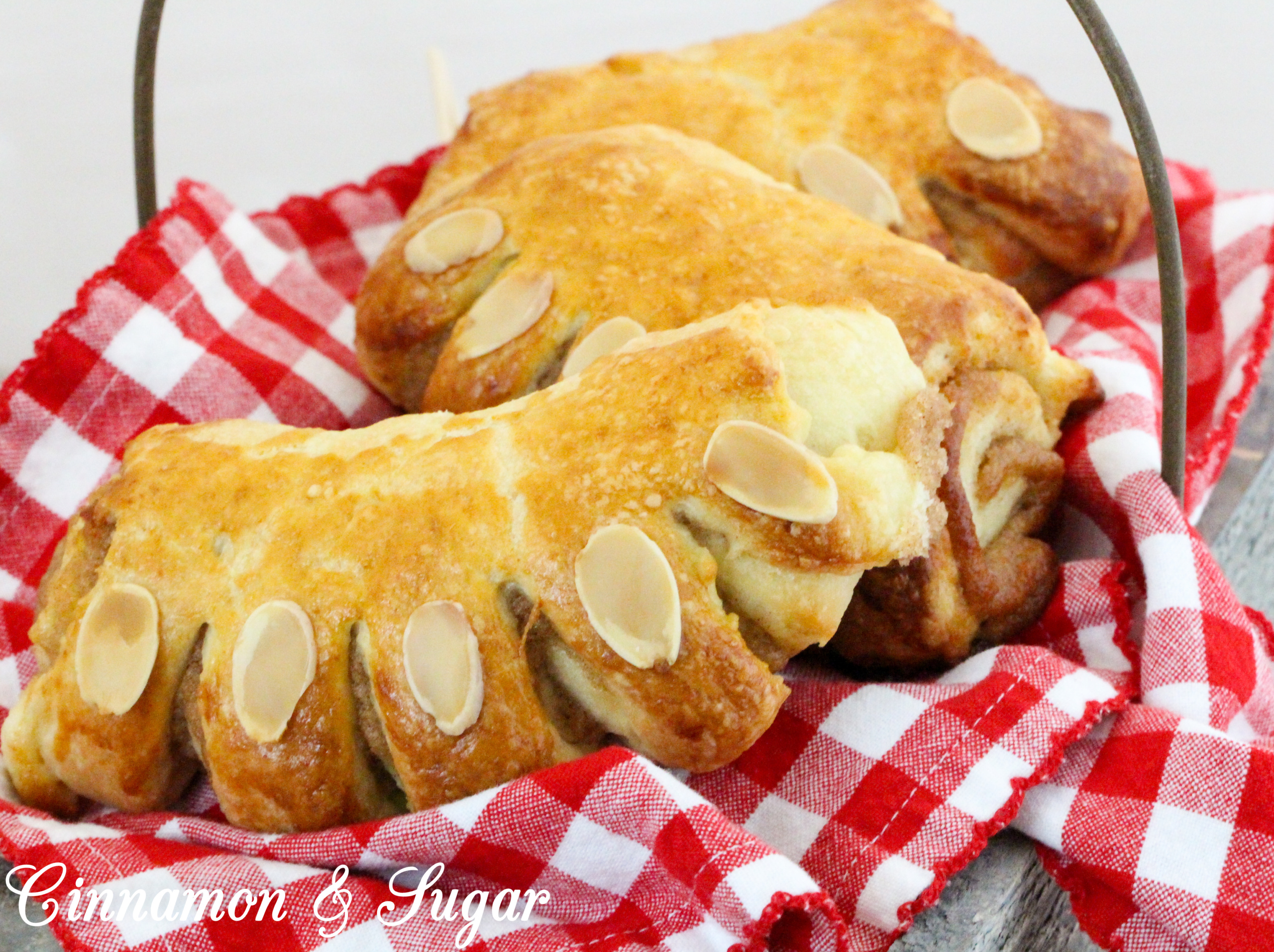 Pin to Pinterest: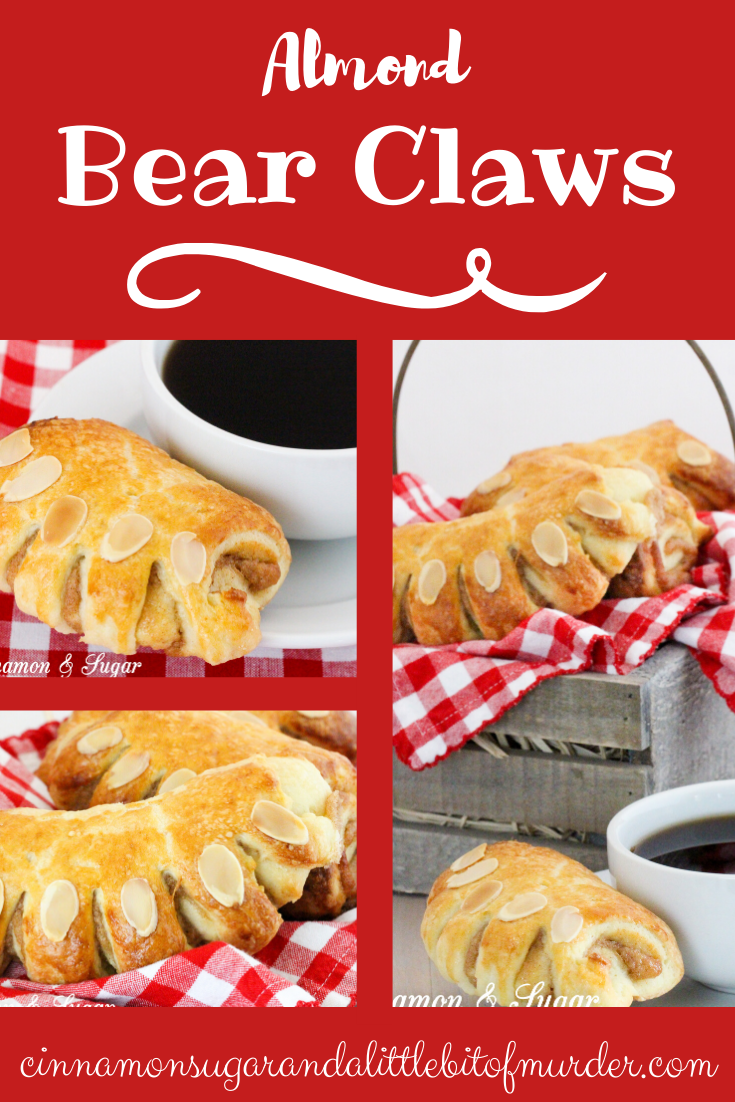 If you receive my blog post via email you will need to visit my website to view the video.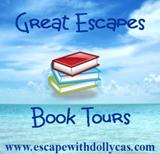 May 5 – Cinnamon, Sugar, and a Little Bit of Murder – REVIEW, RECIPE
May 5 – The Pulp and Mystery Shelf – GUEST POST
May 5 – I'm Into Books – SPOTLIGHT
May 5 – Books a Plenty Book Reviews – REVIEW
May 6 – Elizabeth McKenna – Author – SPOTLIGHT
May 6 – The Avid Reader – REVIEW
May 6 – The Power of Words – REVIEW
May 6 – Hearts & Scribbles – SPOTLIGHT
May 6 – Island Confidential – SPOTLIGHT
May 7 – Ruff Drafts – GUEST POST
May 7 – StoreyBook Reviews – REVIEW
May 7 – FUONLYKNEW – SPOTLIGHT
May 7 – Reading Is My SuperPower – REVIEW
May 8 – Reading Reality – REVIEW
May 8 – A Holland Reads – SPOTLIGHT
May 8 – Ascroft, eh? – CHARACTER INTERVIEW
May 8 – Carla Loves To Read – REVIEW
May 9 – Christy's Cozy Corners – REVIEW
May 9 – The Ninja Librarian – REVIEW, CHARACTER GUEST POST
May 9 – Lisa Ks Book Reviews – REVIEW, GUEST POST
May 9 – Eskimo Princess Book Reviews– SPOTLIGHT
May 10 – Socrates Book Reviews – REVIEW
May 10 – Brooke Blogs – REVIEW
May 10 – Literary Gold– SPOTLIGHT
May 10 – Moonlight Rendezvous – REVIEW
May 11 – eBook Addicts – REVIEW
May 11 – Brianne's Book Reviews – REVIEW
May 11 – Sapphyria's Books – REVIEW
May 11 – A Wytch's Book Review Blog – CHARACTER INTERVIEW
May 12 – Cozy Up With Kathy – REVIEW, AUTHOR INTERVIEW
May 12 – Diary of a Book Fiend – REVIEW
May 12 – Mystery Thrillers and Romantic Suspense Reviews – SPOTLIGHT
May 12 – Escape With Dollycas Into A Good Book – REVIEW  
I was provided an advance copy. All thoughts and opinions are my own.