When I started seeing reviews this past September for CHEDDAR OFF DEAD, the second book in the Undercover Dish Mystery series by Julia Buckley, I knew I needed to add it to my reading list. And when I found out it was centered around Christmas I moved it up in my pile of books so I'd have it at the ready in early December to start reading. CHEDDAR OFF DEAD lived up to and even exceeded my expectations both for a riveting, well written plot and for the holiday setting!
Even though I have not read the first book in the series (it's been sitting on my Kindle since its release and I somehow overlooked reading it!) CHEDDAR OFF DEAD was easy to jump in and get to know the characters. I loved the protagonist, Lilah Drake, and her very clever side job of providing clandestine dishes to those in town who don't want anyone to know that they're awful cooks or are too busy to cook themselves. It sets the stage for some humorous situations. There's a strong undercurrent of romance between Lilah and Detective Jay Parker and I liked how Lilah remained feisty and true to herself when it appeared things weren't going to work out. Plus she is very funny when she accidentally runs into him at the market and I found myself chuckling out loud. There's a strong cast of supporting characters and each adds a nice element to the story and enhances Lilah's character.
With so many delicious dishes mentioned in the book making me hungry, I was happy to find that the author includes some recipes at the back of the book. When I saw Julia's recipe for Serafina's Pizzelles (Italian Christmas Waffle Cookies) I knew I had to try them….not that I owned a pizzelle maker….but I've been wanting one and this was the perfect excuse…err, opportunity. The batter-like dough whips up super fast using a blender and the cookies cook incredibly quick in the pizzelle maker. The cookies have a delicate flavor and are beautifully lacy looking with the addition of a dusting of powdered sugar. Perfect for serving to guests or dressing up a platter of holiday treats for sharing!
Amazon Synopsis
Caterer and cook Lilah Drake is up to her elbows in deadly trouble in the latest mystery from the author of The Big Chili…

The Christmas holidays are one of Lilah's favorite times of the year, filled with friends, family, and, of course, tons of food orders for her covered dish clients. But Lilah's Yuletide cheer ends when she sees a most Grinch-like crime: the murder of a Santa in a school parking lot.

It turns out the deceased Kris Kringle was a complicated tangle of naughty and nice, with a long list of people who might have wanted him dead. And whoever did the deed wants to make sure that Lilah keeps quiet. Now, Lilah will have to team up with her former fling, Detective Jay Parker, to unwrap the mysteries of a deadly Christmas killer and stay alive long enough to ring in the New Year…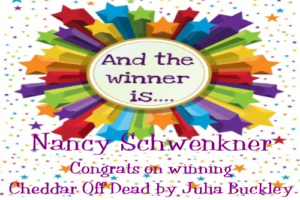 I am happy to be able to provide a print copy of CHEDDAR OFF DEAD for one lucky winner! Limited to U.S. residents only. Contest ends Thursday, December 15, 2016 at 11:59 pm PST. Please use the Rafflecopter box located below the recipe to enter. The winner will be announced on this page and on Cinnamon & Sugar's Facebook page, as well as notified by email (so check your spam folder!)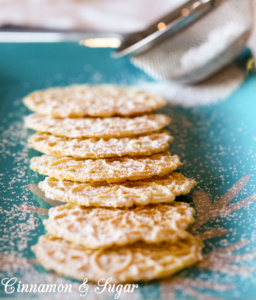 Serafina's Pizzelles (Italian Christmas Waffle Cookies)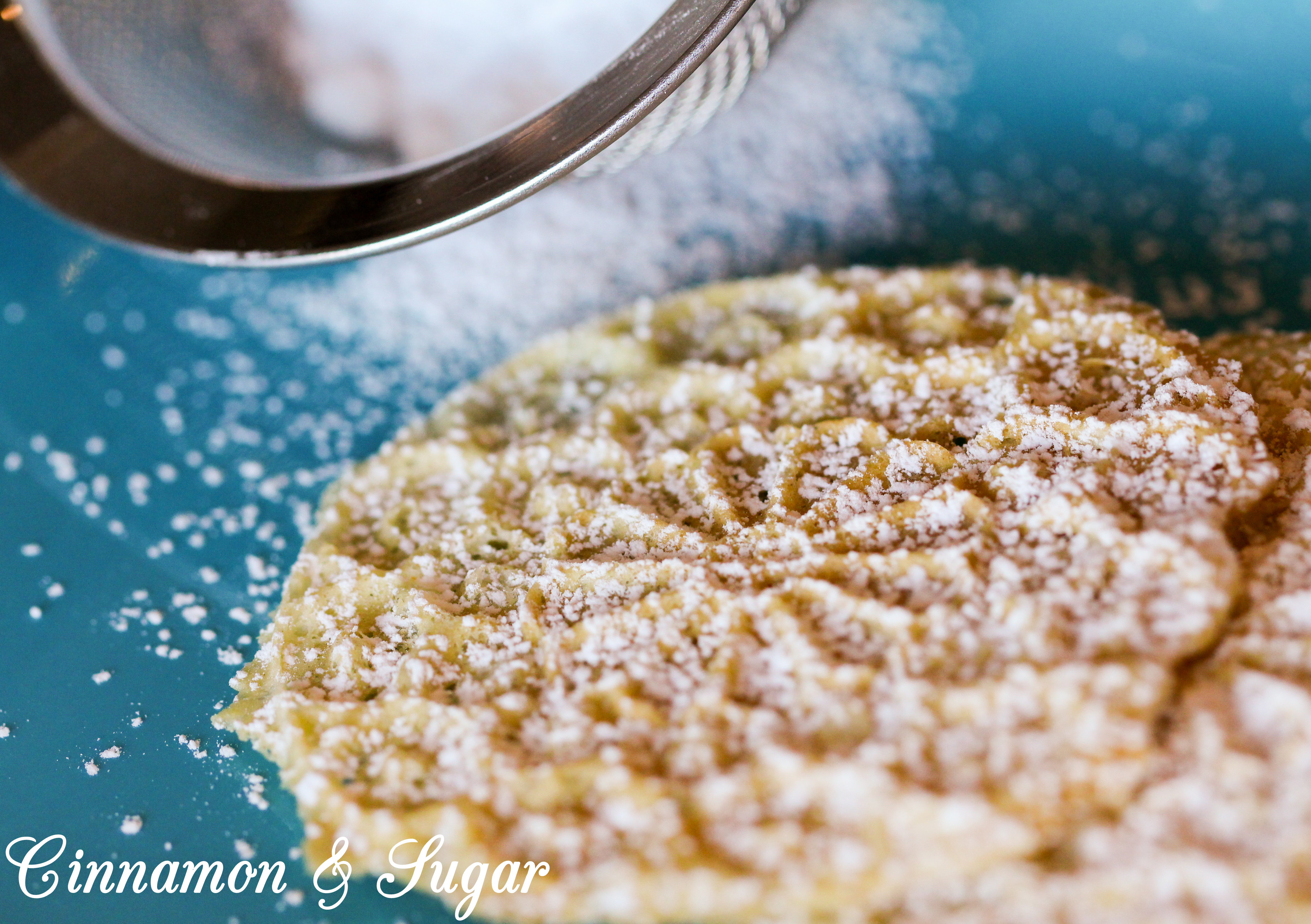 Ingredients
Author's Note:

For this recipe, you need a pizzelle baker, similar to a waffle iron, which imprints a beautiful, snowflake-like design on each cookie. The dough takes only minutes to prepare, and the cookies themselves can be hot on your table in less than half an hour. My sister-in-law, Serafina Bellini Drake, assures me that these cookies, when made with love and just the right amount of butter, taste like Christmas itself, whatever that means.

Ingredients

1-1/2 cups flour
1 teaspoon baking soda
1-1/2 sticks (3/4 cup) butter
3 large eggs
3/4 cup sugar
2 teaspoons vanilla (or almond extract, if you prefer)
Powdered sugar for sprinkling
Instructions
First, preheat your pizzelle baker.
Mix flour and baking soda and set aside.
Melt butter and mix with eggs, sugar, and vanilla in a blender until smooth.
Add the flour mixture until you have a sticky dough.
Check to see that your baker is ready; spray the inside lightly with baking spray to avoid sticking.
Place a rounded teaspoonful of dough on each of the pizzelle pattern grids.
Lower the lid and hold for 30 - 40 seconds (you may have to experiment with timing).
Lift and genly pry up the cookies with a fork tine or thin knife, then set cookies on a baking rack to cool.
When cookies are finished, sift powdered sugar over them to create a lacy, holiday effect.
Your finished pizzelles will be thin, delicate, snowflake-like cookies that are sweet and addictive.

Tip

Place batter just slightly behind the center of each pattern to help center the cookie as it cooks.
Don't try to multi-task as these cookies cook very quickly.
https://cinnamonsugarandalittlebitofmurder.com/pizzelles/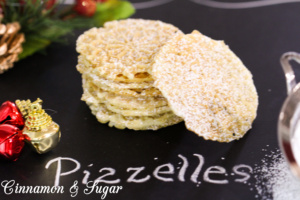 Pin to Pinterest: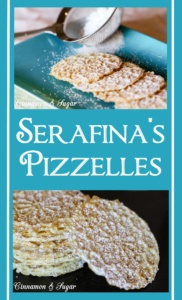 If you receive my blog post via email you will need to visit my website to view the video.