As Christmas draws closer I enjoy reading inspirational themed stories in addition to cozy mysteries. SILVER BELLS AT MOONGLOW, by Deborah Garner, is a sweet Christmas themed treat which weaves a beautiful mosaic of Christmas sights, sounds, and smells and introduces us to memorable characters. The protagonist, Mist, has a calming magical influence on those she comes in contact with and I'll be the first to admit, her magic worked on me as I read this story during this most hectic season of the year. I so enjoyed sitting down with a hot cup of honey-sweetened tea, wrapping myself in a cozy comforter, and losing myself in the world of Timberton Hotel in snowy Montana. Deborah has a gift of transporting the reader through eloquent descriptions be it of the delicious baking, the Christmas ornaments, or Mist's miniature paintings. I was left with the comforting feeling that this really is the most wonderful season of all!
The Timberton Hotel hosts an annual cookie exchange and Deborah has included 22 recipes in her book! I am very excited that she used THREE of my own recipes, but I'm anxious to try them all! So many cookies…so little time… I'm sharing my recipe for Cranberry Orange Cookies since they add a very colorful and festive look to cookie platters and dessert tables. But don't worry, not only are they pretty they are deliciously flavorful too! Jewel-toned dried cranberries and orange juice add holiday flavors to this cake-like cookie which has been rolled in sparkling white and red sugars, adding another level of texture and visual appeal. They mix up quickly using a food processor and the dough can be kept refrigerated (or frozen) until you are ready to bake. I hope you enjoy these as much as my friends and family have!
Amazon Synopsis
Christmas at the Timberton Hotel arrives each year with a unique set of guests, some returning, some new. When this holiday brings a celebrity seeking reprieve, sisters who are distant yet closer to each other than they think, a widow approaching a new horizon, and an eclectic smattering of local townsfolk and visiting relatives, the season is certain to be eventful. Add in a hint of romance and there's more than snow in the air around the small Montana town.
Elegant decor and exquisite cuisine from resident artist and chef, Mist, form a backdrop to much needed camaraderie, bringing strangers and friends together. When the last note of Christmas carols has faded away, the soft whisper of silver bells from the front door's wreath will usher guests and townsfolk alike back into the world with hope for the coming year.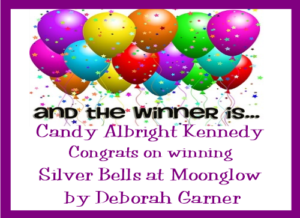 A huge thank you to Deborah Garner for providing winner's choice of either an e-book or print copy of SILVER BELLS AT MOONGLOW for one lucky winner! Print copy limited to U.S. residents only. Contest ends Monday, December 19, 2016 at 11:59 pm PST. Please use the Rafflecopter box located below the recipe to enter. The winner will be announced on this page and on Cinnamon & Sugar's Facebook page, as well as notified by email (so check your spam folder!)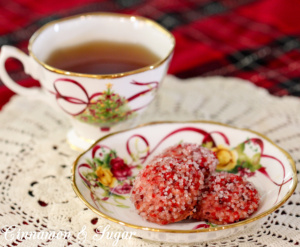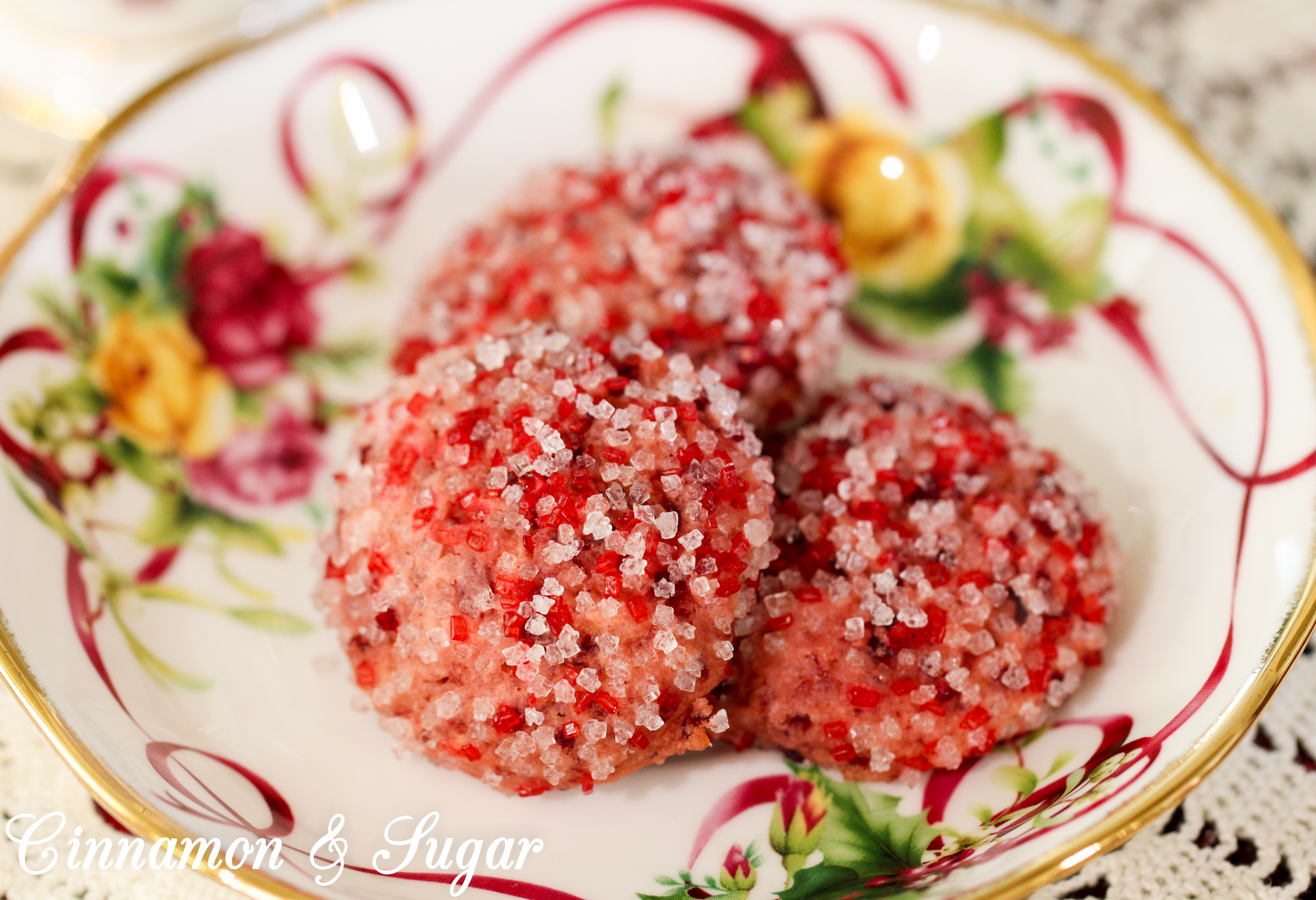 Ingredients
3/4 cup (4.7 ounces) dried cranberries
3/4 cup (5.3 ounces) granulated sugar
2 cups (9 ounces) all-purpose flour
1-1/2 teaspoons baking powder
1/2 teaspoon salt
1/2 cup (4 ounces) cold butter, cut into small pieces
1 egg, lightly beaten
1/4 cup orange juice
1/4 teaspoon orange extract
1/2 teaspoon red gel food coloring (optional)
Red and white coarse sugar, for rolling
Instructions
Using a food processor, pulse the dried cranberries and sugar together until the cranberries are finely chopped, about 20 pulses.
Add the flour, baking powder, and salt. Pulse to combine.
Add the cold butter pieces and pulse to incorporate, until the mixture is the size of small peas. This can take about 20 pulses.
Whisk the orange juice, egg, orange extract, and food coloring (if using) in a small bowl.
Drizzle the orange juice mixture over the flour mixture in the food processor and pulse until a dough forms.
Place the dough in a bowl and cover tightly with plastic wrap.
Refrigerate for at least 1 hour.
Preheat the oven to 350 degrees (F).
Place 1/4 cup red coarse sugar and 1/4 cup white coarse sugar in a shallow bowl and mix. Set aside.
Scoop the cookie dough into 1-inch to 1-1/2-inch balls, then roll in the coarse sugar mixture.
Place the sugar-coated dough on a parchment-lined baking sheet, 12 cookies to each sheet.
Bake 11 to 14 minutes or until the tops of the cookies are just set and the bottom of the cookies are barely golden.
Remove from the oven and cool for 5 minutes on the baking sheet, then transfer to a wire rack to cool completely.
Store in an airtight container for up to 5 days.
https://cinnamonsugarandalittlebitofmurder.com/cranberry-orange-cookies/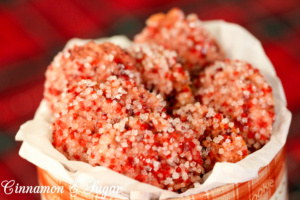 Pin to Pinterest: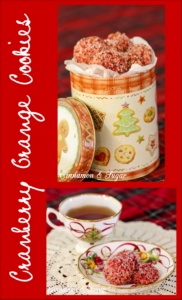 If you receive my blog post via email you will need to visit my website to view the video.