I know most people envision Christmas morning with newly fallen snow outside while the family inside are curled up in front of a warm, cozy fire opening gifts and enjoying holiday treats. After all, I'm Dreaming of a White Christmas is a very popular Christmas carol! However, having been born and raised in Southern California, I've only experienced a white Christmas once…and that was enough to last me a lifetime. I'll take warm weather any time, no matter how picture postcard perfect snowy landscapes may be. So when I started reading MURDER AT CHRISTMAS, the fourth book in the Sand and Sea Hawaiian Mystery series by Kathi Daley, I was right at home with the Hawaiian tropical setting!
Synopsis
The week before Christmas, Lani Pope is working double shifts at the Dolphin Bay Resort which is packed with holiday visitors. With the flu taking out half the staff, she's working as a lifeguard by day and as Santa's Elf at night. The evening of the resort's huge "Step Into Christmas" event, Lani is sent to look for Santa while all the guests eagerly await his arrival. Things go from bad to worse when Lani finds Santa dead in the alley behind the loading dock, murdered. Lani feels a certain responsibility since she's the one who asked her senior citizen friend, Sam, to play Santa at the last moment.
When a group of Sam and Lani's senior citizen friends decide to investigate, Lani knows she must jump in and find the killer before one of them gets hurt. With the help of her boyfriend, Luke Austin, they try to find clues, keep the ladies out of trouble, and plan a holiday party. Can Lani keep up with her double shifts, talk to suspects, and keep the ladies occupied and out of trouble? Will Luke decide he wants a white Christmas with his family in Texas or will he stay and celebrate Christmas with Lani in the tropics? Can they capture the murderer and find justice for Sam?
My Review
Kathi paints a vivid picture with her words, drawing you in. There is one scene in particular that stayed with me long after I finished the book, where Lani rescues a boy who almost drowns. A parent's (or grandparent's) worst nightmare and I appreciate the valuable lesson Kathi includes in her story. I enjoyed the easy friendship Lani also has with the senior citizens, including them in both her sleuthing and in her social life. It says a lot about a person when they are comfortable not only around their own age group but also with the elderly. There are moments of humor that her senior friends provide yet they also add wisdom and insight to help Lani solve the crime. The relationship she has with Luke is sweet as it blossoms and he is very supportive of Lani and the decisions she makes. One thing that strikes me with all of Kathi's series is that the characters are such nice people and good role models both as friends and with their romantic relationships. Even though the book is fairly short, the mystery is well plotted with plenty of suspects and a nice conclusion. It held my attention and I knew I would stay up to finish the book to see how it ended.
Set at Christmas time, Kathi provides plenty of tropical holiday ambiance along with seasonal recipes at the back of the book. I was ecstatic when I found out that one of the many recipes included at the back of MURDER AT CHRISTMAS was my own recipe for Candy Cane Snowball Cookies! One of my granddaughter's favorite cookies (okay, it's probable that any cookie is her favorite depending on what she's munching on at any given moment!) it's just not Christmas until I make these Candy Cane Snowball Cookies. Starting with a buttery cookie base, either crushed candy canes or Andes Peppermint Crunch baking pieces (usually available in December) are mixed in creating a tasty holiday treat. When Emory was very young I would form the dough into small balls and let her roll them in granulated sugar and place them on the baking sheets for me. She enjoyed getting to help in the kitchen although I know a few cookies were always missing by the time I started baking them. I hope you enjoy our recipe as much as we have!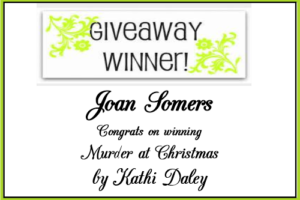 A huge thank you to Kathi Daley for providing winner's choice of either an e-book or print copy of MURDER AT CHRISTMAS for one lucky winner! Print copy limited to U.S. residents only. Contest ends Monday, December 12, 2016 at 11:59 pm PST. Please use the Rafflecopter box located below the recipe to enter. The winner will be announced on this page and on Cinnamon & Sugar's Facebook page, as well as notified by email (so check your spam folder!)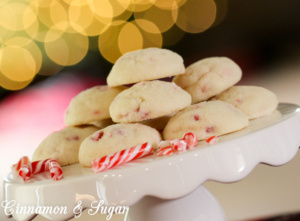 Candy Cane Snowball Cookies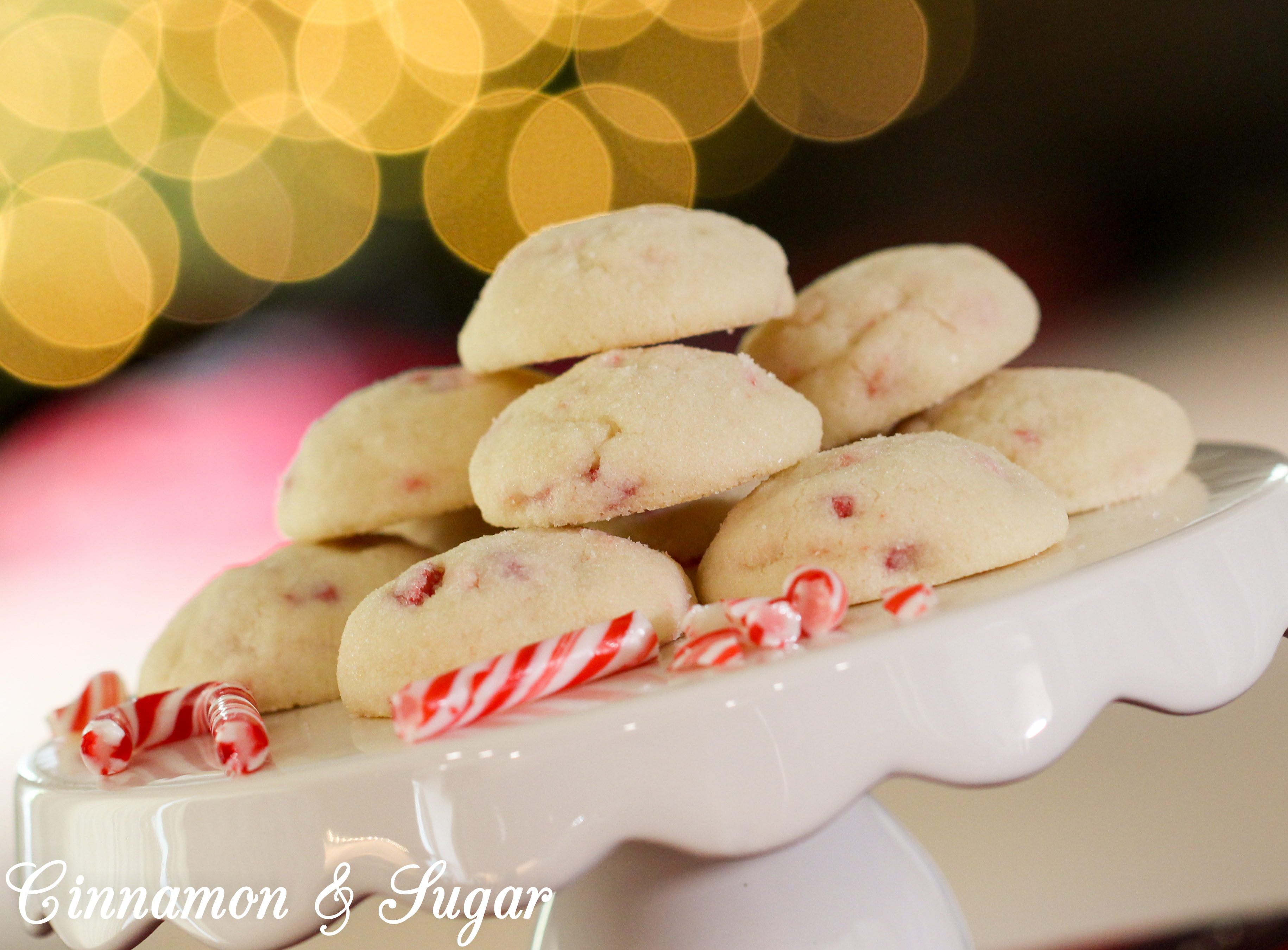 Ingredients
1-1/2 cups confectioners' sugar
1-1/4 cups unsalted butter, room temperature
1 egg, room temperature
1 teaspoon peppermint extract
1 teaspoon vanilla extract
3 cups all-purpose flour
1 teaspoon baking powder
3/4 teaspoon sea salt
1 cup finely crushed peppermint candy canes*
Granulated sugar for rolling cookies
Instructions
Preheat oven to 350 degrees.
In a medium-sized bowl, whisk the flour, baking powder, and sea salt together. Set aside.
In the bowl of a standing mixer, beat the powdered sugar and butter together until creamy, about 2 minutes.
Add the egg and beat until well combined.
Add the peppermint extract and vanilla and stir to thoroughly combine.
Slowly add the flour mixture and stir until well blended on low speed.
Remove the bowl from the standing mixer and add the crushed peppermint candy, stirring into the cookie dough by hand.
Form the dough into 1-inch balls and roll in granulated sugar.
Place on a parchment-lined baking sheet, 12 cookies per sheet.
Bake for 10 to 12 minutes. The bottoms of the cookies should just start to be showing golden color.
Allow the cookies to cool on the baking sheet for 5 minutes then remove and cool completely.
Makes approximately 5 dozen cookies, depending on size.

Tips

If the dough is too sticky when rolling into balls, refrigerate for 1 hour.
You can substitute Andes Peppermint Crunch baking pieces for the crushed candy canes, if desired.
https://cinnamonsugarandalittlebitofmurder.com/candy-cane-snowball-cookies/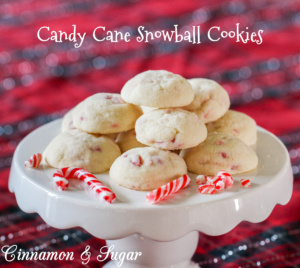 Pin to Pinterest: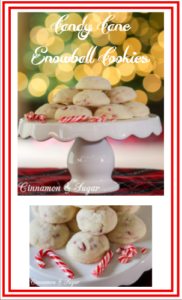 If you receive my blog post via email you will need to visit my website to view the video.
I received a copy in exchange for my honest review. All thoughts and opinions are my own.