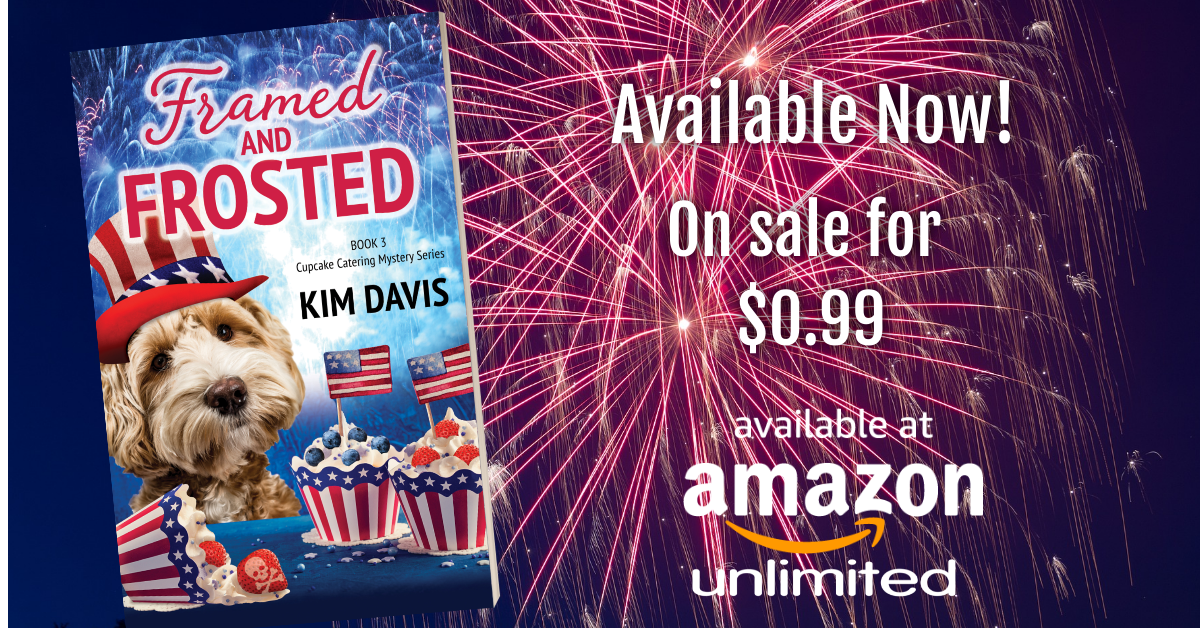 with a cupcake recipe and a book and gift card giveaway!
It's available now for a special sale price of $0.99! and FREE on Kindle Unlimited. Print is also available.
Synopsis
Framed and Frosted, the third book in the Cupcake Catering Mystery series, finds cupcake caterer, Emory Martinez, working at a Laguna Beach society Fourth of July soiree, with her sister and their new employee, Sal. With a host who seems intent on accosting both catering employees and guests alike, things go from bad to worse when he accuses Sal of murdering his long-dead son.
As the crescendo of exploding fireworks overhead becomes the backdrop for cupcakes and champagne, a deadly murder occurs. Can Sal and Emory explain why the cupcake the host ate, after shoving a trayful of buttercream-frosted cupcakes onto Sal, resulted in his death? Or will the detective and guests alike believe that Sal is a murderer? Emory and her octogenarian employer, Tillie, whip into action to find out who framed Sal after he was frosted by the victim. Includes recipes!
Praise for Framed and Frosted
This Is A Must-Read Mystery!  Framed and Frosted
receives my Paradise Rating and will be on my Best Read of 2021 list! Kim Davis is an awesome storyteller and her books are amazing treats that should not be missed! – Lori Caswell, Escape With Dollycas Into a Good Book
Chock full of cozy elements that I love… The plot is top-notch and features family secrets and betrayals, prejudice, embezzlement, and mysterious murders for readers to mull over. – Linda Langford, Chatting About Cozies 
This book (and the other books in the series) are examples of what makes a great cozy mystery. …filled with emotion and twists and kept me entertained and guessing. – Karen Kenyon, Reviewer
I've enjoyed all the books in the series because of the way Davis can write about food and desserts and make them so tempting. And her characters are just as detailed and delightful. Mix in a rich, society set and you are in for a fantastic read. – Kim Heniadis, Reviewer
I think cozy mystery lovers will be very entertained by Framed and Frosted. It's got all of the elements of a great cozy: great characters, a gorgeous setting, humorous dialogue, and a mystery that'll keep you guessing. – Christy's Cozy Corners
…I highly highly highly recommend this book to anyone who loves a good cozy and it comes just in time for the summer holidays! What a treat! – Sarah Woodhouse, Reviewer
The characters are excellent as always and I love that they do seem to continue to be growing and developing. The cupcakes and other treats sounded delicious (as always) and I love that recipes are included. – Mallory, Reviewer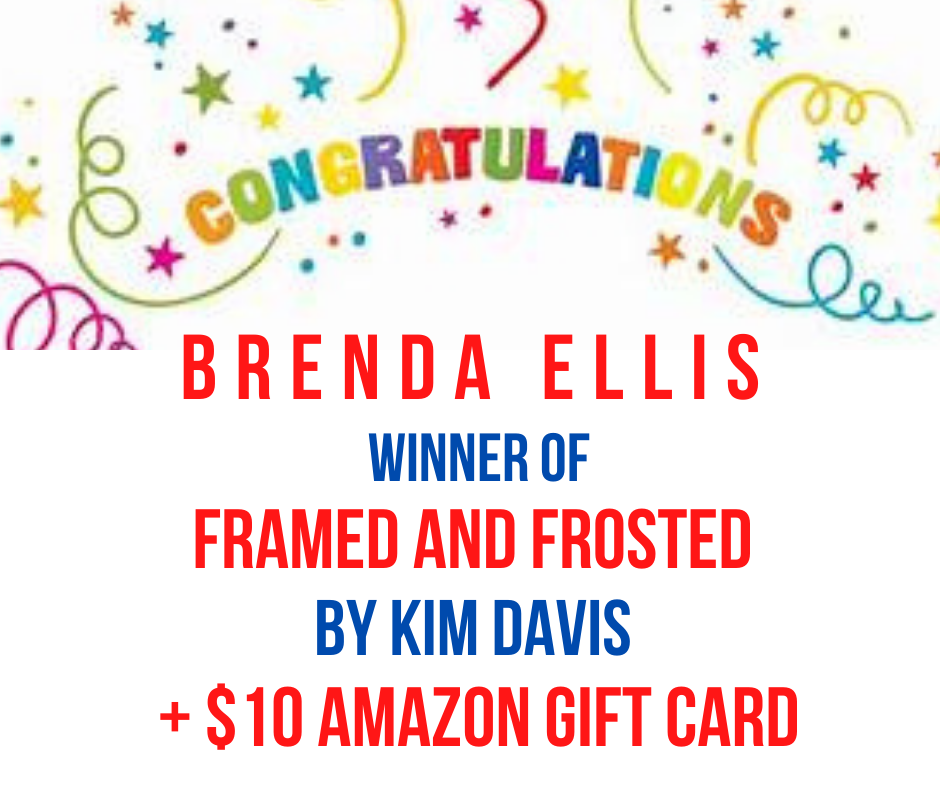 I'm giving away a copy of Framed and Frosted plus a $10 Amazon gift card to celebrate my new release. Print giveaway is limited to U.S. residents, all others will be awarded ebooks. Contest ends Sunday, June 27, 2021 at 11:59 pm PST. Please use the Rafflecopter box located below to enter. The winner will be announced on this page and on Cinnamon & Sugar's Facebook page, as well as notified by email (so check your spam folder!)
Be sure to check out the blog tour and other virtual appearance dates at the bottom of the page and come visit for fun & giveaways!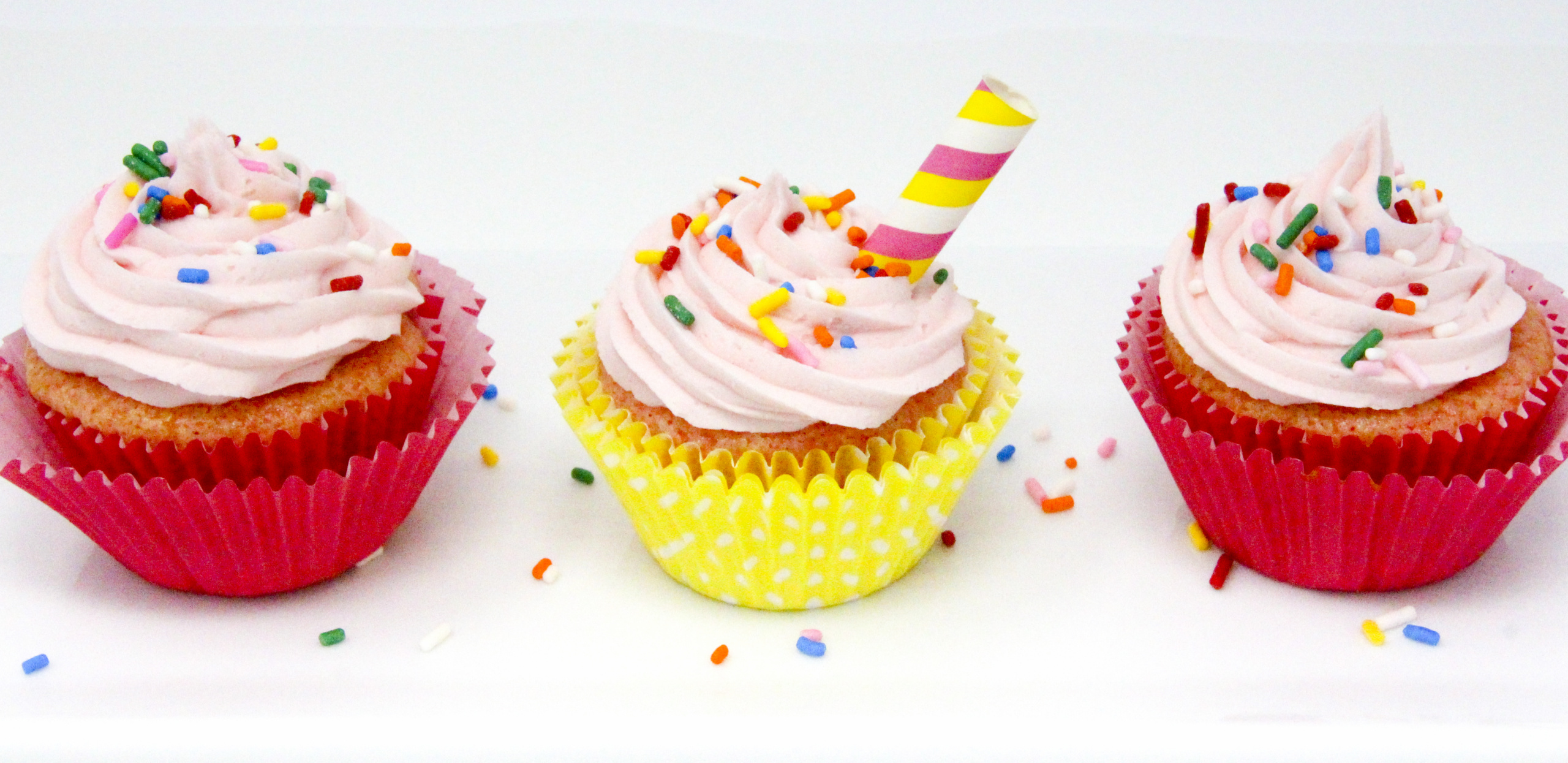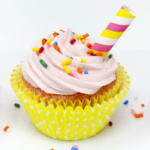 Pink Lemonade Cupcakes
When Emory receives a desperate last-minute request to bake cupcakes for a little girl's birthday swim party, she uses quick convenience products to add summertime flavor to a party favorite.
Ingredients
Cupcakes
1

box white cake mix

3/4

cup

pink lemonade frozen concentrate, thawed

5

tablespoons

water

2

eggs

3

tablespoons

vegetable oil

Several drops of pink gel food coloring, optional
Frosting
1/2

cup

4 ounces unsalted butter, room temperature

4

cups

confectioners' sugar

1/4

teaspoon

sea salt

5-6

tablespoons

pink lemonade frozen concentrate, thawed

A few drops of pink gel food coloring, optional
Garnish Suggestions
Lemon jelly candy slices

Pink-and-yellow-striped paper straws

Pink and yellow jimmies, or rainbow sprinkles
Instructions
Cupcakes
Preheat oven to 350 degrees (F). Line a cupcake tin with paper liners.

Add the cake mix, defrosted lemonade concentrate, water, eggs, and vegetable oil to a mixing bowl. If using gel food coloring, add a few drops in. Beat on low speed for 30 seconds, then increase to medium speed and beat for 1 1/2 minutes.

Fill the prepared cupcake liners 2/3 full.

Bake 15–18 minutes until a wooden skewer inserted into the center comes out mostly clean. A few moist crumbs clinging to the skewer is fine.

Allow the cupcakes to cool for 5 minutes in the cupcake tin, then remove and cool completely on a wire rack.
Frosting
In the bowl of a standing mixer, beat the butter until light and creamy, about 3 minutes. Mix in 2 cups of the confectioners' sugar then add in 5 tablespoons of the defrosted lemonade concentrate, the salt, and pink gel food coloring if using. Add the remaining confectioners' sugar and beat until light and creamy, about 4 minutes. If the frosting is too stiff, add additional defrosted lemonade concentrate, 1 teaspoon at a time, until desired consistency is reached.

With a large star tip, pipe swirls of buttercream over completely cooled cupcakes. Garnish with lemon jelly candy slices, decorative paper straws, or pink and yellow jimmies, or rainbow sprinkles.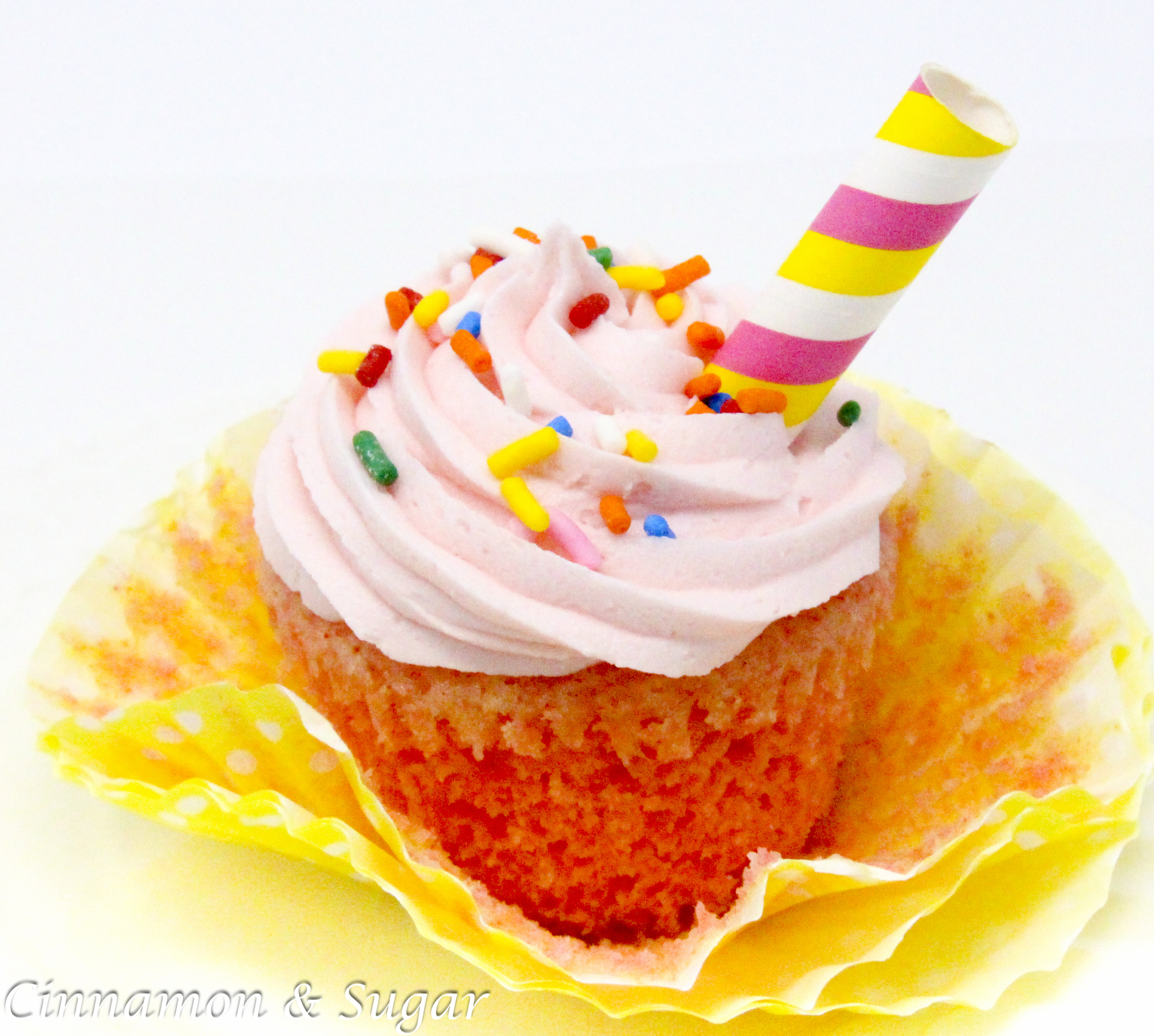 Pin to Pinterest: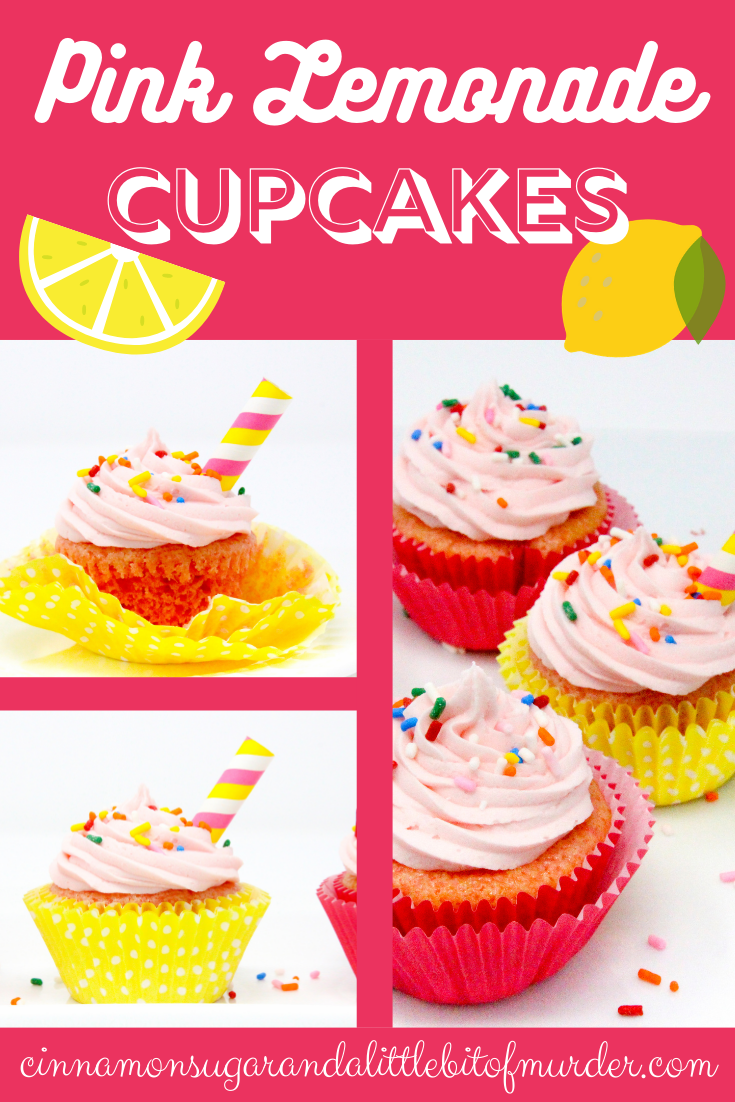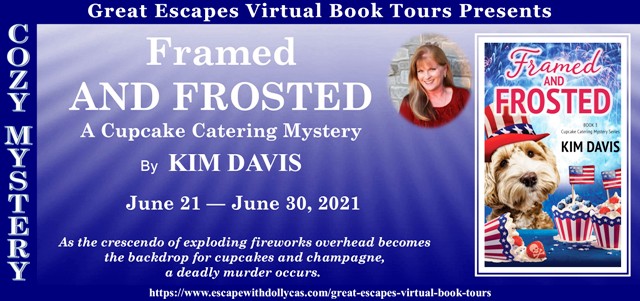 Visit for a separate book and Amazon gift card giveaway!
TOUR PARTICIPANTS
June 21 – Novels Alive – GUEST POST
June 21 – I Read What You Write – SPOTLIGHT
June 21 – I'm All About Books – SPOTLIGHT
June 22 – Mysteries with Character – AUTHOR INTERVIEW
June 22 – Christy's Cozy Corners – REVIEW
June 22 – Maureen's Musings – SPOTLIGHT
June 23 – StoreyBook Reviews – REVIEW
June 23 – Hearts & Scribbles – SPOTLIGHT
June 23 – Escape With Dollycas Into A Good Book – REVIEW
June 24 – Socrates Book Reviews – SPOTLIGHT
June 24 – Reading Is My SuperPower – REVIEW
June 24 – Eskimo Princess Book Reviews – SPOTLIGHT
June 25 – Celticlady's Reviews – SPOTLIGHT
June 25 – Reading, Writing & Stitch-Metic – SPOTLIGHT
June 25 – Sapphyria's Book Reviews – SPOTLIGHT
June 26 – MJB Reviewers – REVIEW
June 26 – Lisa Ks Book Reviews – REVIEW
June 27 – Brooke Blogs – CHARACTER GUEST POST
June 27 – Diane Reviews Books – SPOTLIGHT
June 28 – Books a Plenty Book Reviews – REVIEW
June 28 – Carstairs Considers – REVIEW
June 29 – Laura's Interests – REVIEW
June 29 – My Reading Journeys – REVIEW
June 30 – Literary Gold – SPOTLIGHT
June 30 – Cassidy's Bookshelves – SPOTLIGHT
July Appearances:
July 9 – Lisa Ks Book Reviews – Cozy Food Friday featuring a recipe from my book
July 10 – Kings River Life Magazine