DEATH OF A WANDERING WOLF, the second book in the Hungarian Tea Room Mystery series by Julia Buckley, is an enchanting cozy mystery that captured my imagination! Protagonist Hana Keller is an engaging character and I love the bond she has with her mother and grandmother. Together, the three of them own and run Maggie's Tea Room. The descriptive voice of the author makes me want to visit and experience the charming setting and delectable food. The intrigue starts early on in the book and I adored how Ms. Buckley weaves in Hungarian culture through food, art, and fairy tales.
Shortly after Hana purchases two paintings from a Hungarian artist, he is found murdered. Since she and her boyfriend, Detective Erik Wolf, had returned to the artist's home just as his body was found, Hana feels the need to get involved. On top of that, she felt an unusual connection to the man she'd never met before that day. She also felt a connection to his paintings, particularly those painted in Hungary. The addition of the mystical abilities that Hana's grandmother has and that Hana is slowly discovering added a layer of intrigue for me, especially as the past is intertwined with the present. I also appreciated that Det. Wolf doesn't discount Hana and her grandmother's abilities and instead supports her efforts to find the killer. As Hana's questions close in on the identity of the perpetrator, her life becomes endangered. Here the author introduces the reader to Det. Wolf's mysterious sisters, Thyra and Runa. They add a delightful flair to the story and I truly hope that they are featured in future books. With a heart pounding conclusion, this story wrapped up the threads of the plots and subplots and left me wanting more!
With so many mouthwatering Hungarian dishes mentioned throughout the story, I'm grateful that Ms. Buckley includes several recipes at the back of the book. Since my family is a huge fan of breakfast dishes (even for dinner) I was drawn to the recipe for Juliana's Palacsinta (pronounced pahla-cheenta). These yummy sweet cheese-filled crepes are baked with a light sprinkle of powdered sugar after filling. Garnished with sour cream, fresh strawberries, and jam, this dish is perfect for a brunch gathering or a breakfast-themed dinner.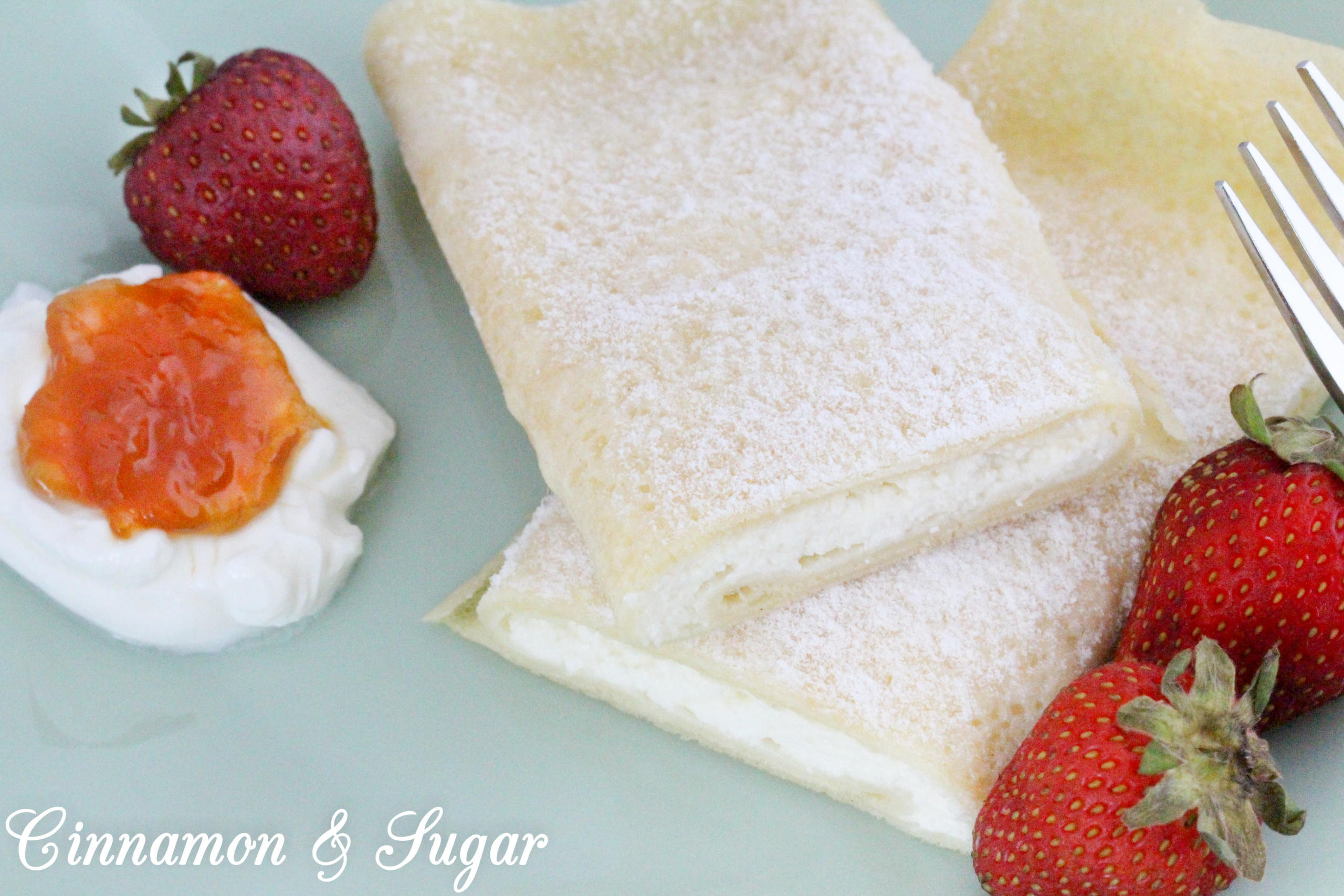 Amazon Synopsis
Hana Keller is enjoying a day off from serving up tea and delicious pastries at her family's Hungarian Tea House when her downtime turns deadly….
The only thing Hana loves more than a good cuppa is finding a delicate porcelain treasure to add to her collection. She's usually on the hunt for teacups but when she spots a rare wolf figurine at a local yard sale, she knows it's her lucky day. Hana also knows the wolf is valuable and tells the seller that he's charging too little for it. His reaction is peculiar–he says he received the wolf from someone he doesn't trust and he just wants it out of his life.
Hana is inspecting her new prize when she finds a tiny microchip attached to the bottom of the porcelain wolf. When she shows the figure to her police detective boyfriend, Erik, Hana is shocked to learn that the chip is actually a tracking device. They decide to confront the seller about the sneaky sale but when they arrive at his house, they find him dead. Erik and Hana now must hunt a calculating killer who has no intentions of crying wolf when it comes to murder…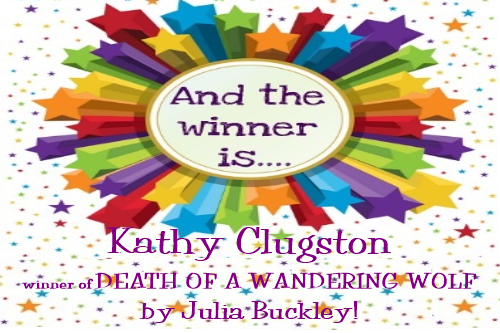 A special thanks to Julia Buckley for providing one lucky winner with a print copy of DEATH OF A WANDERING WOLF! Giveaway is limited to U.S. residents. Contest ends Sunday, July 19, 2020 at 11:59 pm PST. Please use the Rafflecopter box located below to enter. The winner will be announced on this page and on Cinnamon & Sugar's Facebook page, as well as notified by email (so check your spam folder!)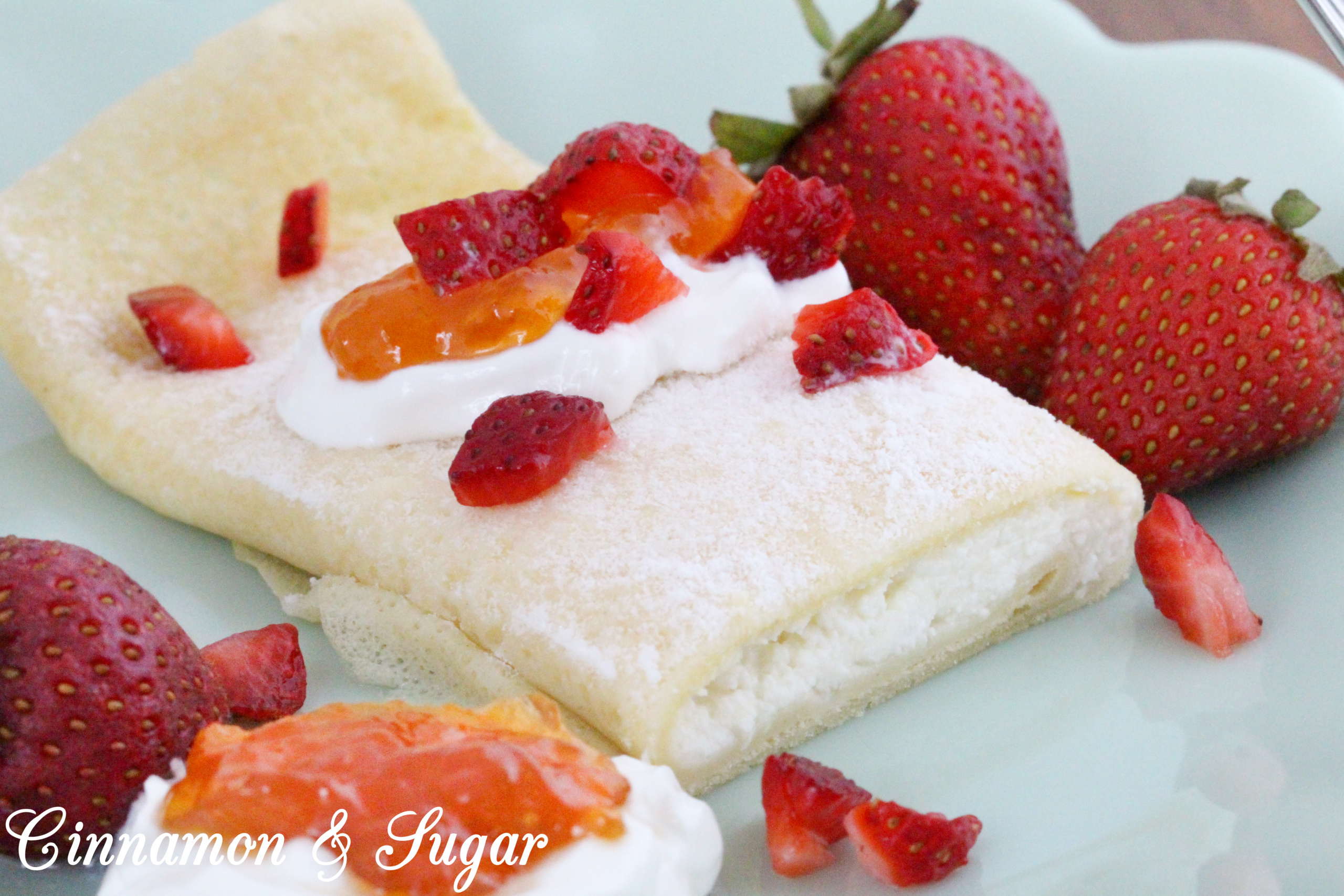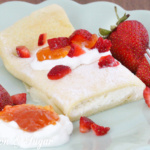 Juliana's Palacsinta
(Pronounced pahla-cheenta)
You can fill these delicious crepes with jam or with the cheese filling described below.
Ingredients
2

cups

flour

1

teaspoon

salt

1

teaspoon

sugar

4

eggs

2

cups

milk

Butter as needed

Powdered sugar
Cheese Filling
1

pound

dry curd (dry cottage cheese or sometimes called farmer's cheese.)

1

egg

1/2

cup

sugar

Vanilla to taste
Instructions
Heat oven to 350 degrees (F).

Mix the flour, salt, and sugar. Beat eggs and mix in milk. Gradually add to the dry flour mixture until you have a thin pancake batter.

Melt butter in a skillet and pour a thin layer of the batter mixture and brown on both sides. This will take less than a minute.

Put the thin pancake on a plate and add your chosen filling. Roll up and place in a buttered baking dish. Repeat until the batter is finished. Sprinkle powdered sugar on the rolled crepes.

Serve warm; top with sour cream, fresh strawberries, or strawberry jam. Apricot jam is also a popular choice.
Cheese Filling
Mix all of the ingredients, adding sugar and vanilla to the desired level of sweetness. Add to the cooked crepes as indicated above.
Pin to Pinterest: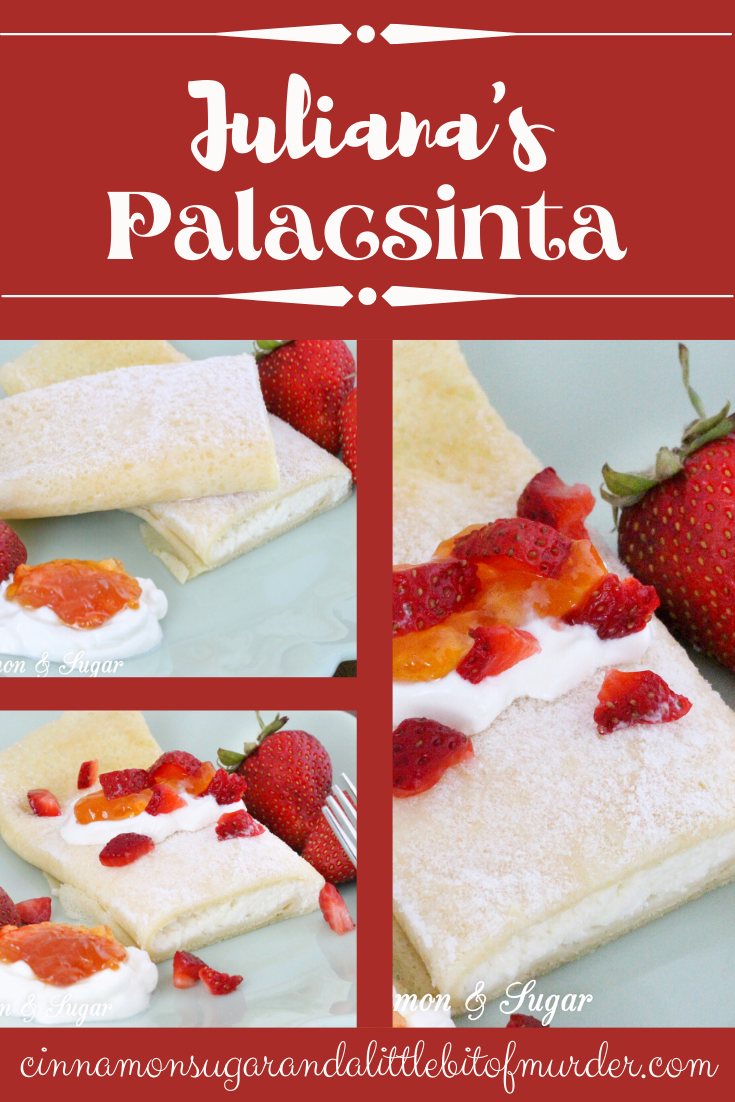 I was provided an advance copy. All thoughts and opinions are my own.