A SPRINKLING OF MURDER, the first book in the brand new Fairy Garden Mystery series by Daryl Wood Gerber, is an enchanting tale that captured my fancy! With a charming setting in Carmel-by-the-Sea situated on California's Monterey Peninsula, the reader can't help but feel like they're on vacation. I adored the fairy garden and tea shop, Open Your Imagination, owned by protagonist Courtney Kelly. It was a treat to learn some of the ins and outs of creating fairy gardens for personal home gardens as the story unfolded. This is one of the times I wish it were possible for pictures to be included within the text as I read along. (However, if you visit the author's website, she has photos and YouTube videos posts on her "just for fans" page. https://darylwoodgerber.com/fanclub/index.php#fairy)
Sometimes first books in a series introduce a large cast to set the stage for future books and that happens here. However, the author provides a helpful list of characters at the front of the book for easy reference. I liked the protagonist Courtney. She is smart and curious but doesn't come across as overly nosy or in-your-face. When she discovers the murdered body of her shop's neighbor on her patio late one night and then becomes a suspect, Courtney knows she needs to get to the bottom of the crime and clear her name. Assisting her in sleuthing is the adorable fairy, Fiona, who is on probation after being expelled from fairy school for too many pranks. Fiona is a fun sidekick to Courtney with her penchant for shenanigans! The introduction of this surprising fantasy element brought a lightheartedness to the story which I greatly enjoyed. To tie in the magical fairy theme, the author also includes lovely "fairy" quotes from literature at the beginning of each chapter. I was tempted to page ahead to read them all before starting the story.
Ms. Gerber is well-known for her other cozy mystery books and her expertise in crafting a well-plotted mystery is on full display here. The pace was even and kept me turning pages wanting to see what happens next. The number of suspects and the way Courtney presented them as she asks questions made it difficult to guess who the culprit was. They all seemed entirely viable. With a surprising twist at the Agatha Christie-style reveal, I was left feeling highly satisfied and entertained!
While this may be a cozy mystery set in a fairy garden shop, they do serve tea and treats there. Courtney also frequents the Hideaway Café which is owned by her potential love interest, Brady, so there's plenty of yummy food mentioned. True to Ms. Gerber's love for creating delectable recipes, she's included several at the back of the book. I couldn't help but be drawn to the recipe for Caramel Blondies which use a layer of homemade salted caramel sauce… and all I can say is oh my goodness… these are incredibly decadent! And delicious! The blondies are easily mixed up and while the caramel sauce isn't difficult, you do have to keep a close watch on it. I learned my lesson the hard way on the first go around when the sugar burned. Other than that, I'll be making these again because there's extra caramel sauce leftover to eat by the spoonful… err for topping ice cream after the blondies are gone!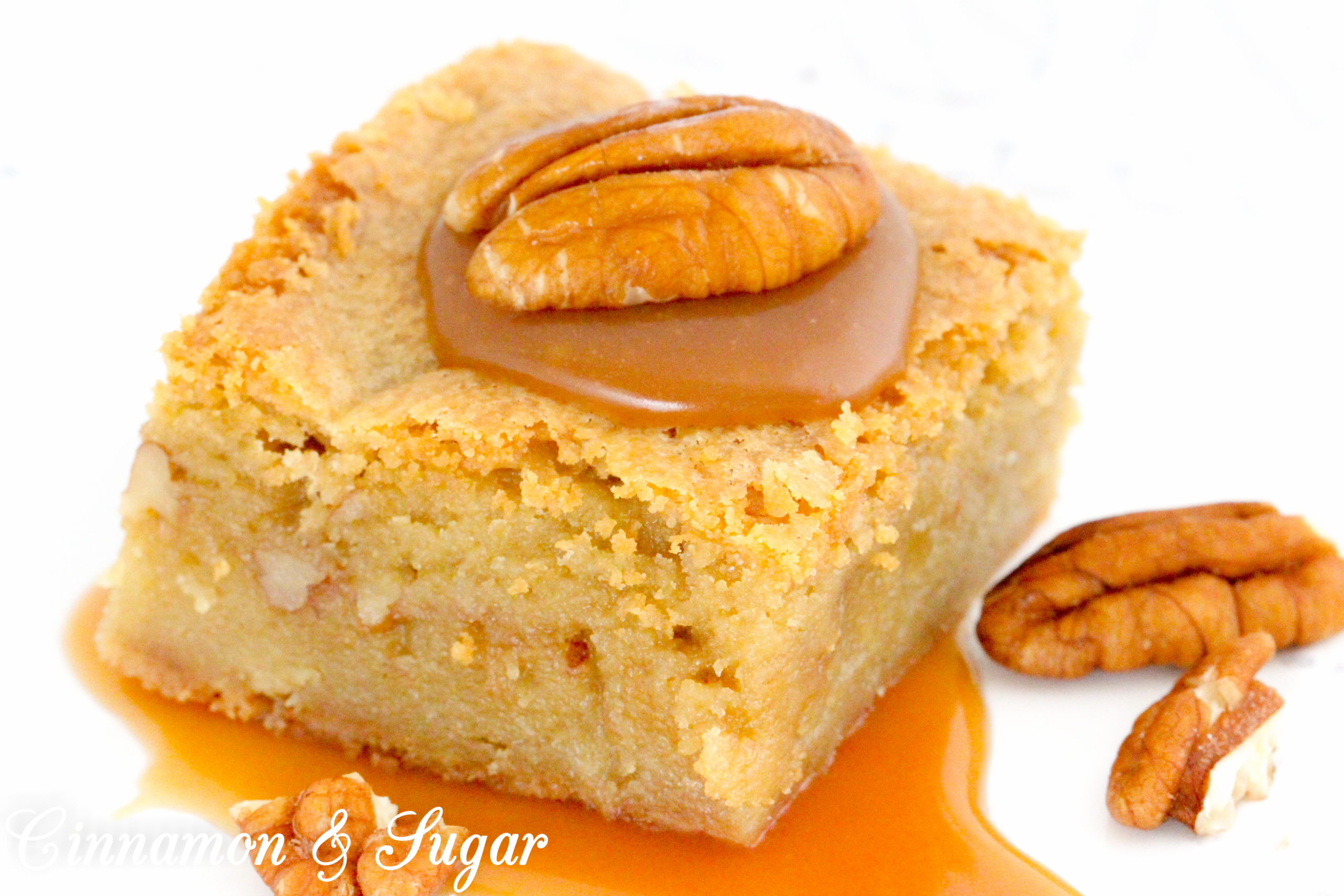 Amazon Synopsis
Fairy garden store owner Courtney Kelly believes in inviting magic into your life. But when uninvited trouble enters her shop, she'll need more than a sprinkling of her imagination to solve a murder . . .
Since childhood, Courtney has loved fairies. After her mother died when Courtney was ten, she lost touch with that feeling of magic. A year ago, at age twenty-nine, she rediscovered it when she left her father's landscaping business to spread her wings and start a fairy garden business and teashop in beautiful Carmel, California. At Open Your Imagination, she teaches garden design and sells everything from fairy figurines to tinkling wind chimes. Now she's starting a book club tea.
But the light of the magical world she's created inside her shop is darkened one night when she discovers neighboring dog-grooming business owner Mick Watkins dead beside her patio fountain. To make matters worse, the police suspect Courtney of the crime. To clear her name and find the real killer, Courtney will have to wing it. But she's about to get a little help from an unexpected source . . .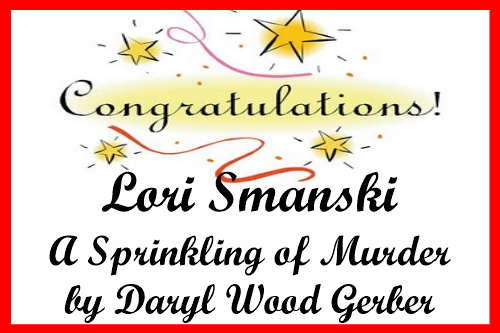 A special thanks to Daryl Wood Gerber for providing one lucky winner with their choice of either print or an ebook copy of A SPRINKLING OF MURDER! Print giveaway is limited to U.S. residents. Contest ends Wednesday, July 15, 2020 at 11:59 pm PST. Please use the Rafflecopter box located below to enter. The winner will be announced on this page and on Cinnamon & Sugar's Facebook page, as well as notified by email (so check your spam folder!)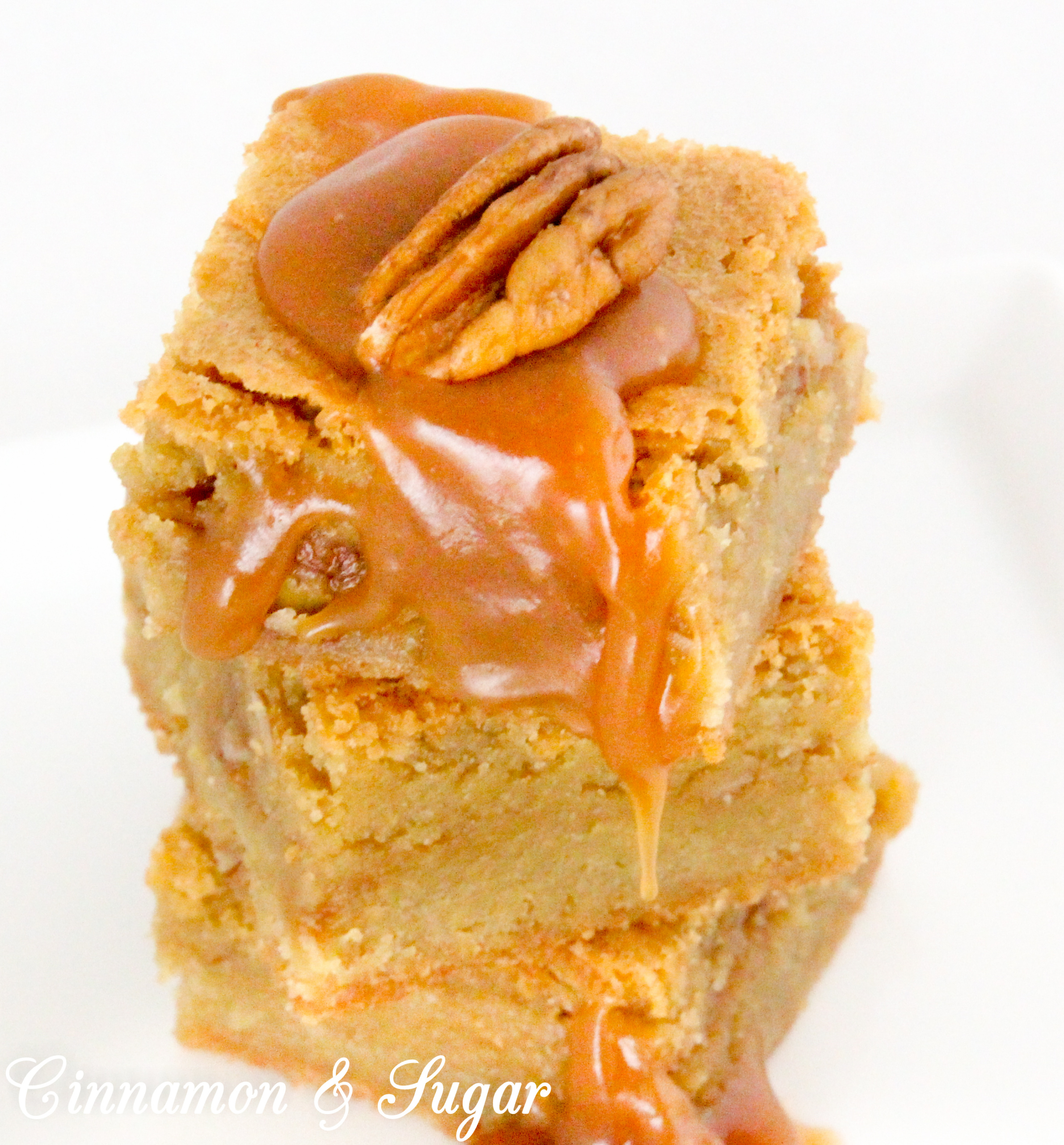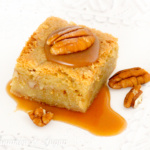 Caramel Blondies
The biggest trick to baking with caramel is to let the baked goods cool completely after baking. Wait, wait, wait. Two hours at minimum. Also, make sure you don't overbake these blondies. Dry blondies are no fun.
Ingredients
Blondies:
2

cups

flour

2

teaspoons

baking powder

1/2

teaspoon

salt

1

cup

(2 sticks) butter, melted and cooled a tad

1-1/2

cups

packed brown sugar

2

eggs

1

tablespoon

vanilla extract

1/2

cup

salted caramel sauce, prepared ahead, kept warm (recipe below)

1/2

cup

chopped pecans or cashews

fleur de sel
Salted Caramel Sauce:
1

cup

granulated sugar

1/4

cup

water

6

tablespoons

salted butter, cut into chunks

1/2

cup

heavy cream, at room temperature

1

teaspoon

coarse sea salt
Instructions
Blondies:
Preheat oven to 350 degrees (F). Butter a 9 x 9-inch baking pan or spray with nonstick cooking spray. Set aside.

In a small bowl, mix the flour, baking powder, and salt. Set aside.

In a large bowl, cream together butter and sugar until light and fluffy. Add in eggs, vanilla, and flour mixture. Mix until well combined.

Spread half of the mixture in the prepared pan and smooth.

Spread salted caramel onto the blondie batter using a spoon, leaving a bit of space around the edges. Top with the chopped nuts. Drop the remaining batter in spoonfuls over the caramel and spread with a spatula. Using a knife, swirl the blondie batter with the caramel. If desired, sprinkle with fleur de sel.

Bake 28 - 32 minutes until set in the middle and golden brown. A toothpick should come out clean. Do not overbake.

Make sure you cool completely, at least 2 hours, before cutting into squares. If necessary, place in the refrigerator for 30 minutes to help the caramel set.
For the Salted Caramel Sauce:
In a 3-quart saucepan, add the sugar and water and cook at medium heat. Stir until combined. Do NOT stir again. Heat the mixture until a candy thermometer reads 350 degrees (F). Remove thermometer.

Carefully add the butter and whisk until butter is melted. Remove the pan from heat and slowly pour in the cream, whisking all the time until the cream is incorporated. Whisk in the sea salt and set aside to cool.

Allow to cool for about 5 minutes, then store in a heatproof, airtight container until ready to use. Refrigerate leftovers.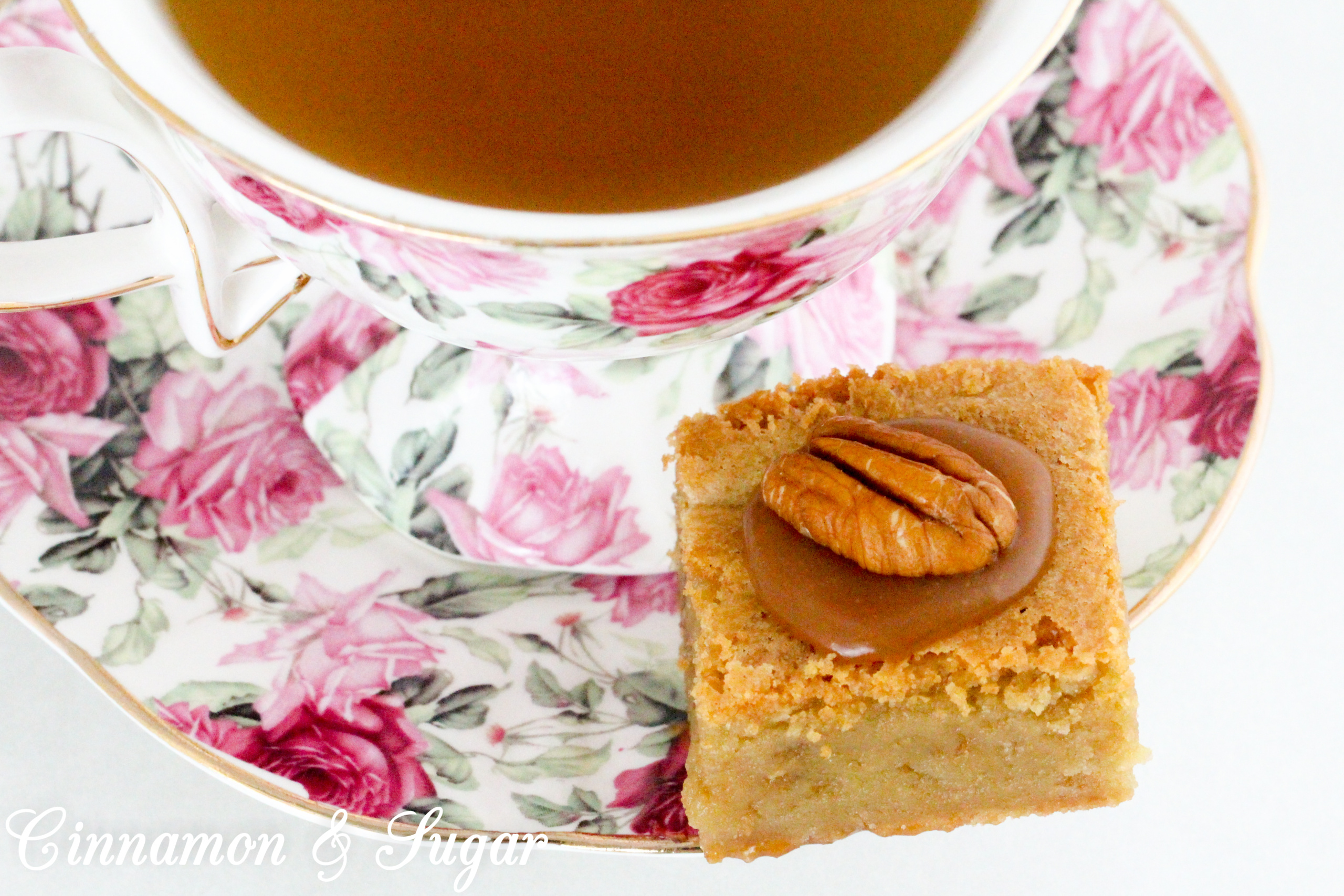 Pin to Pinterest: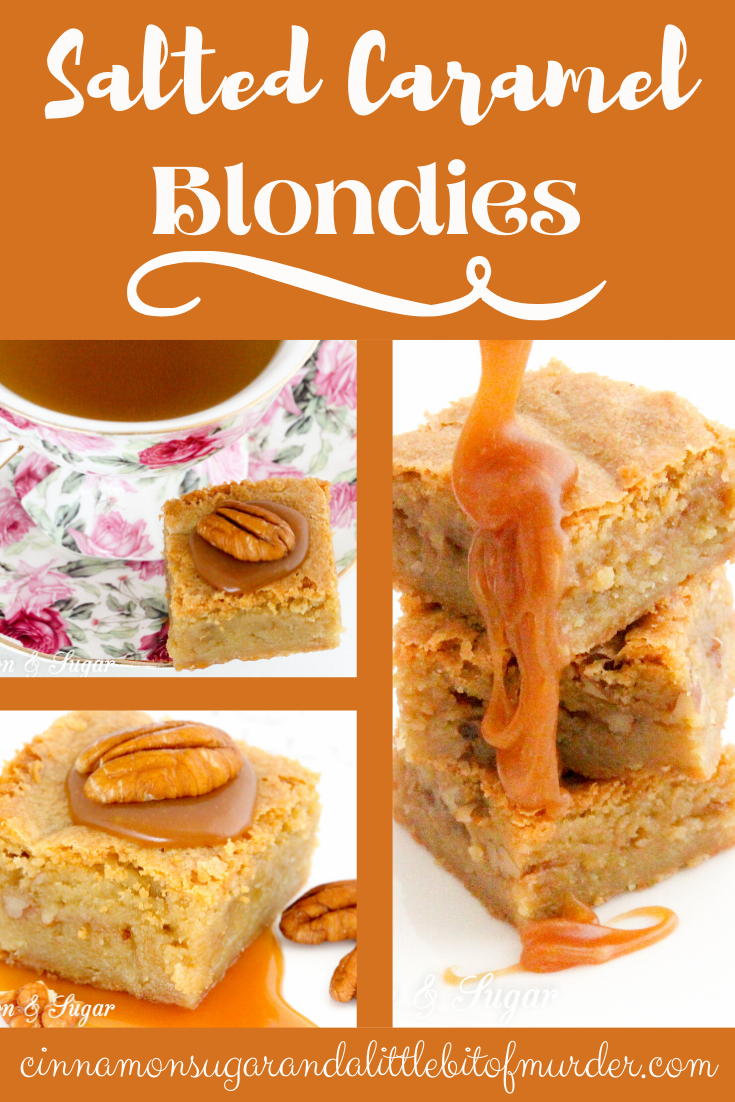 I was provided an advance copy. All thoughts and opinions are my own.