DRAWN AND BUTTERED by Shari Randall, the third book in the Lobster Shack Mystery series, is the first I've read although I have to admit I've had my eye on the series for several months now. Despite my best intentions to start reading this series, it's been the case of too many books and too little time… but now I'm realizing I should have moved it to the top of my to read pile. Despite starting with the third book, DRAWN AND BUTTERED was easily read as a standalone and I felt like it was easy to get to know the characters and settings. Protagonist Allie Larkin is an injured professional ballerina. While recuperating, she's moved back to Mystic Bay to help her Aunt Gully run her lobster shack, the Lazy Mermaid. The reader is treated to a goose-bump worthy, Halloween-themed, slightly spooky story filled with a giant lobster, aka Lobzilla,; a coven of witches who have their eyes on Aunt Gully, and a murdered victim found on top of a supposedly haunted ancestral grave.
I enjoyed how the author combines historical elements from the colonial era with current day events. She effortlessly weaves in bits and pieces about how people dressed in the 1600s, along with sailor and fishermen equipment, and swords. It added to the authenticity of the plot's premise. Ms. Randall includes several subplots, each building on the other, to keep Allie moving at a fast pace throughout the story. There were plenty of clues to keep me turning pages and plenty of suspects, thanks to the subplots, to keep me guessing. The reveal felt just a little rushed but in the end, the threads were pulled together for a heartwarming conclusion. Now I just need to go back and catch up from the beginning before the next release comes!
The Lazy Mermaid lobster shack serves mouthwatering lobster rolls and clam chowder. Ms. Randall includes a recipe for Aunt Gully's New England Clam Chowder at the back of the book. Rich, without relying on heavy cream, this clam chowder is full of the briny flavor of clams but isn't difficult or time consuming to make. While summer may be upon us, I'll be looking forward to cooler weather to make this again!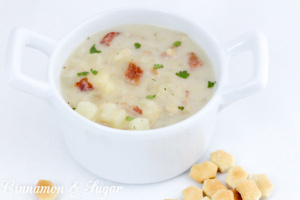 Amazon Synopsis
The Lazy Mermaid's business has slowed to a snail's pace―until a monster lobster claws his way onto the scene…
With high season behind them, ballerina on-the-mend Allie Larkin and Aunt Gully are finally lying low. But then an unexpected guest arrives at the lobster shack: a crustacean so huge he's dubbed Lobzilla around Mystic Bay and on social media. Soon, with everyone showing up for a peek in their tank, Allie and Aunt Gully have more on their plate than they can handle.
Meanwhile, another local establishment finds itself in hot water. In exclusive Rabb's Point, a strange burglary breaches the elegant home of Royal Parrish. Allie takes it upon herself to help with the investigation but, before she can get to the bottom of the case, another alarm sounds: the Lazy Mermaid's Lobzilla has gone missing and is on the loose! And bodies are beginning to pile up. . .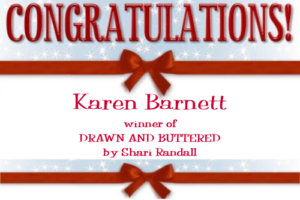 A special thanks to Shari Randall for providing one winner with a print copy of DRAWN AND BUTTERED. Contest ends Sunday, July 21, 2019 at 11:59 pm PST and limited to U.S. Please use the Rafflecopter box located below to enter. The winner will be announced on this page and on Cinnamon & Sugar's Facebook page, as well as notified by email (so check your spam folder!)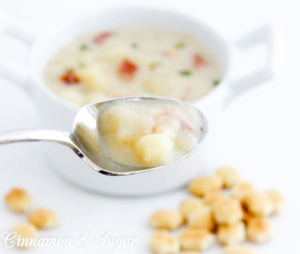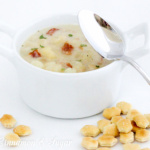 Aunt Gully's New England Clam Chowder
If you're in the mood for New England comfort food, you can't go wrong with clam chowder. Purists say that New England clam chowder must be made with salt pork, but if you don't have any you can use bacon for a tasty variation. If you like creamier chowder, substitute half and half for the milk.
Ingredients
1

medium onion, chopped very fine

1/2

cup

lean salt port, cut into small pieces (or 3 pieces bacon)

2

(6.5 ounce)

cans minced clams, drained, but be sure to reserve the liquid. You can also use frozen minced clams - just defrost.

1

small Russett potato, chopped (about 1 cup)

1

bay leaf

1/4

teaspoon

thyme

1/2

teaspoon

salt

Pepper to taste

2

cups

milk

1

bottle of clam juice (in case you want to add more clam flavor)

Oyster crackers

Sauce pan with lid
Instructions
Cook and stir the salt pork (or bacon) and onion until the onion is soft (and the bacon is crisp if you used bacon. If so, remove it now and reserve. Actually, who would discard bacon?).

Drain the clams, reserving the liquid. Add the liquid, potatoes, bay leaf, thyme, salt and pepper to the salt pork/onion mixture. Heat to a boil, then lower heat, cover, and simmer until the potato is very soft (10 - 15 minutes). If you need more liquid you can add some clam juice or water.

Add the milk and clams, stirring occasionally until they are heated through.

Adjust seasoning to your taste.

If you used bacon, crumble the pieces to garnish the chowder.

Serve with oyster crackers and enjoy!
Cinnamon & Sugar's Note:
I couldn't find salt pork so used bacon, which I left in the pot instead of removing for garnish. If you'd rather keep for garnish, cook it separate from the onions.

RE: Clam juice. Reserve and use only if the canned clams don't contain enough liquid. I'm used to West Coast type of chowder that is super thick (a spoon can practically stand up in it), so after adding the milk, I allowed the chowder to simmer until thickened. Be sure to stir constantly so that the chowder doesn't scorch. If you like thick chowder, chop the potato into large chunks as it will break down as it simmers.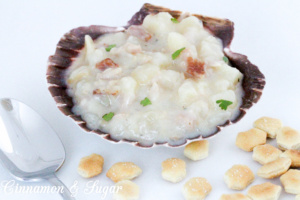 Pin to Pinterest: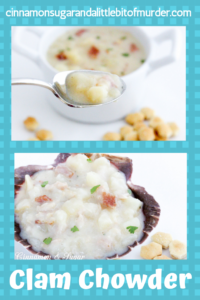 If you receive my blog post via email you will need to visit my website to view the video.