NEST EGG, the first book in the Aloha Chicken Mystery series by Josi Avari, is a delightful start to a charming series! Set in Hawaii, protagonist Saffron Skye intends to stay for a few weeks, at most, to settle her deceased uncle's estate. She plans to then head back to the hectic pace of her east coast life where her OCD is a tremendous help in running a successful event planning business. But the laidback magic of Hawaii starts to grow on her, along with the adorable chickens running around her uncle's property. From there the reader is treated to a charming story that captured and held my attention for the entire read. I enjoyed watching Saffron unwind and allow herself to get to know the locals and even become good friends with them. The chickens…I didn't know I could like chickens until I read NEST EGG! Ms. Avari provides personalities for them and they stole the spotlight of each scene they were in. It also gave her opportunities for creating some humorous situations which had me clucking…err…chuckling.
Along with the mystery of who would want to murder one of her uncle's womanizing friends (who's close to 100 years old!) there are also subplot mysteries. Where could the missing local young woman be? Along with the mystery of Saffron's own father's abandonment and disappearance when she was very young. Ms. Avari does an effective job of weaving the threads of the plots together and provides several interesting suspects to keep the reader hunting for clues. NEST EGG is an entertaining cozy mystery that captures the magic of Hawaii and makes the reader think about the melting pot of characters long after the last word is written. I look forward to reading each book in this delightful new series!
While there aren't any recipes included in the book, there are many mentions of island delicacies and treats. One of the things Saffron discovers that she loves to eat in the book are Malasadas. These are basically yeast donuts filled with rich custard. Ms. Avari was kind enough to share her own recipe with us and they were a huge hit with my family. I liked that the filling can be made ahead of time and the base can be divided and given two different flavors: chocolate and coconut. While chocolate is always a favorite, the coconut brought the tropical flavors of the islands to mind and made you feel like you were there.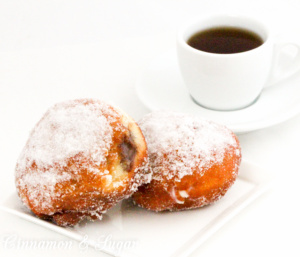 Amazon Synopsis
Saffron Skye has inherited a little piece of Hawaiian paradise. Only it's filled with the leftovers of her late uncle's life and overrun with his enormous flock of chickens. When her new friend, the oldest man in town, dies, no one else finds it suspicious. But as the town's newest poultry keeper Saffron recognizes fowl play when she sees it.
Saffron is a tetrachromat and can see colors nobody else can see. If only she could do the same with killers.
To find the culprit–and the victim's hidden fortune–Saffron will have to look in some surprising places. Even her new flock will lend a wing.
With scrumptious island food galore and two handsome men vying for her attention, Saffron has to focus, crack a few eggs . . . and crack the case.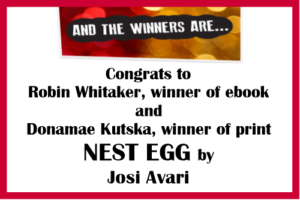 A special thanks to Josi Avari for providing one winner with a print copy of NEST EGG and one winner with an e-book copy of NEST EGG. Contest ends Sunday, July 28, 2019 at 11:59 pm PST and print is limited to U.S. Please use the Rafflecopter box located below to enter. The winner will be announced on this page and on Cinnamon & Sugar's Facebook page, as well as notified by email (so check your spam folder!)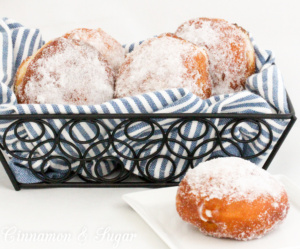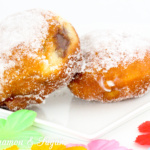 Aloha Chicken Mysteries Malasadas
Ingredients
For the dough:
1-1/2

teaspoons

yeast, proofed (mixed with 1 teaspoon sugar and 2 tablespoons very warm water, set aside until foamy)

3

eggs

1

teaspoon

vanilla

1/2

teaspoon

almond extract

1/2

cup

sugar

2

tablespoons

butter, melted

1/2

cup

milk

1/2

cup

heavy whipping cream

3-3/4

cups

flour (+ 1/4 cup for rolling out)
For the filling:
3/4

cup

sugar

4

tablespoons

cornstarch

2-1/2

cups

milk

2

ounces

heavy cream

1/4

teaspoon

salt

2

egg yolks

2

tablespoons

butter

2

teaspoons

vanilla

4

ounces

milk chocolate chips

4

ounces

sweetened coconut (or 1/2 teaspoon coconut extract if you don't want the yummy, chewy coconut in filling)
Instructions
For the dough:
Beat eggs, vanilla, almond extract, and sugar until foamy.

In bread maker, add flour, butter, milk, cream, and yeast. Add egg mixture and set bread maker to dough setting. (You may also mix all in mixer and then knead by hand until dough is smooth and elastic, then rise 1 hour in a warm place, but I find the bread maker makes a much smoother, more even dough and the malasadas are much lighter, tastier, and prettier with the bread maker dough setting. Plus, it's easier! A lot of time goes into the frying and filling steps later, so it's good to save your energy when you can!)

When mixed, the dough should not be sticky (add a bit of flour if needed), and it shouldn't be too firm or dry. It should be lovely, soft, and smooth, much like a roll dough. (While you're waiting for the dough to rise in the bread machine, it is a good time to make your filling and set it in the fridge to cool.)

When dough has risen once, punch down and roll out to about 3/4" thick, then use a 3" biscuit cutter to make flat rounds out of the dough. Place on greased parchment and let rise in warm place until doubled (about one hour).

Using tongs, fry in 3" of vegetable oil at 360 degrees for 1-1/2 to 2 minutes per side, watching to achieve desired browning. Remove and roll in plain granulated sugar.
For the filling:
I use both a coconut and a chocolate custard filling, made from the same batch. Simply cook, then divide in half and add coconut to one and milk chocolate chips to the other, stir each until combined, and cool before placing in a pastry bag for piping into the malasadas.

Stir together sugar, cornstarch, and salt in a pan. In a bowl, whisk the milk, cream, and yolks. Add the egg mixture to the pan. Cook over low heat, stirring constantly, until the mixture comes to a boil. Boil for 1 minute, then remove from the heat. Add the butter and vanilla, then divide mixture in half.

Add coconut (or coconut extract) to one half and chocolate chips to the other half. Mix until combined. Cool in refrigerator until set, then place into pastry bags for filling the malasadas.

Poke a chopstick in the side of each malasada and gently move it back and forth to create a void inside the donut but only a small hole on the outside. Pipe the filling into hole to fill the finished donuts (it helps to have them sitting on their sides for this).
Once they're filled, grab some friends and enjoy an ono treat!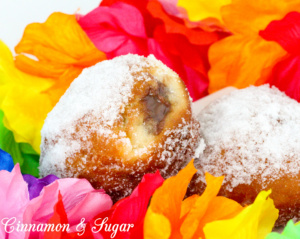 Pin to Pinterest: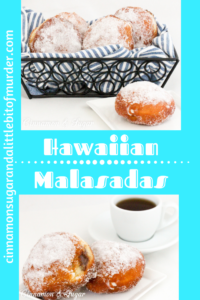 If you receive my blog post via email you will need to visit my website to view the video.