SCONE COLD DEAD by Karen MacInerney, is the ninth book in the Gray Whale Inn Mystery series. This is a fun addition to a delightful series. The author effectively portrays the small island setting of Cranberry Island off the coast of Maine. The smell of the sea and air, the bobbing of boats in the harbor, the cawing of seabirds are all the backdrop to trouble brewing amongst the lobstermen. Ms. MacInerney weaves in the problems facing these hardy souls who try to make a living from the turbulent sea while trying to toe the line of adhering to regulations. Tempers amongst the lobstermen reach the boiling point and protagonist, Natalie Barnes, owner of the Gray Whale Inn, is pulled into the fray. One of her new guests is a young woman who plans to ride along with a volatile lobsterman as an observer. Speculations arise to whether she's arrived on the island to investigate the lobstermen and when Natalie stumbles across her body the first morning after arriving, she's decides she needs to find the truth about what happened.
There were plenty of clues and several subplots that kept the plot moving. In addition to the murder mystery, the well-loved characters had storylines that provided an emotional connection to the story. While this is the ninth book, it can be read as a standalone. However, if you admire character development then you'll enjoy starting at the beginning of the series to follow the growth of the protagonist and her friends. The only little thing that detracted from this delightful book was the oversight in some editing errors. Despite that, I'm looking forward to future books in the Gray Whale Inn Mystery and see what new adventures find Natalie Barnes.
The protagonist cooks up scrumptious meals for the guests of Gray Whale Inn. Ms. MacInerney includes several recipes at the back of the book and they all sound amazing. There are three scone recipes included and I was drawn to the Maple Walnut Scone recipe…the perfect flavors for breakfast. These scones are ultra-rich and flaky, and received rave reviews from my taste testers. One even said that they were fabulous when she ate a leftover one straight from the refrigerator, without warming it up! Not many scones can stand up to that treatment. The walnuts and maple glaze adds extra layers of flavors and textures that made these scones a fan favorite.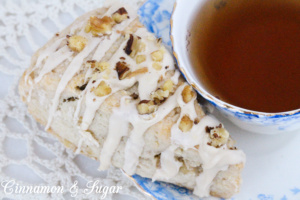 Amazon Synopsis
Innkeeper Natalie Barnes is living her dream life, creating scrumptious scone recipes and relishing cool summer days on quaint Cranberry Island, Maine… until she stumbles across a dead body tucked under the blueberry bushes.
Could the killer be one of her artsy out-of-town guests?
Or will the murderer turn out to be uncomfortably close to home?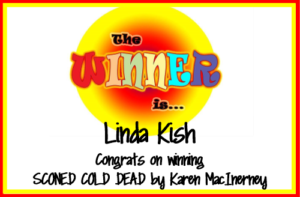 A special thanks to Karen MacInerney for providing one winner with an e-book copy of SCONE COLD DEAD. Contest ends Sunday, August 4, 2019 at 11:59 pm PST. Please use the Rafflecopter box located below to enter. The winner will be announced on this page and on Cinnamon & Sugar's Facebook page, as well as notified by email (so check your spam folder!)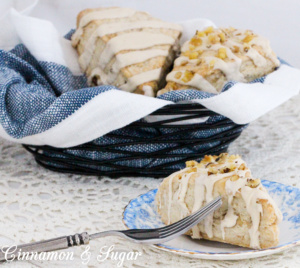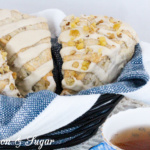 Maple Walnut Scones
Ingredients
3

cups

all purpose flour

4

tablespoons

dark brown sugar

1-1/2

teaspoons

baking powder

1/2

teaspoon

baking soda

1/2

teaspoon

salt

3/4

cup

chilled unsalted butter, cut into 1/2-inch pieces

1/2

cup

plus 6 tablespoons whipping cream, more as needed

1/2

cup

plus 2 tablespoons pure maple syrup

2/3

cup

powdered sugar

1/2

cup

walnuts, chopped (plus more for optional garnish)
Instructions
Preheat oven to 375 degrees (F).

Whisk flour, 2 tablespoons dark brown sugar, baking powder, baking soda, and salt in large bowl to blend.

Add butter and rub in with fingertips until mixture resembles coarse meal. Mix in the walnuts.

Stir 1/2 cup whipping cream and 1/2 cup maple syrup in small bowl to blend.

Gradually add cream mixture to flour mixture, stirring just until dough comes together and adding more cream by tablespoonfuls if dough is dry. Turn dough out onto lightly floured surface. Knead dough gently until smooth, about 5 turns.

Using floured hands, pat out dough to form an 8-inch round; cut dough into 8 wedges. Transfer wedges to baking sheet, spacing 2 inches apart.

Bake scones for about 20 minutes, until golden and toothpick inserted into center comes out clean. Transfer to rack.

Meanwhile, whisk remaining 2 tablespoons dark brown sugar, 6 tablespoons whipping cream, and 2 tablespoons maple syrup in medium bowl to blend. Gradually whisk in enough powdered sugar to form thick glaze.

Drizzle or spread glaze over warm scones. Sprinkle with additional chopped walnuts if desired. Let stand until glaze sets.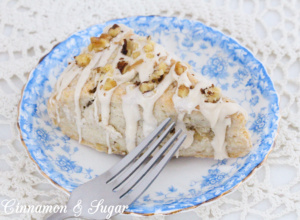 Pin to Pinterest: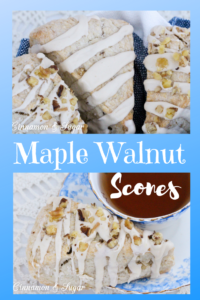 If you receive my blog post via email you will need to visit my website to view the video.
I was provided an advance copy. All thoughts and opinions are my own.