DEATH IN A BUDAPEST BUTTERFLY, the first in the new Hungarian Tea House Mystery series by Julia Buckley, is a delightful introduction to the author's Hungarian culture. It's packed full of mystery, folklore, and three generations of strong women who run Maggie's Tea House. The protagonist, Hana Keller, along with her mother, Maggie, and grandmother, Juliana, are known for serving European High Tea and specialty events with a Hungarian flair. Ms. Buckley did an outstanding job capturing the essence of the Hungarian community through the use of vernacular and accents added to speech between the characters. Her introduction of Hungarian heritage via myths and legends, along with amazing food descriptions, added to the authenticity of the setting. The characters are well-developed and I enjoyed the touch of paranormal, especially with Grandma Juliana and her tea leaf readings.
When a woman is murdered with poisoned tea served from Hana's special butterfly tea cup during one of the Tea House events, she gets involved in the investigation to help clear the Tea House's reputation after clients start cancelling. Detective Wolf, the investigator, pulls Hana, her mother, and her grandmother into the interviews, to help translate the Hungarian spoken by the event's attendees. These scenes add some light humor as the women help the detective understand their culture, plus it gives Hana an insider's opportunity to sort out the clues from the witnesses. As the book progresses, so does Hana's involvement with the detective, and a romance blossoms. Clues were liberally sprinkled throughout the plot but instead of trying to guess, I sat back and enjoyed the story as it unfolded until I'd read the very last page.
Hana's grandmother is quite the accomplished cook and I was excited to see the author includes recipes for several of her own family's Hungarian dishes. I was excited to try her recipe for Kiflis, or Dessert Crescents, which are basically a rich cookie dough rolled out and filled with a variety of sweet fillings. I was unfamiliar with the lekvar filling (your favorite jam can be substituted) but I managed to find some apricot lekvar on Amazon. Apricot jam is my favorite and the lekvar is even better! It tastes like eating fruit straight from the tree without being diluted with sugar, as is the case in jam. I also used some raspberry jam and blackberry jam I had on hand, and my taste testers liked that too, especially those with a sweet tooth. These cookies are a rich and flaky pastry that are delicious and elegant looking too.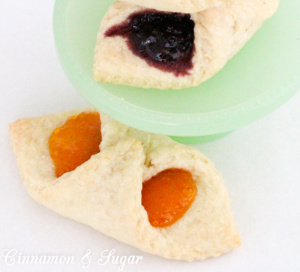 Amazon Synopsis
Hana Keller serves up European-style cakes and teas in her family-owned tea house, but when a customer keels over from a poisoned cuppa, Hana and her tea-leaf reading grandmother will have to help catch a killer in the first Hungarian Tea House Mystery from Julia Buckley.
Hana Keller and her family run Maggie's Tea House, an establishment heavily influenced by the family's Hungarian heritage and specializing in a European-style traditional tea service. But one of the shop's largest draws is Hana's eccentric grandmother, Juliana, renowned for her ability to read the future in the leaves at the bottom of customers' cups. Lately, however, her readings have become alarmingly ominous and seemingly related to old Hungarian legends…
When a guest is poisoned at a tea event, Juliana's dire predictions appear to have come true. Things are brought to a boil when Hana's beloved Anna Weatherley butterfly teacup becomes the center of the murder investigation as it carried the poisoned tea. The cup is claimed as evidence by a handsome police detective, and the pretty Tea House is suddenly endangered. Hana and her family must catch the killer to save their business and bring the beautiful Budapest Butterfly back home where it belongs.
A special thanks to Julia Buckley for providing one winner with a print copy of DEATH IN A BUDAPEST BUTTERFLY. Contest ends Wednesday, August 7, 2019 at 11:59 pm PST and limited to U.S. residents. Please use the Rafflecopter box located below to enter. The winner will be announced on this page and on Cinnamon & Sugar's Facebook page, as well as notified by email (so check your spam folder!)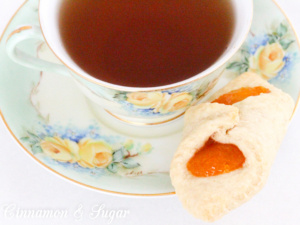 Kiflis (Dessert Crescents)
Adapted from a traditional Hungarian recipe.
Ingredients
6

cups

flour (unsifted)

3

teaspoons

baking powder

1/2

teaspoon

baking soda

3/4

cup

sugar

1

pound

butter

5

egg yolks

1/2

pint

sour cream

1

teaspoon

vanilla extract
Choice of filling:
Raspberry, strawberry, or apricot lekvar; or almond paste, nut blend, or sweet cheese.
Instructions
In a large bowl (my grandmother recommends glass, for some reason), mix together the dry ingredients. Cut in the butter, then add the remaining ingredients (through the vanilla extract). Mix well, using your hands if necessary.

Divide the dough into 2 portions, then refrigerate for 1 hour.

Flour a board and roll out each dough portion. Cut the dough into 3-inch squares, and spoon the filling onto the center of each square. Roll straight and put on a greased or parchment-lined cookie sheet.

Optional: After rolling kiflis, brush top with milk and dip into a mixture of ground nuts and sugar.

Bake at 350 degrees for 15 minutes or until light brown. Cool and sprinkle with confectioners' sugar. Serve with coffee or tea.
Tip:
Substitute thick fruit jam for the lekvar if necessary.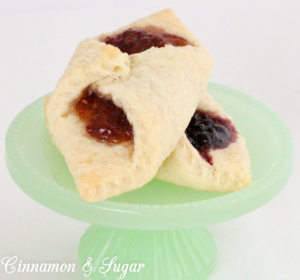 Pin to Pinterest: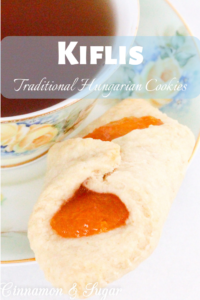 If you receive my blog post via email you will need to visit my website to view the video.
I was provided an advance copy. All thoughts and opinions are my own.