RISKY BISCUITS, the second book in A Sugar & Spice Mystery series by Mary Lee Ashford, is an entertaining addition to a delightful series! I greatly enjoyed the first book (GAME OF SCONES) but feel that Ms. Ashford has found her stride with this second book. Protagonist, Sugar Calloway, and her business partner, Dixie Spicer, have been allowed to fully display their personalities in this newest book, all to the readers' advantage. The humorous one-liners kept me chuckling and Sugar's Aunt Cricket's idioms added to the folksy narration provided by Sugar. Ms. Ashford's colorful descriptive settings are brought to life with an added humorous touch: such as the town's Red Hen Diner, (which Sugar frequents often) where the door clucks every time it's opened and the owner's apron announces her as The Head Chick. The author creates several imaginative characters to support Sugar and Dixie, each well developed and each with unique personalities. I enjoyed the interaction between Dixie and her former flame, Sheriff Terry, while Sugar's friendship with food photographer, Max, has the potential to flourish.
I greatly enjoy character-drive cozy mysteries, and RISKY BISCUITS not only met my expectation but exceeded it. The initial murder itself was tragic, but eventually it managed to bring the town together in support of the senior citizens' group, The Crack of Dawn Breakfast Club. There were twists and turns, old secrets brought to light, and old rivalries revived. Subplots were intertwined with the murder and at first I didn't see how they connected. But as the story progressed and clues were introduced, Ms. Ashford pulled it all together into one satisfying read.
With Sugar and Dixie working on The Crack of Dawn Breakfast Club's cookbook, there are all sorts of yummy dishes mentioned throughout the story. Fortunately, Ms. Ashford includes several delicious sounding recipes at the back of the book for the reader to try. One of the recipes submitted by Sugar's elderly landlord is Greer's Better than Robert Redford Cake. Oh. My. Word! It's amazing!!! I prepared it for my granddaughter's Teacher Appreciation goodie day and there wasn't even one crumb left. On top of receiving rave reviews, I was thankful that it was a snap to make and relied on convenience products. I ended up using Cool Whip instead of fresh whipped cream because I knew the cake would sit at room temperature for a couple of hours due to transporting it and then waiting for the teachers to start break time. I worried fresh whipped cream might collapse under those circumstances. Either way, you will be the dessert star with this cake!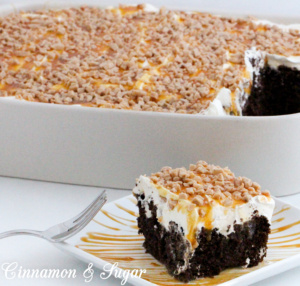 Amazon Synopsis
Former magazine editor "Sugar" Calloway's life has taken a delicious twist since she launched a community cookbook publishing business with blue-ribbon baker Dixie Spicer. Now these amateur sleuths must solve a small-town murder—without getting burned.
Sugar and Spice Cookbooks' newest project is a fundraiser organized by the St. Ignatius Crack of Dawn Breakfast Club, famous for their all-you-can-eat biscuits and gravy events. But when a group member is found dead, Sugar and Spice's priorities change from raising dough to figuring out who put murder on the menu.
The return of former badboy Nick Marchant has stirred the town's gossips too. Add a few grudges and some old-fashioned greed over a land deal into the mix, and it's a recipe for mayhem. And when someone serves up a second helping of murder, Sugar and Spice need to sift the guilty from the blameless, or their next breakfast may be their last . . .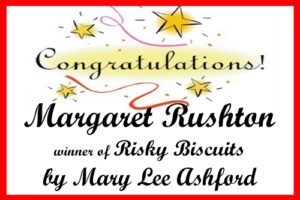 A special thanks to Mary Lee Ashford for providing one winner with their choice of either a print copy or e-book of RISKY BISCUITS. Contest ends Wednesday, July 17, 2019 at 11:59 pm PST and print is limited to U.S. Please use the Rafflecopter box located below to enter. The winner will be announced on this page and on Cinnamon & Sugar's Facebook page, as well as notified by email (so check your spam folder!)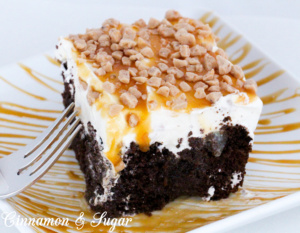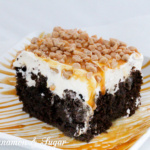 Greer's Better Than Robert Redford Cake
Greer thinks this cake may be better than Robert Redford but not George Clooney. Just her opinion, of course.
Ingredients
1

box chocolate cake mix

3

eggs

1-1/4

cups

milk

1/2

cup

vegetable oil

1

(14 ounce) can sweetened condensed milk

1

(11.5 ounce) jar salted caramel sauce

2

cups

heavy whipping cream

2

tablespoons

powdered sugar

1/2

teaspoon

vanilla extract

1

(8 ounce) bag Heath candy pieces
Instructions
Preheat oven to 350 degrees (F) and spray a 9 x 13-inch baking dish with nonstick spray.

Prepare the cake mix according to the directions on the package, but use milk in place of water.

Pour the batter into the baking dish and bake according to the package directions.

Using the handle of a wooden spoon, poke holes throughout the cake.

Pour the whole can of sweetened condensed milk over the caking, filling the holes.

Drizzle the cake with half of the jar of salted caramel sauce.

With an electric mixer, whip the whipping cream until stiff peaks form, adding the powdered sugar and vanilla while whipping.

Spread the whipped cream over the cake.

Drizzle with the remaining salted caramel sauce and sprinkle with bits of Heath candy pieces (small chunks, but not crushed).
Tips
You can use frozen whipped topping, but make sure it's completely thawed before you put it on the cake.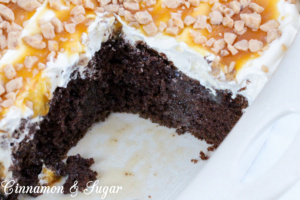 Pin to Pinterest: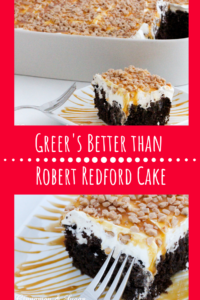 If you receive my blog post via email you will need to visit my website to view the video.
I was provided an advance copy via Netgalley. All thoughts and opinions are my own.