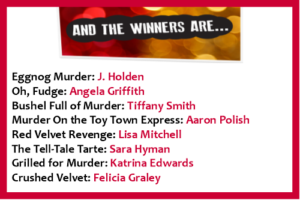 Few things in life are as picture perfect as Christmas in Maine—until murder dampens the holiday spirit. It must be something in the eggnog . . .
EGGNOG MURDER by LESLIE MEIER
When a gift-wrapped bottle of eggnog—allegedly from the Real Beard Santa Club—proves to be a killer concoction for a Tinker's Cove local, all Lucy Stone wants for Christmas is to find the murdering mixologist who's stirring up trouble.
DEATH BY EGGNOG by LEE HOLLIS
Food and cocktails columnist Hayley Powell has never cared much for Bar Harbor's grouchy town librarian, Agatha Farnsworth. But after the Scroogy senior has a fatal—and suspicious—allergic reaction to supposedly non-dairy eggnog, it's up to Hayley to ladle out some justice.
NOGGED OFF by BARBARA ROSS
Julia Snowden's tenant Imogen Geinkes seems to be jinxed. First, her poorly named "Killer Eggnog" gives all her co-workers food poisoning at the holiday party, then her boyfriend's body shows up in Julia's moving truck as she's headed back to Busman's Harbor. Now Julia has to get moving to catch the cold-hearted culprit.
Liz McCall has come to love running her father's vintage toyshop back home in East Aurora, NY, so when the Train and Toy Show comes to town, she's all aboard for a fun toy-filled weekend. The only hitch is that her childhood bully Craig McFadden, now local business rival, has set up a booth next to hers. But the fun and games are over when Craig falls from the ceiling in a publicity stunt gone wrong.
What was initially thought to be a fatal accident proves much more sinister. Pulled into the case by her feelings for both Ken, the police chief, and Jack, her high school sweetheart whose brother is one the prime suspects, Liz dives headfirst into the investigation. But as she digs deeper, she's shocked to learn her father may have been the intended target.
The trouble train is barreling down and Liz may have just bought herself a first class ticket in Murder on the Toy Town Express, Barbara Early's delightful second installment in her Vintage Toyshop mysteries.
This summer, Becca is looking forward to selling her delicious jams and preserves, but things are changing fast at the farmers' market. A fleet of food trucks has arrived for a two week visit, peddling cupcakes, tacos, chicken wings, and more—including a gourmet hot dog truck operated by Becca's own cousin, Peyton.
Tensions between truck operators and market vendors over their required licenses reach a crescendo when the town's business manager is murdered. With Peyton already under suspicion of stealing money and a secret recipe from the restaurant where she worked in Arizona, the cops start grilling her as their prime suspect. Now it's up to Becca to clear her cousin and find out who at the market gave themselves a license to kill…
It may be summertime, but sales at Fairy Tale Cupcakes are below zero–and owners Melanie Cooper and Angie DeLaura are willing to try anything to heat things up. So when local legend Slim Hazard offers them the chance to sell cupcakes at the annual Juniper Pass rodeo, they're determined to rope in a pretty payday!
But not everyone at the Juniper Pass is as sweet for Fairy Tale Cupcakes as Slim–including star bull-rider Ty Stokes. Mel and Angie try to steer clear of the cowboy's short fuse, but when his dead body is found face down in the hay, it's a whole different rodeo.
With a vengeful murderer on the loose, the ladies are quickly realizing that while they came to save their business, they may have to save themselves–and that's no bull.
It's a cold January in the Chesapeake Bay area, but Cool Down Café manager Val Deniston has plenty to sweat over—like catering a book club event, testing recipes for her Granddad's cookbook, and catching the author of a deadly tale of murder. . .
The last thing Val needs in her life is an unsolved murder, especially when the victim, an actor famed for impersonating Edgar Allan Poe, happens to be dressed exactly like her Granddad. To keep an eye on Granddad, whose latest job takes him to the home of Rick Usher, a local author inspired by Poe, Val gets herself hired as a cook in Rick's House of Usher. When she discovers the actor wasn't the only one doing an impersonation, separating the innocent from the murderous becomes a real-life horror story. But Val must decipher a killer's M.O. sooner rather than later . . . or she can forget about finding poetic justice.
Life is always sweet in Allie McMurphy's delectable fudge shop. But murder can make things unpleasantly sticky . . .

A DEADLY CONFECTION

After Allie inherited her family's McMurphy Hotel and Fudge Shop, cousin Tori moved off to California in a bitter huff, and the two haven't spoken since. So to have her cousin reappear on Mackinac Island without warning is a big surprise—but not as surprising as finding her standing over a dead woman impaled with a garden spade in the Mackinac Butterfly House. Butterflies may be free, but Tori won't be for much longer—unless the cousins can bury the hatchet and work together to catch a killer who's taken flight. Because when it comes to family, blood is thicker than fudge . . .
Robbie Jordan may have had reservations about the murder victim, but she still needs to turn up the heat on a killer if she wants to keep her new restaurant open for business…
In the charming small town of South Lick, Indiana, Robbie has transformed a rundown country store into the runaway hit Pans 'N Pancakes. But the most popular destination for miles around can also invite trouble. Erica Shermer may be the widow of handsome local lawyer Jim Shermer's brother, but she doesn't appear to be in mourning. At a homecoming party held in Robbie's store, Erica is alternately obnoxious and flirtatious–even batting her eyelashes at Jim. When Erica turns up dead in the store the next morning, apparently clobbered with cookware, the police suspect Robbie's friend Phil, who closed up after the party. To clear Phil and calm her customers, Robbie needs to step out from behind the counter and find the real killer in short order…
Fabric shop owner Polyester Monroe is back in business—this time getting wrapped up in a diabolical but crafty case of murder.
With opening day of Material Girl approaching, Poly is stocking up on lush fabrics, colorful notions, and best of all, a proprietary weave of velvet. But upon delivery, it's not quite the blend she expected, being ninety-percent silk and ten-percent corpse. Crushed under a dozen bolts of fabric is Phil Girard. His wife, Genevieve, local tea shop owner and close friend of Poly, is the prime suspect.
Granted, Phil may not have been the perfect husband, but surely Genevieve had no reason to kill him! There's just the small matter of Genevieve's own incriminating confession: I'm afraid I killed my husband. Now, as Material Girl's grand opening looms, Poly is torn between a friendship pulling apart at the seams—and finding a smooth killer with a velvet touch…
Tip
If you don't see the comment box, make sure you see the following URL (or you can click on it below) then scroll to the bottom of the page:
https://cinnamonsugarandalittlebitofmurder.com/2018/10/multi-title-cozy-mystery-giveaway/