YULE LOG MURDER is a collection of three cozy mystery novellas by Leslie Meier, Lee Hollis, and Barbara Ross. With the holiday season often hectic, it's nice to sit down and relax with a story that captures the Christmas spirit. I greatly appreciate that each novella can be read as a standalone and aren't so long that I can't get to the myriad of activities and chores that get scheduled for this time of year.
Each of the stories are set in Maine: Yule Log Murder by Leslie Meier is in Tinker's Cover; Death by Yule Log by Lee Hollis is in Bar Harbor; and Logged On by Barbara Ross is in Busman Harbor. I greatly enjoyed spending time with each of the well-known characters from these well-loved series. Even if you're not familiar with these authors, the stories can easily be read without feeling lost by not knowing the characters and backstory. Despite the limited word count, the three authors expertly captures the setting of their stories and flavor it liberally with the holiday spirit. They also give the reader an excellent feeling for their protagonist and supporting characters. The mysteries have good plots but have a gentler feel to them which, in my opinion, makes them ideal for the holidays. YULE LOG MURDER is the perfect book to curl up with in front of the fire with a mug of hot cocoa and a plate of Christmas cookies!
Each of the three authors have included holiday recipes with their story. I adore Barbara Ross' description of her protagonist, Julia Snowden, learning to make Bûche de Noël. Barbara includes the recipe for it at the back of the book and I was intrigued. However, after reading through her introduction and advice for the recipe (which totally cracked me up) I took it to heart… and decided to make her recipe for Jewel Brooch Cookies instead! I loved that this recipe was handed down from Barbara's grandmother. Easy to make, the jewel tones of jam makes these shortbread-style cookies festive and a lovely, delicious addition to any holiday cookie plate!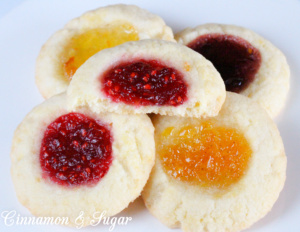 Amazon Synopsis
Fresh-baked cookies, pies, and cakes can warm even the frostiest Christmases in coastal Maine. But there's little room for holiday cheer when murder is the new seasonal tradition . . .

YULE LOG MURDER by LESLIE MEIER
Lucy Stone is thrilled to be cast as an extra in a festive period film—until the set becomes a murder scene decorated in blood and buttercream icing. Returning to her role as sleuth, Lucy dashes to restore peace to Tinker's Cove, unwrap a cold-hearted criminal's MO, and reveal how one ornate Yule log cake could possibly cause so much drama.

DEATH BY YULE LOG by LEE HOLLIS
Hayley Powell's holidays aren't off to a very merry start. Not only has her daughter brought Conner—an infuriatingly perfect new beau—home to Bar Harbor, but a local troublemaker has been found dead with traces of her signature Yule log cake on his body. As Conner becomes the prime murder suspect, Hayley must put aside her mixed feelings to identify the real killjoy.

LOGGED ON by BARBARA ROSS
Realizing she can't make a decent Bûche de Noël to save her life, Julia Snowden enlists the help of her eccentric neighbor, Mrs. St. Onge, in hopes of mastering the dessert for Christmas. With everyone in the old woman's circle missing or deceased, however, it's up to Julia to stop the deadly tidings before she's the next Busman's Harbor resident to meet a not-so-jolly fate.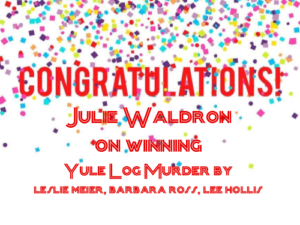 A special thanks to Barbara Ross for providing a winner with a hardcover copy of YULE LOG MURDER. Contest ends Thursday, November 1, 2018 at 11:59 pm PST and is limited to U.S. residents only. Please use the Rafflecopter box located below to enter. The winner will be announced on this page and on Cinnamon & Sugar's Facebook page, as well as notified by email (so check your spam folder!)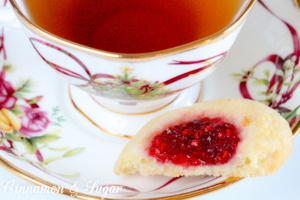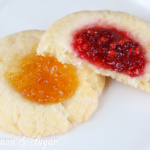 Jewel Brooch Cookies
From the author, Barbara Ross: Many people make these cookies and call them by various names, including gems. This version came to me from my grandmother and I think they are particularly good.
Ingredients
1

cup

plus 1/2 teaspoon floor (yes, really, that's what the recipe says)

1/3

cup

sugar

1/2

cup

soft butter (Note: 1/2 cup, not 1/2 pound. That is the only way you can screw this recipe up)

1

egg yolk, beaten with a fork

1/2

teaspoon

vanilla

Your favorite jam or jelly
Instructions
Preheat oven to 350 degrees (F).

Mix flour and sugar. Cut in butter like a piecrust. Add egg yolk and vanilla.

Mix with fingers until dough holds together.

Place in refrigerator for 20 minutes.

Roll into balls the size of a marble and set on parchment-lined cookie sheet, 1-inch apart.

Make an indentation in the center of each ball with your thumb. Fill the indentation with any jam or jelly.

Bake at 350 degrees for 15 to 20 minutes, or until golden brown.

Cool for 5 minutes on baking sheet then move to a wire rack to cool completely.
Notes
Makes about a dozen cookies, depending on the size of the balls. I almost always double the recipe.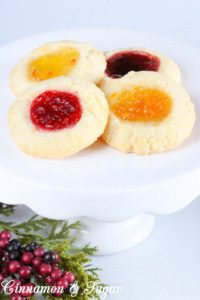 Pin to Pinterest: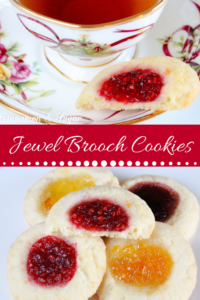 If you receive my blog post via email you will need to visit my website to view the video.
I was provided an advance copy with the hopes I would review. All thoughts and opinions are my own.