KILLED ON BLUEBERRY HILL, the third book in the Berry Basket Mysteries by Sharon Farrow is another action-packed addition to an entertaining series! The reader is immersed in the festivities of Oriole Point's Blueberry Blow Out Festival. With the author's strong descriptive narratives, I could taste the blueberry pies; hear the screams coming from the rides like Blueberry Hill Death Drop (a tower drop ride); see the flashing lights from the carnival games; and feel the chills and thrills from the scary fun house. The protagonist, Marlee Jacob (I love that she's named after a character in Christmas Carol!) owns The Berry Basket and has her hands full running her shop and having a strong presence at the festival. She is a marvelous character and I greatly admire the way she cares for her employees and friends. She treats them all like family. I especially enjoyed Marlee's adorable African Grey Parrot, Minnie, who add some humor to the scenes with her 'chatter'. I had no idea these beautiful birds had such huge vocabularies.
Marlee is engaged to Ryan Zeller. She is an independent woman and is having a difficult time reconciling herself to Ryan's overbearing and controlling ways. After an ongoing feud erupts into violence between Ryan and a neighboring farm owner, Ryan finds himself a suspect in murdering the man. Marlee is sure her fiancé is innocent, but Ryan is hiding secrets from her. Determined to clear the name of the man she loves, Marlee gets involved in trying to find the truth. As she asks questions, she uncovers family feuds and secrets that people don't want uncovered. Ms. Farrow knows how to bring an exciting pace to the story and the suspenseful conclusion had me sitting on the edge of my seat!
I greatly enjoy the various berry themes of this series and KILLED ON BLUEBERRY HILL doesn't disappoint. The author includes interesting bits about harvesting blueberries along with some of the health benefits of this tiny berry. Ms. Farrow also includes several blueberry recipes at the back of the book and I was drawn to the recipe for Baked Blueberry French Toast. I love any breakfast or brunch item that can be mixed up ahead of time and then baked right before serving while I prepare other "hands-on" items. The cream cheese adds a luscious, rich texture while the blueberries mixed into the bread and milk mixture provide little pockets of sweet berry bites. Crowning the dish, though, is the blueberry orange sauce… I could have eaten it all on its own and loved the delicious flavor and yummy color it brought to the Baked Blueberry French Toast!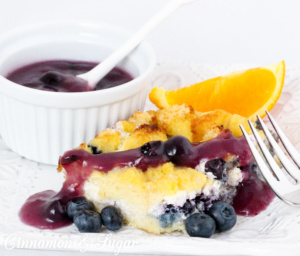 Amazon Synopsis
It's peak tourist season in Oriole Point, Michigan—the blueberry buckle of the fruit belt. Nothing draws the crowds quite like their annual carnival. And nothing turns it sour faster than murder . . .

The Blueberry Blow Out festival has begun and it's time for Marlee Jacob, owner of The Berry Basket, to shine. Unfortunately it's also bringing out the worst in her fiancé Ryan Zeller. Ryan's rivalry with Porter Gale, owner of Blueberry Hill Farm, spills over into a very public and very ugly fight. And after they compete in the pie-eating contest and a raucous tug of war, their orchard blood feud takes a deadly turn . . .

The death of the king of Blueberry Hill is a shock but not too surprising—he was a diabetic whose last pig out meal was deliciously fatal. But when authorities discover that someone tampered with Porter's insulin, a tragic accident is looking like murder—and Ryan is the key ingredient. Now Marlee's investigation to clear his name is taking her deep into the Gale family secrets, and she's being shadowed every step of the way by a killer whose sweet revenge is just beginning . . .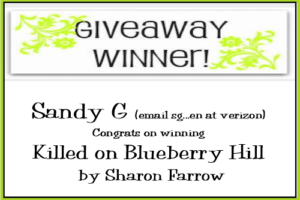 A special thanks to Sharon Farrow for providing a winner with a print copy of KILLED ON BLUEBERRY HILL. Contest ends Monday, October 29, 2018 at 11:59 pm PST and is limited to U.S. residents only. Please use the Rafflecopter box located below to enter. The winner will be announced on this page and on Cinnamon & Sugar's Facebook page, as well as notified by email (so check your spam folder!)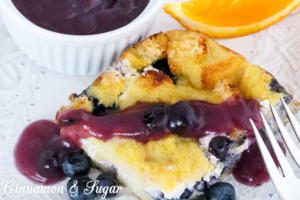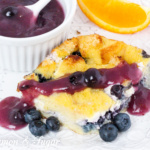 Baked Blueberry French Toast
When Marlee and Tess meet for breakfast at the Sourdough Café, they order this delicious baked French toast. Since Marlee produced cooking shows during her TV career in NYC, she recognizes the dish as a delightfully gooey recipe by celebrity chef Emeril.
Ingredients
French Toast
10

large eggs

14

slices white bread, cut into 1-inch cubes; crusts removed and discarded

2

cups

half-and-half

1

cup

fresh blueberries, rinsed and picked over

1

tablespoon

unsalted butter

8 to 16

ounces cold cream cheese, cut into 1-inch cubes (according to personal tastes)

1/3

cup

maple syrup

1/4

cup

fresh squeezed orange juice

Blueberry Sauce
Blueberry Sauce
1/2

cup

blueberries, rinsed and picked over

1-1/2

tablespoons

unsalted butter

3

tablespoons

cornstarch

1-1/2

cups

water

1-1/2

cups

sugar

1/2

cup

orange juice

1-1/2

teaspoons

orange zest
Instructions
French Toast
Butter a 9-x13-inch baking dish with a tablespoon of butter.

Arrange half of the bread cubes on the bottom of the baking dish.

Top bread cubes with blueberries and cream cheese cubes.

Layer the remaining bread cubes over the blueberries/cheese cubes.

Whisk eggs, half-and-half, maple syrup, and orange juice in a large bowl.

Pour egg mixture evenly over bread mixture in baking dish.

Cover with aluminum foil and refrigerate at least 1 hour or overnight.

Remove dish from refrigerator and allow to come to room temperature, about 20 minutes.

Preheat oven to 350 degrees (F). Position rack in center of oven.

Bake the covered French toast for 30 minutes. After 30 minutes, remove aluminum foil and continue baking another 30 minutes, or until toast is golden brown and puffed.

Remove from oven and let slightly cool, approximately 15 minutes.

After plating, ladle blueberry sauce over the French toast.
Blueberry Sauce
In small saucepan, stir together over medium-high heat cornstarch, water, sugar, orange juice, and zest.

Cook until thickened, stirring occasionally, approximately 5 minutes.

Add blueberries and simmer mixture, stirring occasionally until berries burst, approximately 5 minutes.

Add butter. Stir mixture until melted.

Remove blueberry mixture from heat. Spoon or ladle over warm French toast.
Notes
French Toast serves 10 - 12
Blueberry Sauce makes 3 cups.
Pin to Pinterest: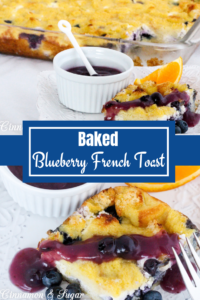 If you receive my blog post via email you will need to visit my website to view the video.
I was provided an advance copy with the hopes I would review. All thoughts and opinions are my own.