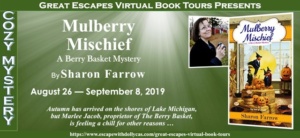 I'm delighted to be participating in the Great Escapes Virtual Book tour, introducing MULBERRY MISCHIEF!  This fourth book in the Berry Basket Mysteries by Sharon Farrow is a berrylicious addition to an entertaining series. The protagonist, Marlee Jacob, is a sweet young woman who has close friendships with her employees and gives of her time to make the town's numerous events a success. As owner of the yummy Berry Basket shop, Marlee is well-versed in the properties of a multitude of berries. I enjoyed the bits and pieces of health benefits available by consuming berries that is shared in the story. While facts are woven in, they never detract from the pace of the tale.
The town is gearing up for the Haunted Halloween Harvest Health Fair, showcasing top celebrities in the fields of health and beauty. With the volunteers in costume and the decorations celebrating the spookiness of the season, the author captures the spirit of the holiday and the event. The town's eccentric woman, Leticia, the Lady of the Lake, requests Marlee to sell her bags upon bags of mulberries to protect her and her "ghost". This adds an element of Halloween as Marlee tries to find the ghost. As the story unfolds, an influential family and a long ago murder converges with a falsely accused teen and a new murder caused by a mulberry wood arrow. There were plenty of suspects that kept me guessing and plenty of action to keep me turning pages. As Marlee closes in on the identity of the killer, the suspense ratchets up until the final, edge-of-your-seat conclusion is reached.
Marlee's Berry Basket chef, Theo, bakes all sorts of berry and mulberry-themed treats, such as Mulberry Thumbprint Cookies. When Ms. Farrow sent the recipe to me, I was excited. I'd never tasted mulberries, much less cooked with them and I was anxious to try. However, here in California I couldn't find mulberries, no matter the season. I didn't realize how regional this fruit is. Fortunately, I found some mulberry jam online and bought a jar. What I found is that while mulberries look very similar to blackberries, they are much sweeter. The mulberry jam pairs beautifully with the shortbread-style cookie dough and provides an enticing dark purple jewel in the middle of the baked cookie. Rest assured that if you don't have access to mulberry jam, any of your favorite flavors will work in this recipe.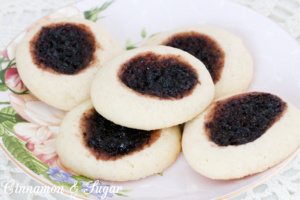 Amazon Synopsis
Autumn has arrived on the shores of Lake Michigan, but Marlee Jacob, proprietor of The Berry Basket, is feeling a chill for other reasons …
With the Harvest Health Fair in full swing, Marlee makes sure to stock up on elderberry products for cold and flu season. But this year there's also a run on mulberry when an eccentric customer wants to use the dried berries to ward off evil forces. True, it's almost Halloween, but something else seems to be spooking Leticia the Lake Lady, Oriole Point's oddest resident. She believes someone plans to kill her—and the ghost. Only mulberries can protect them. Marlee doesn't take her fears seriously until a man named Felix Bonaventure arrives in the village, asking questions about a mysterious woman.
The next day, Marlee finds Bonaventure dead on Leticia's property—shot through the heart with an arrow made of mulberry wood. And Leticia has disappeared. Marlee soon learns the Lake Lady has a deadly past that is connected to the famous Sable family who are in town for the health fair. A bunch of clues start to come together—and figuring out what's going on puts Marlee in a real jam …

A special thanks to Sharon Farrow for providing six giveaway copies of MULBERRY MISCHIEF. Contest ends September 8, 2019 at 11:59 pm PST and limited to U.S. Please use the Rafflecopter box located below the recipe to enter. The contest is administered by Great Escapes Virtual Book Tours and the winner will be announced on this page as well as notified by email (so check your spam folder!)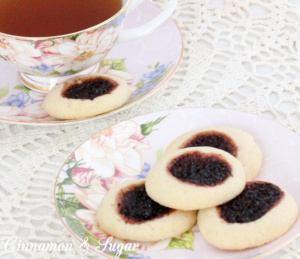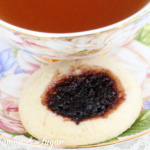 Mulberry Thumbprint Cookies
As cookie fans know, thumbprint cookies are a longtime favorite at Christmastime. However, I love thumbprint cookies so much, I'd happily eat them year round. And in MULBERRY MISCHIEF, Marlee's baker Theo makes mulberry thumbprint cookies for the festivities leading up to Halloween. Using The Berry Basket's own mulberry jam, naturally. Of course, this classic recipe can be used with any number of berry jams, not just mulberries.
Ingredients
1 -1/3

cup

all-purpose flour

1/2

teaspoon

baking powder

1/2

teaspoon

salt

3/4

cup

butter

softened

1/2

cup

sugar

1

egg

1

teaspoon

vanilla extract

2/3

cup

mulberry jam
Instructions
Preheat oven to 350 degrees. Line cookie sheets with parchment paper.

Whisk flour, baking powder, and salt in a large bowl. Mix well.

In another bowl, beat sugar and butter until fluffy. Beat in egg and vanilla.

Add dry ingredients to the sugar, butter, egg, and vanilla mixture. Stir until blended.

Shape dough into small 1-inch balls. Place on cookie sheets 2 inches apart.

If the dough is too sticky, refrigerate 45 - 60 minutes before shaping into balls.

With your thumb, indent each cookie center about 1/2-inch deep.

Spoon jam or preserves into each thumbprint.

Bake 13-14 minutes, or until cookie edges are golden. Makes 3 dozen.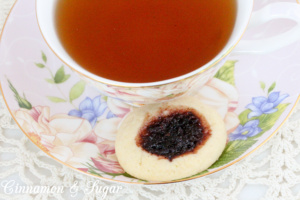 Pin to Pinterest: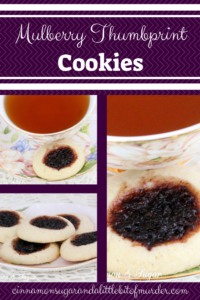 If you receive my blog post via email you will need to visit my website to view the video.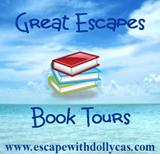 TOUR PARTICIPANTS
August 26 – Reading Is My SuperPower – REVIEW
August 26 – I Read what You Write – SPOTLIGHT
August 27 – StoreyBook Reviews – REVIEW
August 27 – I'm All About Books – SPOTLIGHT, RECIPE
August 28 – Literary Gold – SPOTLIGHT
August 28 – Cassidy's Bookshelves – GUEST POST
August 28 – Island Confidential – SPOTLIGHT
August 29 – Curling Up by The Fire – REVIEW
August 29 – Mystery Thrillers and Romantic Suspense Reviews – SPOTLIGHT
August 30 – The Avid Reader – READER
August 30 – eBook Addicts – SPOTLIGHT, RECIPE
August 31 – Socrates Book Reviews – REVIEW
August 31 – Babs Book Bistro – SPOTLIGHT
September 1 – Books a Plenty Book Reviews – REVIEW, CHARACTER INTERVIEW
September 1 – LibriAmoriMiei – REVIEW
September 2 – Cozy Up With Kathy – REVIEW
September 2 – Escape With Dollycas Into A Good Book – AUTHOR INTERVIEW
September 3 – Laura's Interests – REVIEW
September 4 – Baroness' Book Trove – REVIEW
September 4 – A Wytch's Book Review Blog – CHARACTER INTERVIEW
September 5 – Cinnamon, Sugar, and a Little Bit of Murder – REVIEW, RECIPE
September 5 – Celticlady's Reviews – SPOTLIGHT
September 6 – The Book's the Thing – REVIEW
September 6 – Teresa Trent Author Blog – SPOTLIGHT
September 7 – Teresa Watson's Blog – REVIEW
September 7 – Brooke Blogs – SPOTLIGHT
September 8 – Melina's Book Blog – REVIEW
September 8 – Lisa Ks Book Reviews – AUTHOR INTERVIEW
I was provided an advance copy. All thoughts and opinions are my own.