SYRUP TO NO GOOD is the second book in the Maple Syrup Mysteries by Catherine Bruns. This sweet, character-based mystery combines a sticky murder to solve, a bride-to-be faced with canceling her wedding, a cantankerous widower, and a groveling ex. The author has created a wonderful core cast of characters with the protagonist, Leila Khoury, taking the lead. I love how she's taken charge of her family's maple syrup business, Sappy Endings Farm, and has made it into a success. There are bits and pieces on how maple syrup and maple candy are made that make the story more authentic. Living with her matchmaking Lebanese mother, Leila has all the frustration of not being treated as an adult and capable of choosing her own partner. I've enjoyed watching her relationship with Noah, who also works at the farm, grow, and this newest wrinkle in their relationship—with her mother pushing her toward her ex—adds some tension in the plot. Yet, Leila is also the recipient of yummy dishes prepared by her mother, as her way of showing love. Ms. Bruns effectively captures the family dynamics, bringing life to the story as Leila works the farm and works to make Heather's (her best friend) bridal shower a day to remember.
Heather's shower turns out to be a day to remember, but definitely not a good way. When Leila stumbles across the body of Heather's unpleasant aunt, little did she know the widower would demand the wedding be postponed until the killer is caught. Heather begs Leila to find the murderer and save her special day. This is one instance where I found both the victim and Heather's uncle such disagreeable characters that I wanted Heather and her family to tell them to get lost. Instead, they practically kowtowed to his every demand because he loaned them money for the wedding. Leila, being such a good friend, agrees. With a countdown to the wedding, Leila and Heather have their hands full tracking down clues, which provide a fast-paced plot. There are a lot of suspects to consider—after all, there were ninety guests at the shower—and given the nastiness of the victim, more pop up. I had a good idea whodunit but the twist of the reason why added to my reading pleasure. With the scenes leading up to the heart stopping reveal, I couldn't turn the pages fast enough to find out what happened next. In the end, the highly satisfying conclusion left me wanting the next book in the series to become available sooner than later.
With mouthwatering sweets and Lebanese food served throughout the story, it was a delight to find several recipes at the back of the book to try out. I had the honor of creating a maple-based dessert for the book and am happy to share my recipe for Maple Bundt Cake with Maple Cinnamon Glaze and Candied Pecans with you. On its own, the maple Bundt cake is moist with a caramel-y maple flavor. But paired with the maple cinnamon glaze and candied pecans, this cake becomes company-worthy and will star on the dessert table!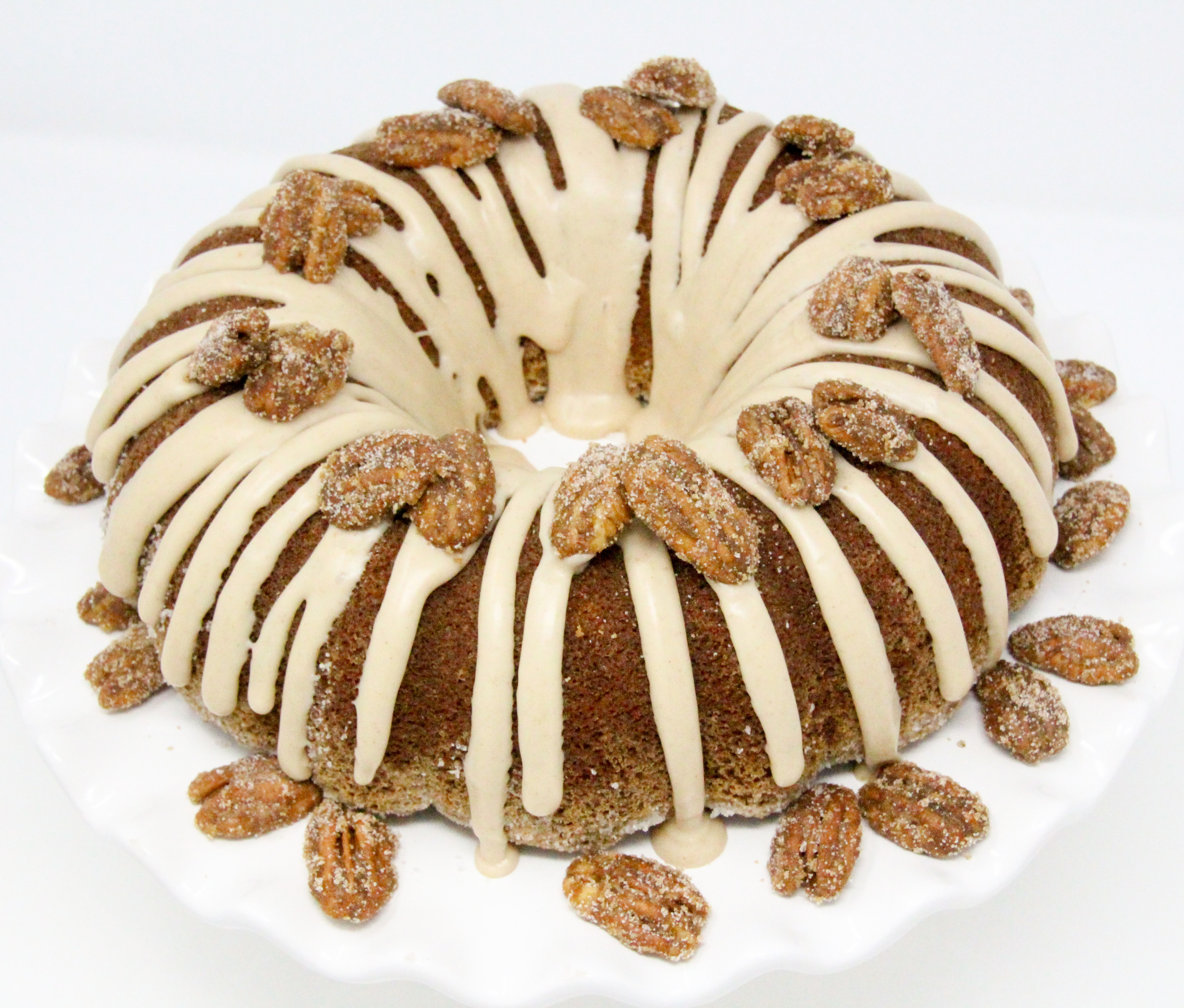 Amazon Synopsis
Only a sap would try to ruin a bride's special day…
Spring has finally come to Sugar Ridge, Vermont, and with it the end of syrup-making season. But Leila Khoury, new owner of Sappy Endings Farm, won't be making like molasses any time soon. Her best friend Heather's wedding is coming up, and Leila will do anything to make sure it lives up to all her sweetest dreams.
Even with Leila's own romantic past stirring up trouble, everything is going to plan until the bridal shower ends up with a body count.
Heather's rich and backstabbing aunt had a whole orchard of enemies, so Leila will have her work cut out for her. Can she tap the killer before Heather's dream wedding becomes a nightmare?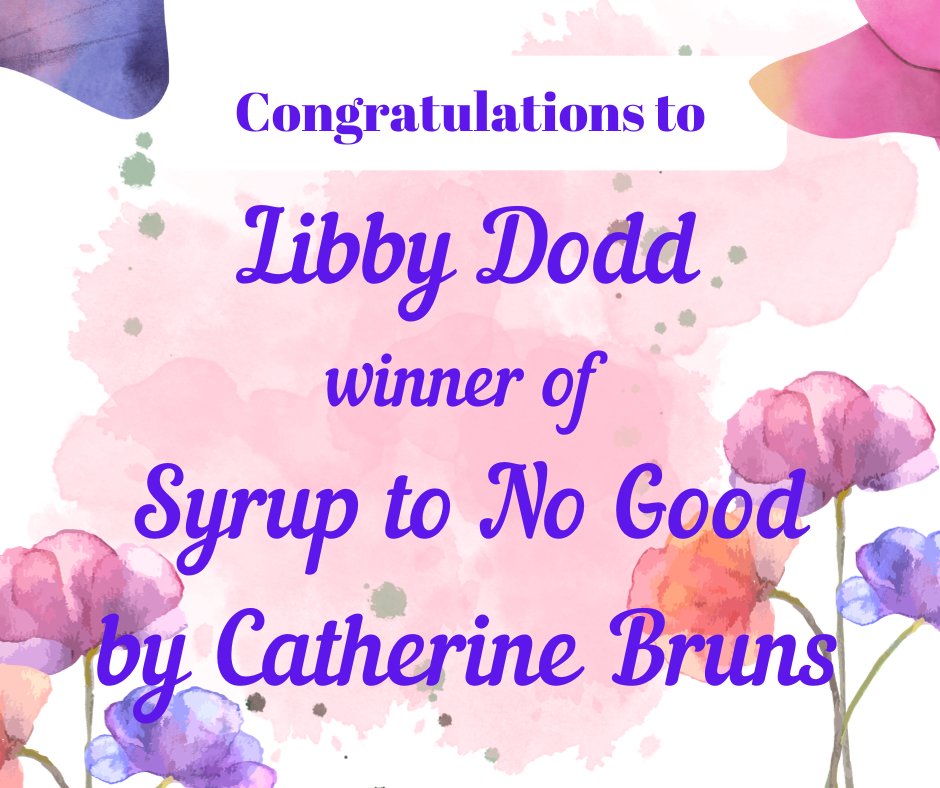 A special thanks to Catherine Bruns for providing a print copy of SYRUP TO NO GOOD! Contest ends November 8, 2023 at 11:59 pm PST and is limited to U.S. residents only. Please use the Rafflecopter box located below to enter. The winner will be announced on this page and on Cinnamon & Sugar's Facebook page, as well as notified by email (so check your spam folder!)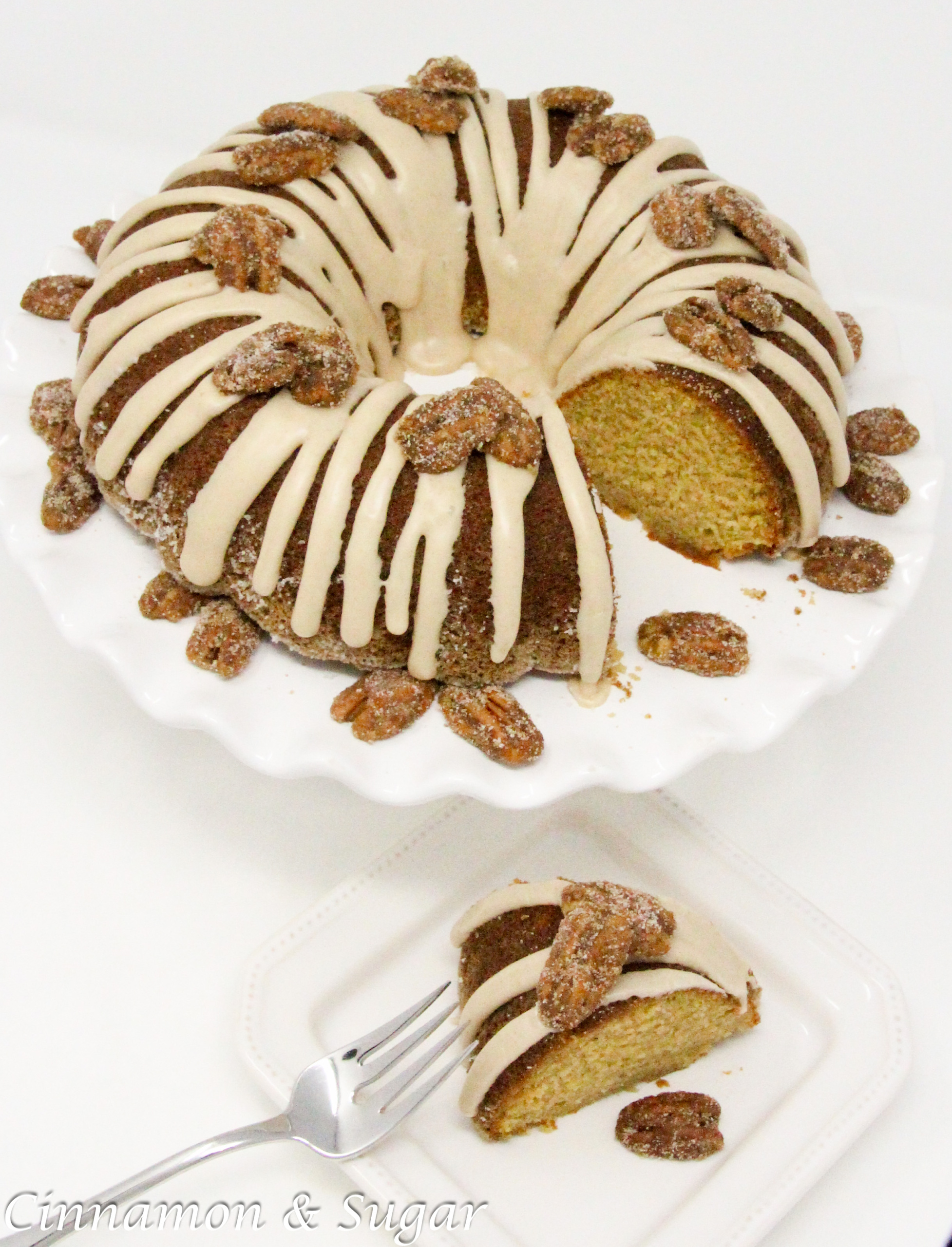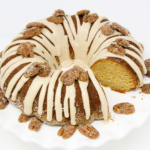 Maple Bundt Cake with Maple Cinnamon Glaze and Candied Pecans
Ingredients
For the cake:
3/4

cup

unsalted butter, room temperature

1/2

cup

packed dark brown sugar

2

cups

all-purpose flour

1-1/2

teaspoons

baking powder

1/2

teaspoon

baking soda

1/2

teaspoon

salt

1/2

cup

pure maple syrup

1/2

cup

milk

1/4

cup

sour cream

2

eggs, room temperature

1

teaspoon

vanilla

1

teaspoon

maple extract (optional)
For the glaze:
1

cup

confectioners' sugar

1/4

teaspoon

cinnamon

1/2

teaspoon

vanilla

4 - 5

tablespoons

pure maple syrup
Optional sugared pecans:
1

cup

pecan halves

1

tablespoon

pure maple syrup

1

teaspoon

water

3

tablespoons

dark brown sugar

2

tablespoons

granulated sugar

1/4

teaspoon

cinnamon

Pinch of salt

Cinnamon Sugar for sprinkling: 1 tablespoon granulated sugar mixed with 1/4 teaspoon cinnamon
Instructions
For the cake:
Grease a12-cup bundt cake pan with vegetable shortening and generously sprinkle granulated sugar to cover the surface. Set aside.

In large bowl, cream the butter and brown sugar with electric mixer on high speed, about 2 minutes.

In medium bowl, whisk together flour, baking powder, baking soda, and salt.

In separate bowl, whisk together the maple syrup, milk, sour cream, eggs, and vanilla.

Alternating between the flour mixture and egg mixture, add to butter mixture in 3 additions, mixing well after each addition. Pour batter into pan, spreading evenly with spatula.

Bake 35 to 40 minutes or until edges are golden and a wooden skewer inserted into the center comes out mostly clean.

Cool 15 minutes in pan. Place a serving platter on top of the bundt pan and invert to transfer the cake to the platter. Cool completely, about 1 hour.
For the glaze:
In small bowl, beat glaze ingredients with whisk until smooth. Add more powdered sugar or maple syrup if necessary for desired consistency. Drizzle glaze over cooled cake, letting it drip down sides. If desired, top the glaze with sugared pecans. Let glaze set at least 30 minutes, or more, before serving.
For the sugared pecans:
In a saucepan, whisk together maple syrup, water, brown sugar, granulated sugar, cinnamon, and salt. Heat over medium-low heat, stirring until sugars dissolve.

Add in pecans, stirring until well-coated. Continue to cook, over medium-low heat and stirring constantly, until liquid completely evaporates. Cook another 1 minute, stirring constantly.

Immediately remove from heat and spread pecans, in a single layer, on a parchment-lined baking sheet.

While pecans are still hot, sprinkle with cinnamon sugar and toss to coat. Spread into a single layer and allow to cool completely. Use to garnish glazed cake.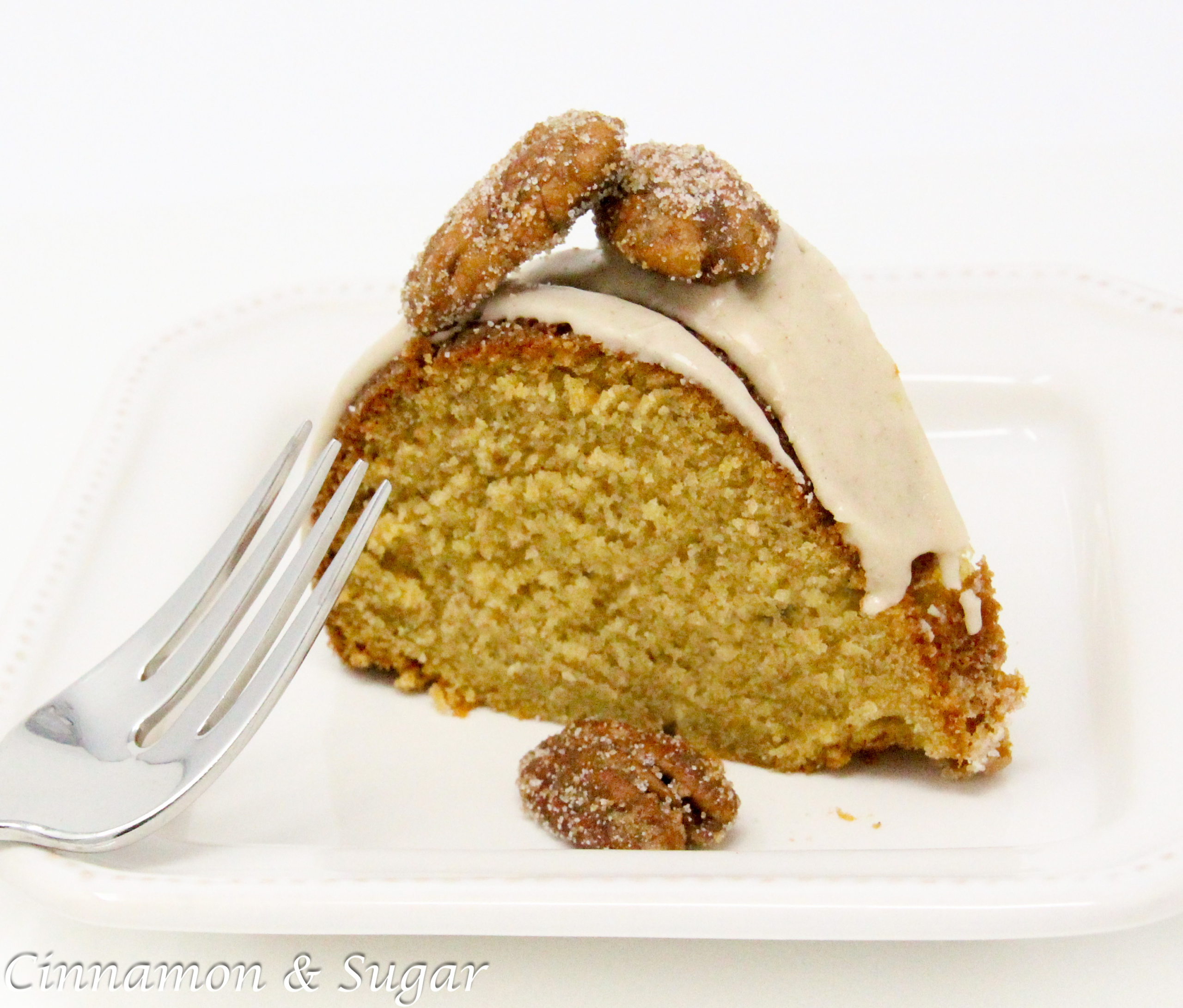 Pin to Pinterest;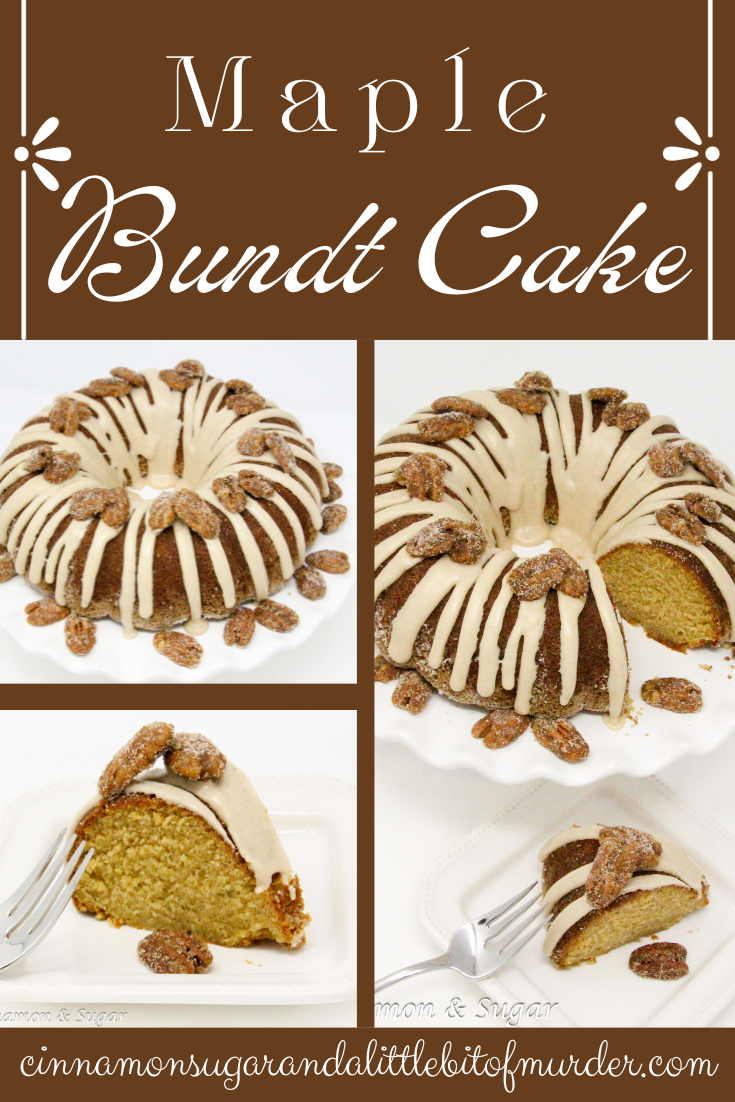 I was provided with an advance copy. All thoughts and opinions are my own.