MANGO, MAMBO, AND MURDER is the first book in the Caribbean Kitchen Mystery series by Raquel V. Reyes. The appealing setting of Miami and the Cuban cultural theme made for a unique backdrop to the cozy mystery murder. With the protagonist, Dr. Miriam Quiñones-Smith, being a food anthropologist, the reader is treated to not only the tastes of the Cuban food on page, but also to some history of the dishes and ingredients. This added a layer of enjoyment for me personally. (Tip: don't read while you're hungry or plan to have a snack nearby!)
The protagonist, Miriam, is super intelligent, a caring mother to her adorable 4-year-old son, creative, and an excellent cook – but, she doesn't have much of a backbone… yet. She has a lot of internal dialog that indicates she's fed up with how her utterly despicable mother-in-law treats her, but she chooses to suck it up and not rock the boat so to speak. Even Miriam's husband seems oblivious to his mother's prejudices or willfully ignores her barbs. I hope this changes in future books and that the character growth is swift. The book is sprinkled with Spanish words and sentences, particularly when Miriam speaks to her son. I feel it gives an authentic look at a bilingual family. Even if you don't speak the language, there is enough context to get the gist of the meaning.
The mystery is well-plotted with plenty of suspects to keep the reader on their toes. Miriam does an admirable job of juggling her duties as a mother, as a brand-new cooking segment tv and YouTube host, and for snooping. I appreciated that the detective investigating the murder(s) recognizes her valuable insight and connection to the community. Mango, Mambo, and Murder is a solid platform for future books and I look forward to reading the next book in this series!
I had the pleasure of meeting author Raquel V. Reyes at Bouchercon in San Diego this past September. She gave me her recipe for Raquel's Cala-FLAN-za to share and I couldn't wait to try it. With a bit of pumpkin and cinnamon stick steeped milk for flavor, this flan is every bit as creamy and delectable as what you'd order in a restaurant. I liked that the ingredients whip up in a blender in 30 seconds (aside from the caramel topping) and it didn't take long to get it popped into the oven. Another bonus is you can make this the day before and when you're ready to serve this wow-factor dessert. Simply flip the pan onto a serving plate and present to your guests, then step aside and be prepared to receive the accolades! Mango, Mambo, and Murder also contains other Latin recipes that all sound equally delicious.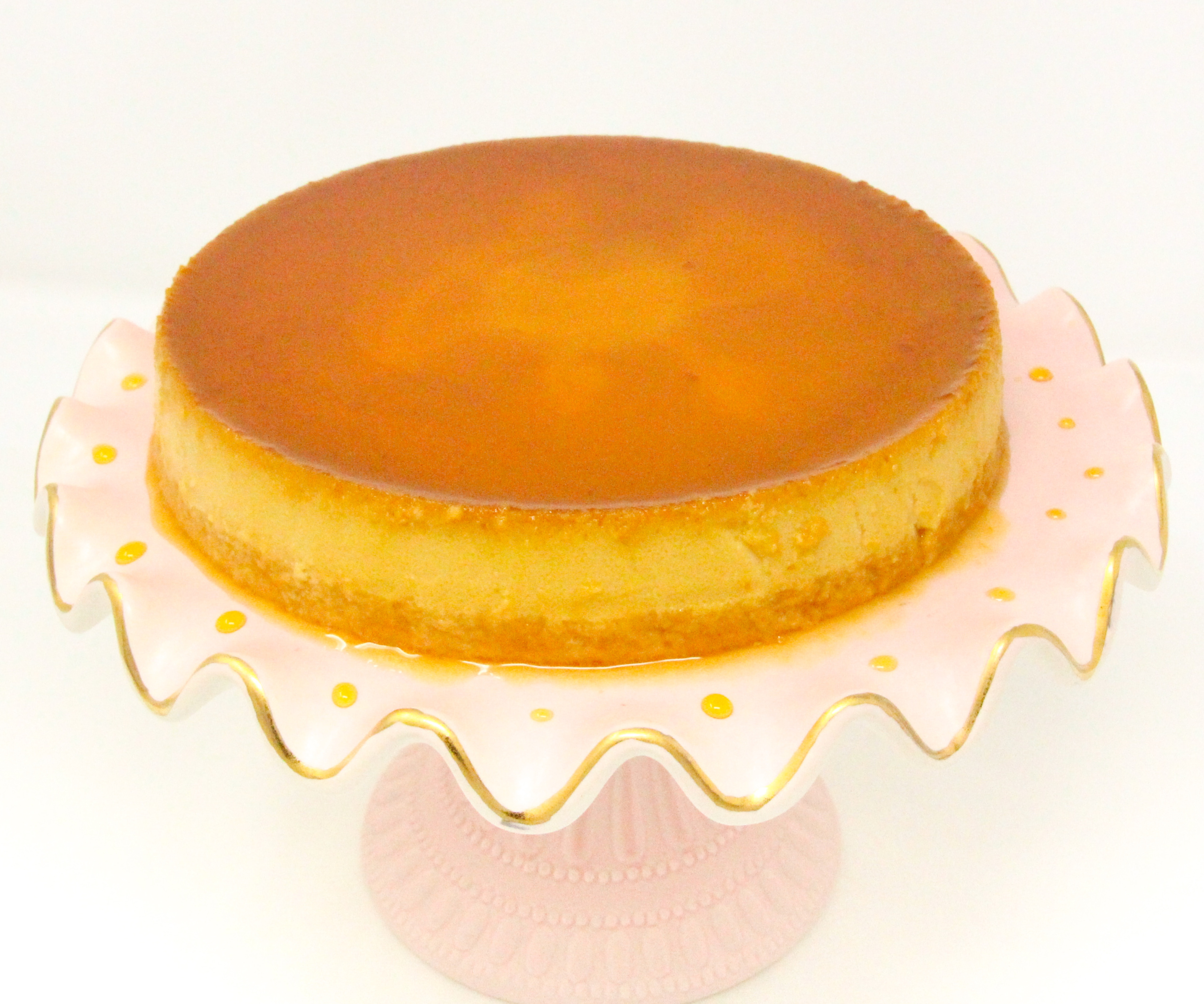 Amazon Synopsis
Food anthropologist Miriam Quiñones-Smith's move from New York to Coral Shores, Miami, puts her academic career on hold to stay at home with her young son. Adding to her funk is an opinionated mother-in-law and a husband rekindling a friendship with his ex. Gracias to her best friend, Alma, she gets a short-term job as a Caribbean cooking expert on a Spanish-language morning TV show. But when the newly minted star attends a Women's Club luncheon, a socialite sitting at her table suddenly falls face-first into the chicken salad, never to nibble again.
When a second woman dies soon after, suspicions coalesce around a controversial Cuban herbalist, Dr. Fuentes–especially after the morning show's host collapses while interviewing him. Detective Pullman is not happy to find Miriam at every turn. After he catches her breaking into the doctor's apothecary, he enlists her help as eyes and ears to the places he can't access, namely the Spanish-speaking community and the tawny Coral Shores social scene.
As the ingredients to the deadly scheme begin blending together, Miriam is on the verge of learning how and why the women died. But her snooping may turn out to be a recipe for her own murder.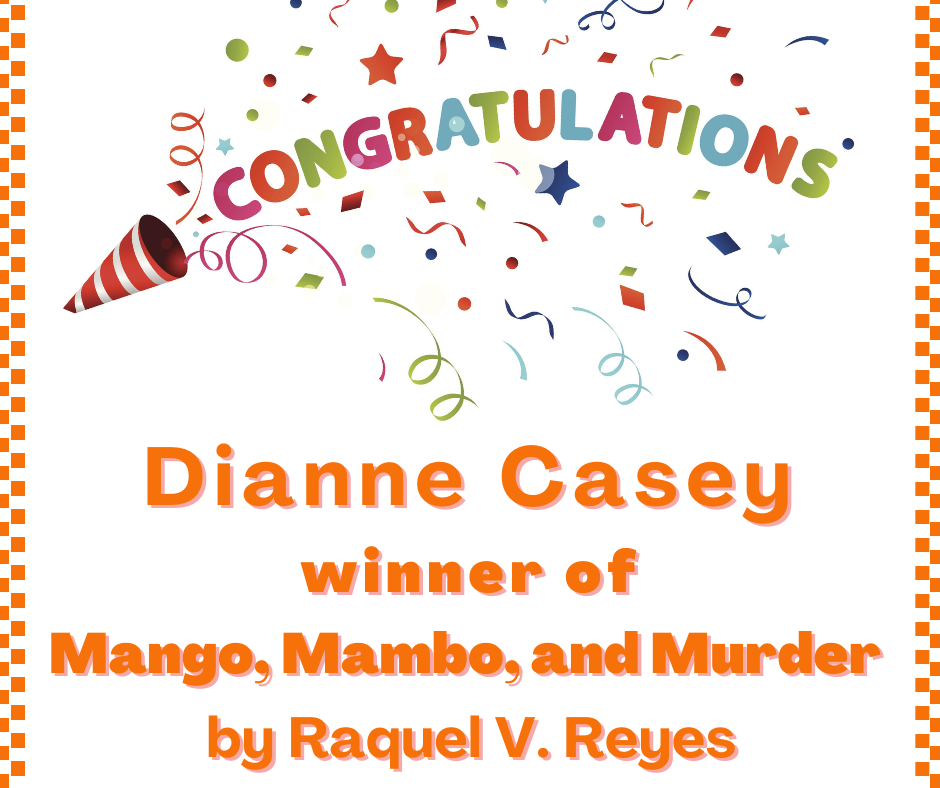 I'm delighted to offer an e-book copy of MANGO, MAMBO, AND MURDER to one winner! Contest ends November 12, 2023 at 11:59 pm PST and is limited to U.S. residents only. Please use the Rafflecopter box located below to enter. The winner will be announced on this page and on Cinnamon & Sugar's Facebook page, as well as notified by email (so check your spam folder!)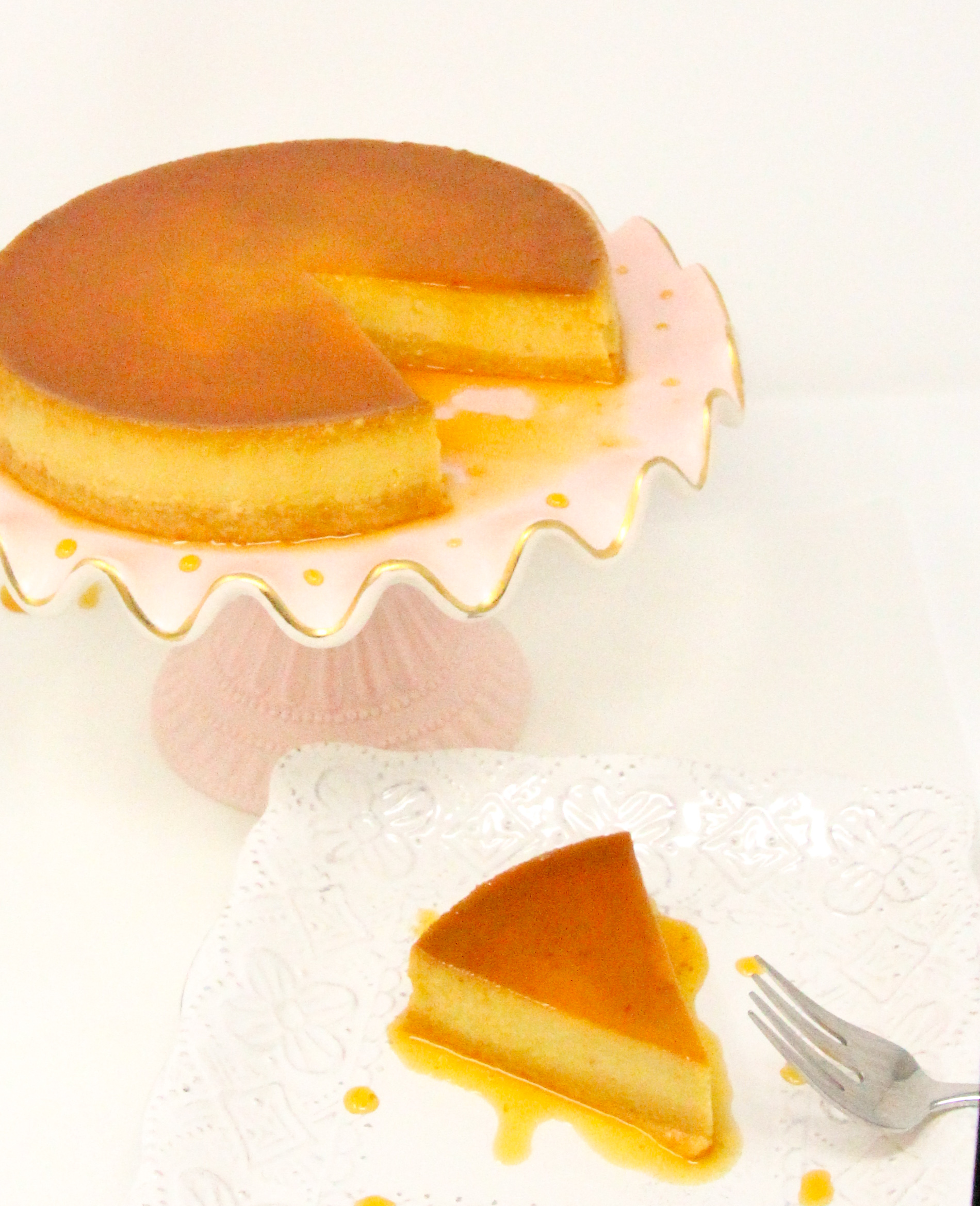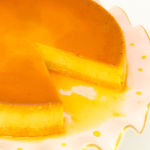 Raquel's Cala-FLAN-za
You will need to soak the cinnamon stick with the evaporated milk at least 24 hours prior to making this recipe.
Ingredients
1

stick cinnamon

1

12-ounce can evaporated milk

1/2

cup

sugar

1

14-ounce can sweetened condensed milk

3

eggs

1/4

cup

pumpkin puree

1

teaspoon

vanilla
Instructions
Place the cinnamon stick in the evaporated milk 24 hours before baking. Store in the refrigerator.

Preheat oven to 350 degrees (F).

Pour the sugar into a small, clean, dry pot and heat over medium temperature. Stir with a wooden spoon, making sure it doesn't burn. The sugar will liquify and turn a golden brown. Immediately pour into your flan mold.

Discard the cinnamon stick from the evaporated milk and combine the remaining ingredients in a blender for 30 seconds.

Place the mold in a deep pan, then pour the milk-and-egg mixture into the mold. Secure the mold lid.

Place the pan in the oven, and pour hot water into the pan until it comes to the middle of the mold's sides.

Bake 50 minutes. Raise temperature to 365 degrees (F) and bake an additional 20 minutes.

Refrigerate for at least two hours (or more), before releasing from mold.

Slice and serve with a dollop of whipped cream.
Cinnamon & Sugar's Note:
If you don't have a flan pan, you can substitute an 8-inch or 9-inch round cake pan. Cover the flan mixture with aluminum foil before baking. I've also seen other recipes that call for individual ramekins, but I'm unsure how to adjust the baking time for the smaller portions. You'll know the flan is done baking when there is only a slight jiggle in the center. You don't want to overbake the flan, so check frequently if you attempt to use individual ramekins.

Before releasing from the pan, run a knife around the edges. If the caramel feels hardened and won't release, dip the bottom of the pan in hot water for a minute, to soften.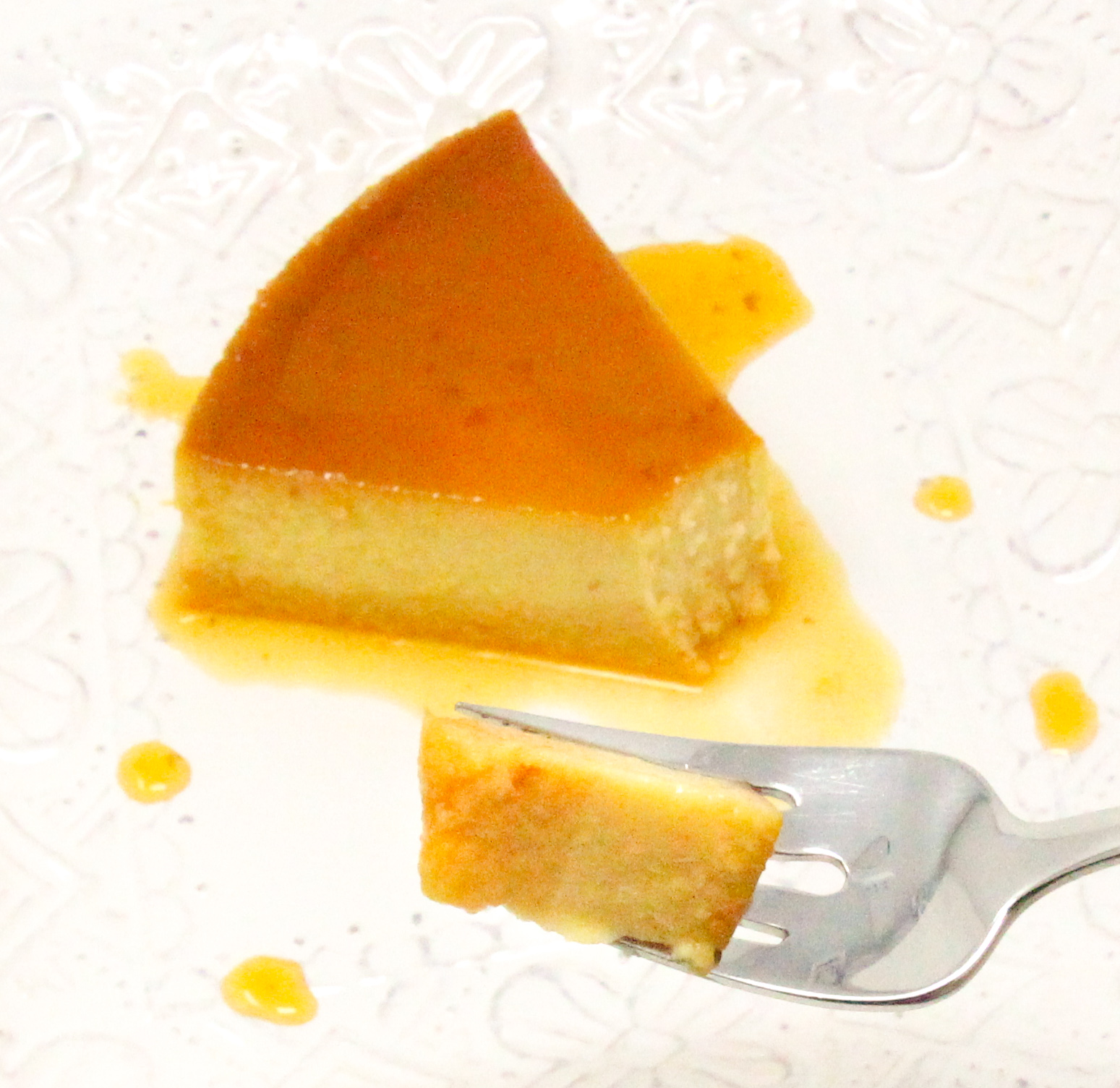 Pin to Pinterest: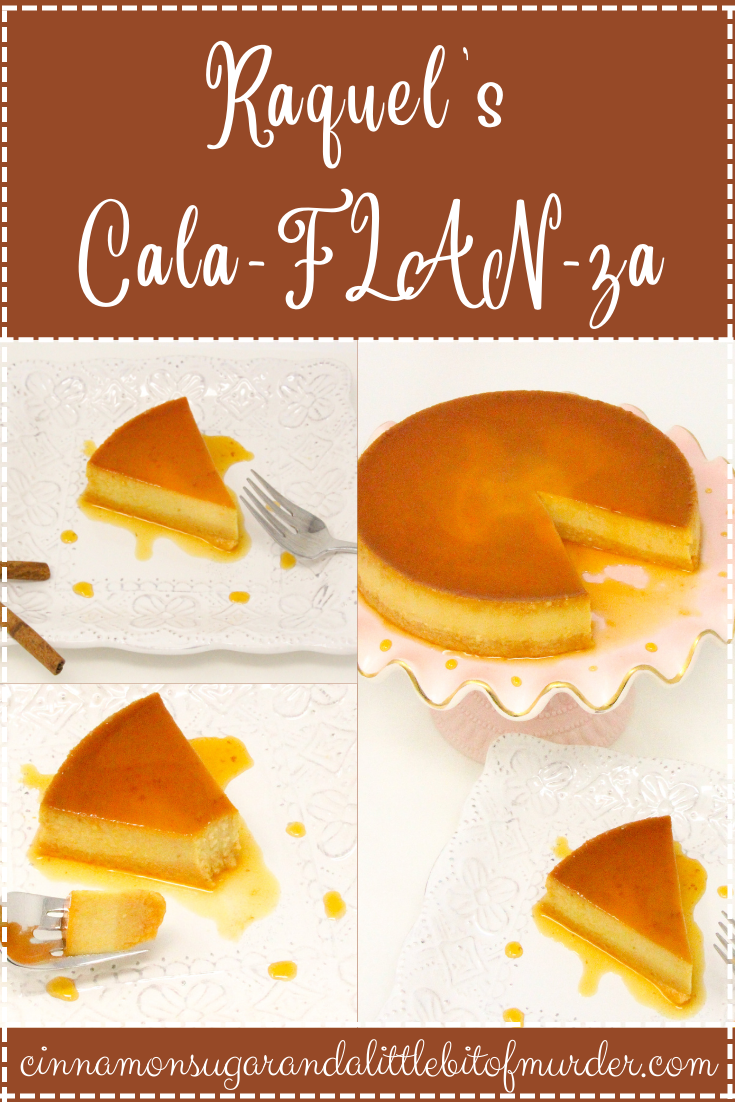 I was provided with an advance copy. All thoughts and opinions are my own.
Happy release day to Raquel V. Reyes for her new book
Barbacoa, Bomba, and Betrayal!
Amazon Synopsis
A surprise trip to Miriam's parents in Punta Cana, which should be filled with arroz con pollo and breezy days under the tamarind tree, quickly becomes a hunt for a possible property saboteur. But before Miriam can begin to uncover the person damaging the vacation rentals her parents manage, she's called away to Puerto Rico to film a Three Kings Day special. She's welcomed to the blue ballast-stone streets of Old San Juan by crime scene tape, and things only get worse from there.
An anonymous personal gift on Miriam's doorstep on New Year's Eve screams stalker, and the 400-year-old guesthouse creaks and moans like there is something trapped in its walls. Luckily, her BFF, Alma, and their mutual friend Jorge are in town to keep her distracted between filming cultural segments for the network. But private chef tables and spa days come to an abrupt halt when Jorge's telenovela heartthrob novio goes missing. And there is something worrisome about Alma's too-perfect boyfriend–specifically, his duffle bag full of cash.
Will demon masks, African drumbeats, and dark alleys lead to Miriam's demise? Or will the mysterious events come together like the delicious layers of a pastelón?