It seems like Labor Day is summer's last hurrah before we hurtle into Fall and head towards the holidays. Typically it's quite warm in Southern California so I'm not quite ready to embrace the flavors of autumn on this last summer holiday. When I was trying to think of a dessert to make for our Labor Day bbq, I remembered a good friend (thank you, Anna!) telling me about her flourless lemon cake some time ago.  It intrigued me so I hunted down her recipe and started experimenting and tweaking it to fit my tastes. A refreshing lemon cake with a texture that's a cross between a traditional cake and cheesecake – super moist with a dense crumb that melts in your mouth thanks to the ricotta. I love the fact that this is naturally gluten-free so I can enjoy dessert along with everyone else!
Be sure to check the bottom of the page for my tip on what to do with your leftover vanilla bean pods.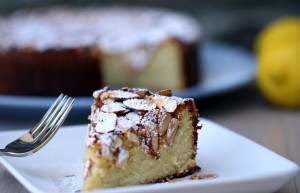 Lemon-Scented Almond Flourless Cake
Ingredients
1/2 cup (1 stick) unsalted butter, room temperature
1-1/3 cups (9.7 ounces) superfine sugar, divided (or pulse granulated sugar about 25 times in a food processor)
1 vanilla bean, split and seeds scraped (**see below for what to do with leftover vanilla beans)
Lemon zest from 2 lemons (about 1 to 1-1/2 tablespoons zest)
4 eggs, room temperature
2-1/2 cups (8.5 ounces) almond meal
1-1/4 cups (10.5 ounces) ricotta cheese
1/3 cup (1.5 ounces) sliced raw almonds
Confectioner's sugar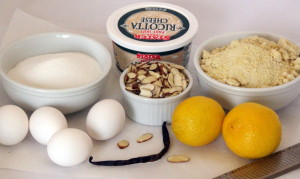 Instructions
Preheat oven to 350 degrees F.
Spritz a 9″ round cake pan with non-stick cooking spray and line with parchment paper. Set aside.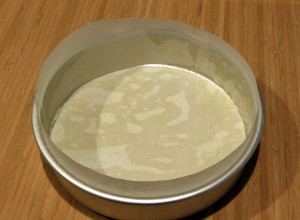 Place butter, 3/4 cup (6 ounces) of superfine sugar, vanilla seeds and lemon zest into the bowl of a standing mixer.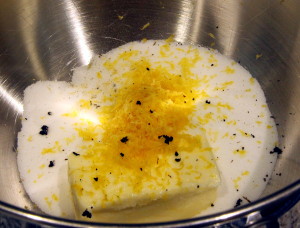 On medium-high speed, beat for 8 – 10 minutes until creamy and pale in color, scraping down the sides of the bowl as necessary.
Add the egg yolks, one at a time. Beat the batter until they are fully incorporated.
Add the almond meal to the mixture and beat until incorporated.
Remove the bowl from the standing mixer and fold the ricotta into the batter. Set aside.
In a clean, grease-free bowl beat the egg whites until soft peaks form.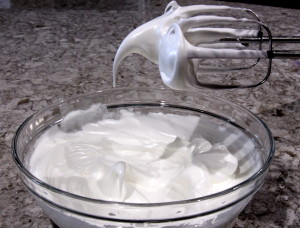 Slowly add the remaining sugar to the egg whites and beat until stiff peaks form.
Fold one third of the egg whites into the batter, gently incorporating.
Repeat with the remaining egg whites.
Pour the batter into the cake pan and sprinkle the almond slices over the top.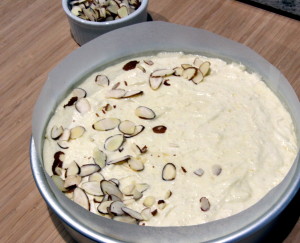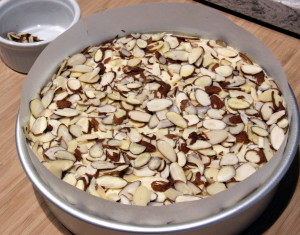 Bake 40 – 45 minutes or until a wooden skewer inserted into the middle comes out with just a few crumbs attached. The crumbs shouldn't be gooey.
Remove cake from oven and place on a wire rack, allowing it to cool completely in the cake pan.
When cool, carefully turn the cake out onto a plate, then invert the cake onto a serving platter.
Sprinkle the top of the cake with confectioner's sugar.
Refrigerate leftovers and consume within 3 days.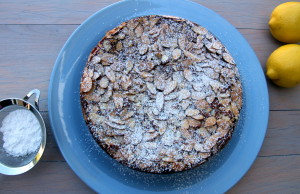 Recipe inspired by Cakelets & Doilies
Homemade Vanilla Extract
**Use leftover vanilla beans to make your own vanilla extract!
Ingredients
1 fifth-sized bottle decent vodka – it doesn't have to be the super expensive kind but you don't want really cheap either (A fifth is the medium-sized bottle, about 25 ounces of vodka)
8 vanilla beans, cut lengthwise and opened up to expose the seeds (you can use the vanilla bean you used above even though the seeds are missing.)
Decorative bottles if desired
Instructions
If needed, pour a tablespoon or so of vodka from the bottle to make room for the vanilla beans.
Place the vanilla beans into the vodka and place the cap on tightly then shake vigorously.
Store the bottle in a cool, dark place and shake the bottle every day for 2 weeks.
Allow the vanilla beans to steep in the vodka for at least 4 weeks but 6 weeks is even better.
If you wish, after 6 weeks of steeping, transfer the vanilla extract to decorative bottles and share. Your friends will thank you!
Tip
Anytime you use a fresh vanilla bean in a recipe, simply add the leftover pod to your vanilla extract and freshen with a bit of extra vodka. You'll never run out of vanilla extract that way.
You can also place the dry, leftover vanilla bean pod into your granulated sugar container for vanilla-scented sugar, which is wonderful in cookies and desserts.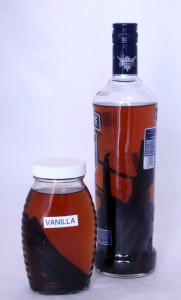 Confession Time: As I started making this cake I mistakenly grabbed an 8″ round cake pan and didn't realize my mistake until the batter was in and I started sprinkling almonds on top. I baked it anyway (it took a good 60 minutes) and it turned out fine…although the bottom was darker than it should have been. Just don't be alarmed if your 9″ cake pan doesn't look as full as my photos.