I had the good fortune of finding ONE BAD APPLE by Sheila Connolly while browsing for a new book a while back. This is the first book in the Orchard Mystery series and is the story of Meg Corey. Meg moves to the small town of Granford, Massachusetts after her boyfriend dumps her and then loses her job in Boston. She made a deal with her mother to move into the house her mother inherited several years back and do some work on it in order to sell it. Meg will split the profits with her mother and then decide what she wants to do next.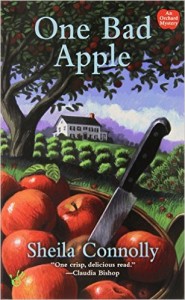 Once Meg arrives at the house she realizes she's in over her head. In addition to finding she owns 15 acres of apple orchards which she has no idea how to tend to, the 200+ year-old-house needs far more work and money than she anticipated, with the plumbing being the most urgent. Seth, the plumber, turns out to be a very nice, handsome man…single too. But problems arise when her ex-boyfriend, Chandler, shows up at her door looking to gain support for a development project he's trying to push through in the area…and then shows up dead the next day in her brand new septic tank! It's not long before both Meg and Seth are suspects in the murder case. Apparently Chandler was pushing the development which would have taken most of Seth's family's property from them. In addition Meg stood to lose her apple orchard to the project and according to the investigator, she was still furious with Chandler for dumping her. When Meg realizes the investigator isn't going to pursue anyone else, she decides she must find the real killer in order to prove her innocence.
There were so many things to love about this book! Sheila develops the characters and gives them room to make mistakes and grow. The plot had twists, turns and red herrings which made it hard to guess who the real culprit was. And of course the author provided several delicious apple recipes with her book! The recipe I chose to make is Apple Pie á la Grace Paley, which has a unique twist on apple pie. Sheila told me she was inspired by the poem, The Poet's Occasional Alternative by Grace Paley. The pie combines tart ruby cranberries, ambrosial orange apricots and crunchy fall apples. This combination makes a beautiful jeweled pie with flavors that burst!
The Poet's Occasional Alternative
by Grace Paley
I was going to write a poem
I made a pie instead it took
about the same amount of time
of course the pie was a final
draft a poem would have had some
distance to go days and weeks and
much crumpled paper
the pie already had a talking
tumbling audience among small
trucks and a fire engine on
the kitchen floor
everybody will like this pie
it will have apples and cranberries
dried apricots in it many friends
will say why in the world did you
make only one
this does not happen with poems
because of unreportable
sadnesses I decided to
settle this morning for a re-
sponsive eatership I do not
want to wait a week a year a
generation for the right
consumer to come along
A special thank you to my granddaughter, Emory, for buying the pie plate I used for this recipe for me two Christmas's ago! Emory saved up her money then shopped for me at her elementary school's Christmas gift shop and chose it all on her own so I would bake her pies. Emory, after all, is a very responsive eatership!
And a big thank you to Sheila Connolly for allowing me to share this unique apple pie recipe! See below for a sneak peek at Sheila's upcoming release, A GALA EVENT, which will be available October 6, 2015!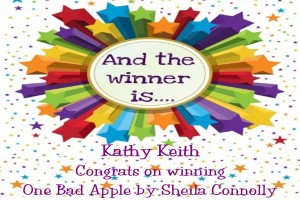 As a bonus for my readers, I'm giving away a Kindle copy of ONE BAD APPLE. Please comment below and one lucky winner will be randomly chosen. Contest ends Wednesday, September 9, 2015 at 11:59 pm. Winner will be announced on this page and on my Facebook page, as well as notified by email (so check your spam folder!)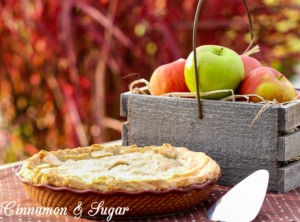 Apple Pie á la Grace Paley
Ingredients
1 cup dried apricots
2 cups apples, peeled and sliced (Choose a variety of apples that cook well, such as Braeburn, Cortland, or Granny Smith.)
1 cup dried cranberries
1/4 cup sugar
2 tablespoons flour
A double pie crust (top and bottom) of your choice, unbaked – homemade or purchased
2 tablespoons butter
Coarse sparkling sugar if desired
(Click on the link for my favorite pie crust recipe – easy to make and the flakiest ever!)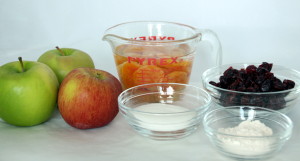 Instructions
Preheat the oven to 400 degrees.
Soak the apricots in boiling water to soften. Drain well and pat dry.
Pare, core, and thinly slice the apples.
Mix together the apple slices, apricots, cranberries, sugar, and flour.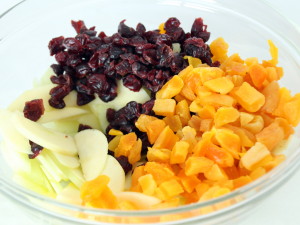 Line a 9-inch pie plate with one crust and fill with the apple mixture.
Dot with butter.
Cover with the second crust and crimp the edges.
(My note: I love adding decorative trim using extra pie dough. I have had several pie crust cutter sets gifted to me by family and friends. This Pie Crust Cutter Set is from Amazon.com.)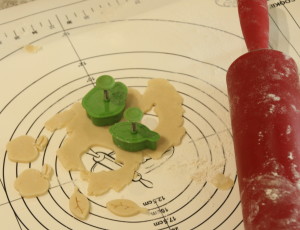 Cut vents on the top for the steam to escape.
Sprinkle with coarse sparkling sugar, if desired.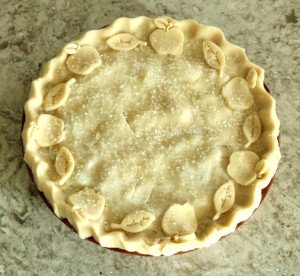 Bake at 400 degrees for 15 minutes.
Reduce the temperature to 350 degrees and continue baking for another 45 minutes.
If the crust appears to be browning too quickly, cover loosely with foil.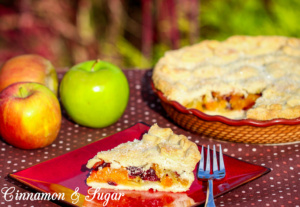 You may vary the filling by adding a peeled, sliced quince if you can find one. This gives the filling a lovely silky quality.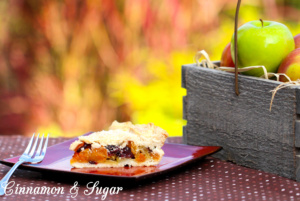 A GALA EVENT by Sheila Connolly, available October 6, 2015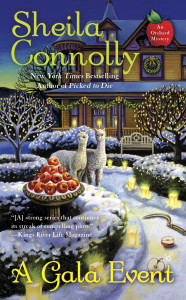 The fall harvest may be just about over, but orchard owner Meg Corey is busier than ever planning her wedding to Seth Chapin. Who knew picking apples would be less work than picking out rings and a dress? And even though the happy couple has invited most of Granford, Massachusetts to the ceremony, they might have to make room for one more guest…
Ex-con Aaron Eastman has unexpectedly reappeared in his hometown, searching for answers to the tragic fire in his family's past that put him behind bars twenty-five years ago. Moved by his sincerity, Meg vows to do everything she can to help him solve the cold case. As she cobbles together the clues, it becomes increasingly clear that Aaron may have been considered the bad seed of the family, but someone else was one bad apple…