My granddaughter's school decided to host a fundraiser by offering farm fresh produce boxes delivered every other week and I was very excited to be a recipient of some of the produce. Recently when Japanese eggplant arrived in the brown cardboard box I was beyond excited…I love Eggplant Parmesan! I searched through my old recipes (it had been years and years since I had made it) and found my recipe called for the eggplant to be breaded and then fried. I wasn't a happy camper…gluten-free bread crumbs aren't that great and then I knew eggplant acts like a sponge, soaking up tons of oil which equals way too many calories now that I'm of a "certain" age.
So, I searched through Pinterest, found a variety of recipes, started tinkering and came up with this version. Thick tomato sauce flavored with plenty of garlic and garden fresh basil which is then layered with smoky roasted eggplant, rich ricotta, mozzarella and Parmesan cheeses. While I prefer using Japanese eggplant, American eggplant works just as well, although it requires an extra step to cut back on its bitterness. Either way, my granddaughters love this dish and I'm happy that I've found a new and improved meatless recipe that we can all enjoy!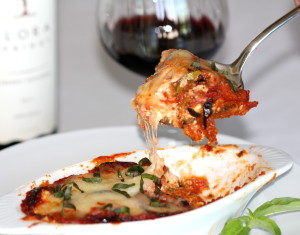 Baked Eggplant Parmesan
Ingredients
4 tablespoons olive oil, divided
2 pounds eggplant (I prefer Japanese eggplant since they don't have to be peeled and aren't as bitter as American eggplant. If using American eggplant see my tips below for prepping them prior to making this dish.)
2 teaspoons kosher salt, divided
1 – 28-ounce cans crushed tomatoes
1 tablespoon sugar
1/2 teaspoon fresh ground pepper
3 tablespoons chopped fresh basil
2 – 3 large cloves fresh garlic, minced
15 ounces part-skim ricotta cheese
2 cups shredded mozzarella cheese
1/2 cup + 2 tablespoons grated Parmesan cheese, divided
Instructions
Preheat oven to 450 degrees F.
Line 2 baking sheets with parchment paper.
Slice the eggplant into thin rounds (about 1/4- inch thick) and place in a single layer on the parchment paper.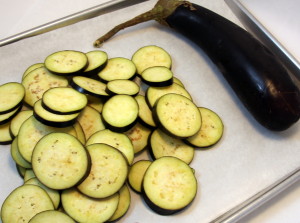 Using a silicon pastry brush, spread 3 tablespoons of the olive oil on both sides of the eggplant slices. Don't be tempted to pour the oil since the eggplant will soak it up like a sponge.
Sprinkle with kosher salt and use your clean hands to rub into the eggplant.
Roast the eggplant 30 – 40 minutes until golden brown, turning the slices over halfway through.
When eggplant is done, remove pan from oven and reduce temperature to 375 degrees.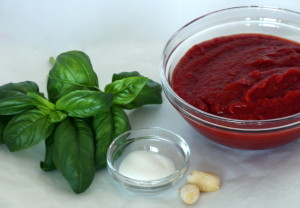 While eggplant is roasting, prepare the sauce: Heat 1 tablespoon olive oil in a large skillet over medium heat.
Add the minced garlic and cook just until it begins to turn golden, stirring frequently.
Quickly add the crushed tomatoes and sugar, and bring to a simmer. Allow to simmer 5 – 10 minutes until it begins to thicken.
Remove from the heat, add the basil and season with 1/2 teaspoon salt and pepper and set aside.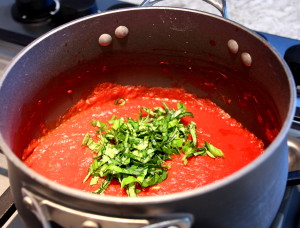 In a medium sized bowl stir the ricotta and Parmesan cheese together and set aside.
Assemble the Eggplant Parmesan
Spritz a 9″x9″ baking dish with non-stick cooking spray.
Spread 1/2 cup of the tomato sauce on the bottom of the baking dish.
Layer half of the roasted eggplant, half the ricotta cheese mixture, half the tomato sauce and top with half the mozzarella cheese.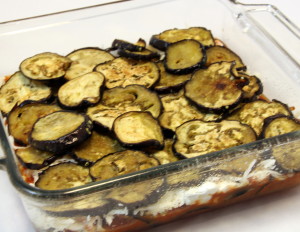 Repeat the layers with eggplant, ricotta, sauce and mozzarella.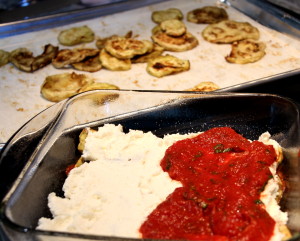 Top the mozzarella with 2 tablespoons Parmesan cheese.
Cover the baking dish with foil and bake for 25 minutes or until the filling is bubbling.
Uncover the the Eggplant Parmesan and bake an additional 20 minutes.
Remove from oven and let rest for 15 minutes.
Sprinkle additional fresh basil over dish and serve.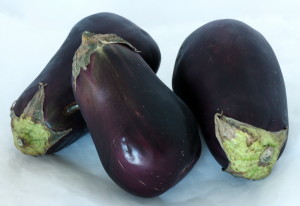 Tips for preparing American Eggplant for this dish
Peel the eggplant and slice into 1/4-inch rounds.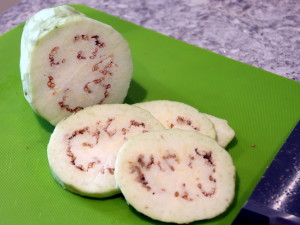 Sprinkle the kosher salt over the slices and rub into the eggplant.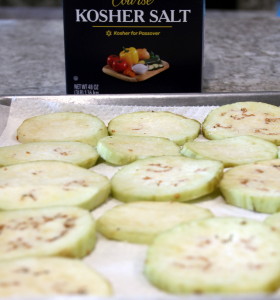 Place the eggplant flat between layers of paper towels and allow to sit for at least 30 minutes.
Proceed with recipe above, starting with brushing the pieces with olive oil then roasting. (DON'T add additional salt!)
Note
Recipe can be doubled and baked in a 13″ x 9″ casserole dish.