I'm always on the lookout for new cookie recipes and was delighted to find a unique twist on shortbread cookies when reading ONCE UPON A GRIND by Cleo Coyle. The author uses brown sugar instead of granulated sugar, which gives the cookie a caramel taste on it's own. Dipped in caramel scented with hazelnut milk then topped with chopped hazelnuts elevates these Caramel-Dipped Hazelnut Meltaway Cookies to pure bliss! I also loved the fact that the dough can be made ahead of time and then sliced and baked as needed. This is most definitely a recipe I will be making again and again!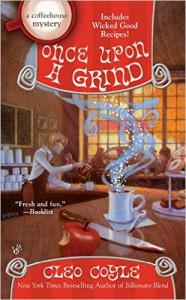 In addition to having several incredibly delicious recipes, ONCE UPON A GRIND (a Coffeehouse Mystery) was also a delightful read. The play of words in the title sets the fairy-tale theme for Clare Cosi who manages the coffee shop, Village Blend, while her ex-husband, Matt, sources the coffee beans. A weekend long Storybook festival is being held in New York and Clare and Matt are fully involved thanks to Clare's ex-mother-in-law volunteering them. Matt is conscripted to play the part of a prince which leaves Clare in charge of the Village Blend's truck to organize a Jack and the Beanstalk theme (coffee beans equals magic beans). As if she doesn't have her hands full already, her boyfriend, decorated narcotics cop Mike Quinn, asks her to keep an eye on his two kids, Jeremy and Molly, since he's on his way to a funeral and he doesn't trust his ex-wife to do so. Clare is happy to help out and finds that the kids' sitter is none other than the Pink Princess who is paired up with her ex, Prince Matt.
As the festivities progress throughout the day the Pink Princess disappears….along with Mike's kids. Thanks to some magical coffee beans Matt obtained on his last trip to Ethiopia, Clare has crazy visions after drinking a cup and she ends up finding the children who wandered off to look for their dog deep in the woods of Central Park. After rescuing Jeremy and Molly, she stumbles upon the Pink Princess who is in a deep Sleeping Beauty sleep, hidden in the forest. The doctors can find no antidote and since Matt was the last person to be seen with the Pink Princess and thanks to some of his personal issues in his past, becomes the main suspect. When another princess is murdered Clare realizes she must find the real killer in order to prove Matt's innocence.
This is the 14th book in the Coffeehouse Mystery series but is quite easy to pick up and read as a stand-alone. I've had the pleasure of reading three of the Coffeehouse Mystery books and I'm impressed how the author lets the characters grow as the story progresses with each book. The interaction between Clare and Mike's ex-wife is realistic and it's sweet to see the love that Clare has for his children. On top of great characters, Cleo provides enough twists and turns so that it wasn't easy to figure out the culprit. I look forward to reading many more of her books in the future!
A special thanks to Cleo Coyle for allowing me to share this very delicious cookie recipe with you and providing an autographed copy of ONCE UPON A GRIND to one lucky winner!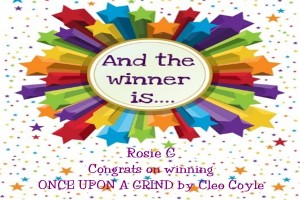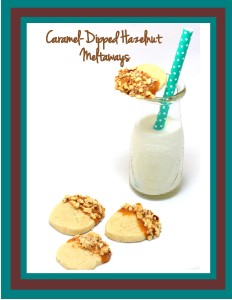 Caramel-Dipped Hazelnut Meltaway Cookies
Ingredients
Cookies
1 cup (2 sticks) unsalted butter, softened to room temperature
1/2 cup powdered sugar
1/4 cup light brown sugar, firmly packed
1 large egg (separated)
1/2 teaspoon baking powder
1/2 teaspoon table salt
2-1/4 cups all-purpose flour
For Dipping
50 soft caramels or 2 cups Caramel Bits
2 tablespoons hazelnut milk or half-and-half
1/2 cup finely chopped hazelnuts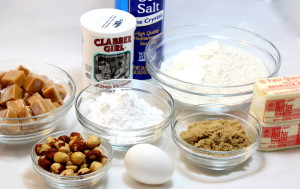 Instructions
Step 1 – Make the Dough
Using an electric mixer, cream the softened butter, powdered sugar, and the brown sugar.
Add the egg yolk (save the white for the next step) and blend until smooth.
Add the baking powder and salt and beat again until incorporated.
Finally, add the flour and mix on low speed until blended.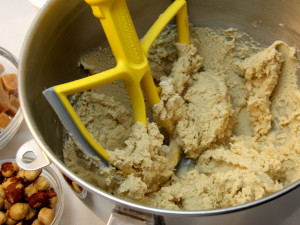 Use your hands to squeeze together dough pieces. Knead a little, working with the dough until it is smooth and form it into a ball.
Turn the dough onto a parchment paper-covered surface and shape it into a thick, long log about 2 inches in diameter.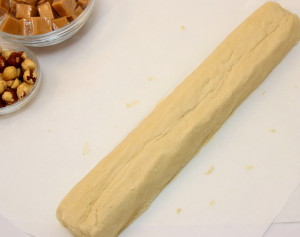 Wrap the log in the parchment paper, using the paper to finish shaping and smoothing the log.
Chill the wrapped log in the fridge for at least 1 hour.
If you are going to chill it longer (overnight or up to 2 days), wrap the log tightly in plastic to keep it from drying out.
Step 2 – Bake
Preheat the oven to 300 degrees (F).
Line a baking sheet with parchment paper.
Slice the chilled dough log into thin cookies.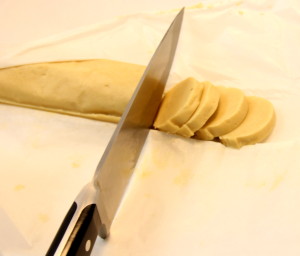 Brush the tops lightly with the egg white you saved.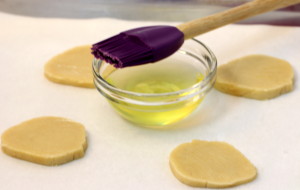 Bake 10 to 12 minutes. The centers should still be creamy and the edges golden brown.
The cookies are tender when warm. Allow to cool before handling or dipping.
Step 3 – Dip the cookies in caramel and nuts
Place the finely chopped hazelnuts into a shallow bowl and set aside.
Place the unwrapped caramel candies (or Caramel Bits) and hazelnut milk (or half-and-half) in a non-stick saucepan.
Continually stir over low heat until the candies melt.
If the melted candies are still too thick for dipping, add in a bit more milk or half-and-half.
When the consistency is right, turn heat to low.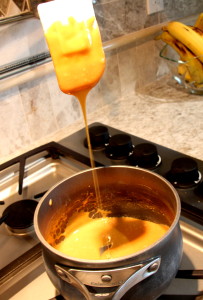 Gently dip half of each cooled cookie into the saucepan of melted caramels, allowing excess caramel to drain off.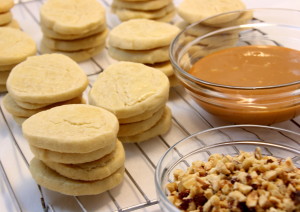 Now dip each cookie into your bowl of chopped hazelnuts.
Gently rest on a wax-paper-lined pan until set and eat with joy!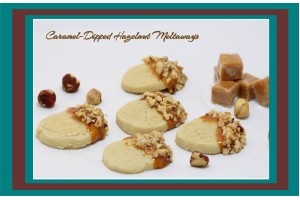 Tip
I like to use a nut grinder to make quick work when chopping nuts. If you don't have one, place the hazelnuts into a heavy duty ziplock bag and crush with a meat mallet.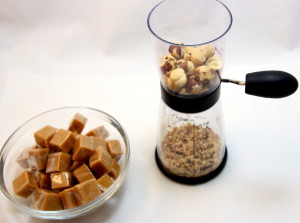 Please sign up to receive emails for future giveaway opportunities and to make it easier to notify you if you are a winner!