This past spring when I saw a several other book review bloggers showcase RAISIN THE DEAD, the second book in the Bread and Batter mystery series by Karoline Barrett, I immediately wanted to take a closer look. As soon as I read the description of the book I knew I wanted to read it since it combines some of my favorite things: a bakery, a library, and a murder mystery!
Synopsis
Molly Tyler owns Bread and Batter with her best friend, Olivia, in Destiny, New York. Things are going well with both her bakery and her relationship with Detective Sean Corsino…until her mother, Anne, turns into a murder suspect. Anne is the director of the Destiny-Oleander County Public Library and is pushing hard for an expansion. She finally received a huge financial commitment from Philip Baldelli to support the expansion but then he backs out. Anne is overheard arguing with Philip and then finally threatening him if he doesn't follow through. Not long after, Philip is found dead by none other than visiting celebrity perfume owner, Serafina Alessi.
When Sean keeps officially questioning her mother as the evidence mounts against Anne, Molly decides she must take matters in her own hands and find the real culprit. Can she find out what Serafina is really in town for and if it's connected to the murder? Can Philip's grieving fiancee shed light on the case or will Molly and her book club strike out, leaving Anne to take the blame?
My Review
While I have not read the first book in this series yet, I found RAISIN THE DEAD a delightful read and easy to jump in and get to know the characters. I enjoyed that the book was character driven and gave greater details and insight into Molly and her blossoming relationship with Detective Sean Corsino. Molly also has a close relationship with her mother. When Anne is being questioned by Sean, Molly has conflicted emotions but ultimately knows her mother deserves her loyalty over her feelings for Sean. Molly is also surrounded by a group of fun loving, supportive friends and I adored the clever name of their book club, 'The Destiny Divas'. The author also comes up with other creative names for shops, such as Barking Mad Books and the Bread and Batter Bakery which makes me want to visit the quaint town of Destiny! The mystery had some twists and turns that kept me guessing and turning pages, while the subplots and conclusion were wrapped up nicely.
Having the mystery center around a bakery calls for lots of yummy treats mentioned in the book! While the author does not have recipes included with the book, Karoline was kind enough to share her own recipe for Lemon Cupcakes with Blackberry Buttercream. A beautiful and tasty summery concoction! Every summer I drive up to Oregon to visit my sister and pick wild blackberries. We then turn those juicy blackberries into delicious jars of fresh, homemade jam to share with family and friends throughout the year. I used some of my jam for this recipe (although store bought will be good too) and let me tell you, this Blackberry Buttercream is some of the best frosting I've had! Plus its beautiful jewel tone compliments the delectable lemon cupcakes. Thank you, Karoline, for providing such a yummy recipe!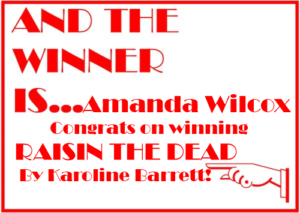 A very special thank you to Karoline Barrett for providing an e-book copy of RAISIN THE DEAD for one winner. Please use the Rafflecopter box located below the recipe to enter. Contest ends Thursday, August 25, 2016 at 11:59 pm PST. Winners will be announced on this page and on Cinnamon & Sugar's Facebook page, as well as notified by email (so check your spam folder!)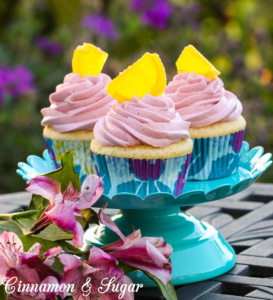 Lemon Cupcakes with Blackberry Buttercream
Ingredients
Cupcakes
1 cup white sugar
1/2 cup butter, salted
2 eggs
1-1/2 teaspoons vanilla extract
1-1/2 cups all-purpose flour
1-3/4 teaspoons baking powder
1/2 cup low-fat milk
1 lemon, juice and zest
Frosting
1 cup butter, softened
1 teaspoon vanilla extract
1/4 teaspoon salt
4 cups confectioners' sugar
1/2 cup seedless blackberry jam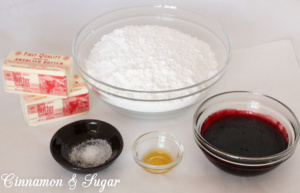 Instructions
Cupcakes
Preheat oven to 350 degrees F (175 degrees C).
Line muffin cups with paper liners.
Cream sugar and 1/2 cup butter in the bowl of a stand mixer until fluffy. Beat in eggs, one at a time, and mix 1-1/2 teaspoons vanilla extract into mixture with the second egg.
Beat in flour and baking powder until thoroughly combined; beat in milk, lemon juice, and lemon zest to make a smooth batter.
Spoon the batter into the prepared muffin cups, 3/4 full.
Bake in the preheated oven until cupcake edges are slightly golden brown and a toothpick inserted into the center of a cupcake comes out clean, 20 to 25 minutes. Cool cupcakes completely.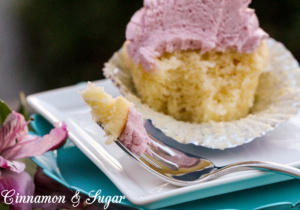 Frosting
Beat 1 cup butter with 1 teaspoon vanilla extract and salt until smooth and creamy.
Beat in confectioners' sugar, 1 cup at a time, to make a creamy frosting.
Beat in blackberry jam.
Spread frosting on cooled cupcakes.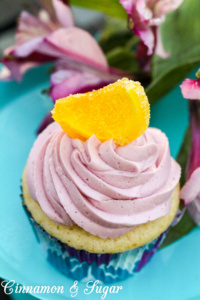 Pin to Pinterest: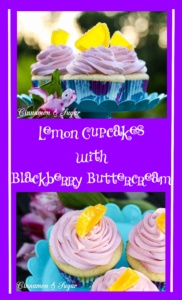 If you receive my blog post via email you will need to visit my website to view the video.