I love stories that are centered around bakeries and especially bakeries that specialize in cookies! The Cookie Monster from Sesame Street has always been my favorite character too. 🙂 When I had the opportunity to read and review TASTES LIKE MURDER, the first book in the Cookies & Chance Mystery series by Catherine Bruns, I jumped at the chance. I knew I would find a good read and some terrific cookie recipes!
Synopsis
Sally Muccio has moved back to Colwestern, New York to get away from her cheating ex-husband, Colin, who still lives in Florida. She opens her dream bakery, Sally's Samples, and hires her best friend, Josie, as the baker. To set her bakery apart from other businesses, Sally offers a free fortune cookie with any purchase. Her offering attracts many clients including her high school nemisis who grew up to be the woman who stole Colin away from her: Amanda Gregorio. Beautiful and wealthy, Amanda is still nasty to Sally and those around her, including her own cousin. Sally would like to kick Amanda out of the bakery, but Amanda threatens to create bad publicity and close down Sally's Samples if she doesn't serve her.
Not long after closing her shop for the night, Sally finds Amanda dead on the front porch of the bakery, her partially eaten cookies still in the box. The rumor mill of the small town goes into overdrive and most people believe Sally killed Amanda, not that they blame her. But business at the bakery drops off and Sally can barely afford to stay open. She decides she must prove her innocence and find the real killer in order to keep her dream bakery operating. When her main suspect is murdered after eating her cookies she realizes the murderer has set her up to take the fall and she must solve the case or lose all that she holds dear.
My Review
TASTES LIKE MURDER is a clever start to a terrific series! I love how the fortune cookies had messages that seemed tailored for the recipient and gives a glimpse into the characters through the messages. Sally is not only caught up in trying to prove her innocence and keep her business afloat, but she is learning to come to terms with a failed marriage. She has a lot of self doubts and issues which makes her seem more relatable to me. She has been given room to grow, to learn to let go of the past and move forward. Sally's parents, along with Josie, are such fun characters, providing plenty of laughs and entertainment, while her Italian grandmother, Rosa, provides wisdom and stability. The plot was well paced and provided plenty of red herrings. I thought I knew who the culprit was but then a twist was thrown in that kept me guessing along with Sally.
Of course a bakery must have baked goods and Catherine has kindly allowed me to share her recipe for Josie's Genettis. These soft, cake-like traditional Italian cookies are fun to make and kids will enjoy helping roll thin logs of dough and shaping them into beehives. Topped with a super easy frosting and colorful nonpareils, these cookies are tasty and festive! My niece, Nicole, was visiting me for a couple weeks this summer and we made these cookies together. Thanks for all your help in the kitchen, Nicole!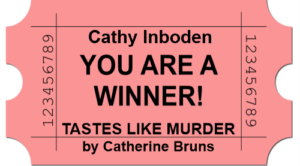 A very special thank you to Catherine Bruns for providing the winner with a choice of either a print copy or e-book copy of TASTES LIKE MURDER. Print copy limited to U.S. residents only. Please use the Rafflecopter box located below the recipe to enter. Contest ends Monday, August 22, 2016 at 11:59 pm PST. Winners will be announced on this page and on Cinnamon & Sugar's Facebook page, as well as notified by email (so check your spam folder!)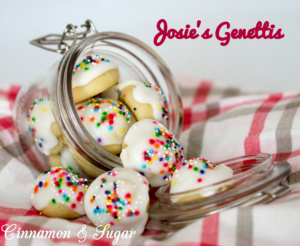 Josie's Genettis
Ingredients
Cookies
6 eggs
1 cup vegetable oil
3/4 cup sugar
1 teaspoon baking powder
1-1/2 teaspoon anise extract*
4 cups flour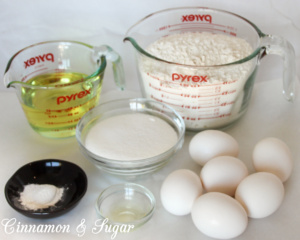 Frosting
1/2 cup Confectioners' sugar
Water
Nonpareils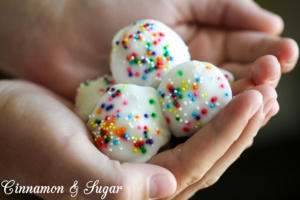 Instructions
Cookies
Preheat oven to 325 degrees Fahrenheit.
Whisk together eggs, and then add vegetable oil, sugar, baking powder, and anise extract to the mixture.
Stir together and then add the flour by small amounts until mixture is no longer sticky.
Roll out into a rope and then break out into six-inch long sections that should be about the thickness of a pinky finger.
Wrap coils upward like a beehive and place on a parchment lined cookie sheet.
Bake for 12 minutes or until the bottom is golden.
Cool on a wire cooling rack.
Cookies can be frozen in an airtight container to be frosted at a later time.
Frosting
Mix 1/2 cup confectioners' sugar with a few drops of water. Keep adding a few drops at a time until it is the desired consistency.
If glaze is too runny, just add more sugar.
After spreading the glaze over the tops of the cookies, sprinkle nonpareils before the glaze sets.
Makes approximately three dozen cookies.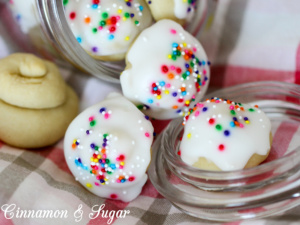 Tips
* Our family isn't a fan of anise flavoring so I substituted lemon extract. Vanilla would be another good substitute option.
The dough should feel a bit tacky and not overly dry. If you add too much flour and your cookies are on the dry side, allow them to set overnight after applying the frosting and they will moisten up.
When making the beehive shape, roll one end of the 6-inch piece thinner than the other end. Use the thicker side as the base and wrap the thinner side up for the beehive.
Pin to Pinterest: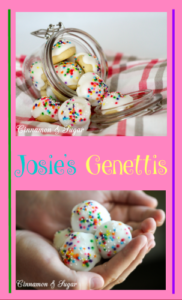 If you receive my blog post via email you will need to visit my website to view the video.
Coming October 11, 2016, the next book in the Cookies & Chance series, BURNED TO A CRISP by Catherine Bruns!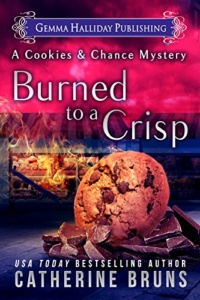 Just when things appear to be going well for baker and sometime sleuth, Sally Muccio, life turns up the heat again.
It's summertime, and the living is easy for the Muccio clan. Sal's wedding to her beloved fiancé is rapidly approaching, Mom's won a beauty contest, and sister Gianna is now a licensed public defender. But when the bakery Sal's worked so hard for goes up in smoke—along with her dreams!—she's not sure how much more she can stand. Even worse, the man found dead in the bakery's back room is none other than Gianna's latest client, Bernardo Napoli.
The dough really hits the fan for Sal and Josie when they're forced to temporarily relocate their bakery to the crazy Muccio home. Trouble is quickly stirred up as the best friend team must now contend with Sal's father and his new mortuary business "undertakings," a middle aged mother parading around customers in bikinis, and an Italian family hell bent on revenge. For Sal, several questions demand answers. Where has Gianna disappeared to? What role did she play in Bernardo's death? What secret is Sal's fiancé hiding from her? Sal is determined to find answers…before she gets burned once again!
I received a copy in exchange for an honest review. All thoughts and opinions are my own.