While I have read Victoria Hamilton's Vintage Kitchen Mystery series and the Teapot Collector Mysteries (under her pseudonym, Amanda Cooper) somehow I haven't gotten around to trying the books in her Merry Muffin Mystery series. True, I have a couple of the books in that series loaded on my Kindle, but… just not enough time in the day to read everything I plan on reading… Fortunately, that changed when I picked up MUCH ADO ABOUT MUFFIN, the fourth book in the Merry Muffin Mysteries! I am so glad I did make time and will go back and catch up with the preceding three books!
Synopsis
Merry Wynter has been in Spain for two months, making peace with her dying former mother-in-law. Lulled into a sense of complacency by her in-laws' luxurious lifestyle, Merry loses touch with her friends back in Autumn Vale. When circumstances pull her out of her torpor and she returns to her inherited castle, Wynter Castle, she finds things have fallen apart in her absence.
One of her good friends is barely talking to her and seems to be under the sway of a cult. Another friend is isolating herself from her new husband and won't confide in Merry. Her boyfriend, Sheriff Virgil Grace, is barely speaking to her. And to top things off, a melodramatic opera diva, Roma Toscano, has moved into the castle. When Merry and Virgil's mom find the postmistress stabbed to death, Roma is suspected of murder.
While Merry may not like Roma very much, she's pretty certain Roma is innocent. The postmistress, Minny, had made several enemies, including Merry herself. Despite the bad feelings between them, Merry wants to find the killer and provide justice for Minny. But her questions around town are hitting close to home and someone tries to kill Merry. Can she rescue her friendships and relationship with Virgil and find justice or will a killer put an end to her meddling once and for all?
My Review
Since I started with the fourth book on the series, I felt like I had some catching up to do to figure out the characters and how they related to the protagonist, Merry. There was backstory from previous books that would have helped, but by about one third of the way into the book, the author filled in what I needed to know and made the book more enjoyable. In addition to a tightly written mystery with several suspects that kept me guessing, Victoria Hamilton weaves the theme of home into the story. Merry's heart isn't sure where home is when the book starts out, but she finally realizes Autumn Vale is where she belongs. The love for family, friends, and family history pulls her in and allows her to create a home where she wants to stay and allow her heart to mend.
Merry loves to cook and bake for her family, friends, and also provides muffins for several of Autumn Vale's establishments. The author includes a couple of muffin recipes at the back of the book…both sound absolutely delicious and perfect for upcoming fall weather. Victoria Hamilton also gave me her recipe for Gouda and Harvest Vegetable Chowder from BRAN NEW DEATH, the first book in the Merry Muffin Mysteries, to share with you. I loved how the chowder uses pureed cauliflower to help thicken it, instead of relying on heavy cream or lots of flour and butter. Easy to make and full of vegetables, this Gouda and Harvest Vegetable Chowder uses nutty, buttery Gouda cheese for flavoring and will become a healthy family favorite! Thanks, Victoria, for sharing your nourishing chowder recipe with us!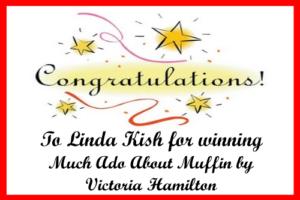 A very special thank you to Victoria Hamilton for providing an autographed copy of MUCH ADO ABOUT MUFFIN. Please use the Rafflecopter box located below the recipe to enter. Contest is open to U.S. and Canadian residents only and ends Monday, August 15, 2016 at 11:59 pm PST. Winners will be announced on this page and on Cinnamon & Sugar's Facebook page, as well as notified by email (so check your spam folder!)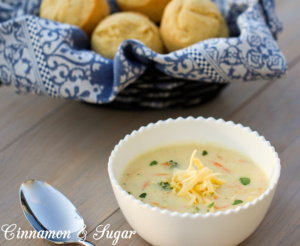 Gouda and Harvest Vegetable Chowder
Ingredients
2 tablespoons butter
1 medium onion, diced
2 cups cauliflower, broken into small florets
2 cups broccoli, broken into very small florets
1 cup grated carrot
3 cups good quality or homemade chicken stock
2 cups whole milk
1/4 cup all-purpose flour
1-1/2 cup shredded Gouda; you can substitute a different cheese if you like. Cheddar works well!
Salt and pepper to taste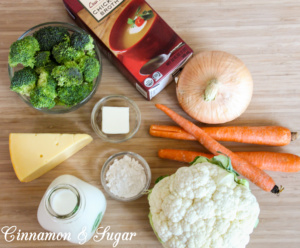 Instructions
Melt butter in large saucepan. Add onion and cook over medium heat until soft.
Add the cauliflower and 3 cups chicken broth. Bring to a simmer and cook until the cauliflower is soft, about 10 minutes.
Puree the cauliflower and onion mixture until smooth.
Add the broccoli florets and grated carrots. Bring to a simmer and cook until almost tender, about 5 minutes.
Slowly whisk 1 cup of the milk into the flour. Whisk until completely smooth.
Add the flour mixture and an additional cup of milk to the chowder. Cook over medium heat, stirring constantly, until mixture boils and thickens.
Remove pan from heat and add 1-1/2 cups Gouda (or cheese of your choice) and stir until melted.
For serving, sprinkle with additional cheese and buttered croutons if desired.
Enjoy the Bacon Cheddar muffins from BRAN NEW DEATH with the chowder, or plain cheddar muffins! Mmmm!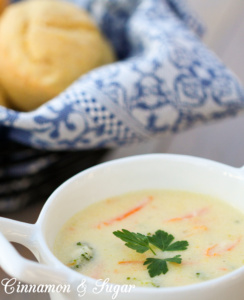 Tips
If your cheese is fairly soft before grating it, place in the freezer while prepping the vegetables for the chowder. Firm, cold cheese will grate much easier.
If leftover chowder is too thick, add additional chicken broth when reheating until desired consistency is reached.
Pin to Pinterest: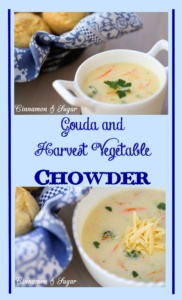 If you receive my blog post via email you will need to visit my website to view the video.
I received a copy in exchange for an honest review. All thoughts and opinions are my own.