I have been a fan of the Candy-coated Mystery series by Nancy Coco since her first book released a few years ago. I was delighted to find out that she was releasing a new one this summer so I made sure I secured a copy. ALL YOU NEED IS FUDGE is the fifth book in this series and it's as delectable as the recipes Nancy includes with her book.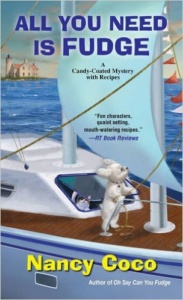 Synopsis
Allie McMurphy is in her first year of running her grandparents' historic hotel and fudge shop on MacKinac Island. She's not finding it easy to be accepted by the locals and it doesn't help that her adorable bichonpoo puppy, Marshmallow (or Mal for short) keeps finding dead bodies. With the beginning of yacht club race week on the island, no one is happy when Allie and Mal come across another body. The murdered young woman, Carin Moore, is from a prominent, very wealthy MacKinac Island family but has the reputation for being mean. Most of the islanders know about Carin's long-time rival with Paige Jessop and several people witness a very verbal argument between the two women the day before the murder.
Paige just so happens to be one of Allie's good friends and the sister of Trent…the man Allie is dating and falling in love with. When Paige is arrested for the murder, Trent and his family completely shut Allie out. She's not a local and to make matters worse, Trent tells her to leave the investigation alone and go back to making fudge. Only Allie can't do that. She must show that she belongs on the island and can be a part of Trent's family by helping prove Paige is innocent. Will she be able to work things out with Trent or will the hunky cop, Rex, finally get a chance with Allie? Can she get the locals to open up to her and help her find information to solve the murder and clear Paige's name?
My Review
ALL YOU NEED IS FUDGE starts off with a bang from the very first page and the mystery had enough twists and turns with several suspects for an enjoyable who-dun-it read! The undercurrent of relational subplots added to the book's appeal. I enjoyed how Allie's best friend and event planner, Jenn, seems to be making friends and fitting in with the islanders and how she nudges Allie to do the same. It creates scenes that make Allie move out of her comfort zone and gives more insight into other people living on MacKinac. Her other friends, elderly Frances Wentworth who manages the McMurphy reception desk, and Douglas Devaney, the handyman, also force Allie to see that she hasn't done her part to really get to know them. It gives Allie a chance to grow and not be so focused on herself and her business.
While the book has some scenes of making fudge (which I thoroughly enjoyed and made me want to make candy right then and there!) it doesn't detract from the pace of the story. Nancy offers numerous delectable recipes, including those for fudge, and she graciously allowed me to share one of them with you. Since I had a house full of guests coming and going this summer, I chose to make her Fudgie Cheesecake Brownie recipe with the help of my niece, Nicole. (Thank you, Nicole!) A super chocolatey, decadent brownie base is topped with rich and creamy, fluffy cheesecake, which is then topped with dark chocolate candy…a chocolate lover's dream dessert! Trust me, my dinner guests swooned!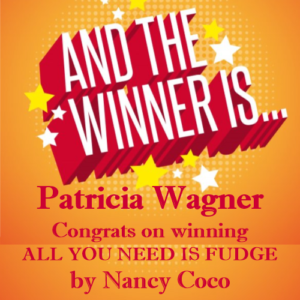 A very special thank you to Nancy Coco for providing an autographed copy of ALL YOU NEED IS FUDGE for one winner. Please use the Rafflecopter box located below the recipe to enter. Contest is open to U.S. residents only and ends Monday, August 29, 2016 at 11:59 pm PST. Winners will be announced on this page and on Cinnamon & Sugar's Facebook page, as well as notified by email (so check your spam folder!)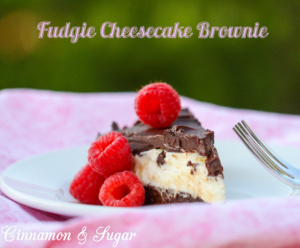 Fudgie Cheesecake Brownie
Ingredients
Brownie
1/2 cup butter, melted
1-1/4 cups granulated sugar
1/3 cup cocoa
1/4 teaspoon salt
2 eggs, room temperature
1/2 teaspoon vanilla
1/2 cup flour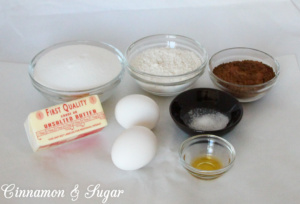 Cheesecake
1 8-ounce package cream cheese
1 cup powdered sugar
1/2 cup heavy whipping cream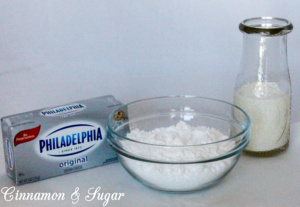 Topping
2 cups dark chocolate chips
2 tablespoons butter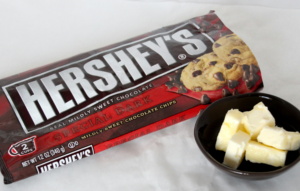 Instructions
Brownie
Preheat oven to 325 degrees (F).
Butter an 8-inch round pan.
In a medium bowl, stir together the butter, sugar, cocoa, and salt.
Stir the eggs and vanilla into the butter, sugar, cocoa mixture. Do not over beat the eggs.
Gently add the flour and stir until all lumps are gone.
Pour into the pan and bake for 20 minutes until center is set.
Remove and cool.
Cheesecake
In a medium bowl, mix the cream cheese and powdered sugar.
Pour the heavy whipping cream into a clean, cold bowl and whip until stiff peaks form.
Fold the whipped cream into the cream cheese mixture and spread over cooled brownie.
Refrigerate for at least an hour. Longer is better.
Topping
In a microwavable bowl, add the chocolate chips and the butter.
Microwave on 50 percent power for one minute. Stir until smooth.
Pour over the chilled cheesecake covered brownies and spread.
Refrigerate for 2 hours.
Slice and serve. Enjoy!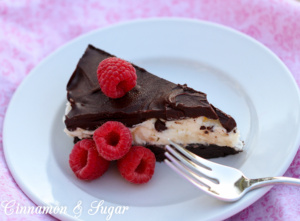 Tips
To easily remove the Fudgie Cheesecake Brownie from the pan for serving, line the cake tin with parchment paper, overlapping sides to make "handles" to help lift from the pan.
The chocolate topping is a wonderfully thick slab of dark chocolate. To cut, dip a chef's knife in very hot water, dry, then slice. Repeat with each cut.
Half of my guests loved the thick topping while the other half thought it was a bit much for the delicate cheesecake. The next time I make this I will try using only 1/3 cup of the dark chocolate chips melted together with 2 teaspoons of butter and then drizzle lightly over the top, Jackson Pollack style.
Pin to Pinterest: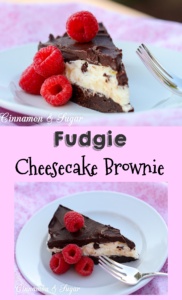 If you receive my blog post via email you will need to visit my website to view the video.
I received a copy in exchange for my honest review. All thoughts and opinions are my own.