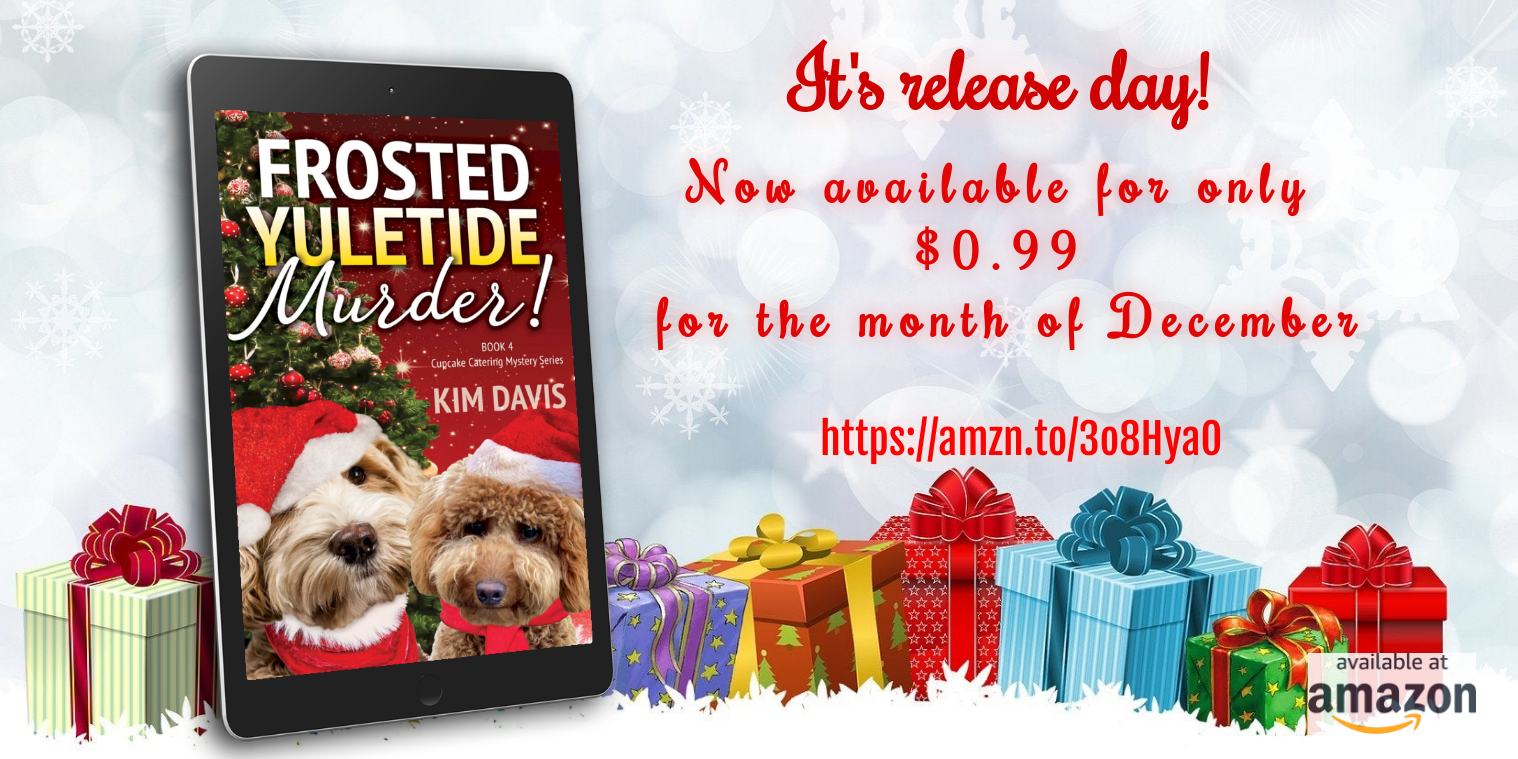 I am beyond thrilled to celebrate FROSTED YULETIDE MURDER's release! With the somewhat unexpected addition of Missy, our new mini Goldendoodle puppy to our household in April, my writing schedule was seriously derailed. It took a ton of determination by setting my alarm clock an hour earlier than usual and before the puppy needed to get up and writing in the dark so I wouldn't wake her. I attempted to write seven days a week, one hour a day (I had no idea puppies demanded SO much energy and attention all day long!!!) but in the end I finally got the manuscript off to the editor in mid-October and to my cover designer. And Missy now gets to share the pages and the cover with my grand-doggy, Piper. A huge thank you to everyone who has encouraged my writing by leaving reviews for the previous books in the Cupcake Catering Mystery series – you definitely inspired me to tell this holiday story!
As a special thank you and as a holiday gift to you, the ebook is available for only $0.99 and the print copy has been discounted as well, through the end of December. Don't miss out on the special price! And check out below, my recipe for Lacy Oatmeal Cookies which is one of several included in the book.
Set against the holiday cheer of twinkling lights, costumed carolers, and a festive line of extravagantly decorated boats participating in the annual Christmas boat parade in Newport Beach, California, cupcake caterer Emory Martinez finds that the grinch has crashed the party. Together with her sister Carrie, Emory is catering a delectable feast of holiday cupcakes and cookies aboard a luxury yacht for the new Mrs. Blair Villman and her guests.
Sparks fly when Carrie comes face-to-face with the hostess, who just happens to be Carrie's high school frenemy, and old grievances are dredged up. Adding fuel to the fire, Blair's stepson brings his mother, the former Mrs. Villman, to the party. Instead of celebrating holiday cheer, someone seems intent on channeling the Burgermeister Meisterburger and shutting down Blair's party permanently. When Emory finds a body aboard the yacht, she needs to discover who iced the victim before the Scrooge ruins not only her livelihood but her freedom as well.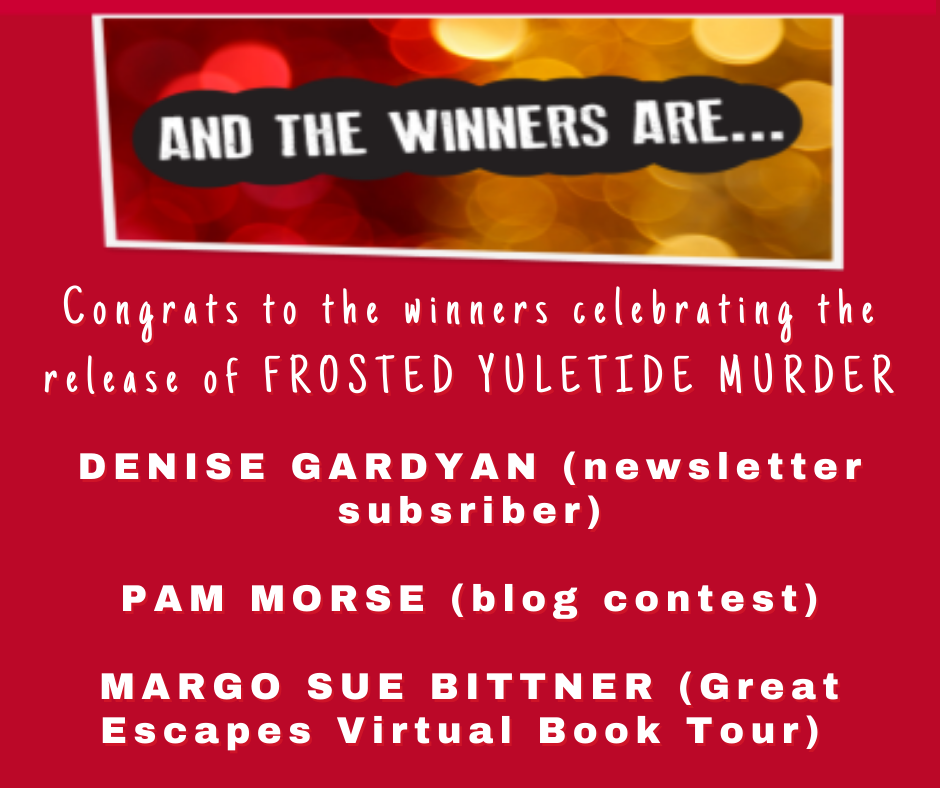 I'm also celebrating my new release with a $10 Amazon gift card giveaway. Scroll down below the recipe to enter via the Rafflecopter link. Contest ends 12/21/21.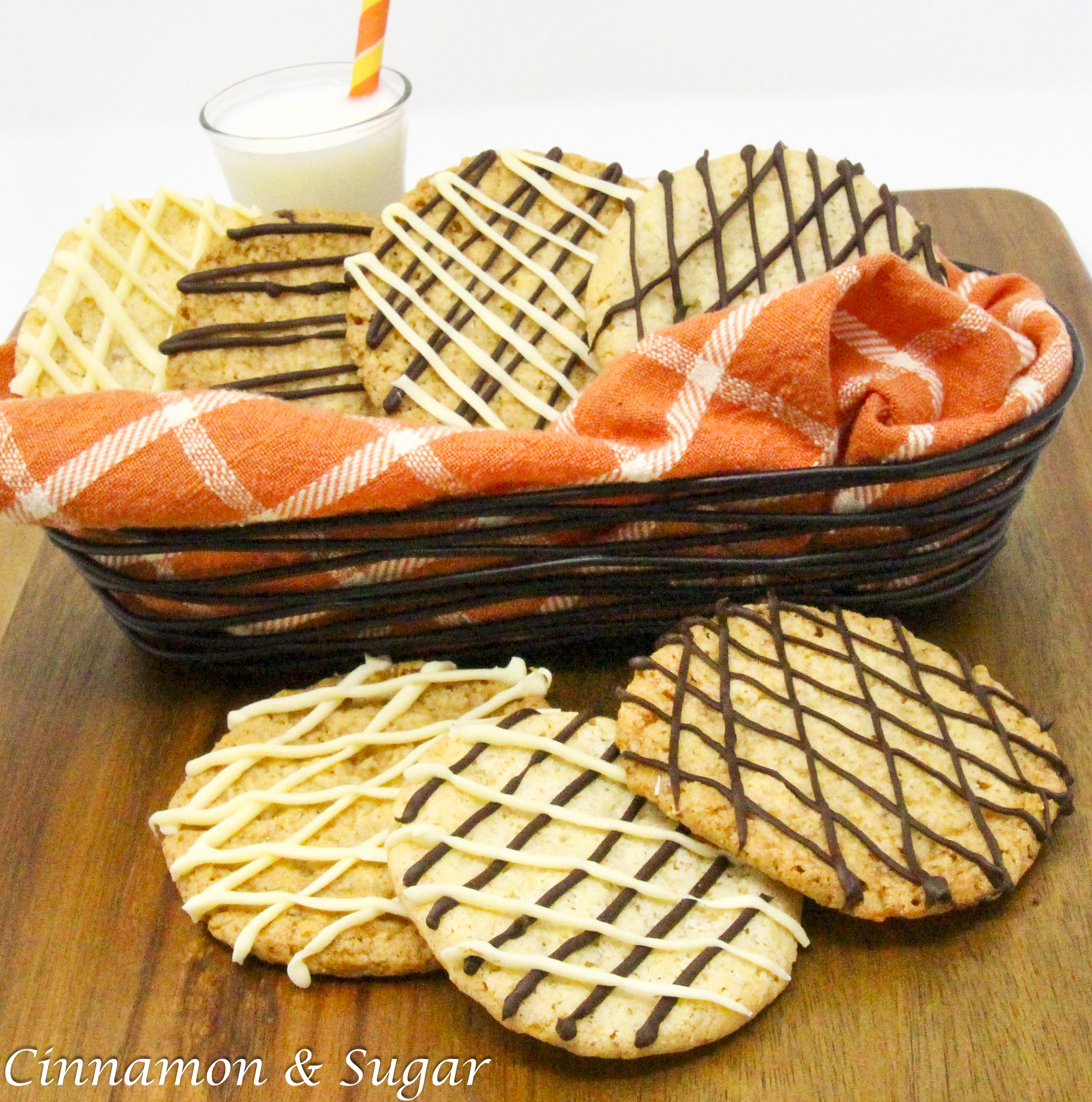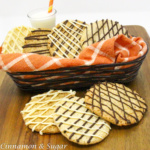 Lacy Oatmeal Cookies
Ingredients
1

cup

quick-cooking oats

1/4

cup

all-purpose flour

1 1/2

teaspoons

baking powder

3/4

teaspoon

salt

1/2

cup

unsalted butter, room temperature

1

cup

granulated sugar

1

egg

1

teaspoon

vanilla extract
Optional:
1/4

cup

chocolate chips, your choice of white, semi-sweet, or dark
Instructions
In a medium bowl, mix together until well combined the oats, flour, baking powder, and salt. Set aside.

Cream together the butter and sugar until fluffy, about 2 minutes. Mix in the egg and vanilla until incorporated then stir in the flour mixture just until combined.

Cover dough and refrigerate for a minimum of 1 hour.

Preheat the oven to 325 degrees (F). Line baking sheets with parchment paper.

Form the dough into 2-teaspoon-sized balls (about 24 cookies) and place 4 inches apart on the prepared baking sheets.

Bake 1 sheet at a time for 14 to 15 minutes. The cookies should be golden, and centers should appear set.

Allow the cookies to cool on the baking sheet for 5 minutes then transfer to a wire rack and cool completely.

If desired, drizzle with melted chocolate. Allow chocolate to set before storing in an airtight container with parchment paper separating the layers. Consume within 3 days or freeze up to 3 months.
Tip:
To melt the chocolate, place the chips into a microwave-safe bowl and heat for 30 seconds at 50% power. Stir. Repeat for 20-second increments, stirring well after each heat cycle until the chips are smooth. Place in a pastry bag or disposable ziplock bag and snip a corner to release the drizzle over the cooled cookies.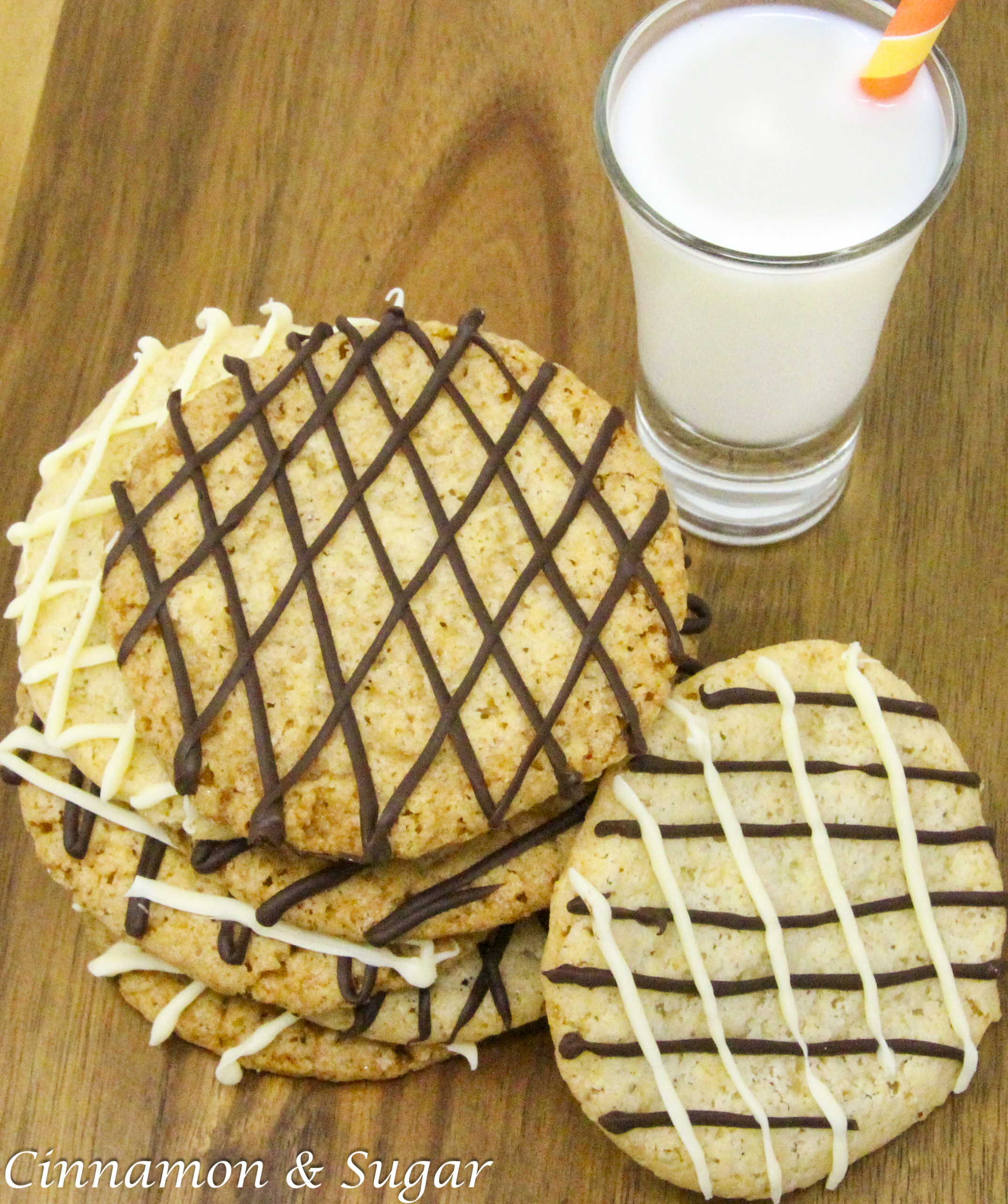 Pin to Pinterest: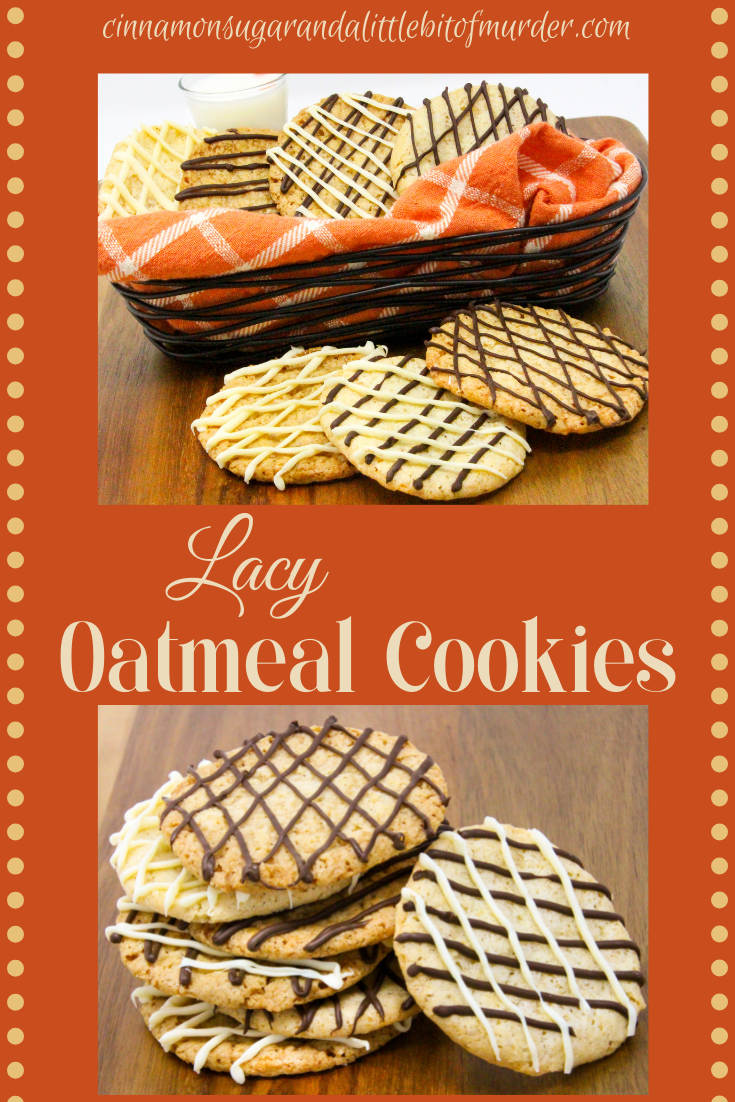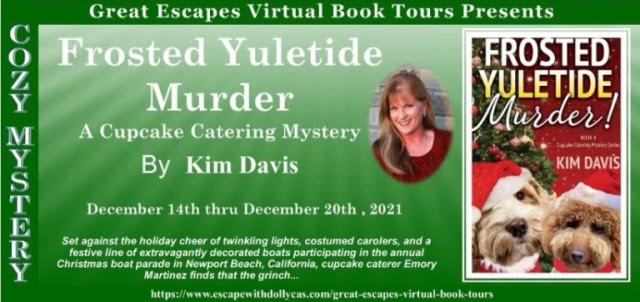 Be sure to follow along on my Great Escapes Virtual blog tour. There will be a gift card giveaway and a chance to win a print copy of FROSTED YULETIDE MURDER!
TOUR PARTICIPANTS
December 14 – Socrates Book Reviews – SPOTLIGHT
December 14 – This Is My Truth Now – REVIEW
December 14 – Escape With Dollycas Into A Good Book – REVIEW
December 15 – Author Elena Taylor's Blog – SPOTLIGHT
December 15 – Maureen's Musings – SPOTLIGHT
December 15 – Our Holiday Journey – SPOTLIGHT
December 16 – Literary Gold – SPOTLIGHT
December 16 – MJB Reviewers – REVIEW
December 16 – Carstairs Considers – REVIEW
December 16 – My Reading Journeys – REVIEW
December 17 – Celticlady's Reviews – SPOTLIGHT
December 17 – Books a Plenty Book Reviews – REVIEW
December 17 – My Journey Back – SPOTLIGHT
December 18 – FUONLYKNEW – SPOTLIGHT
December 18 – Sapphyria's Book Reviews – SPOTLIGHT
December 19 – StoreyBook Reviews – REVIEW
December 19 – Satisfaction for Insatiable Readers – SPOTLIGHT
December 20 – BookishKelly2020 – SPOTLIGHT
December 20 – #BRVL Book Review Virginia Lee Blog – SPOTLIGHT
December 20 – Reading Is My SuperPower – REVIEW