Ever since I was a little girl, my family and extended family grew vegetable gardens along with a few fruit trees and berry bushes. As summer's bounty arrived my mom would spend days in the kitchen making jam and canning so that we would have the taste of summer all year long. Of course she didn't allow my young sisters and I to be in the kitchen where all the boiling sugar was taking place since it was too dangerous, but as I grew into adulthood she taught me the basics.
After my mother passed away and my youngest sister moved with her family to Oregon, I began visiting her every August. Wild blackberries grow abundantly and it didn't take long for me to get the "jamming" bug again. Wild blackberry jam became my family's favorite jam and like my mother did when I was young, I make enough to last us a year and give out as Christmas gifts. Purchased jam does not show itself in our house! I promise to share my wild blackberry jam recipe in August after I've made my annual trek to pick berries.
However, this year I started to run short of blackberry jam! My husband was appalled…what were we going to eat on our PB & J's and toast? I searched Pinterest and came across this recipe for Strawberry-Rhubarb jam and knew I had to try it. After all, Rhubarb Pie is one of our favorites and who doesn't like yummy juicy strawberry jam?
I think Strawberry-Rhubarb jam may have edged out Wild Blackberry jam as my favorite. The tart rhubarb tames the overly sweet strawberries and provides a nice bite to the texture. So the next time I take my granddaughter strawberry picking, I know what the first recipe we make will be!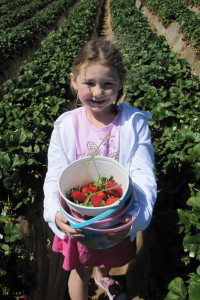 And as my mother did for us growing up, I wanted to make an easy toasting bread to go along with our yummy jam. This is a no-knead yeast bread that is super quick to put together without a lot of fuss and waiting around. This recipe, which I adapted from King Arthur Flour, did not disappoint. Crunchy when toasted, yet soft enough to make into a delicious peanut butter & jam sandwich for the girls.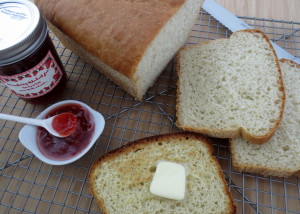 Strawberry-Rhubarb Jam
Ingredients
2 cups (15 ounces) Rhubarb
2-1/3 cups (20 ounces) strawberries
4-1/2 cups (32 ounces) granulated sugar
2 tablespoons fresh lemon juice
Lemon zest from one lemon
1/2 teaspoon butter or margarine
7 8-ounce sterilized canning jars with lids and rims
Instructions
Pulse the rhubarb and strawberries in the bowl of a food processor until they are coarsely chopped. You don't want to puree since chunks of fruit is desirable in jam.
Place the fruit mixture into a large 7 – 8 quart pot along with the sugar, lemon juice and butter.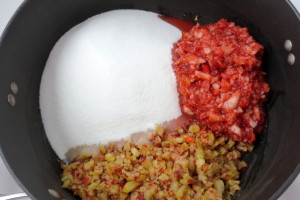 Over medium-high heat, bring the mixture to a boil stirring frequently.
Place a small ceramic or glass plate in your freezer.
Once the jam reaches a full rolling boil, with bubbles vigorously breaking the surface, reduce heat to medium-low and continue boiling 15 – 17 minutes, stirring often.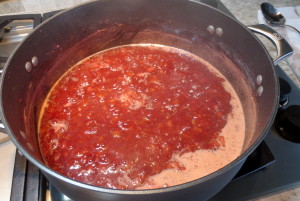 Remove glass plate from the freezer and dollop a small spoonful of jam on plate. The cold plate will chill the jam giving you an indication if it has reached the right consistency.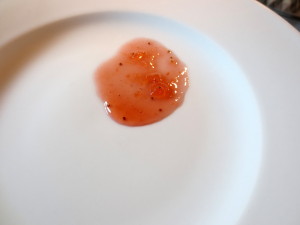 If the jam doesn't gel, boil an additional 2-3 minutes and check again. Just make sure to return plate to the freezer while jam boils. Repeat as necessary until desired consistency is reached.
Once jam seems firm enough, remove the pot from the heat and skim off any foam from the top using a metal spoon.
Pour the jam into sterilized jars. I like using a 1-cup silicon measuring cup for this.
Wipe the rims and threads of the jars and place sterilized lids and rims on.
Process in a water bath, boiling for 10 minutes. Turn the heat off and allow the jars to sit for 5 minutes before removing and setting aside to cool.
As the jam cools you will hear the lids popping, indicating they have properly sealed.
If a jar does not seal, store in the refrigerator. If they do seal, store in a cool dry place for up to 1 year.
Once open, store in the refrigerator and consume within 1 month.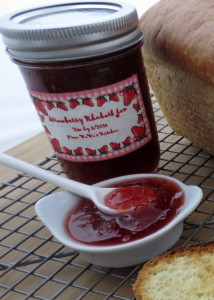 If you are new to canning, see this tutorial for detailed information: http://www.freshpreserving.com/getting-started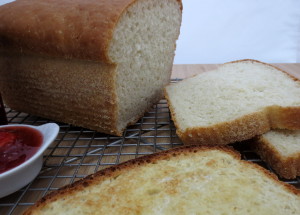 No-Knead Toasting Bread
Ingredients
3-1/2 cups (15 ounces) all-purpose flour (scoop & level method)
1-1/2 tablespoons granulated sugar
1-1/2 teaspoons salt
1/4 teaspoon baking soda
1 tablespoon instant yeast
1 cup milk (coconut, almond, rice or 2%)
1/2 cup water
2 tablespoons olive oil
2 tablespoons cornmeal (to coat bread pan)
Instructions
Lightly coat a 9-1/2″ x 5-1/2″ bread pan with cooking spray. Sprinkle cornmeal over sides and bottom of pan.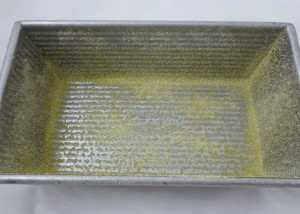 In the bowl of a standing mixer, whisk flour, sugar, salt, baking soda and yeast together.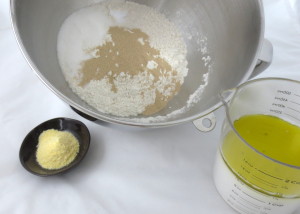 In a microwave safe dish, whisk the milk, water and olive oil together and heat until it reaches 120 – 125 degrees. (My microwave took 1 minute, 15 seconds.)
Pour the milk mixture over the flour mixture.
Beat on low speed 30 seconds until liquid is incorporated, then increase the speed to high and beat 1 minute.
The dough will be very soft and sticky.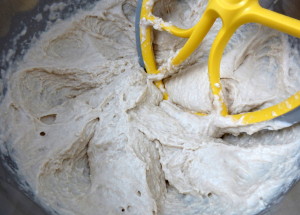 Pour the dough into the pan and pat the top down.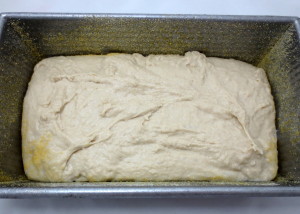 Let the dough rise in a warm place, until it reaches the rim of the bread pan. I like to let my dough rise in my cold oven with the oven light turned on for warmth. It may take 30 – 60 minutes for this rise, depending on how warm your rising spot is. Just make sure it doesn't get hot… 75 – 85 degrees is optimal for rising bread.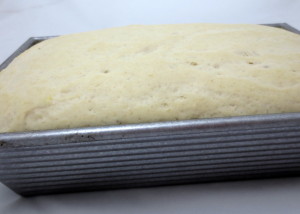 Preheat oven to 400 degrees. Remove bread if you have a single oven before preheating. You don't want to bake the bread until the rise is completed and the oven is completely preheated.
Once oven reaches 400 degrees, bake the bread for 22 – 25 minutes, until golden brown. The interior temperature should reach 190 degrees on an instead read thermometer. The bread will sound hollow when tapped if you don't have an instant read thermometer.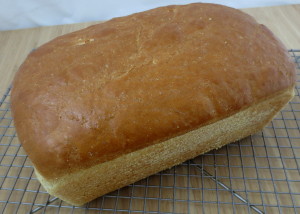 Remove bread from oven and let rest for 5 minutes then remove from pan and cool on a wire rack.
Cool completely before slicing.
Toast and slather with butter and your favorite jam!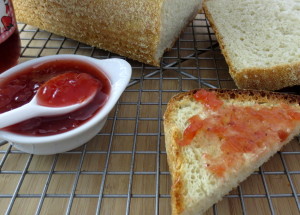 Recipe adapted from King Arthur Flour