I love cookies! They are probably my favorite dessert…and snack….and breakfast treat… So any book that includes a twist on a standby, such as Oatmeal Cookies, is definitely going to catch my attention.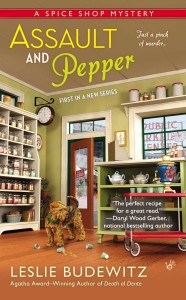 Assault and Pepper by Leslie Budewitz is such a book. Leslie's protagonist, Pepper Reece, owns the Seattle Spice Shop located in Pike Place Market. Pepper has had a long year establishing her business and recovering from divorcing her cheating husband. As the one year anniversary of owning the shop approaches she begins to feel more positive about the changes in her life. That is until a homeless man is found murdered on her shop's doorstep with her shop's paper cup clasped in his hands. The police determine he was poisoned with her tea and arrest one of her employees, Tory Finch, for murder. Pepper is certain Tory is innocent and sets out prove her innocence all the while trying to mitigate the disruption to her business that the murder has caused. Leslie makes Seattle's Pike Place come deliciously alive with her descriptions along with tackling the issues of homelessness with sensitivity.
The recipe for her Salty Oat Cookies did not disappoint and will become a regular rotation in my cookie jar. Her trick to let the dough rest for at least an hour before baking gave the cookie a different texture than regular oatmeal cookies, along with a sudden burst of flavor provided by the sea salt sprinkled on top. I look forward to reading more in this series and trying her other recipes! Thank you for allowing me to share your Salty Oat Cookies recipe, Leslie!
Salty Oat Cookies
Ingredients
3/4 cup (1-1/2 sticks) unsalted butter, at room temperature
1 cup light brown sugar
1/2 cup granulated white sugar
1 teaspoon baking powder
1/4 teaspoon baking soda
1/4 teaspoon ground cinnamon
2 large eggs
1 teaspoon vanilla
1-3/4 cups all-purpose flour
2 cups rolled oats (not quick-cooking)
Sea salt, for sprinkling (small crystals are best)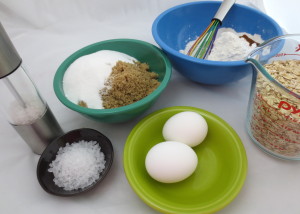 Instructions
In mixer bowl, beat the butter on medium-high until light and fluffy.
Add the sugars, baking powder, baking soda, and cinnamon, and beat until well blended, scraping down sides of bowl as you go.
Reduce speed to medium and add the eggs and vanilla, mixing thoroughly.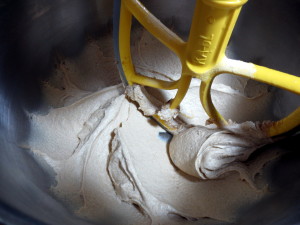 Add the flour and oats, mixing on low and scraping sides of bowl just until incorporated.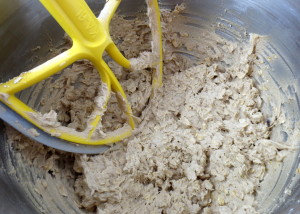 Cover the bowl and chill the dough for at least 1 hour; this allows the oats to absorb the eggs and vanilla and to soften, which is important for the texture of these cookies.
Preheat oven to 375 degrees.
Line a baking sheet with parchment paper.
Roll the dough into large balls, about the size of a golf ball.
Place about two inches apart on the baking sheet and flatten slightly.
Sprinkle tops of balls generously with sea salt.
Bake about 15 minutes, until cookies are puffed and beginning to turn golden.
Cool on a wire rack.
Note from Leslie
Makes 18 to 20 cookies about the size of hockey pucks, with a chewy exterior and a soft interior. They pair beautifully with ginger ice cream. If you plan to eat more than one, protect your stash from teenage boys.
My Notes
I made these for Teachers' Appreciation Week and needed at least 50 cookies. I made cookies smaller than Leslie recommended, about walnut size, using a 1-tablespoon spring-loaded scoop. My smaller cookies baked in 11-12 minutes and 1 batch made 55 cookies.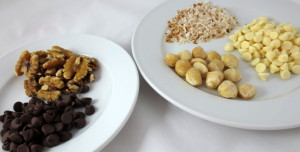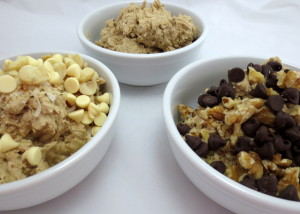 I also divided the dough into thirds and placed in separate bowls (about 11 ounces for each bowl.) I left one bowl plain, added 2 tablespoons chopped walnuts and 3 tablespoons chocolate chips to another bowl and added 1 tablespoon toasted coconut, 3 tablespoons white chocolate chips and 2 tablespoons coarsely chopped macadamia nuts to the remaining bowl. Thoroughly mix the add-ins into the dough and then bake as directed above.