Oh-My-Word! My exact thoughts when I tasted these Chocolate Cherry Brownies the first time I made them! Now mind you, I am gluten intolerant and shouldn't have been tasting them to begin with…that's why I have a ton of taste testers who sacrifice their taste buds and waistlines for me, giving me honest opinions and suggestions for improvements. But with this recipe I truly couldn't help myself. First of all, there are three kinds of chocolate in the brownie itself and then the chocolate ganache frosting is yummy enough to eat on its own…which I did and could safely eat…but that didn't stop me from sampling the brownies too. These brownies are dense (in the good way!), super rich and fudgy. The cherries add a fruity sweetness that compliments the roasted bitterness of the dark chocolate. Even though the recipe only makes an 8″x8″ pan, these are rich enough to get 20 servings without anyone feeling slighted. I will certainly be making these for our Memorial Day barbecue along with experimenting to make myself a gluten-free version!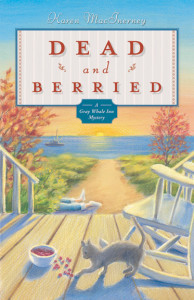 I came across this To-Die-For recipe while reading Dead and Berried by Karen MacInerney. Not only has she developed some delicious recipes to include in her culinary cozy mysteries, she writes a great story that keeps you guessing 'who did it.' Natalie Barnes runs the Gray Whale Inn on Cranberry Island, a small island off the coast of Maine. Developers have set their sights on building luxurious homes on the quaint island, destroying the cranberry bogs to do so, but the residents are dead set against it. Natalie's only employee, Polly, doesn't show up for work one morning and when she goes to check on her, Natalie finds her dead in the cranberry bogs. The local sheriff says Polly committed suicide but Natalie isn't so sure. She would like to find out but her ex-fiance shows up at her inn, wanting to win her back, while at the same time his roving eyes are following the buxom-blond staying there as well. When her best friend, Charlene, is accused of murdering her boyfriend Natalie knows she must get involved, clear her friend's name and find out who is killing the residents of Cranberry island.
A special thanks to Karen for allowing me to share her very delicious Chocolate Cherry Brownie recipe with you!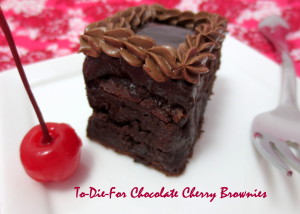 To-Die-For Chocolate Cherry Brownies
Ingredients
Brownies
2 eggs
1 teaspoon vanilla extract
1 cup sugar
1/2 pound good quality dark chocolate, chopped
1/2 cup butter
1/2 cup all-purpose flour
1/4 cup unsweetened cocoa powder
1/2 cup dried sweet cherries
1/2 cup dark chocolate, chopped
Cherry Chocolate Frosting
These brownies are so chocolatey that they're delicious even without the frosting, but if you're a true chocoholic, go ahead and frost with Cherry Chocolate Frosting, and serve with premium vanilla ice cream!
4 ounces dark chocolate, chopped
1/2 cup cream
1-2 teaspoons cherry liqueur (optional)
Instructions
Preheat oven to 350 degrees.
Prepare an 8-inch square baking pan by either spraying with non-stick cooking spray or lining with parchment paper**
Brownies
Whisk together the eggs, vanilla and the sugar until smooth.
Melt the 1/2 pound of chocolate and butter together in a double boiler. (I used the microwave for one minute, then stirred mixture until all the chocolate had melted. Use extreme caution if using this method because you will ruin the chocolate if it gets overheated.)
Slowly add melted chocolate and butter to the egg mixture, whisking constantly.
In a separate bowl, mix flour and cocoa powder together with a fork.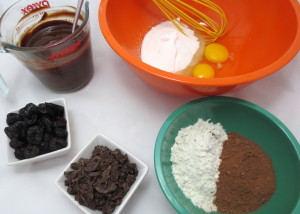 Fold flour mixture in to the chocolate and egg mixture.
Fold in the cherries and the dark chocolate pieces.
Pour batter into the prepared baking pan and bake at 350 degrees for 20 – 25 minutes. (Mine took 34 minutes to bake. I researched online and found that a glass baking dish takes longer than a metal dish when baking brownies.)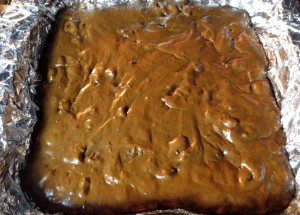 Allow brownies to cool before frosting.
Frosting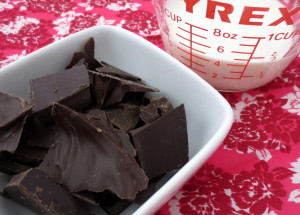 Bring cream to a full boil over medium-high heat, stirring continuously.
Add chocolate and remove pan from heat.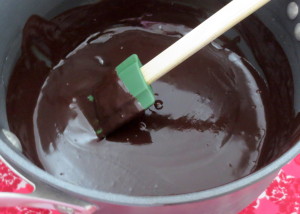 Allow to stand a few minutes, then stir gently until chocolate is completely melted.
Add liqueur, if using, and spread over cooled brownies.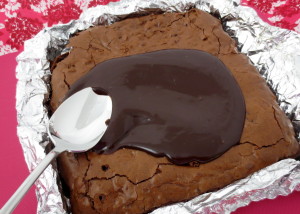 My Notes
For decorative piped border
Reserve 3 tablespoons of the frosting. Let cool to room temperature then refrigerate for 10 – 15 minutes. Use the whisk attachment on a hand-held electric beater and whip on high until light and fluffy, 2 – 3 minutes. Place the fluffy frosting into a disposable piping bag fitted with a small star tip and pipe borders on the brownie as desired.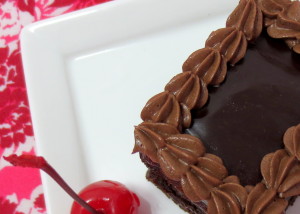 **When I'm going to serve these on a platter at a function (vs. leaving in the baking dish for home consumption) I like to make a foil sling for easy and mess-free removal. Line the baking dish with foil going both long ways and side ways making sure the foil overhangs the edges. Spray foil with cooking spray and line the bottom with parchment paper. Once brownies and frosting has cooled, simply use the overhanging foil as handles to carefully lift the brownies out of the pan. Cut brownies into squares, decorate with whipped frosting if desired and plate.