The first time my husband took me "home" to Illinois to meet his family we had only been dating a few months. I was more than a bit intimidated since we were planning on attending the annual Christmas extended family gathering and he comes from a huge family. However, everyone did their utmost to make me feel welcome and comfortable and it didn't take long for me to feel like I fit in.
The family gathering is held in the community center of a very small farming community and everyone brings a dish or two to share, potluck style. While all the dishes were delicious what I was most impressed with was the dessert table…yes, an entire table devoted to desserts!!! It doesn't get better than that! Of course my mother-in-law made her famous Rhubarb Pie, which I absolutely fell in love with. The second dessert that I had never experienced before, and was made by my future sister-in-law, Debi, was Cherry Dream Pie. A crunchy graham cracker crust topped with a creamy, yet a bit tangy, luscious filling and then finished off with bright sweet cherries. Heaven in a bite! It didn't take long for me to beg Debi for her recipe which she was more than happy to share. It is now a favorite in our household and thankfully can easily be made gluten-free so I can still enjoy it. It's not unknown for the leftovers to become a breakfast now and then either. Since I am back in Illinois visiting my husband's family at the time of this post, it only seems fitting to share this family recipe with you! Enjoy!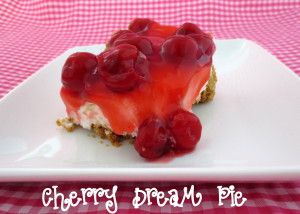 Cherry Dream Pie
Ingredients
Crust
3 cups (1 – 13.5 ounce package) graham cracker crumbs (either Honey Maid or gluten-free graham cracker crumbs such as Kinnikinnick brand)
1-1/2 sticks (6 ounces) butter, melted
1 teaspoon salt
Filling
2 cups (9 ounces) powdered sugar
2 8-ounce packages cream cheese (softened to room temperature)
2 envelopes Dream Whip mix
1 cup cold milk, whole or 2%
1 teaspoon vanilla extract
Topping
2 21-ounce cans Comstock Cherry Pie Filling
Instructions
Crust
Preheat oven to 350 degrees. Lightly coat a 9″x13″ casserole dish with cooking spray.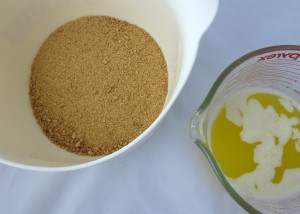 Mix graham cracker crumbs with the salt and melted butter and stir until thoroughly combined. Mixture should resemble wet sand.
Press graham cracker mixture into casserole dish with very clean hands and form short edges around the side of the dish with the crust.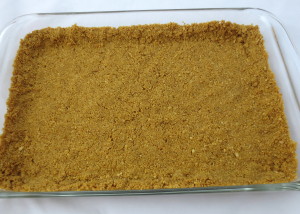 Bake for 10 minutes then remove and cool completely.
Filling
Pour the 2 envelopes of Dream Whip mix into a medium sized bowl along with milk and vanilla extract.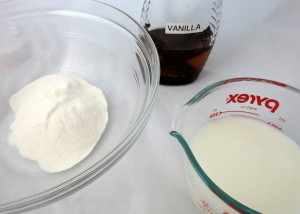 Using an electric hand mixer, beat for 30 seconds on low.  Increase speed to medium high and beat for 3 – 4 minutes until mixture thickens and forms peaks.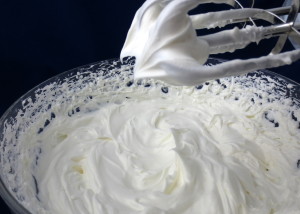 Refrigerate until needed.
In a large mixing bowl beat the 2 packages of soft cream cheese on medium, until soft and creamy.
Reduce to low speed and gradually add the 2 cups of powdered sugar.  Once incorporated increase speed to medium high and beat until smooth and creamy, about 2 minutes.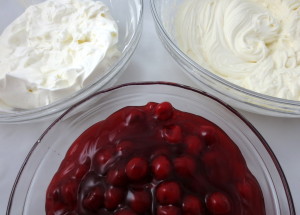 Remove Dream Whip from the refrigerator and gently fold into cream cheese mixture.
Spread cream cheese and Dream Whip mixture over the cooled crust, spreading to the edges of the dish.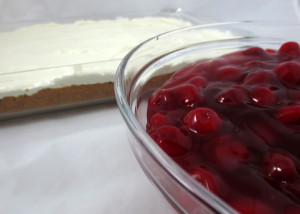 Topping
Spread the 2 cans of cherry pie filling over the cream cheese mixture.
Refrigerate for at least 3 hours before serving or overnight. Store leftovers in the refrigerator for up to 3 days.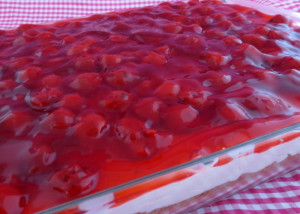 Tips
Recipe can be halved and made in an 8"x8" baking dish.
Since I never seem to plan ahead when I'm baking, my crust is always too hot for me to proceed with the recipe when I'm ready to prepare the filling. I cool the crust at room temperature for 10 minutes then put into the refrigerator to finish chilling.
I then soften the cream cheese in the microwave 30 seconds (since I never remember to take it out of the fridge!) after removing the wrapper and placing in a microwave safe dish. If it is still firm, heat in 15 second intervals until desired consistency is reached. Be careful, you don't want it runny.
Prepare the dream whip and cream cheese mixture, then mix both together and refrigerate.
Clean up the kitchen, have a cup of coffee and check Facebook, after which the crust should be cool enough to assemble the dessert.