Weddings are a joyous time of celebrating and I eagerly read Mother of the Bride blog written by my cousin, Mary Karnes, each week. Mary is in the middle of planning her oldest daughter's wedding in July after getting her second daughter married last spring. She also has two more daughters to go after this! Mary is full of great ideas such as her post on signature cocktails. Sounds like a very fun thing to include at a bridal shower or to start a wedding reception with!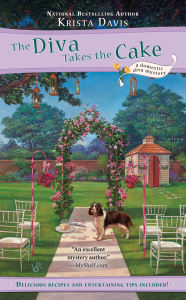 Recently I read The Diva Takes the Cake by Krista Davis. Event Planner Sophie Winston is in charge of organizing Hannah's wedding…not her sister's first wedding by far. The bad news is Sophie doesn't like the groom-to-be at all and thinks her sister is making a huge mistake. The really bad news is the groom's ex-wife is found murdered just down the street from Sophie's home. Sophie is terrified that Hannah may be in danger from her future husband since he appears to be harboring secrets like the one that he even had an ex-wife. She sets out to find the killer and talk her sister out of marrying him since Hannah doesn't seem concerned in the least. I enjoyed this book very much and was extremely happy to find there are many more books in The Diva series along with several wonderful recipes!
One of the recipes included in the book is a cocktail Krista named "Wedded Blitz." I love the tongue-in-cheek humor, especially if you are someone who is on marriage 2..3..or more as Hannah was in The Diva Takes the Cake.
Recently Krista told me about inventing her Wedded Blitz Martini. "One of the fun things about writing a mystery series involving domestic divas is making up drinks. On this particular occasion, friends were coming for dinner, so I bought a selection of liquors and fruit juices and asked my friends to help me invent a martini that would be called Wedded Blitz. I set out a number of small glasses and a tray of bottles and let them have at it. There was a lot of tasting going on! A lot of laughing and joking, too. A few concoctions were quickly dismissed. The winning drink seems so simple but it took some serious work to get it just right!
A signature drink is a fabulous idea for weddings. They're very elegant and chic. You can even eliminate a costly open bar if you come up with a signature drink or two. And you can make them match your wedding colors!
Before your wedding, invite the bridesmaids to a signature drink party. Gather round the table with a good supply of cupcakes and make up your own drink. Place bottles of fruit mixers and little airplane size bottles of alcohol on trays and have a fun evening inventing your own special drink."
The Wedded Blitz Martini is a blend of fruit juices, peach schnapps and vodka. Krista Davis has been kind enough to allow me to share her cocktail recipe with you…it's yummy!
It also inspired me to create a cupcake based on those ingredients…perfect for a bridal shower or even a cupcake bar in addition to the traditional wedding cake. The cupcake recipe may look daunting but the various layers add extra flavor and it's not as labor intensive as you might think. I tinkered with the recipe three times based on my taste testers' input. In the first version I used the liquid ratios from the Wedded Blitz Martini and they said it was good, just not a lot of flavor aside from sweet. I cut back on the vodka (because its flavor was washed out by the flour and sugar) but increased the peach schnapps for the second version. I also simmered and reduced the fruit juices to intensify their flavor. It got better reviews. The third version I adjusted flour and sugar ratios for better texture and I finally received the two thumbs up I was looking for. Now if I'm ever asked to help plan a bridal shower or wedding reception I'll be prepared to offer the recipes for the Wedded Blitz Martini and cupcakes and then send them to my cousin!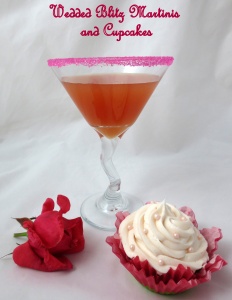 Wedded Blitz Martini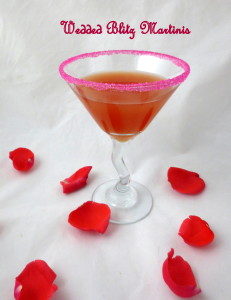 Ingredients
For One Serving
1 jigger vodka
3/4 jigger peach schnapps
1 jigger cranberry juice
1/2 jigger mango nectar
For a Party Pitcher – 10 servings
2 cups vodka
1-1/3 cup peach schnapps
2 cups cranberry juice
1 cup mango nectar
Instructions
Stir ingredients together and serve, or add to a cocktail shaker filled with ice, vigorously shake then strain liquid into a martini glass. Garnish the martini glass rim with colored sugar if desired.
Enjoy!
Wedded Blitz Cupcakes
Ingredients
Cupcakes
1-1/4 cups + 2 tablespoons (6.5 ounces) cake flour
1-1/4 teaspoons baking powder
1/2 teaspoon baking soda
1/2 teaspoon salt
2 large eggs, room temperature
1 cup (7 ounces) granulated sugar
1/2 cup dried cranberries
1/2 cup vegetable oil
1/3 cup Peach Schnapps
3 tablespoons mango and cranberry juice reduction (recipe below)
Mango & Cranberry Juice Reduction
1/2 cup cranberry juice
1/2 cup mango nectar
Glaze
1/2 cup (2.3 ounces) confectioner's sugar
1 tablespoon vodka
2 tablespoons mango and cranberry reduction
Frosting
4 cups (18 ounces) confectioner's sugar
1/2 cup (4 ounces) unsalted butter or vegan margarine, room temperature
1 tablespoon vodka
1 tablespoon Peach Schnapps
3 tablespoons mango and cranberry reduction
Instructions
Preheat oven to 350 degrees.
Line muffin tins with cupcake wrappers and lightly spritz with cooking spray. I found my tulip cupcake liners were difficult to separate, so do this before you begin mixing the batter. Once the liquid is introduced to the flour you want to start baking the cupcakes as soon as possible.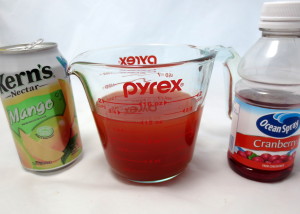 Mango & Cranberry Reduction
Place mango and cranberry juices into a small saucepan and bring to a low boil over medium-high heat.
Reduce heat to low and gently simmer until liquid has reduced to 1/2 cup, stirring occasionally.
Remove from heat and cool to room temperature. You will use this mixture 3 different times.
Reduction Tips
You can make this a few days ahead of time and store in the refrigerator. Bring to room temperature before using.
If you reduce liquid to less than 1/2 cup simply add equal amounts of mango and cranberry juice to make up the difference as long as it doesn't exceed 2 tablespoons. No further reduction is necessary.
Cupcakes
Place sugar and dried cranberries into the bowl of a food processor and pulse about 20 times. You want bigger pieces of cranberries along with smaller pieces.
In a medium-sized bowl, whisk the flour, baking powder, baking soda and salt together. Set aside.
In a small bowl whisk the peach schnapps and mango & cranberry juice reduction together. Set aside.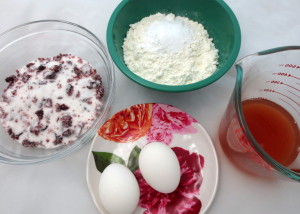 In a large bowl, beat the eggs with an electric hand-held mixer on medium-high speed about 30 seconds.
Add the oil and beat on medium speed for one minute.
Slowly add the sugar and cranberry mixture and beat until incorporated.
Add about half the flour mixture and mix until smooth.
Add half the peach schnapps mixture and mix on low until smooth.
Repeat with the remaining flour and liquid until all is incorporated and batter is smooth, scraping down the sides of the mixing bowl as needed.
Pour batter into cupcake liners, filling about 2/3 full. This batter is thin and I used a 1/4 cup measuring cup for this.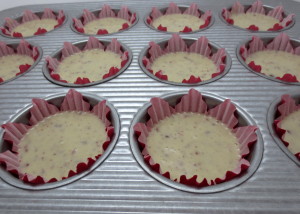 Bake 13 – 15 minutes, rotating pans half way through baking. Cupcakes will be done when a wooden skewer comes out clean when inserted into middle. These develop a brown toasty color.
Remove from oven and let rest in cupcake tin for 5 minutes.
Remove from tin and place on wire cooling rack.
Immediately poke holes over the tops of the cupcakes using the tines of a fork.
Brush with the glaze, allowing to soak in before applying more. Use all the glaze.
Glaze
Whisk the confectioner's sugar, vodka and juice reduction together until completely smooth.
Frosting
I found that the frosting whipped up more creamy and fluffy in my standing mixer than using an electric hand-held mixer, but either will work fine.
Mix together the vodka, peach schnapps and the juice reduction and set aside.
In the bowl of a standing mixer cream butter until smooth, about 1 minute on medium.
Reduce speed to low and slowly add about 1/3 of the confectioner's sugar and beat until smooth.
Add about 1/3 of the liquid and beat until incorporated.
Repeat alternating with the sugar and liquid until all has been added.
Increase mixer speed to medium-high and beat until frosting is fluffy, scraping down the sides of the bowl as necessary.
If the frosting seems too thick add additional peach schnapps, 1/2 teaspoon at a time, beating well after each addition until desired consistency is reached.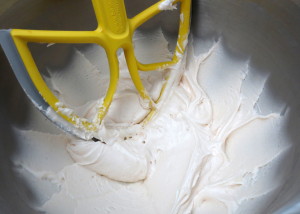 Place frosting into a pastry bag fitted with a large star tip and pipe swirls onto the cupcakes.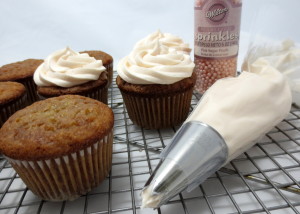 Garnish the cupcakes with edible pearl candies if desired.